Roy's Trade Talk – Round 11
Here come the byes… and here comes some trade talk ahead of round 11 with Roy.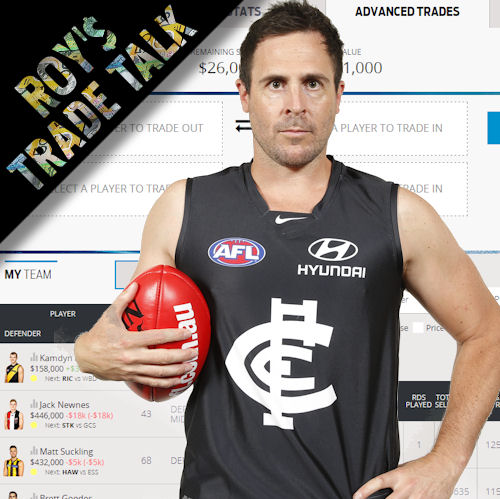 It's that time of year again, the bloody byes are here. According to my Twitter account, people are still on the hunt for a couple of round 13 players to bump up their numbers available over the next two weeks. So here are a few names for you to consider.
Round 13 bye guys
I know this guys has been on and off the never again list his whole career, I doubt many people have
had him in and out more than me over the course, and I will no doubt be telling to trade him out ASAP at some stage through the year but the elephant in the room is Shaun Higgins (FWD/DEF, $456,000). With half decent defenders hard to find, Higgo is ticking a lot of boxes and I tested the waters for you by getting him in last week and he looked great kicking four goals and scoring 119. That score was his third 100+ game in a row, not bad for a guy that price, let alone a defender. He has the round 13 bye with games against the Swans and Giants in the lead up to his rest. As an added bonus, he faces the Suns fresh off his bye and has a BE of just 40.
I am not convinced he is a keeper, but Steven Motlop (FWD/MID, $458,000) looked to have bounced back off a lean three week block to return to his best against the Bombers with a score of 109, bumping his average back over 90. His ability is unquestionable with three scores over 110 this season and he could be handy over the next two weeks with games against the Power and the Dees.
After copping four straight vests, I wanted to see a full game out of Josh Kelly (FWD/MID,
$326,000) and it might have come at the perfect time to cover a couple of doughnuts over the next two weeks. He looked great against the Lions with 22 possessions, four marks and six tackles for a score of 96. He could also serve as a post bye stepping stone to an elite forward or midfielder. Still has to be considered a risk of copping a vest, but great value.
Fresh off the back of his bye, Elliot Yeo (DEF/MID, $479,000) is a round 13 guy who you can still get on the cheap and is undoubtedly playing at keeper level. Since his move to the midfield, Yeo has been outstanding and the results were no different this week with a score of 100 after taking an impressive 10 marks. That makes it five games straight without dropping below 90 after going 112, 93, 150, 96 and 100 in that times… impressive numbers for a mid, let alone a defender given our starvation of consistent scorers back there.
Twitter Time
@RoyDT should we still be looking to offload Oxley even when he has the potential to post numbers like this week? #RTT #AFLFantasy

— Shaun Gray (@shaungray_) June 8, 2015
No, hold him now if you can cover him over the bye. Need to see if he plays loose man in defence again. Not many defenders have the potential to score 126.
@RoyDT #RTT #AFLFantasy Goldy, Blicavs or Mummy? 💜

— Fiona (@maccapower) June 8, 2015
Such a tough call. I am a very happy Goldy owner, but the other two options are great. I am backing Goldy, but you can't go wrong with those guys. Jacobs and Martin the best.
@RoyDT Trade Lewis (Playing byes for ranking) #RTT #AFLFantasy

— Michael (@Michael5594) June 8, 2015
I would hold Lewis, he will be fine.
@RoyDT Do we keep persisting with Newnes? #RTT

— ethan (@ethanpowell69) June 8, 2015
If you have a luxury trade, send him packing.
@RoyDT #RTT Kelly to hodge or belly to Martin or yolmen to a premo mid. Don't care about byes

— Inactive (@JakePizzuto) June 8, 2015
Belly the biggest priority there
#rtt who to bring in titchell or goddard. titchell break even could be good

— dion casagrande (@mrmischeif1) June 8, 2015
Tom Mitchell all the way, no hesitation.
Happy trading!
@RoyDT