Benjo's PODs – Round 11
Benjo is back to have a look at some PODs for round 11.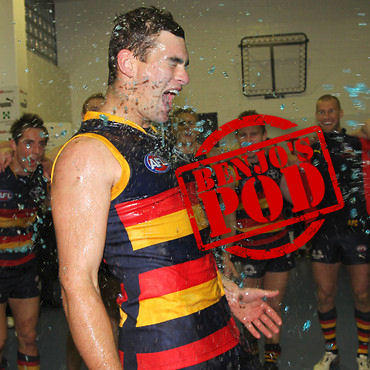 Hi guys and welcome to the Round 11 edition of Benjo's PODs. Each week I'll be having a look at PODs from each of the four positions. First, let's review last week's PODs.
DEFENCE
Matthew Boyd
Boyd had a rather quiet match, scoring 87 DT points. He only recorded 4 marks. The good thing here is that you can select him as a defender. You'd accept 87 from a defender any day of the week.
MIDFIELD
Toby Greene
38 and a red vest. Yuck!
RUCK
Callum Sinclair
My boy Sinclair only scored 36 DT points. Reflect back to the Eagles game on Sunday played in Tasmania. One side was kicking goals from 90m and the other couldn't kick one from 20m! Terrible conditions and should bounce back this week.
FORWARD
Buddy Franklin
Only scored 77 DT points. Thought he would've gone a bit bigger against the Suns.
On average, my four players scored 59.5. Disappointing to say the least.
Now to this week's PODs.
DEFENCE
Shaun Higgins
He is on the 'never again' list for some, but he most be considered now.
Higgins has FWD/DEF DPP status. This is very handy.
He has the handy round thirteen bye.
He averages 109 in his last three. 109!
His next three games are, Sydney, GWS and Gold Coast.
He has a BE of 46 in Fantasy. If he keeps up his run of good scores, he can easily average 90-95 from now until years end.
He averages 1.8 goals this year. This is handy if he can kick three goals a game.
Higgins averages 4.5 marks a game this year.
In his last three games, Higgins has recorded, 9, 6 and 6 tackles. I don't think he will keep up these stats though.
He has only dropped below 70 twice this year. Consistency is very important in our sides this year.
Verdict:
Higgins looks to be a reliable defensive option this year. I'm not trading him in, but I wouldn't argue with someone who is. Good option.
MIDFIELD
Jarrad McVeigh
He was in almost everyone's team last year as the 'reliable 90 guy'. But why should we consider him this year?
If you think about it, there isn't much risk at all in this move. He will get you anything between 90-110.
There were suggestions that McVeigh has a good chance to get DPP status early in the week. You will jump ahead of the pack by jumping on him early.
His lowest score this year is a sub affected 72. This 72 was from 65% game time!
He's scored four tons this year. Four out of nine games!
He's averaging six marks off half back this year.
Averages five tackles this year!
You will also get some big scores out of him, scoring 131 against the Suns last week. Although it was against the Suns, it is nice knowing he could knock out a big score.
He also knows how to find plenty of the pill, knocking up 39 possessions last week!
Although it's a long time away, he faces, GWS, St Kilda and Gold Coast in his last three matches!
Verdict:
I cannot find a single disadvantage for McVeigh's scoring ability. He's a gun. DPP makes my mouth water.
@BenjoDT should hopefully gain DEF based on this 😊 pic.twitter.com/URNHLw6ot8

— AFL Fantasy DPP (@AFLFantasyDT) June 9, 2015
RUCK
Shane Mumford
A late change from Goldstein to Mummy in the final minutes of lockout in round one and I thought my season was over already. It's not. Mummy's going under the radar and has been producing some great scores along the way.
Mummy's price has remained between 480k and 500k for weeks now. At a BE of 89, he's probably not going to make you any cash. He's a keeper anyway!
Mummy has only dropped below 80 once this year, and that was nine rounds ago in round one!
Mummy has averaged 48 hit outs over the last four weeks! What has he been eating?
Big Mummy averages 6.3 tackles a game!
Mummy's best two attributes to his game are tackles and hit outs. If he gets a lot of these, then he is due for a monster of a score.
Verdict:
Mummy's has consistently produced solid scores this season. Mumford is a great upgrade target.
FORWARD
Mitch Grigg
Who?
This is why everyone should consider Grigg. He has scored, 83, 89, 87, 90 and 84 in his last five weeks. Talk about standard deviation!
A little big more information about Grigg is required though. In round two, he copped the green vest. He effectively got 36 DT points from in a quarter when subbed on!
The only person who could possibly come into the Adelaide side is Brad Crouch, although Grigg shouldn't be the one omitted, more likely Ellis-Yolmen, who got the red vest last week.
He's got a BE of 41 and is set to increase in price. Could be a nice stepping-stone.
Grigg averaged 70.4 DT points in 2013.
Verdict:
Although he shouldn't be traded in this week as he has the bye, he could be a nice stepping stone after his bye.
AROUND THE GROUNDS
My team scored 2029 in Fantasy, which I was a bit disappointed with. My midfield scored an A+. Lewis, who I put as my captain, was the lowest scorer in my mids this week. Shoutout to Ward, who scored 149 as VC!
TWEETS
https://twitter.com/rickypetterd/status/608202076720463872
I like Yeo the best in the backline. He's been averaging really well since being moved into the midfield/forward line.
@BenjoDT @DTTALK Got Stef (Rnd 11 bye). TBC has to go. Get in Jacobs (R11) & have no ruck this wk or get in Goldy (R13)…

— Punchy (@MpPunchy) June 9, 2015
Very interesting question! This is what I'm thinking. In round 11, Stef + Sauce would get you 0 points. In round 13, Stef + Goldy would get you 110 points. After the byes, there are 9 rounds left. Sauce has to average 12 points more than Goldy. Is it possible? I would go Goldy.
@BenjoDT @DTTALK koby Stevens?

— Alec Mckenzie (@bigwilfried) June 9, 2015
Stevens has the bye this week. Next week he's a good option. He's very risky but with the current form he's in, he would be a good pick up that would make you a bit of cash. Also has a great draw.
@BenjoDT @DTTALK trade CEY to Wines or N Jones/Stevie J for cash?

— Ben Walter (@BJ_Lad) June 9, 2015
Out of those options, I like Wines the best. Stevie J has been spending a lot of time up forward and Jones has produced some below par scores as well. Wines really has looked to have taken his game to the next level.
@BenjoDT @DTTALK heres one for ya- is rory laird a possible top 6 defender given recent form?

— Neil Wright (@Lefty113) June 9, 2015
Now this tweet was by Lefty. Lefty started with Mundy, miles before his DPP was announced! Great effort! Anyway, is Rory Laird a top six defender? I don't think he is to be honest. He has been in tremendous form, but can he beat the likes of, Hodge, Boyd, Mundy, Yeo, Simpson, Shaw and possible more sneaky DPPs? I don't think he can make it.
@BenjoDT This would be a massive POD but after his bye, Marc Murphy? Gun under Ratten, average under Mick, massive 128 under Barker..

— Brandon (@BrandonMcKay6) June 9, 2015
A very good point made there. I am seriously considering Murphy after his bye. With a new coach in Barker, I think Carlton can become a more competitive side, and therefore help their DT scoring. Look at his price tag. 460k! Definitely worth a punt.
@BenjoDT @DTTALK is it time for CEY to go? And if so is dumont the best option?

— Ben Levin (@_benlevin_) June 9, 2015
Grrr… I dislike all North Melbourne players after beating my beloved Eagles. But seriously, CEY has to go. Brad Crouch was back to his best in the SANFL on the weekend, so he will be first in, while CEY looks like first to go. Dumont is probably the best option. He has a BE of -15 so get in quick!
Important:
The bye rounds are upon us! Make sure that you try and get to fielding a full 18 squad.
Good luck this week! I hope you enjoyed the fourth edition of Benjo's PODs.
Comment your trade ideas down below and I'll try to get to as many as possible!