Throwback Thursday – Rd.10 … Queen's Birthday Clash
"Happy Birthday, you old fart" was the general mantra last month for Dustin Fletcher's 40th, just as it will be again this Monday for our Queenie (even though it's not really her birthday…)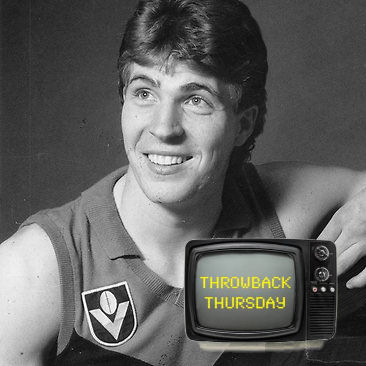 "Happy Birthday, you old fart" was the general mantra last month for Dustin Fletcher's 40th, just as it will be again this Monday for our Queenie (even though it's not really her birthday…) And what better way to celebrate the English monarchy than err… a nice game of Aussie Rules? Unlike ANZAC Day though, The Queen's Birthday Clash is still played exclusively between two teams (Melbourne and Collingwood) and as part of a long weekend it all makes for some above average Mondays. Sometimes they're also really worth watching!
GOLDEN YEARS
The Queen's Birthday Clash has been a guaranteed annual event since 2001, but of all the sporadic occurrences before and after then, the standout would arguably be Round 10, 1958 when 100,000 people saw Melbourne win, prior to meeting The 'Pies again in the '58 Grand Final and the outcome reversed. Aside from the Queen's Birthday format, there were often some fiery clashes about 25 years ago between these teams with the likes of Lyon, Grinter, Jakovich and Stynes versus Daicos, Shaw, Monkhorst and Millane.
BIG JIM
Jim Stynes was one of the first ruck 'Demons' in every sense (except for the fact he was so fair and easygoing) and as a Dream Team option, he was simply one of the best. The 1990s was a special decade for ruck Fantasy points and Jimmy presented some Gentle Giant-sized scores against Collingwood, whereby between 1993 and 1998 he registered a disposal count in successive games of 34, 31, 29, 31 and 28; and DT scores of 135, 120, 148, 130 and 121.
GOALS, GLORIOUS GOALS
Some of you may remember the time Sav Rocca kicked 10 goals against The Dees in 1997, or that other time he dobbed 7 in '96, but neither were on Queen's Birthdays. For Birthday party tricks we can go back to 1993 when Allen Jakovich bagged 9 goals, or that mad Monday in 2000 when Jeff Farmer kicked 9. In 2002 Chris Tarrant slotted 7 and likewise Russell Robertson in 2007. If you're too young for any of those, maybe you'll recall that time last year when the entire Melbourne team kicked 3 goals… Ouch.
THAT DRAW
One of the best all-time QB matches was that amazing draw (because draws are always amazing) back in Round 12, 2010, with Dane Swan and Brent Moloney both collecting 38 disposals and 7 tackles each for 150 and 137 DT points respectively. 2010 was also the most recent season these teams have met twice, with the preceding game in Round 2 almost singlehandedly stolen by Ricky Petterd (4 goals), as Collingwood prevailed by just 1 point. With all that, followed by a drawn Grand Final and premiership, what a year for Magpie fans!
DANE SWAN IS…
…a pig! In his last five matches against Melbourne he's averaged 35 disposals. For consistent impact in these contests in recent times, statistically no one else comes close. Whether Bernie Vince or anyone else lets that continue this week remains to be seen…
Next week's Throwback: Kangas, Bombers and flying marshmallows.