The Friday Scramble: Round 10
As usual we all know that there aren't three bye rounds, but there are actually 4 as we often have some sort of carnage in the round before the official byes!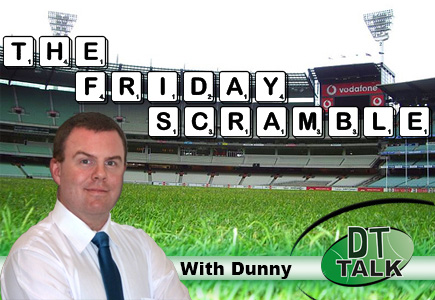 It is just like clockwork, you can set your watch to it. We all have our teams set ready for the byes and then bang, carnage hits.  But hey, shouldn't we be used to it by now this year. I think we have had just about everything, stars getting injured, stars underperforming, rookies dominating one week and then being rubbish the next and then just this last week we had the late withdrawal of our lock in, 100% no problems captain. So it is at this point of the season you have a choice, you can either spit the dummy and say get stuffed, or you can pick yourself up and use this as a way to improve your team and hopefully rocket through the rankings.  Hopefully you choose the latter, that is what I am doing and here are a few of my thoughts as we scramble through the last full round before the byes.
Selection Carnage!
Last week I remember writing that I thought things weren't too bad and that all was well with the world.  Well that has certainly backfired on me this week! Let's look at a few of the key things that have happened.
Well the obvious one is Rocky, but we all knew this was going to happen.  He said he was going to be out for 2-3 weeks, but the official injury report is saying 4-6 which to me says, trade him out.  The only way you would keep him is if you don't care about your ranking and you are in a league that doesn't play through the bye rounds.  There are a few options, you can either trade him down to a rookie, upgrade him to a premo or try and sideswap him.  All of these scenarios really depend on how much cash you have and what you are planning through the bye rounds.  Personally I will be probably trading him to someone like Mitch Wallis who has had a couple of great weeks lately and hence will rise in price.
Nathan Krakouer is in a heap of teams and he has found himself on the outer and so far on the outer that he is back on the rookie list at the Power.  First he got the green vest last week and now he has been omitted (it is a fairly long term omission too!).  Personally as a Power fan I didn't see this coming, I thought his form down back in the last few weeks has actually been quite good.  However, the main problem here is that he has been returned to the Rookie List so that William Frampton can come back to the senior list and play for the Port Magpies in the SANFL. Just remember though, after round 12 I believe one rookie listed player can be elevated so he may come back on to the senior list.  And before you ask, yes Polec is on the LTI, but Sam Gray is elevated for him currently.
At the Crows there has been a couple of relevant things. Both Rory Sloane and Brodie Smith return to the side which is a bonus for them but also for Fantasy coaches.  However, both have fairly high BE's (both are in the 140's in RDT) and they could fall in value this week (although they are playing Carlton) and then they have their bye, so they may be ideal pickups post bye round 11.  Also at Adelaide is rookie Jake Lever who is out with an ankle injury.  Interestingly though, he isn't on the official AFL injury list.
The Bont is out this week with an Adductor injury, he has been struggling of late and with the Dogs having the R11 bye I guess this is as good a time as any for him to have a rest, he is listed as a test, so I expect him to return after their bye.  Many of us were hoping to hold Mitch Clark until his bye, well guess what, he has gone and injured his calf.  So he is out.  That has thrown a lot of plans into disarray!  We also now know that the mystery injury to Jobe Watson is a groin injury and he could be out for a couple of weeks with that.
A bit more rookie news sees Dan McKenzie miss this week thanks to a concussion, at this stage hopefully only the one week but they have the R12 bye so we could see him return for R11, or they could hold him out until after their bye.  And Liam McBean has been omitted just as he was on the bubble this week.  We do see the first game for Hugh Goddard this week, he has a round 12 bye so he could play two games and then have one off and be an ideal downgrade after round 12 for us to get some cash to do an upgrade in round 13 to a round 12 player.
On the ins at least we have Jordan Lewis back this week and we have Matty Kreuzer in for his first game of the year.  Probably the big name back, and many draft teams will be happy to see Pearce Hanley back.  We also see Elliot Yeo return from suspension.
#AskDunny
Clurey or Hamling? Hamling with scoring ability, but Clurey with JS. Byes irrelevant. @pkd73 #AskDunny

— Ben Levin (@_benlevin_) June 4, 2015
For me here I think I go with Hamling. I am running with your comment about not worrying about the byes because ideally you would wait until R12 to pick him up as he will be on the bubble after his round 11 bye.  However, if you are desperate for someone this week I think that is where I go.  You mention Clurey's job security, however, really he only has that security whilst Trengove is out.  Once Trengove returns I think Clurey heads back to the SANFL.
@pkd73 Cover vs cash. Should a big zero risk (Bont/Lewis) stop a more desired trade? Ox 4 Hodge = no Bont cover. Clark 2 Stef does #AskDunny

— BrisBen (@worbsy88) June 3, 2015
Ok, I am mildly confused as to the trades in this tweet but I will give it a go.  I guess we now know that the Bont is out so that would be a zero.  I don't think Lewis will miss again this week so no zero there.  I think that there is never a good reason to go into a round with a donut (bye rounds are maybe the only exception). So if I was trading in this situation I would always trade to avoid a donut.  If I was trading to only have bench cover, then sometimes I would take that risk.  If you get a late withdrawal so be it, however, if there is a high risk player (like Bont would have been if he wasn't named out on Thurs) then maybe you would make sure you had the cover, but generally you have to back the guys on the field in.  So hopefully in a round about way I have answered your question there Ben.
@pkd73 @WarnieDT is Mitch Clark to Callum Sinclair wc $348k fwd/ruck genius or stupid? Cheers. (Can spend a further 51k if have to ) ta

— Gordon Anderson (@Gougoodthing64) June 3, 2015
Good morning Sir.  Well this is an interesting one. Sinclair has been fairly stable in regards to his scoring since he came in at round 5 with an average of 80.  So I certainly wouldn't call it stupid, but there is nothing there that would call it genius either.  I am assuming he is either your F6 or bench cover.  If that is the case it is fine.  He has already risen $118k in Fantasy (assuming that is where your question is based on his price), but a BE of only 23 should be quite achievable, so not a bad selection.  The only other factor to consider is the bye round, but since Geelong and West Coast have the same bye in round 13 that isn't an issue for you.
Things to Remember
Any trades you make this week MUST have the bye rounds in consideration unless you really don't care about overall rank and aren't playing the byes.
If you are going to drink when you travel with your team, ALWAYS fix up the mini bar bill before the team manager sees it!
Don't stress about having Rocky and having to trade him out, there are a heap of other coaches in the same position as you.
Make sure you set your Emergencies and VC each week and think about it, you never know when you need them, just like we did this last week!
Well, our last full round before the byes, good luck and hopefully we can all get out of the other end of the next three weeks unscathed! Trading through the byes is tricky but it is very important.  Next week I will cover that a bit more, but at this stage, you should be considering your team position and what your team should look like at the other end of the byes.
Catch you all on twitter over the weekend @pkd73 and hope you all have a great Queen's Birthday weekend of footy.