Lampe's Price Watch – Round 10
Lampe gives his best – and worst – options to pick up ahead of round 10.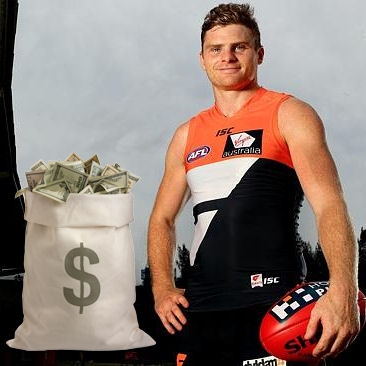 Round 9 was another one of those weeks where virtually everyone suffered from some form of carnage.
It may have been Captain Lewis, who was a late withdrawal. It could have been horrendous rookie scores and subsequent vests/injuries. If you were really unlucky you might have got the trifecta, with Rocky's broken ribs (Although playing out the rest of the game to score 90 was a supreme effort from the Pig).
Unfortunately, as with much of this year, round 10 looks like another shocker and the teams haven't even been named yet! This is the time for your premiums to stand up and provide you with the 100+ scores you paid for.
Here's a look at some of the best and worst options this week.
Defenders:
Buy:
Elliot Yeo ($479,000): Yeo has a break-even of just 41 and still has plenty of money to make. The last five rounds have seen Yeo break-out, averaging 106.8 over this time. While last weeks suspension hurt his owners, it gave the rest of us the chance to get him at a much lower price than he would have been. This may be particularly important with the backline carnage looming this round. *Buyer beware*- Yeo's scores may be affected by the return of Selwood and Rosa.
If you are backing Yeo to continue his good form, despite the return of some Eagle guns, this is the week to trade him in. He has a low break-even and a round 13 bye.
Heath Shaw ($473,000): It feels dirty talking about Shaw as a trade in target. I still haven't, and may never, forgive him for what he has done to me in the past. That being said, he has a breakeven of just 66, a round 13 bye and is coming off a massive 136. He has been in terrific form and should increase in price over the coming weeks.
As much as I hate to say it (and I really do), I honestly believe Shaw could be a top 6 defender. That being said, I don't know if I can ever bring myself to take him off the never again list….again.
Avoid:
David Mundy ($561,000): This is a very harsh call, but if you are looking at overall rankings and break-even's I would avoid Mundy until after his bye. With a breakeven of 129 and scores of 67 and 78 in two of his last three, Mundy has slowed after his magnificent start to the year.
A must have in your defence, however I would wait until after his dreaded round 12 bye, especially if you have overall rankings in mind.
Midfielders:
Buy:
Michael Barlow ($506,000): Barlow is at such a low price, you must take a good look at him, regardless of form. In all honesty, he actually hasn't been horrendous. He has a five round average of 98.4, but he definitely isn't playing (and more importantly scoring) like the Barlow of old. He plays Richmond this week, a team he has never scored under 100 against in 6 meetings, followed by the hapless Gold Coast. If he is ever going to hit top form it is now.
With a break-even of just 89 and a soft draw before his bye, this may be the cheapest Barlow is for many weeks to come.
Steele Sidebottom ($598,000): In my opinion, Sidebottom should be the number one trade in target for Rockliff owners, who are not concerned about the byes. Steele has a breakeven of 101 and I can't see him being any cheaper for the majority of the season. He hasn't taken any time to return to top form following his thumb injury, with scores of 118 and 131 in his last two.
The only reason you wouldn't pick Sidebottom is due to his round 12 bye. He looks a shoo-in to be a top 8 mid by seasons end.
Avoid:
Dyson Heppell ($556,000): I'm not sure what has happened to Hepp over the last month. Perhaps it is a flare up of the injury that required minor knee surgery pre-season. Perhaps he is simply out of form. Either way, his Dream Team scores have suffered as a result. With a break-even of 116 and a round 12 bye, I would advise both coaches looking for league wins and overall rankings to stay away for now.
Only has one 100+ score in his last five, but did manage a huge 152 against Geelong last year. Could be a bargain following his bye if he is close to $500,000.
Joel Selwood ($502,000): Despite being priced at just over $500,000 I would advise everyone to steer well clear of Selwood for now. He has been shocking of late, with a three round average of 74.7 and a five round average of 84. In my opinion, this is primarily due to his hand injury. This isn't a good thing, as it makes it even harder to know when he will return to peak fitness and form.
Has a breakeven of 126, is in horrendous form and is playing hurt. Wait until after his bye when he could be a steal at well under 500k and over his injury woes.
Rucks:
Buy:
Shane Mumford ($506,000): One of the players who could benefit both coaches hoping to improve their overall ranking and those just looking for league wins. Mumford has a breakeven of 89 and has hit his straps over the last month. He hasn't gone under 82 in his last seven, and I am predicting Mumford to be the third highest averaging ruckmen for the rest of the year.
Has a very handy round 13 bye and despite coming up against Martin this week, should still dominate around the stoppages.
50/50:
Matthew Kreuzer ($244,000): Before any trade is made you MUST wait and see if Kreuzer is named this week. If so, it is also important to see whether Wood gets a gig (I expect he 'Wood' regardless). This is one of the biggest calls you may make all season and could define your year. In many ways this is both the best and worst week for Kreuzer to be named. With Clark injured and Bellchambers getting to the point where you must trade him, Kreuzer could be a genius downgrade. On the other hand, trading him in this week allows you no time to assess his fitness, form and role within the team. With a breakeven of 46, he should have some increase in price in the coming weeks.
Personally, I would avoid Kreuzer until *at least* after his round 11 bye.
Avoid:
Nic Naitanui ($421,000): Again, this is a harsh call and some people may not agree with me on this. Normally when a player has a breakeven of 50 and is coming into some decent form, I would tell you too consider trading them in. With Naitanui, I am going to do the opposite. I would strongly advise spending the extra coin to get one of the top 2 or 3 ruckmen in the competition. It is not that Naitanui will provide you with terrible scores but you will most likely miss out on the premium numbers of a Jacobs, Martin or Mumford. The main concern I have with Naitanui is that he will consistently pump out average scores, while you have more important trades then upgrading him later in the year.
I could have it completely wrong, and if you are going to pick Naitanui this is the week to do so. Personally, I would avoid, but if you believe he is a premium or you can use him as a stepping stone then feel free to do so.
Forwards:
Buy:
Brett Deledio ($515,000) and Tom Mitchell ($525,000): In general, I will try to avoid mentioning the same players two weeks in a row. If however, they provide great value like these two, I will continue to do so. Deledio is still significantly under-priced and has a breakeven of just 63. Mitchell has a break-even of 80 and will only increase in price as the year progresses.
Out of the two, I would pick Mitchell (Could destroy Gold Coast and has the better Fantasy game IMO) but both should be top 6 forwards by seasons end.
Luke Dahlhaus ($539,000): For some unknown reason, myself included, the vast majority of the competition has not jumped on board the Dahlhaus train. Perhaps it is the fact he doesn't go massive, with no score over 120 this year. What he does bring, is a consistent score of just over 100 most weeks and is under-priced for what he has been producing.
He is the Matthew Priddis of your forward line. With a break-even of 86, you are getting him as cheap as he will be for the foreseeable future.
Avoid:
Nick Riewoldt ($469,000): It was a toss-up between Riewoldt and Devon Smith. I went with Riewoldt, as he may have a few more people  starting to consider him this week. In the matches that Riewoldt has played, he has actually looked really good and scored quite well. On the flip side, Riewoldt has a break-even of 106, plays the Hawks before his round 11 bye and at 32 years of age durability is always a concern.
I would advise those looking at an under-priced premium to avoid Nick Riewoldt for now. However, Keep in your memory bank that he could be a fantastic point of difference in your forward line after his bye.
Bye advice:
Have a think about what you really want out of the season before you trade this week.
If you simply want to beat your mates and win your league, then trade in the best possible player and don't give the byes a second thought (Do of course check that you are not playing league matches over the byes).
If you're looking at overall rankings, then you must pay some consideration to the byes and your structure. That being said, don't compromise your team by trading in players you would never consider just because of their bye round. This will hurt you in the long run.
Final thought: My Fantasy team (Lampshade's Lads) managed a respectable 2096 last week, despite a fair amount of carnage. This has taken my ranking to 451st overall and within striking distance…I hope.