AFL Teams 2015: Round 10
Shags is here with the news out of the round 10 team selections.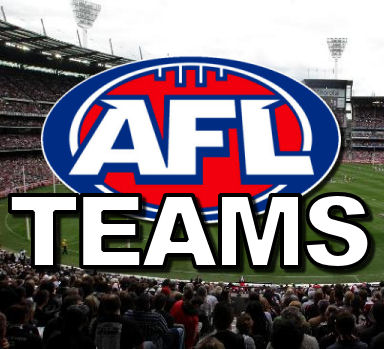 Bye round eve round 10 Teamsheets are out, and never has it been as important to consolidate your lists, eliminate deadwood and try to avoid donuts over the byes. There are 20 changes to Fri / Sat teams & 15 confirmed outs so far for Sun / Mon squads.
Bad news already with a popular port rook, who has been put back on the rookie list. A few huge names are back, and there are a few outs in particular that could cause problems in our forward lines. There are also a few new rookies for you to consider.
Fantasy Relevant Omissions :
Rockliff – Broken ribs again, could be the second time traded out for many.
Mitch Clarke – Ruled out with Ankle injury.
Liam Picken – The out of left field surprise package, out with a hammie.
Jobe Watson – (Groin) hurting those who had him as a POD.
Claye Beams – Another young star out for the season :(.
McBean – not so DT relevant rookie.
Daisy Thomas – maybe someone picked him up
Jake Lever (Ankle) – RDT rookie
Brandon Jack – Rookie didn't make the cut.
Maverick Weller – suspended for one week, not DT relevant himself, but he wont be tagging one of those popular Hawks mids.
Daniel McKenzie (Concussion) – Adds to our rookie out woes (mostly for RDT)
Luke Dunstan (Rested) – Some had him as a POD
Nathan Krakouer – Back on rookie list. You are going to have to trade. See my other thoughts.
Marcus Bontempelli (Adductor) – With other forwards out this will cause a few problems.
Taylor Adams (Toe) – Oh dear, forward line problem.
Fantasy Relevant Inclusions :
Jordan Lewis – Grrr, he better be.
Pearce Hanley – former Fantasy Defender great, unfortunately now a mid.
Elliot Yeo – Back from his 1 week punishment. Straight back on field for defense for many.
Kreuzer – Finally named!
Rory Sloane – Big in for crows
Marc Murphy, Chris Judd are back to bolster Blues midfield. Less pressure on Cripps?
Brodie Smith – Pretty cheap at the moment.
Will Langford – Some had him as a POD.
Andrew Swallow is named as an in again. Does this put pressure on Dumont's spot (again).
There are a few new rookies named.
New Rookies
Peter Wright
GCS (Fwd/Ruc $278k AF $187.9k RDT)
More of a RDT option for price. Another Suns ruck rookie, with DPP fwd/ruck status. Could be handy if he keeps his spot.
No. 8 draft pick Peter Wright will make his AFL debut against the Swans. READ: http://t.co/NBo8IpunWI pic.twitter.com/C6J2WYpewm

— GC SUNS (@GoldCoastSUNS) June 4, 2015
Toby McLean
WBD (Fwd $220k AF, 117.9k RDT)
Fwd rookie being given a chance, more of a RDT option. Questions about his JS.
FINAL TEAMS: Toby McLean (@tobymc3) to debut, with two other big INS. View the side —> http://t.co/CVYdNZgG4A pic.twitter.com/uIoX1aqc8C

— Western Bulldogs (@westernbulldogs) June 4, 2015
Matthew Kruezer
CARL (Ruc. $244,000, 45 be AF. $333,000 DT)
No, not a rookie, yes, priced like a rookie. With his bye round 11, hes more one Id look at for the week, and consider the downgrade after his bye. If you want a downgrade ruck for this week, might be worth the punt.
Orazio Fantasia
ESS Fwd. ($142k AF, $156.2k RDT)
Has been solid in the seconds, and had solid preseason comp form.
Expecting a bit of magic from @FantasiaOrazio this weekend: http://t.co/1A4nKditfE. Hirdy talks about this week's team

— Essendon FC (@EssendonFC) June 4, 2015
Elliott Kavanagh
ESS Mid. ($142k AF, $148.6k RDT)
Another who was on our watch lists all pre-season, finally gets a game, and is named on ball.
.@E_Kavanagh_28 in for his first game for 2015: http://t.co/XPFPz82jV9 He's one of 3 changes for the game #DonTheSash pic.twitter.com/i4fTe7ggzc

— Essendon FC (@EssendonFC) June 4, 2015
Jack Steele (sunday list)
GWS (Fwd/Mid. $227k AF $117.9 RDT)
This ones for the RDT players. Has been performing well in the seconds and could earn his call up this week.
Hugh Goddard (sunday listed)
STK Def. ($236k AF, $122.9k RDT)
This saints defender many expected to get a game before now. Has been on the radar if he can get in the list.
Rookies that kept their spots Karl Amon, Daniel Robinson, Joel Hamling, Tom Clurey, Andrew Boston & Keegan Brooksby.
Jack Fitzpatrick, Liam Dawson also kept their spots, but aren't on many DT radars.
Sunday:
Rookies listed for Sunday extended bench Daniel Howe, Blake Acres, Trent Dumont, Brant Colledge check Friday Lockout chat for Sunday game updates.
New Rookies Jack Steele, Hugh Beasley, Josh Clayton, Josh McGuinness, Hugh Goddard also on extended bench for Sunday game
Monday:
You wont know if a player like Jordan De Goey, Oxley or new rookie Brayden Maynard make the final list before lockout.
For more info on above rookies refer to Jeppa's Juniors.
NB: Michael Luxford was initially listed as an in for me, but he is named emergency. Sorry for any confusion
Other Thoughts:
Its the dreaded monday game this week, which means you will not know who makes the final cut from extended bench for both Melbourne and Pies before lockout. Some question marks over Oxley being sore.
Nathan Krakouer is confirmed moved back to rookie list.
Krakouer back to the rookie list after Frampton cleared to rejoin senior list against @Ceeentrals this weekend: http://t.co/2hpRHcdnnh

— Port Adelaide FC (@PAFC) June 4, 2015
But is this the end for him? There is the Mid Season rookie law.
"A Club may nominate one Player from its Rookie List as being available
for selection by the Club for Home and Away and Finals Series Matches
at any time after the conclusion of Round 11 before 2.00pm on the
Tuesday after the last round of Home and Away Matches by lodging
with the AFL the form prescribed in Schedule 1 as Form 36."
Surely Krakouer would be ports number one choice for re-elevation? That's a few weeks away so you probably should still trade.
With the likes of Marcus Bontempelli, Taylor Adams, Nathan Krakouer, Mitch Clarke out, many could have carnage in the forward line, and you may have to make two trades there just to avoid donuts.
There are a few new forward rookies, but the Job Security for them isn't great. I like the look of Orazio Fantasia, who had great pre season form and good in the seconds. If he can have a good game on the weekend he may keep his spot, but like all the new rookies he just might not.
Peter Wright as a DPP fwd/ruck could cover you for this week, and you can hide him away in your ruck bench later if he doesnt get a few games.
FREMANTLE v RICHMOND
DS , 6:10pm AWST Friday, June 5,
Dockers – Unchanged
Tigers – IN: Vickery OUT: McBean
CARLTON v ADELAIDE CROWS
MCG , 1:40pm AEST Saturday, June 6,
Blues – IN: Judd Murphy Kreuzer OUT: Thomas Yarran Jones
Crows – IN: Sloane Hartigan Smith OUT: Martin, Lyons, Lever.
GOLD COAST SUNS v SYDNEY SWANS
MS , 4:35pm AEST Saturday, June 6,
Suns – IN: Raines, Shaw, Wright OUT: Dixon, Sexton, Martin.
Swans – IN: Grundy, Lloyd OUT: McGlynn, B Jack
PORT ADELAIDE v WESTERN BULLDOGS
AO , 7:10pm ACST Saturday, June 6,
Power – IN: Young OUT: Krakouer
Dogs – IN: Crameri, Stringer, McLean OUT: Picken, Biggs, Bontempelli
ESSENDON v GEELONG CATS
ES , 7:20pm AEST Saturday, June 6,
Dons – IN:Gwilt, Kavanagh, Fantasia OUT: Watson, J Merrett, Fletcher.
Cats – IN: Walker OUT: Clark.
GWS GIANTS v BRISBANE LIONS
SPO , 1:10pm AEST Sunday, June 7,
Giants – IN: Davis, Wilson, Williams, Steele, Lobb OUT: Kennedy, Haynes.
Lions – IN: Hanley, Golby, Mayes, McGuinness, Bourke, Beasley, Cutler, Clayton OUT: Adcock, Rockliff, Harwood, C Beams, Aish.
NORTH MELBOURNE v WEST COAST EAGLES
BA , 3:20pm AEST Sunday, June 7,
Roos – IN: Swallow, McMahon, Daw, Jacobs, Wood OUT: McDonald, Turner.
Eagles – IHutchings, Yeo, Sheed into 25.
ST KILDA v HAWTHORN
ES , 4:40pm AEST Sunday, June 7,
Saints – IN: Ray, Savage, Curren, Ross, Minchington, Goddard OUT: Weller, Dunstan, McKenzie.
Hawks – IN: Lewis, Schoenmakers, Langford, O'Rourke OUT: Puopolo.
MELBOURNE v COLLINGWOOD
MCG , 3:20pm AEST Monday, June 8,
Dees – IN: Gawn, Riley, Michie, Newton OUT: Bail.
Pies – IN: Dwyer, Broomhead, Kennedy, Maynard OUT: Adams.
Full teams and notes to follow
– Shags
FREMANTLE v RICHMOND
FREMANTLE
B Clancee Pearce, Luke McPharlin, Lee Spurr
HB Garrick Ibbotson, Michael Johnson, Tommy Sheridan
C Paul Duffield, Nat Fyfe, Danyle Pearce
HF Michael Barlow, Matt Taberner, Michael Walters
F Chris Mayne, Matthew Pavlich, Hayden Ballantyne
FOL Aaron Sandilands, David Mundy, Stephen Hill
I/C Nick Suban, Cameron Sutcliffe, Zac Clarke, Lachie Neale
EMG Tendai Mzungu, Hayden Crozier, Jack Hannath
IN
No Change
RICHMOND
B Dylan Grimes, Jake Batchelor, Alex Rance
HB Bachar Houli, Troy Chaplin, Nick Vlastuin
C Anthony Miles, Trent Cotchin, Kamdyn McIntosh
HF Ben Griffiths, Shane Edwards, Steven Morris
F Brett Deledio, Jack Riewoldt, Ty Vickery
FOL Ivan Maric, Dustin Martin, Brandon Ellis
I/C Shaun Grigg, Taylor Hunt, Connor Menadue, Corey Ellis
EMG Nathan Gordon, Liam McBean, Matt Arnot
IN
Ty Vickery
OUT
Liam McBean (Omitted)
CARLTON v ADELAIDE CROWS
CARLTON
B Sam Rowe, Simon White, Lachie Henderson
HB Sam Docherty, Zach Tuohy, Kade Simpson
C Marc Murphy, Chris Judd, Andrejs Everitt
HF Nick Graham, Andrew Walker, Tom Bell
F Troy Menzel, Levi Casboult, Dennis Armfield
FOL Cameron Wood, Andrew Carrazzo, Patrick Cripps
I/C Dylan Buckley, Ed Curnow, Matthew Kreuzer, Jason Tutt
EMG David Ellard, Nick Holman, Liam Jones
IN
Marc Murphy, Chris Judd, Matthew Kreuzer
OUT
Chris Yarran (Omitted), Liam Jones (Omitted), Dale Thomas (Toe)
ADELAIDE CROWS
B Kyle Cheney, Daniel Talia, Rory Laird
HB Luke Brown, Kyle Hartigan, Jake Kelly
C Rory Sloane, Patrick Dangerfield, Brodie Smith
HF Nathan Van Berlo, Taylor Walker, Charlie Cameron
F Eddie Betts, Josh Jenkins, Tom Lynch
FOL Sam Jacobs, Scott Thompson, Matt Crouch
I/C Matthew Wright, Mitch Grigg, David Mackay, Cam Ellis-Yolmen
EMG Jarryd Lyons, Brodie Martin, Reilly O'Brien
IN
Kyle Hartigan, Rory Sloane, Brodie Smith
OUT
Jake Lever (Ankle), Brodie Martin (Omitted), Jarryd Lyons (Omitted)
GOLD COAST SUNS v SYDNEY SWANS
GOLD COAST SUNS
B Adam Saad, Henry Schade, Kade Kolodjashnij
HB Jarrod Harbrow, Steven May, Jesse Lonergan
C Luke Russell, Trent McKenzie, Andrew Raines
HF Danny Stanley, Tom J. Lynch, Harley Bennell
F Keegan Brooksby, Peter Wright, Touk Miller
FOL Tom Nicholls, Michael Rischitelli, Mitch Hallahan
I/C Andrew Boston, Matt Shaw, Brandon Matera, Sean Lemmens
EMG Clay Cameron, Greg Broughton, Seb Tape
IN
Andrew Raines, Peter Wright, Matt Shaw
OUT
Jack Martin (Hamstring), Charlie Dixon (Omitted), Alex Sexton (Hip)
NEW
Peter Wright
SYDNEY SWANS
B Nick Smith, Ted Richards, Dane Rampe
HB Gary Rohan, Heath Grundy, Rhyce Shaw
C Lewis Jetta, Josh P. Kennedy, Kieren Jack
HF Jarrad McVeigh, Lance Franklin, Daniel Robinson
F Adam Goodes, Kurt Tippett, Sam Reid
FOL Mike Pyke, Luke Parker, Dan Hannebery
I/C Harry Cunningham, Jeremy Laidler, Jake Lloyd, Tom Mitchell
EMG Brandon Jack, Harry Marsh, Toby Nankervis
IN
Heath Grundy, Jake Lloyd
OUT
Brandon Jack (Omitted), Ben McGlynn (Hamstring)
PORT ADELAIDE v WESTERN BULLDOGS
PORT ADELAIDE
B Jack Hombsch, Alipate Carlile, Jarman Impey
HB Matthew Broadbent, Tom Jonas, Jasper Pittard
C Matt White, Travis Boak, Brad Ebert
HF Robbie Gray, Justin Westhoff, Chad Wingard
F Karl Amon, Jay Schulz, Angus Monfries
FOL Matthew Lobbe, Hamish Hartlett, Ollie Wines
I/C Paul Stewart, Tom Clurey, Aaron Young, Sam Gray
EMG Kane Mitchell, Jake Neade, Andrew Moore
IN
Aaron Young
OUT
Nathan Krakouer (Omitted)
WESTERN BULLDOGS
B Easton Wood, Joel Hamling, Matthew Boyd
HB Robert Murphy, Fletcher Roberts, Jason Johannisen
C Jack Macrae, Mitch Wallis, Tory Dickson
HF Koby Stevens, Jake Stringer, Jarrad Grant
F Bailey Dale, Tom Boyd, Jordan Roughead
FOL Will Minson, Luke Dahlhaus, Lin Jong
I/C Stewart Crameri, Nathan Hrovat, Toby McLean, Lukas Webb
EMG Shane Biggs, Michael Talia, Caleb Daniel
IN
Jake Stringer, Stewart Crameri, Toby McLean
OUT
Shane Biggs (Omitted), Marcus Bontempelli (Adductor), Liam Picken (Hamstring)
NEW
Toby McLean
ESSENDON v GEELONG CATS
ESSENDON
B James Gwilt, Michael Hurley, Michael Hibberd
HB Martin Gleeson, Cale Hooker, Mark Baguley
C Dyson Heppell, Zach Merrett, Brendon Goddard
HF Travis Colyer, Patrick Ambrose, Orazio Fantasia
F Jake Carlisle, Joe Daniher, Adam Cooney
FOL Tom Bellchambers, Brent Stanton, Elliott Kavanagh
I/C Ben Howlett, Paul Chapman, Jake Melksham, Courtenay Dempsey
EMG Alex Browne, Jackson Merrett, Shaun Edwards
IN
James Gwilt, Orazio Fantasia, Elliott Kavanagh
OUT
Jobe Watson (Groin), Dustin Fletcher (Groin), Jackson Merrett (Omitted)
GEELONG CATS
B Jared Rivers, Harry Taylor, Corey Enright
HB Jackson Thurlow, Tom Lonergan, James Kelly
C Andrew Mackie, Joel Selwood, Steven Motlop
HF Mathew Stokes, Rhys Stanley, Steve Johnson
F Jordan Murdoch, Tom Hawkins, Shane Kersten
FOL Mark Blicavs, Cameron Guthrie, Josh Caddy
I/C Jed Bews, Cory Gregson, Darcy Lang, Josh Walker
EMG George Horlin-Smith, Jake Kolodjashnij, Michael Luxford
IN
Josh Walker
OUT
Mitch Clark (Calf)
GWS GIANTS v BRISBANE LIONS
GWS GIANTS
B Tomas Bugg, Phil Davis, Heath Shaw
HB Aidan Corr, Joel Patfull, Matt Buntine
C Adam Treloar, Callan Ward, Toby Greene
HF Ryan Griffen, Cam McCarthy, Tom Scully
F Josh Kelly, Jeremy Cameron, James Stewart
FOL Shane Mumford, Devon Smith, Stephen Coniglio
I/C Zac Williams, Rory Lobb, Jack Steele, Dylan Shiel, Will Hoskin-Elliott, Lachie Whitfield, Nathan Wilson (Three to be omitted)
IN
Phil Davis, Zac Williams, Rory Lobb, Jack Steele, Nathan Wilson
OUT
Adam Kennedy (Omitted), Nick Haynes (Groin)
NEW
Jack Steele
BRISBANE LIONS
B Jordon Bourke, Justin Clarke, Hugh Beasley
HB Harris Andrews, Marco Paparone, Daniel Rich
C Lewis Taylor, Dayne Beams, Nick Robertson
HF Dayne Zorko, Mitch Robinson, Allen Christensen
F Josh Green, Matthew Leuenberger, Pearce Hanley
FOL Stefan Martin, Ryan Lester, Zac O'Brien
I/C Rohan Bewick, Josh Clayton, Liam Dawson, Tom Cutler, Sam Mayes, Mitch Golby, Josh McGuinness (Three to be omitted)
IN
Jordon Bourke, Hugh Beasley, Pearce Hanley, Josh Clayton, Tom Cutler, Sam Mayes, Mitch Golby, Josh McGuinness
OUT
James Aish (Jaw), Ryan Harwood (Concussion), Claye Beams (Knee), Tom Rockliff (Ribs), Jed Adcock (Calf)
NEW
Hugh Beasley, Josh Clayton, Josh McGuinness
NORTH MELBOURNE v WEST COAST EAGLES
NORTH MELBOURNE
B Lachlan Hansen, Scott D. Thompson, Michael Firrito
HB Sam Wright, Robbie Tarrant, Jamie Macmillan
C Brent Harvey, Andrew Swallow, Sam Gibson
HF Shaun Higgins, Jarrad Waite, Ryan Bastinac
F Lindsay Thomas, Drew Petrie, Robin Nahas
FOL Todd Goldstein, Ben Cunnington, Jack Ziebell
I/C Ben Jacobs, Trent Dumont, Shaun Atley, Mason Wood, Majak Daw, Scott McMahon, Ben Brown (Three to be omitted)
IN
Andrew Swallow, Ben Jacobs, Mason Wood, Majak Daw, Scott McMahon
OUT
Luke McDonald (Omitted), Kayne Turner (Omitted)
WEST COAST EAGLES
B Sam Butler, Jeremy McGovern, Shannon Hurn
HB Jackson Nelson, Will Schofield, Elliot Yeo
C Jamie Cripps, Matt Priddis, Sharrod Wellingham
HF Andrew Gaff, Callum Sinclair, Chris Masten
F Mark LeCras, Josh J. Kennedy, Josh Hill
FOL Nic Naitanui, Liam Duggan, Luke Shuey
I/C Jamie Bennell, Brant Colledge, Mark Hutchings, Fraser McInnes, Dom Sheed, Scott Selwood, Brad Sheppard (Three to be omitted)
IN
Elliot Yeo, Mark Hutchings, Dom Sheed
ST KILDA v HAWTHORN
ST KILDA
B Jarryn Geary, Sean Dempster, Cameron Shenton
HB Jack Newnes, Luke Delaney, Jimmy Webster
C Blake Acres, David Armitage, Farren Ray
HF Leigh Montagna, Nick Riewoldt, Jack Billings
F Tom Hickey, Josh Bruce, Jack Lonie
FOL Billy Longer, Adam Schneider, Jack Steven
I/C Shane Savage, Sebastian Ross, Dylan Roberton, Tom Curren, Hugh Goddard, Jack Sinclair, Darren Minchington (Three to be omitted)
IN
Farren Ray, Shane Savage, Sebastian Ross, Tom Curren, Hugh Goddard, Darren Minchington
OUT
Daniel McKenzie (Concussion), Maverick Weller (Suspension), Luke Dunstan (Rested)
NEW
Hugh Goddard
HAWTHORN
B Shaun Burgoyne, Brian Lake, Sam Mitchell
HB Ben Stratton, James Frawley, Josh Gibson
C Bradley Hill, Luke Hodge, Isaac Smith
HF Luke Breust, Jarryd Roughead, Matthew Suckling
F Cyril Rioli, David Hale, Jack Gunston
FOL Jonathon Ceglar, Jordan Lewis, Liam Shiels
I/C Billy Hartung, Ryan Schoenmakers, Taylor Duryea, Angus Litherland, Jonathan O'Rourke, Will Langford, Daniel Howe (Three to be omitted)
IN
Jordan Lewis, Ryan Schoenmakers, Jonathan O'Rourke, Will Langford
OUT
Paul Puopolo (Foot)
MELBOURNE v COLLINGWOOD
MELBOURNE
B Colin Garland, Tom McDonald, Jack Fitzpatrick
HB Jeremy Howe, Lynden Dunn, Neville Jetta
C Daniel Cross, Aaron Vandenberg, Heritier Lumumba
HF Ben Newton, Cameron Pedersen, Jack Viney
F Jeff Garlett, Jesse Hogan, Aidan Riley
FOL Max Gawn, Nathan Jones, Bernie Vince
I/C Jack Watts, Jimmy Toumpas, Angus Brayshaw, Viv Michie, Jack Grimes, Jake Spencer, Matt Jones (Three to be omitted)
IN
Ben Newton, Aidan Riley, Max Gawn, Viv Michie
OUT
Rohan Bail (Omitted)
COLLINGWOOD
B Tom Langdon, Nathan J. Brown, Marley Williams
HB Alan Toovey, Jack Frost, Tyson Goldsack
C Travis Varcoe, Dane Swan, Paul Seedsman
HF Jamie Elliott, Jesse White, Steele Sidebottom
F Alex Fasolo, Travis Cloke, Jarryd Blair
FOL Brodie Grundy, Jack Crisp, Scott Pendlebury
I/C Sam Dwyer, Ben Kennedy, Jarrod Witts, Tim Broomhead, Jordan De Goey, Brayden Maynard, Adam Oxley (Three to be omitted)
IN
Sam Dwyer, Ben Kennedy, Tim Broomhead, Brayden Maynard
OUT
Taylor Adams (Toe)
NEW
Brayden Maynard