Jeppa's Juniors – Round 9
On the eve of the bye rounds, getting your rooks right is critical in maintaining 18 playing players. Don't miss Jeppa's full review from the weekend's action including a few new kids on the block performing well.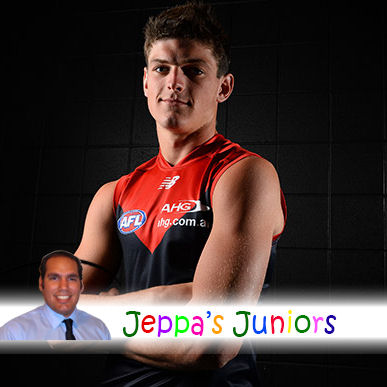 No one likes the bye rounds but it's part of the game and from experience, the pro coaches rise above during this period. Injuries to Rockliff, Watson, Saad (rumoured), Clark (test), Picken (test) and the Bont (test) are far from ideal at this time. Oxley is sore and Krakouer is facing the axe too, which compounds our problems. You cannot hold these blokes through the bye rounds so please make it a priority to trade out your 'dead wood' as required.
At this stage, my strategy for the bye rounds is to get rid of my injured/dropped players this week, make a double downgrade in Round 11 to be cashed up for a couple of premo upgrades for Round 12 (Isaac Smith, Beams, Sloane). I urge you all to plan ahead!
Let's get into the rooks shall we…
Three Gamers 
KEEPERS
It's taken a while but Angus Brayshaw (Mid. $361,000, 42 be AF. $348,300, 21 be DT) is starting to play some really good, consistent footy. The Dees best player in Round 9 had 21 possessions (14 contested), 2 marks, 8 tackles and 94 Fantasy points against decent opposition in the Power. Playing through the midfield, Brayshaw's second and third efforts are seeing him get his hands on the footy more and his tackle numbers (av. 5.4 per game) allow him to score well. Other young Dees in Jesse Hogan (Fwd. $380,000, 40 be AF. $366,700, 19 be DT) and Aaron Vandenberg (Fwd/Mid. $387,000, 47 be AF. Mid. $378,700, 7 be DT) continue to be solid performers. Hogan had Carlisle's measure all day grabbing 8 marks, kicking 2 goals and scoring 86 Fantasy points. Vandenberg was his usual tough self amassing 19 possessions, 5 marks, 4 tackles and 80 Fantasy points. With their Round 13 bye, hold Brayshaw, Hogan and Vandenberg.
Callum Sinclair (Ruc/Fwd. $348,000, 23 be AF. $366,500, 40 be DT) was surprisingly the highest scoring rookie for the week. Other than being a stepladder for Nic Nat's mark of the year contender, the Eagles big man was dominant up forward and in the ruck finishing with 14 touches, 6 marks, 19 hitouts, 3 tackles, 2 goals and 103 Fantasy points. Sinclair is keeping Lycett in the WAFL!
Popular rooks in Kamdyn McIntosh, 97 (Def/Mid. $340,000, 40 be AF. Def. $323,600, 18 be DT), Cameron Ellis-Yolmen, 93 (Mid. $379,000, 49 be AF. $374,400, 64 be DT) and Patrick Cripps, 83 (Mid. $371,000, 66 be AF. $364,900, 65 be DT) have returned to top form. All three were named in the bests for their club and it's obvious to hold them at this point.
I liked Blake Acres (Mid. $183,000, 3 be AF. $217,300, 10 be DT) game. The young West Aussie got a full run through the midfield against the Lions and finished with a healthy 20 possessions, 3 marks, 4 tackles and 74 Fantasy points. I stressed my liking for Acres last week as a downgrade option and nothing has changed even though he's now a little more expensive. I have the same love for Trent Dumont (Mid. $150,000, -16 be AF. $124,600, 23 be DT). Going by Brad Scott's post match conference, the axe will fall at North and thankfully, Dumont was one of North's better players last week. With no vest, he racked up 10 kicks, 8 handballs, 10 tackles and 87 Fantasy points. Interestingly, Dumont only played 68% game time and I'm hoping caretaker coach Darren Croker realises his value and gives him more responsibility. Note that Dumont has averaged 25 touches and 120 Fantasy points in the VFL and these numbers have me leaning towards trading him in this week for Dreamteam.
You'd be pretty happy with Karl Amon (Mid. $161,000, 4 be AF. $154,300, -27 be DT) as a Port supporter. The midfielder works incredibly hard, is composed with the ball in hand and his skills are top notch. I'm confused though as to why he was subbed off on Saturday. Amon was doing really well on a wing and he scored 55 Fantasy points in just over three quarters of footy. I still think the upside is bright and he should do well against the Dogs this weekend.
DON'T PANIC
Many of us have bigger problems than workhorse Touk Miller (Mid. $376,000, 68 be AF. $367,700, 75 be DT). The little tyro couldn't get into the game with the Hawks dominating around the ground and he scored just 60 Fantasy points as a result. With the Suns having the Round 12 bye, I'd hold Miller.
It's disappointing that Jordan De Goey, 31 (Mid. $259,000, 54 be AF. $233,300, 46 be DT) and Nathan Krakouer, 25 (Fwd/Mid. $264,000, 62 be AF. $250,700, 79 be DT) both copped the green vest. Both can score at a decent click when given the chance. It's a risk but you could hold them and hope they play a full game.
Adam Saad, 64 (Def/Mid. $347,000, 47 be AF. $344,100, 59 be DT), Jake Lever, 60 (Def. $306,000, 49 be AF. $232,600, 14 be DT), Connor Menadue, 57 (Mid. $187,000, 23 be AF. $137,900, -19 be DT), Lukas Webb, 55 (Mid. $261,000, 39 be AF. $222,700, 35 be DT), Liam Duggan, 52 (Mid. $292,000, 37 be AF. $285,400, 11 be DT), Fraser McInnes, 49 (Fwd. $249,000, 11 be AF. $259,500, 19 be DT, Daniel McKenzie, 41 (Def/Mid. $257,000, 52 be AF. $197,300, 17 be DT) and Bailey Dale, 29 (Fwd. $179,000, 29 be AF. $139,600, 15 be DT) all had mediocre scores but their breakevens are lower than / close to their averages so you shouldn't lose out if you hold them. All players here are benchwarmers only.
TRADE, TRADE, TRADE
If I haven't categorised a player from Round 9 under 'Keepers' or 'Don't Panic' then trade them out as soon as you can but when appropriate.
Adam Oxley (Def. $366,000, 92 be AF. $352,100, 80 be DT) gets a special mention. The yoyo scoring output from the Ox continued this week with his owners getting just 29 Fantasy points after a red vest. He's not a top 6 defender so why keep him especially at his current value. I may be forced to hold him till his Round 12 bye unfortunately.
Like I said in the intro, there's no room for injured players thus Mitch Clark, 33 (Ruc/Fwd. $289,000, 67 be AF. Fwd. $275,600, 60 DT) has to go. It would have been nice to hold him through the byes but his job is done.
Two Gamers 
Liam McBean, 39 (Fwd. $128,000, 12 be AF. $124,600, 8 be DT), Jack Fitzpatrick, 34 (Fwd. $206,000, 32 be AF. $229,200, 42 be DT) and Liam Dawson, 33 (Mid. $159,000, 29 be AF. $117,900, 9 be DT) haven't excited me one bit in their two games this season. Stay away from all three.
I don't think I've stalked a player harder than Josh Glenn (Mid. $177,000, 0 be AF. $126,900, -52 be DT). Glenn missed last week with injury and given that he hasn't played competitive footy for a month, I suspect he'll return this week via the NEAFL. Those without Glenn will be hoping he returns after the Suns bye in Round 12.
One Gamers
After four years in the AFL system, Joel Hamling (Def. $140,000, -8 be AF. $124,600 DT) finally made his debut. The full back was rock solid in defensive 50 and won enough of the footy for him to be considered productive. He finished with 16 possessions, 7 marks, 1 tackle and 68 Fantasy points but jeez he's a nervous kick. Personally, I liked the look of Tom Clurey (Def. $134,000, 3 be AF. $158,000 DT) better. Port's young key defender played on the dangerous Jeremy Howe, kept him to just six possessions and goalless! At the final siren Clurey had 53 Fantasy points but I suspect he'll improve slightly in the coming weeks and worst case he'll hold his spot for the next month with Trengove out injured.
The Swans unearthed the skillful Daniel Robinson (Mid. $144,000, -14 be AF. $124,600 DT) last Friday night. There was a twist at the start of the game however, with Robinson starting in the green vest but that changed when Grundy injured himself in the warm up leaving Brandon Jack a late in and the last to wear green. Playing vest free, Robinson enjoyed a relatively free rein against the Blues and from 77% time on ground, he finished with 8 kicks, 7 handballs, 5 marks, 4 tackles, 1 goal and 77 Fantasy points. As good as he was, the fact that Robinson was meant to start in the vest puts me off and I would wait another week before potentially trading him in.
Gold Coast's Andrew Boston (Mid. $166,000, -10 be AF. $128,700 DT) is an interesting one. Just two months ago he was dropped from the NEAFL for not meeting physical requirements (source). Making his way back to AFL ranks, the half forward was lively against the Hawks and his tackling pressure was a feature. Boston was the highest scoring first gamer for the round, which is a pretty good effort considering the Suns got smashed. Boston's official stat line read amassing 14 kicks, 4 handballs, 4 marks, 5 tackles and 82 Fantasy points. He should do well again versus the Swans this week but I consider him a vest risk. Amon and Dumont well ahead of him.
They don't get any cheaper than Suns rookie Keegan Brooksby (Ruc. $137,000, -2 be AF. $102,900 DT). The basketball convert loves the tough stuff and his 5 tackles is Fantasy friendly but 7 possessions aint (1 kick & 6 handballs) and he finished with 60 Fantasy points. It would have been worse too if it wasn't for a late goal. I'd like to see Brooksby for one more week before trading him in but the potential is definitely there.
It's unlikely that Daniel Howe, 51 (Def. $210,000, 30 be AF. $117,900 DT), Brant Colledge, 31 (Mid. $177,000, 34 be AF. $187,400 DT), and Brandon Jack, (Fwd. $188,000, 37 be AF. $201,800 DT) will remain in the seniors long term. All three were the subs for their teams in Round 9 and other than Howe, they didn't have a notable impact. Playing off halfback, young Howe had 11 touches and 51 Fantasy points in just a quarter of footy but it was against the Suns and the game was well and truly over by the time he came on. It's a shame he plays for the Hawks and not a young team like the Saints or Suns, otherwise I'd recommend picking him up.
Just a quick note to make sure you stay away from Paul Stewart, 59 (Fwd. $243,000, 35 be AF. $287,900 DT). He's not a certainty to appear in Port's 22 each week so it's a huge risk to pick him up at that price.
Please note that if I haven't mentioned a rookie priced player above, it means I don't rate them. Remember rooks are classified as players under $250,000 in Fantasy and/or Dreamteam.
Keep Your Eye On
With Geelong's six-day break, flying back from Perth and injuries to Stanley and Clark, Jake Kolodjashnij (Def. $120,000, 22 be AF. $124,600 DT) should debut this week. The 193cm defender is great in the air, reads the play well and can rebound from the back line similar to his brother. He's been in the bests in the VFL four out of six games and has averaged a reasonable 15 possessions, 6 marks, 2 tackles and 62 AFL Fantasy points from his last two games. Would be a good matchup for Patrick Ambrose this week I reckon.
Michael Luxford (Fwd. $120,000, 22 be AF. $102,900 DT) is another young Cat in line for a debut. Luxford was upgraded from the rookie list after good VFL form and was named as an emergency in Round 9. He has been groomed as a forward and could replace another 'junior' in Cory Gregson. I'd say Luxford would be a high green vest risk.
First year Bomber, Jayden Laverde (Fwd/Mid. $240,000, 46 be AF. $127,900 DT) could line up in the big game against the Cats. The 190cm utility plays similar to Brendan Goddard and word is that the Bombers want to use Laverde as a defensive forward. Dual position rooks are always handy.
I suspect that Matty Kreuzer (Ruc. $244,000, 46 be AF. $333,000 DT) will be named this week, which throws a spanner in the works for many coaches trade plans. With the Blues having the Round 11 bye, I'd pass on him and pick him up in Round 12 pending a good game this weekend.
Hugh Goddard (Def/Fwd. $236,000, 43 be AF. $122,900 DT), Brad Walsh (Mid. $120,000, 22 be AF. $102,900 DT), Jack Steele (Fwd/Mid. $227,000, 43 be AF. $117,900 DT), Harrison Wigg (Def. $192,000, 36 be AF. $117,900 DT) and Orazio Fantasia (Fwd. $142,000, 27 be AF. $156,200 DT) are previously mentioned fringe players doing well in the reserves that could be named for Round 10 as a result.
Feel free to ask me a question below and don't forget to add me on Twitter @JeppaDT for all things Fantasy and more. Happy trading!