Roy's Trade Talk – Round 10
Toot toot, can anyone hear the carnage bus? I have a feeling it's going to make it's yearly 'Pre Bye' stop. Oh well, guess we better trade!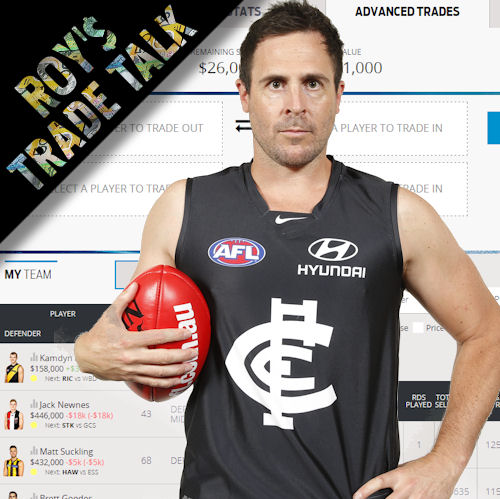 In what is shaping as a disastrous lead up to the byes on the injury front, it is hard not just to just focus on getting a full team on the park. Well, that's where I currently stand anyway as it feels like every relevant player that gets suspended or injured is sitting in my team. Having said this, there is only one way to look and that is forward! So here are a few guys I think are worthy of selection this week.
Warne Dawg was all over this bloke in the pre-season and it's unfortunate he didn't get the chance to
enjoy his recent high scoring ways before being forced to trade him through injury. Mitch Wallis (MID, $401,000) returned to the side in round 7, but it is rounds 8 and 9 that has thrown his name into the mix. He is on an absolute tear in that time demonstrating career best numbers with scores of 121 and 147 respectively. It is a difficult one because he has the round 11 bye, so it would be nice to wait a week on him, but if it fits your bye structure, his break-even of 9 is hard to ignore. Over the last two weeks his most impressive stat has been the 19 tackles amassed in that time.
With many coaches still carrying the OX, Adam Oxley, the writing is on the wall that he will be dropped/rested this week after being subbed off with "soreness" in a very quiet performance. If you are on the hunt for a replacement who holds a rare round 13 bye, Elliot Yeo (MID/DEF, $479,000) looks a perfect fit upon his return from suspension. He has been in sensational form over his past four games with scores of 112, 93, 150 and 96 as he has embraced the increased opportunities of his move into the midfield and forward line. He is heavily under-priced
with a break-even of just 41 but buyer beware: his centre bounce attendance may drop off slightly now Selwood has returned to the team.
The downgrade target of the week is Roo Trent Dumont (MID, $150,000), who embraced his first opportunity to play a full game by scoring 87 on the back of 18 possessions and an impressive 10 tackles. Despite having three games under his belt, his two vests mean he is still available for such a cheap price. He has a break-even of -9 so he will provide a handy player over the byes, not to mention the cash he will make with his new found job security.
Twitter Time
@RoyDT If you 3 still lived together what would you rename your "attack dogs" poster this year? #Griff #RTT #longtimefan @WarnieDT @CalvinDT

— Waters (@waterstbw) June 1, 2015
Haha, Yep! It would be called Giant Flop
Mccarthy to titchell or pittard to hodge? #rtt @RoyDT @WarnieDT @CalvinDT @Benji_DT

— Ariel Zelwer (@AZelwer) June 1, 2015
Jump on the Mitchell train
@RoyDT #RTT should Mitch Clark get the boot for someone like Amon or Dumont this week?

— Angus Sorensen (@legustinatorz) June 1, 2015
I would go to Dumont
@RoyDT #RTT Blicavs or Mummy?What's the best strategy for the byes if you're not playing,guess u shouldnt trade in incase they get injured?💜

— Fiona (@maccapower) June 1, 2015
I would grab Blicavs, I am a big fan
@RoyDT if he's out for 2-3, should we trade rocky? #RTT

— Inactive (@JakePizzuto) June 1, 2015
Trade if you take pride in overall rank
@RoyDT Is it time for the bont to go this week ? #RTT

— Paul (@Lewie14) June 1, 2015
If you have a luxury trade, go to Dahl
Dumont a must this week? Worth downgrading Glenn to get to him? @RoyDT #RTT

— Ben Levin (@_benlevin_) June 1, 2015
I don't call him a 'must' but that is still a good trade with byes in mind
@RoyDT is it worth holding McCarthy for maybe 1 more week? He plays Brisbane at home this week. #RTT

— ethan (@ethanpowell69) June 1, 2015
Should get 70 minimum, could go 90.
Hopefully our trade plans aren't thrown into disarray by the carnage bus!
Cheers, @RoyDT