Quick enter the $4.5K Moneyball Saturday Slam
There's a free $500 Moneyball game on Friday night, plus all the regular big cash games. Play now.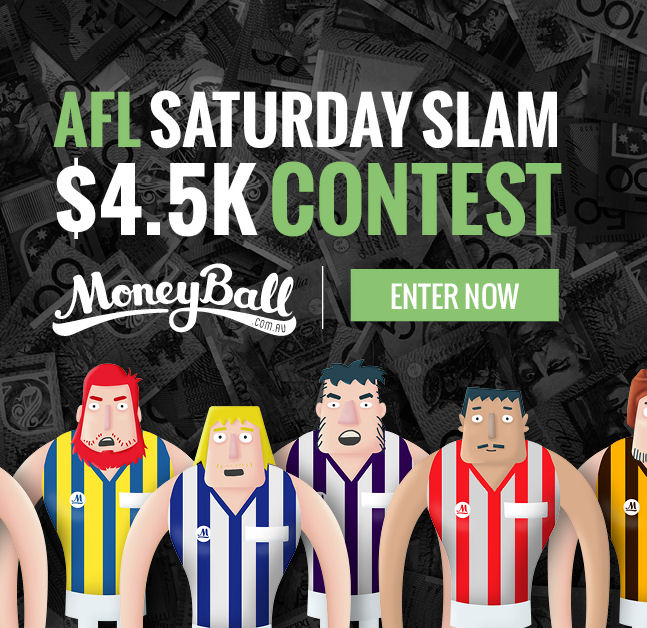 If you haven't had a crack at Moneyball yet, then now is the time! Take Match Day fantasy to a new level with these daily games from the new kids on the block, Moneyball.
There is a free game on Friday night where you pick your team of nine players from Fremantle and Richmond. Free entry! Oh yeah! $500 is up for grabs.
DT Talk runs Friday Fever for $20 entry and $1800 up for grabs. We also have our Sunday Funday comp which is $10 entry and another $1800 to be won. There also is the HUGE Saturday Slam… $10 entry, 500 coaches and $4500 to be shared between the top 15% of coaches. BOOM! Click here to get involved.
POINT SCORING
Goal 6 pts
Behind 1 pt
Kick 3 pts
Handball 2 pts
Mark 4 pts
Tackle 4 pts
Clanger -3 pts
Free For 3 pts
Free Against -3 pts
Hitout 1 pt
PICKING YOUR TEAM
Prices are a little different to what we are used to in AFL Fantasy. In your salary cap of $60,000 you need to choose 9 players (2 forwards, 1 ruck, 4 midfielders, 2 defenders).  Be smart with picking your team as there are plenty of bargains to help you fill your squad at an average of $6,667. Prices will change after round four.
Sign up and get all registered to take on us in some different games. Just search up DT Talk and you will find a couple of different options each week.
We will add more contests when others fill up.
* 18+ only and please gamble responsibly.