Benjo's PODs – Round 10
Benjo is back with another look at his PODs for round 10.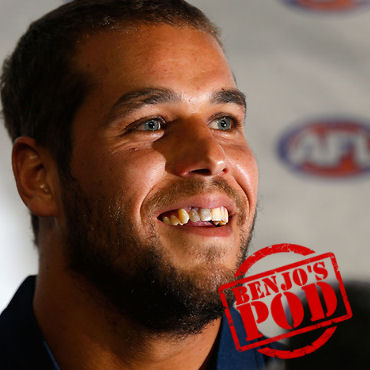 Hi guys and welcome to the Round 10 edition of Benjo's PODs. Each week I'll be having a look at PODs from each of the four positions. First, let's review last week's PODs.
DEFENCE
Kade Simpson
Simpson had an alright game, tallying 86 DT points. He looked like he was going to get the ton, although he was moved into the midfield for the third and fourth quarters, only taking one mark in both of the quarters.
MIDFIELD
Matt Priddis
Priddis only scored 78 DT points. He racked up 29 disposals, but only tackled twice!
RUCK
Mark Blicavs
Blicavs scored 91 DT points. He was very impressive in the ruck when Stanley and Clark left the game.
FORWARD
Devon Smith
52! Yuck! Glad I didn't pick him up this week. Only managed 11 disposals as well.
On average, my four players scored 76.75. Much below last week.
Now to this week's PODs.
DEFENCE
Matthew Boyd
This guy has been absolutely killing it this season! He is averaging 108.6! But can you pick him up, knowing he'll be rested any time soon? Let's find out.
Boyd has averaged 108 DT points over the last six seasons. You know what you are going to get from Boyd.
Boyd's positional change from midfield to defence has actually helped his DT game this year. He averages 8 marks a game this year! Everyone should consider Boyd based on this.
Boyd is averaging 27 disposals this year; he is available as a defender! His kick to handball ratio is at 16.5 : 10.7, which is nice.
Boyd is available as a defender! This is the main reason why I'd jump on Boyd.
Would you take Boyd over an overpriced Hodge or Mundy?
I would definitely take Boyd over these players. I can't trust Hodge at the moment. How can Hawthorn possibly make two or three late changes a game? He is playing St Kilda this week, so he is a definite chance to be a late out. Mundy does this to us every season. He always averages 110 before his bye and then after his bye he goes under 85.
Verdict:
Boyd looks great. The only downside with him would have to be his bye round or his dodgy calves, but apart from that I'd try to get him into your side this week. I certainly am in mine. Get him in!
MIDFIELD
Toby Greene
You've got to be kidding me… No I am serious! Toby Greene has to be considered now and here's why.
There is a huge amount of risk in this move, but remember what he did last year? From round 17, Greene averaged a massive 124.2 points per game, went over 110 points in 6 of the last 7 games, and scored an incredible 165 against a depleted Collingwood in round 22 where he found the ball 42 times!
Greene has been playing forward this year, so he is a good chance for DPP. This would be handy during the byes, if he is given it.
I have a feeling that something big is about to happen. He's averaged 107 in his last three.
He has completely bottomed out in price for what he is capable of. He's currently sitting at $511k in Fantasy.
He's got a BE of 70, so even if he averages 90 minimum, you could offload him to a round 11 bye premium when it's Greene's bye.
Verdict:
Would you take the risk? Massive risk vs reward involved here. If your a risk taker, I would go for it. Thinking about it, there is not much risk involved. If he averages 90 at the least, so be it. If he averages 120, Greene will push your team up the rankings! Go for it
RUCK
Callum Sinclair
I brought in Sinclair at 290k two weeks ago and haven't been disappointed. He is averaging 79 from the five games he has played and is only owned by 8.41% of the competition. He could be the perfect stepping stone to a premium during the byes.
Sinclair averages basically a goal a game this year. He scored 2.2 against the Cats. The Eagles' two main targets, when kicking into their forward 50, were Kennedy and Sinclair. If Sinclair can kick more goals, he will be set for a good score.
Sinclair has the beautiful round 13 bye. If you swap Bellchambers to Sinclair, you could trade Sinclair at his round 13 bye and almost make 100k by doing so.
Sinclair also roams around the ground to take uncontested marks, which everyone loves as a DT coach.
Sinclair has a BE of 23, so he will make you 100k if he continues his form.
Verdict:
A cheap, consistent stepping stone. What is not to like?
FORWARD
Buddy Franklin
Thirteen, thirteen! Buddy is cheap! Everyone loves a guy who can kick thirteen a match who is cheap!
Buddy apparently has 26% ownership, but I reckon only 5% of serious DTers have him. He was always going to go big against Carlton. He destroyed White, but I thought that Rowe did a good job on him. Guess who he has got next week? Gold Coast!
Buddy could certainly be the POD everyone wants. If he continues to kick four goals a game over the next month, he could average 105+.
Basically, all you need Buddy to do is to mark and kick the goal. If he does this, then he's in for a good score. Although he belongs to the dreaded, round 12 bye, there aren't any other forwards who have the round 12 bye. I only have Swanny in my team, so I need another round 12 bye forward, to boost my team for the bye rounds.
Verdict:
Don't think just do? He's playing Gold Coast. Enough said.
AROUND THE GROUNDS
My team scored 1919 in Fantasy, which I was a bit disappointed with to say the least. But my biggest disappointment was Lewis. I kept Lewis on my bench for the two weeks he was out for and took a doughnut in the process. He got me 115 last week, but I would've liked a bit more. Now your a late out! Oh come on! Coaches around Australia held Lewis for one reason, to get ahead of the competition when he comes back. Soak in some of those 150s! But now the people who held him are falling behind the others who traded him? Lots of people like me had Krakour as the emergency. The one week we need you Krak! The one week! McCarthy was crap, so was Oxley. Trade time I think.
But it doesn't stop there. I had so much midfield carnage this week as well.
My midfield consists of, Lewis, Beams, Rockliff, Barlow, Heppell, Priddis, Selwood and Ward. Only one player managed to crack the ton. One!
A late change from Yeo to Hodge, to Cripps to Rocky killed me.
How did you guys go this week? Did anyone score lower than me?
Important:
Remember to put the VC on a half decent player!
Get as much advice from other people as you want, but in the end it's your team. Decide what trades you want to do. I've been caught out many times going trades I wasn't settled on. Take last week for example. I had a set plan that I would trade in Rocky after the byes and Hodge last week. This decision costed me 50 points and a trade!
Trade Oxley the most inconsistent player to ever play DT!
Good luck this week! I hope you enjoyed the third edition of Benjo's PODs.
Comment your trade ideas down below and I'll try to get to as many as possible!