The Weekend Wash-Up – Round 9
Last week was a turning point for Matt, or so it seemed. Read his review of round 9 in the Weekend Wash-Up!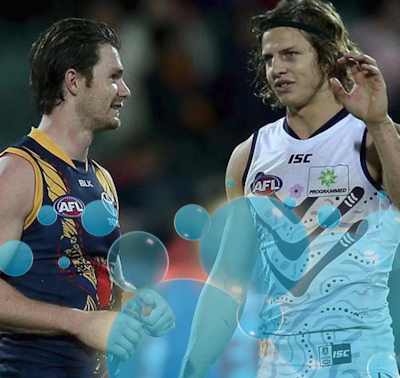 *Sigh* I signalled last week as a turning point, and for most decent teams I'm sure it was! On Saturday that is… Having reached Sunday with our tails up, it all fell to pieces (again). However… I promise you didn't have as bad a weekend as I did! Yep, it's time for the weekend wash-up…
Legends
Mitchell (110) – I haven't made many good moves this season, but picking up Tom Mitchell for $450k was easily my best. It was a huge risk at the time, however it seemed like it was now or never. Sydney know how important it is to retain him, finally resulting in Longmire unleashing him in the midfield. He has responded with around 30 touches and a ton every game. A lock in our teams (Mine anyway) for the next 10 years…
Hennebery (133) – Hannebery continues to pump out monster scores, he turned it on even with a 'Curnow tag'. I can't see him making the top 8 midfielders, but a great differential for sure.
Shiels (154) – I picked him off the free agents list in our DT Talk draft and what a move that has turned out to be! Not sure he's relevant in Fantasy, but a draft sleeper for sure!
Hodge (131) – *Cringe* I had him as my number 1 draft pick and locked in my backline for most of pre-season. I may have dodged the suspension bullet, but he has outscored most of my backline in the 6 games he has played anyway! My Round 11 bye structure is appalling, so he will have to wait until at least Round 12. Damage limitation until then…
Gray (110) – It's about time I credited Gray again for the work he does week in week out. I still can't believe I traded him, I feel a whole lot better with him in my team! Legend.
Wallis (147) – If I didn't have 20 Round 11 bye players (It sure feels that way) then Wallis would be a lock for me… It hurts having to pass on him, with scores of 121 and 147 over the past 2 weeks it's now or never. $400k is a bargain.
Boyd (127) – He will be rested at stages, but that's no reason to not get him in ASAP! Old school legends always have a place in our hearts, in this case it isn't clouded by poor judgement either.
Picken (122) – I dread the comment I made a month ago. I may have said he scored the most irrelevant ton in the history of DT… Yeahhhh. To be fair I didn't even know he was listed as a defender, I have only ever associated him with ruining my premiums scores! He is so much more than that now, comfortably a top 6 defender.
Shaw (136) – Let's be reasonable. For his price tag Shaw has been more than serviceable this season. This score has suddenly made it a great pick! Cash in on him after the byes and bid farewell to an old foe. It's been fun Heath. (Not really)
Dangerfield (147) – This. Was. AWESOME! Why can't we see each teams best players go head to head every week! I'll give you a hint, because not everyone has midfielders of this quality. If you saw this game, you'd have learnt exactly why they get tagged. Danger has been on fire lately, posting a 5 round average of 117. This is what we have been waiting for him to deliver, it's awesome to watch. Is he a top 8 midfielder? The jury is still out on that one…
Fyfe (150) – Read above. Fyfe is actually getting to the point of being unstoppable. Take this moment to remember he has played 101 games and is aged 23. He was always a quality player, but I had my doubts as to whether he could become a great Dream Teamer. Don't I look like a complete idiot. Fyfe now has 8 tons on the trot, taking his season average to 112.4. Interestingly, he had a top score of 116 this season up until this week. His highest ever score was 137, scored 4 years ago back in 2011. It's clear as to why that has been the case this term. Fremantle have been so far ahead by the last term that Lyon has rested him up forward. Adelaide pushed Freo to the wire, so Fyfe pushed on to rack up a lazy 40 disposals, 26 contested, 14 clearances and 10 inside 50's. He could average 120+ if Ross and the opposition let him off the leash for 4 quarters every week, surely it won't happen often. Even so, he is as reliable as they come. LEGEND.
Beams (152) – Those who held the faith have been re-paid in spades. He is starting to pump out the monster scores we came to expect, however news of Rocky's injury must surely hurt his prospects. He is yet to put together consecutive tons all season, I'm not holding my breathe for it this week…
Armitage (119) – This guy is the real deal, can we all finally accept that! Get him in after the byes unless his Rd 12 bye suits your structure. He is still at max price so there's no rush.
Sidebottom (131) – Awesome. Great to know I was one of the 6% of teams to know how good Sidey was going to be this season. It matters for nothing now! A top 8 midfielder for sure in my books, he's just so consistent…
Swan (124) – My love for this man is unbridled. Oink oink bitches.
Nic Naitinui (113) – Not an AFL fantasy legend, but a legend in my eyes regardless. Shove that game up your critical asses, he is one of (if not) the best RUCKMAN in the comp. Incredible, how is it that a ruckman (Should I mention his role again?) can be abused for his work around the ground. Sure it would be handy, but when you're delivering first class service to your mids you don't need to worry about that. Jacobs can continue racking up his uncontested marks, Sandi will be more than happy to rack up another 100 hitouts. Those 2 set the benchmark. I should be clear, neither are relevant in fantasy.
Kennedy (142) – Fantasy relevant? No. Legend? Hell yes! The Coleman is there for the taking…
Franklin (141) falls victim to the Shiel rule. Trust me, I would know. Goldstein (133) is another, however if past form is anything to go by he'll go huge next week. He does come up against the Eagles rucks however…
Losers
Roughead (46) – Anyone come up against 'that guy' this week? You've dodged a bullet here…
Martin (2) – I'd like to think he's not relevant, but whilst looking at some of the players in my squad I know there will be some being exposed to this pain. My heart goes out to you.
Lewis (-) – I'm not sure how else I can put this after all I've gone through to hold him… F**k you Jordan. You seem like a good bloke, but that's not what I signed up for when I held you for two weeks. A bruised shoulder was enough to keep you from feasting on a depleted Gold Coast midfield? This was meant to be the weekend I reaped the rewards for my patience! Summarises 2015 in a nutshell.
Krakouer (25) – I'll keep this brief as to avoid having a mental breakdown. Krak was my emergency for Lewis, that was after I'd backed in Amon to avoid the vest. Don't worry, it gets better…
Howe (26) – Howe proved this weekend that Naitinui doesn't have to worry too much about his marking 'crisis'. There's more to the game than being able to pluck a mark! A key element being finding the pill.
McCarthy (27) – Last week those who held McCarthy were labelled genius. It was the right move, but this is what happens when we get comfortable with rookies! Time to go.
Griffen (43) – Speaking of rookies, this bloke scores like one. I just feel bad for those brave enough to draft him. There's no hiding from that one…
Smith (52) – If Devon Smith could add consistency to his DT game then you'd have a perfect forward option. The fact is his role isn't going to result is success every week. He has 4 scores above 110 and 4 scores under 71. How's that for a roller-coaster ride!
Bellchambers (48) – What a relief it is to be rid of this blokes scores. I can't even say his name! I don't really care that Jacobs scored 63, it's still better than the alternative!
Watson (57) – Jobe was a controversial addition to my never again list last week. I should have been clearer, if he was to get injured and suddenly be priced at $400k I'd still pick him. Never again will I pick him anywhere near his full price though. At this rate he's heading towards 400k without the aid of an injury!
Kelly (30) – The Kelly train came crashing back to Earth this week, but he wasn't on his own. If we could ever get some luxury trades then filtering out the rookies has to be your priority. I remember the days when I could finish my team by Round 14-15. Not a chance this season!
Oxley (29) –  I mentioned that Devon Smith was inconsistent, the Ox takes things to new levels. He has 4 scores above 90, incredible for a rookie defender (wingman). He also has 4 scores under 48, including a 36 and 25 to go with this 29. It's so hard to drop him knowing that he can turn it on at any moment, however his price has surely maxed out. Time to cash him in.
Seedsman (58) – He is an enigma. One quarter he will have a wing to himself, the next 2 he won't be seen on your TV screen. You can't afford to own players like this, he has a similar DT game to Oxley. Difference was Oxley cost $120k!
Selwood (61) – The rise of Joel Selwood was incredible, and his consistency since then has matched it. Consistency of seasonal averages that is. The issue is he goes hot and cold, as an owner every year I certainly understand the ups and downs of this journey. He will go a month without cracking the ton, then next month he won't drop below 130. It's a skill to pick him up at the right time, I'd suggest that time is near… That's me speaking as a non-owner. I'm sure those who backed him in have tossed him to the trash heap without a second thought, it's the only call to make right now.
Clark (33) – Disaster. The Round 13 bye options haven't looked pretty at the best of times this season, but Clark's Ruc/Fwd eligibility was going to be hugely important. It won't be anymore… I can't see this being a short term injury. Trade! He was on borrowed time in any case.
Parker (71) certainly falls under the Shiel rule. Give the man a break, the only reason he struggled was the tag he copped due to his awesome form!
The Mark Stevens
Sit back in your armchair and get your popcorn ready. I almost lost it during the week thanks to the Will Minson saga. I seriously can't believe how things have ended up. Minson has got off without punishment, quoting "That is the best $7500 I've ever spent." Great message being sent there. The argument always comes back to the fact that the punishment needs to fit the crime, and a red card mid game plus a healthy fine is reasonable. THAT'S NOT THE POINT. Here's the point…
Andrew Moore was suspended earlier this season for a very similar incident, copping 3 weeks. At the time I thought that was very harsh, it was a 1 week suspension at worst. However the explanation was fair enough, protection of umpires is paramount (They said). We need to set an example that this isn't acceptable. Almost EVERY single journalist was fully supportive of that 3 week suspension. There the precedent was set. Or was it?
I'm not sure I've seen people back track so far as I have this week. I'll let Mark take the wheel:
Anyone feeling the need for a bucket right now? I don't blame you. I have been making the point of double standards, however this stands in a category of its own. Spare me the argument that Moore's 'push' was worse than Minson's. Moore was never going to hurt the bloke, but it was about intimidation. Are you seriously going to stand there and tell me Minson accidentally touched the umpire while waving his hands? He reached out and 'pushed' him, which is exactly why the umpire gave him a red card. In fact, he even pushed him twice!!! Sure it wasn't overly aggressive, but once again it's all about intimidation and protection of the umpires.
Steveo summarises things perfectly. "Moore's was a brush, but don't like umps being touched. Must show respect." Port are kidding themselves if they think 3 weeks is harsh, bad look for the game!!! Oh hold up… Minson's suspension could suddenly hurt his AFL career?! THROW IT OUT.
I rest my case. I don't think it's a losing court case anywhere, even in South Africa. There are double standards, everywhere. Moore was thrown under the bus for the good of the game, but as soon as an AFL player gets such a hefty suspension the whole thing is a joke. All their work has just been trashed. Don't get me started on the AFLPA getting involved. Where were they to back up Moore!!!
I have a simple solution. Let's not grade these incidents on how bad the 'slight push' is. There should be 2 categories. Category number one. The umpire gets pushed, red cards the player. How about we make a red card an automatic 1 game suspension. Perhaps just like every other sport in the world? Category number two. The incident is more serious than just a push (Strong shove, attacking the umpire etc.), then it can be sent to the AFL tribunal. Let's save ourselves the hassle and move on from this incident. The fact remains, double standards are prevalent between the different levels of Australian Rules Football. Take a leaf out of other sports and treat each league equally. Hopefully the karma bus that hit Moore comes around to those who have changed their stance.
Sorry guys, but I needed to get that off my chest. Let me know if you agree!
Here are your nominations for this weeks Golden Stubby:
Dangerfield – What a POD he has been over the last month, let's hope he can maintain this streak. 38 touches and equaling the contested possession record speaks for itself.
Hodge – It was a big call to bring in Hodge this week over a number of other big name options. He made it out onto the ground, beating some!
Fyfe – I'll be damned if he doesn't add a Golden Stubby to his ever growing list of prestigious awards this week!
Wallis – Any Wallis owners would have been laughing all the way to an easy league win this week. Certainly a worthy winner!
Beams – Finally Beamer makes the cut thanks to a match winning contribution. He achieved the rare triple double of Kicks, handballs and marks. Oink!
Who will get your vote?
This Game Sh*ts Me
Oh boy. Let's get the obvious one out of the way. I sacrificed over 100 points (Thanks to Cripps' late out) to hold Lewis. That donut made it a poor call, but this was meant to be the week I reaped the benefits. Shiels notched up a lazy 154, Hodge 131… I don't even want to know how big Lewis could have gone. You've just had 2 weeks off, now you're missing with a bruised shoulder?! Really. "You should have Amon on the bench" I was told. I'd backed him on the ground! Of course it was the man who got the green vest that sat on my pine, thanks for the 25 Krak. There I waved goodbye to at least 100 points, it was only fitting that my vice captain would break 3 ribs in the first quarter. Can I just say that Rocky, I love you. That is the kind of guts my squad needs!
Most had to deal with Lewis this week, I now refuse to speak to those who don't own him. However… Most didn't have to deal with North Melbourne's bullsh*t! Yes I have Andrew Swallow and yes he hasn't hit the levels I'd hoped. I had too many injuries to trade him last week, and just as he was about to be given the boot he gets named as an 'in'. What a pleasant surprise. I'm in no position to be trading players who are named with a Round 13 bye, so I gratefully placed him on my ground and made sure I had cover. What I didn't make sure of was none of my other midfielders getting bruised shoulders. Sadly, Swallow was named as a late out and there I enjoyed my second donut of the season. I'm probably the only person on Earth to be eating this one though. I'm guessing he was never even a chance… Why name him? I can't even be bothered getting angry. Anyway that's why this game sh*ts me…
The Other Bits and Pieces
*Why is my mouth the same width as my nose*
1895………. I'll let that one stew. On another week it's a comfortable 2100. Shout out to Stefan Martin, my one and only reliable. From now on I'll happily pay overs for anyone who can guarantee me effort week in week out! How did you guys fare this week? Let me know in the comments. Thanks for taking time out of your days to listen to me whinge, if you need me I'll be in my shed. See you next week!