The Friday Scramble: Round 9
Just two weeks left til the Byes and we are having trouble finding rookies to downgrade to, what curveballs will be thrown at us this week? I don't know either, but hey, let's scramble!!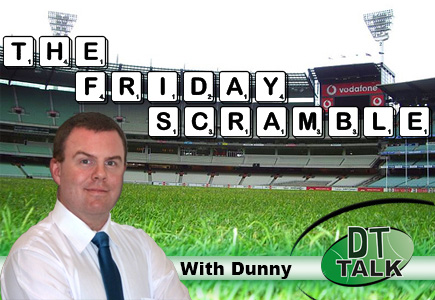 Well one thing worked for us this week, we haven't been inundated with injuries to deal with to our key players, our main problem with these guys is that some of them just won't bloody get the ball and score us some points!  Our other problem is at the other end of the spectrum with the crop of rookies starting to dry up a little earlier than we would have liked! With our attention now starting to turn to the bye rounds it is timely to have a look at that as well as some of the big questions of the week in #AskDunny.
Firstly though… let's head to the
Selection Table
Here are what I consider to be the most relevant ins and outs for us this week.
OUTS
Elliot Yeo was brought in by a lot of coaches over the last fortnight and then he went and belted someone!  As if this game isn't hard enough.  At least we know he is fit and will be back next week. Hopefully his midfield time is still there waiting for him.
Brett Goodes is also out with a suspension and a broken arm.
Dion Prestia is listed as 12-16 weeks with a knee, they might just as well put Season on him. If you have him, clearly trade him.
Kane Cornes as we all know has retired, so if you have him trade him. Most people have him in Draft leagues, unfortunately I don't think anyone will trade you for him.
Murphy, Judd and Gibbs are all out injured from the Carlton side.
Paddy Ryder is out with an Achillies injury.
Birchall and Suckling are both out for the Hawks against the Suns.
INS
Andrew Walker returns for the Blues.
Tom Clurey is in for Port to replace Jackson Tregove.  He is dirt cheap, but he tends to be more of  a lock down defender.
Jack Martin is back for the Suns
Luke Hodge returns for the Hawks from his suspension and should go large v the Suns.
Nick Riewoldt returns for the Saints after a week off with concussion.
Jake Kolodjashnij comes into the Cats lineup for his first game.
Andrew Swallow returns from injury.
So not quite the lengthy list that we have had in recent weeks.  I am particularly interested as to how Jake Kolo will go given that he is a cheap defender.  If he can get himself a spot in that side, particularly through the byes he might be the saviour we are looking for!  Tom Clurey will prove popular, however, I am suspicious of how his point scoring will go.  He played just the one game last year and scored only 28 points.
#AskDunny
Once again I have had some great questions come through this week.  Sorry that I can't answer all of them here, but I have tried to pick those that are representative of a few that I received.
@pkd73 Do i trade out Ebert to make way for Rocky & other upgrades ?

— Paul (@Lewie14) May 27, 2015
Great question Paul (Great name too!).  As things stand, Ebert is the 13th highest averaging Midfielder. If you exclude those with DPP and look at pure mids he is ranked 10th.  He is averaging 106.75 and over each of the last three seasons he has averaged 100.  So you know exactly what you are going to get with him.  He also doesn't get the tag for Port, that tends to go to Boak and Hartlett first.  Personally I think that the time to upgrade Ebert is when you have absolutely no other upgrades to do and he is your worst performing mid.  At the moment he is doing more than enough to stay in your side.  I think that to get Rocky and others you are still better off with the tried and true method of upgrading rookies.
@pkd73 do I trade in Amon

— Stuart Clark (@StuClark67) May 27, 2015
A lot of people have asked me about Amon this week.  I think that his spot in the team is safe for now.  However, not sure about the long term.  I do think though that he will avoid the vest this week and get a full game.  My suspicion is that Paul Stewart will get the vest.  So given the lack of options I think that trading in Amon would be a fine thing to do at this point, he should make you some money.
@pkd73 RDT – Time to move on T Miller? Suns about the get smashed, Barlow bottomed out…

— EQUINE INVESTING (@EquineInvesting) May 27, 2015
For me I say keep Touk for now. If you look at his last 5 he is averaging 78 with an average of 80 in the last three.  As we come into the byes you need all the guys playing you can get.  He also has a BE of only 50 and whilst the Suns are losing, he is still getting his points so he should get to that 50 fairly comfortably.  As for part two of your question there, Barlow is probably about as cheap as he is going to get as he is $495k in RDT and $502k in Fantasy.  I like Barlow and he seems to have put his poor form of rounds 3 and 4 behind him.
@pkd73 @DTTALK Is Brodie Grundy's high scoring finished? Time to trade? #AskDunny

— Zack George (@Zgeorge5) May 27, 2015
Grundy was hot property a few weeks ago but he has really dropped off in the last two weeks.  However, remember that in round 6 he scored over 100.  Then he had a 79 against Maric who is on the improve and a 48 against Gold Coast who aren't putting up much of a fight.  He reached his peak price in R7 and dropped a bit in R8.  With that 48 in his price cycle now he will drop over the next couple of weeks where he faces Goldstein, Spencer (Melb), Mumford and then Sandilands.  I think that if you are planning to upgrade him, it might just be time to do so with a fairly tough run coming up.
Bye Rounds!
Just a heads up that in case you are living in denial we only have two more weeks until we hit the bye rounds.  So whilst we are all little eager beavers who are downgrading our rookies and upgrading other rookies to premos, we need to make sure that the guys that we are bringing in will not only make us money but they will also provide us cover in the bye rounds.  It is for this reason that I am prepared to take a little hit on a couple of the rookies that I have who are in the best 22 of their sides because they will be a warm body on the field for me in the byes.
Rookie Selection Potential Issue
Just whilst I am talking rookies (sorry Jeppa), this tweet came out last night from The Phantom SC.
Adam Oxley on the extended bench for Collingwood but also named on a HBF in VFL side. Has the returning Toovey taken his place? #SuperCoach

— The Phantom (@ThePhantomSC) May 28, 2015
Read into this what you will, but just thought it was worth putting out there for you all who may have missed it on Twitter last night (I did retweet it).
Things To Remember
I know you all have, but with the lack of Rookies, Jeppa's Juniors is a must read this week.
You don't get just one Lewis, you get two.  Make sure you have him in this week!
Make sure you have done your bye planning.  Even if you are playing in leagues that don't play byes, your overall ranking will suffer if you don't plan.
Let's hope we have a good week with no low scores, no injuries and all of the vests going to non Fantasy relevant players!  If the last few weeks have been anything to go by there will probably be some late team changes to take place tomorrow.  Make sure you are all over twitter during the day, as usual I will retweet anything of interest from my account @pkd73. Catch you all next week.