Round 9 Lockout Chat
Late mail and all of the important stuff ahead of round nine. Brought to you by Moneyball.com.au.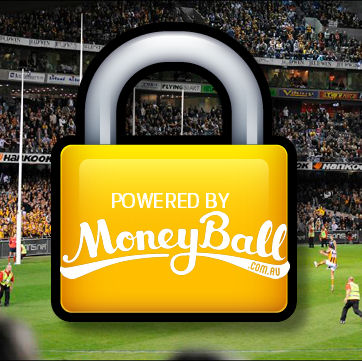 Stay tuned for updates.
Friday 7:30pm
LATE CHANGE: Heath Grundy (quad) out of the side replaced by Brandon Jack. Jack to wear the green vest. Robinson moves into the 21.

— Sydney Swans (@sydneyswans) May 29, 2015
Friday 6:35pm
No late changes for either team. Daniel Robinson is the sub for @sydneyswans and Dylan Buckley is the sub for @CarltonFC. #AFLSwansBlues

— AFL (@AFL) May 29, 2015
Friday 5:49pm
Put your $20 on the line and take us on in the Friday Fever contest at Moneyball. Pick your team of 7 players to share in $1800 for tonight's Swans v Blues and don't forget to get involved in the the other contests over the weekend, including the $4500 Saturday Slam, the $1.8K Sunday Funday and the FREE ENTRY comp, Showtime Sunday. Click here to have a crack.
Here's my Friday Fever team. Put your $20 up for a chance at the $1800 up for grabs. http://t.co/p995Fl2iMK pic.twitter.com/VSwrBalYfq

— Adam 'Warnie' Child (@WarnieDT) May 29, 2015
Friday 5:32pm
Don't miss Warnie, Roy and Calvin's video up on AFL.com.au now. Click image to view.
Friday 5:11pm
Our mate Stu has given us his best bets for round 9. Click here to read them.
Friday 5:02pm
Sunday teams are in.
Final R9 Sun teams
Bris/StK;
Int; CBeams, Robertson, Gardiner, O'Brien.
Emerg; Bewick, Cutler, Golby.
Harwood, O'Brien in for Golby, McStay

— Patrick Keane (@AFL_PKeane) May 29, 2015
StK/Bris;
Int; Hickey Acres McKenzie Sinclair
Emerg; Templeton Savage Membrey
Riewoldt Geary Delaney Lonie 4 Fisher Savage Membrey Templeton

— Patrick Keane (@AFL_PKeane) May 29, 2015
Rd9 Final Sunday teams
Coll v NMelb;
Interch; Witts, Crisp, De Goey, Oxley.
Emergencies; Dwyer, Marsh, Broomhead.
Toovey in for Broomhead.

— Patrick Keane (@AFL_PKeane) May 29, 2015
NMelb v Coll;
Interchange; Swallow, Dumont, McDonald, Waite.
Emergencies; Daw, Turner, McMahon.
Swallow, Brown in for Jacobs, Wood.

— Patrick Keane (@AFL_PKeane) May 29, 2015
Final Rd9 Sunday teams:
WCoast v Geel;
Int; Selwood, Colledge, Sinclair, Bennell.
Emerg; Lycett, McGinnity, Barrass.
Colledge in for Yeo.

— Patrick Keane (@AFL_PKeane) May 29, 2015
Geel Cats v WCoast;
Interchange; Gregson, Guthrie, Lang, Mackie.
Emergencies Luxford, Blease, Kolodjashnij.
Unchanged

— Patrick Keane (@AFL_PKeane) May 29, 2015
Friday 4:45pm
Shags has provided us his regular Friday arvo weather report.
SCG , 7:50pm AEST Friday, May 29
TIO Traeger Park Oval Alice Springs, 1:40pm ACST (2:10pm AEST) Saturday, May 30
Aurora Stadium Launceston, 1:45pm AEST Saturday, May 30
Etihad Stadium , 4:35pm AEST Saturday, May 30
Adelaide Oval , 7:10pm ACST (7:40pm AEST) Saturday, May 30
MCG , 7:20pm AEST Saturday, May 3
GABBA , 1:10pm AEST Sunday, May 31
Domain Stadium , 2:40pm AWST (4:40pm AEST) Sunday, May 31
MCG , 3:20pm AEST Sunday, May 31
Friday 2:10pm
Jeppa has been getting the same rookie questions on Twitter. Check out his answers to some FAQs in his tweets below.
So many rook Q's yet again:
Amon top pick #AFLFantasy then Acres, Brooksby & Clurey
Amon top pick #AFLDT then Dale, Acres & Menadue 1/2

— Jeppa (@JeppaDT) May 28, 2015
Clurey above Hamling if you have to
Mckenzie probably dropped
Robinson likely for green vest
Trades always depend on a coaches lineup 2/2

— Jeppa (@JeppaDT) May 28, 2015
Friday 2:00pm
Check out the live scores via DT Live this weekend.
Friday 12:45pm
Friday 11:35am
It is worth noting that Box Hill play on Sunday.
3 Hawks emergencies Suckling, Litherland + Woodward boarded plane to Launceston. Clarko says axed Suckling needs to work on his kicking.

— Travis King (@TravisKing) May 29, 2015
Friday 11:00am
Download the brand new pdf from the www.dreamteamspy.com guys; Trade Hard. It is the first in a weekly series that gives an overview of the week ahead in AFL Fantasy. Click here to download.
Friday 9:00am
Watch the Friday round 9 preview video from Roy, Calvin and Warnie. Click here.
---
Boom! Not only is the the massive DT Talk contests in the $1.8K Friday Fever and Sunday Funday, there is the Saturday Slam worth a whopping $4.5K. Play these by clicking here.
…BUT WAIT, THERE'S MORE! There is free entry in for Showtime Sunday with $500 worth of prizes up for grabs. Moneyball is simple and easy to play. Have a crack in this FREE game if you haven't had some fun playing daily fantasy yet.