Throwback Thursday – Round 9 – Indigenous Edition
Dreamtime for DreamTeamers is the focus of TT today.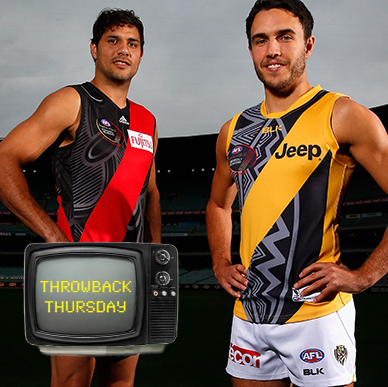 With this week's AFL Indigenous Round it's time to throwback to the ultimate Dreamtime Dream Teamers – not just from the round's feature exhibit teams of Richmond v Essendon – but from right across the board.
I checked the stats of all the big names – Andrew McLeod, Michael Long, Peter Matera, Chris Lewis, Jeff Farmer, Byron Pickett, Gavin Wanganeen, Che Cockatoo-Collins, Darryl White, Chris Johnson, Michael McLean, Peter and Shaun Burgoyne and Phil and Jimmy Krakouer. The results were: a) too much time on my hands and b) all those blokes were highly valuable contributors who could pull a super score out of nowhere &/or win games off their own boots, especially on the big stage. But a small handful of others stood out in Fantasy Footy terms and at one time or another were absolute must-haves in our squads.
Nicky Winmar
FACT: In 1989 Winmar kicked 8 goals v Carlton (136 DT) and the next week 9 goals v Melbourne (147). That's some pretty handy mid/forward DPP-type stuff in today's language.
FACT: Throughout the early-mid 1990s Winmar displayed a rare consistency to become a mainstay selection for most of us. In 1995 he averaged 99 DT points from 22 games, including 12 x 100+ and a 42-possession game v the Dogs to rack up 158 DT.
There's a couple of current Indigenous players who have really, REALLY stood out in Fantasy, but firstly the little marvel…
Cyril Rioli
Some say Cyril and his hamstrings are returning to near-career best form, but what do the stats say? Basically he's inching closer, but he did set himself a stunning benchmark a few years back.
FACT: In 2011 v Port Adelaide, helped himself to 6 delicious goals, 12 tackles and 151 DT points. Then in 2012 v GWS collected 26 disposals, 9 tackles and 3 goals for 159 DT.
With last week's last minute 'lil handling error combined with this week's potentially big day out for Hawthorn in Tassie, perhaps he'll crack a whole new PB – but only if given full game time.
'Buddy'
Big Lance was soldiering towards becoming the best Indigenous AFL player ever, prior to an injury-affected form drop in 2013, but last year – his first $ea$on for The $wan$ – was the first in which he scored 100+ on 12 occasions. This included a 157 v St Kilda from 19 kicks, 0 handballs, 13 marks and 9 goals.
FACT: Who could forget his "thirteen… THIRTEEN!!" goals v North in 2012, which culminated in a freakish 204 DT & 236… 236!! SC points. In 2011 he had 11 x 100+ scores, plus the same output in 2008, with 6 of those being 120+.
FICTION: He was so good; people thought he was an alien.
Adam Goodes
X-FACTOR: Here we have the all-time Indigenous Dreamtime Dream Teamer Fantasy bestest everest. People may forget his once-golden standing, as all the super-duper 'Goodes stuff' started a whole other century ago in 1999, when as a roaming ruck/forward v St Kilda he clocked 18K, 2HB, 14M, 10HO & 3 goals for 139 DT. Watch out world, the modern mobile ruckman / oversized midfielder era was born.
FACT: By 2003, just a few weeks before winning his first Brownlow, he had 28P, 20HO & 5T for 138 DT v Mick Malthouse's Magpies (just before they'd go on to convincingly lose another GF… oops). It was almost identical figures to his Round 1 v Carlton (supposedly no chance of ever being coached by Mick… oops).
FACT (x 6 of a possible zillion):
2006, another Brownlow year, during which he had 11 x 100+ scores.
2007 he crushed Collingwood again with 33 possessions & 7 tackles for 153 DT (193 SC).
2009 v Richmond saw him gather 21K, 4HB, 6T & 4 goals for 158 DT (223 SC).
2010 v NM: 33P, 5T & 3 goals for 158 DT.
2011 was another 11 x 100+ season including a 150 DT game v Bulldogs, plus a 172 SC v Brisbane.
2013 comprehensively raised the ire of Collingwood fans with another 30 touches, 3 goals & 147 DT.
FINAL FACTS: 2014 was the first year Goodes failed to notch up a DT tonne and in his 357 games so far he's only been suspended twice. Maybe that (and the preceding endless list of FACTS) helps explain the recent crowd abuse? I dunno.
Next week: God Save the Queen's Birthday Match.