Jeppa's Juniors – Round 8
With the bye rounds almost here, don't miss out on Jeppa's complete rookie review from Round 8. There's plenty to talk about including some calculated risks that will appeal to a few. If you're serious about Fantasy and Dreamteam then this is a must read!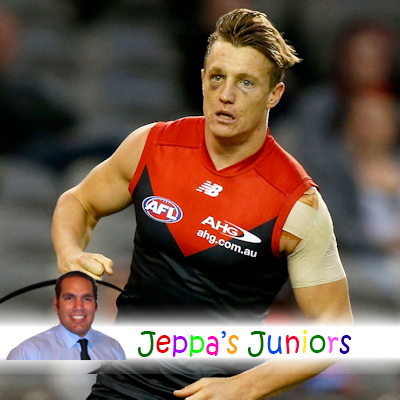 Round 8 was a much-needed morale boost for many coaches including myself. I registered my highest AFL Fantasy score for the year with 2203 but Buddy, Cripps and Captain Heppell let me down in Dreamteam giving me 2098 which is still respectable but I aim high. My focus now is solely on the upcoming bye rounds and ensuring I have all bases covered.
On to the rookies or lack thereof. Only 6 two-gamers and 2 one-gamers suited up in Round 8 which is not ideal as the bye rounds near. Most coaches will think they are sitting pretty at the moment but don't discount the potential omissions, injuries and suspension over the next few weeks. My advice is to be patient and sacrifice the 'must haves' to ensure a well balanced team. Above all, play it safe with your rooks…play the odds!
Three Gamers 
KEEPERS
Fantasy aside, you've got to love the way Aaron Vandenberg (Fwd/Mid. $369,000, 37 be AF. Mid. $356,100, 32 be DT) goes about it. The Dees mature age recruit is a bull when it comes to the contested ball and against the Dogs he finished with 29 possessions (7 clearances), 4 marks, 11 tackles and a handy 128 Fantasy points. The biggest thing for me regarding Vandenberg last weekend was his role. Instead of playing predominately at half forward, he was used on ball! Keep him at F6 as a result.
Key forwards Jesse Hogan, 103 (Fwd. $356,000, 30 be AF. $332,300, 13 be DT) and Cameron McCarthy, 80 (Fwd. $325,000, 39 be AF. $314,000, 11 be DT) have continued their great start to the season. We all love how Hogan attacks the ball and he's playing with plenty of confidence. No Trengrove for Port will definitely aid his output this week and he could very well score back-to-back tons. I'm jealous of how clean McCarthy is with his hands and against a young Bulldogs backline on Saturday I'm expecting another decent Fantasy score. I give you permission to start either Hogan or McCarthy on the field this week.
West Coast pair Liam Duggan (Mid. $274,000, 10 be AF. $265,900, 11 be DT) and Fraser McInnes (Fwd. $225,000, -7 be AF. $215,200, -46 be DT) are flying high. As an Eagles fan, it's refreshing to see a youngster like Duggan deliver the ball inside 50, lace out, repeatedly. There aren't any job security concerns for Duggan after racking up 23 possessions, 6 marks, 4 tackles and 99 Fantasy points but he's too expensive to bring in if you don't own him already. As for McInnes, well he's surprised me but note that he's only played well against the lessor teams in the Suns and the Saints. Previous scores of 22 & 26 this season should not be discounted but his 79 in Round 8 and current breakevens are hard to ignore this week and at F8 he is low risk. Not for me.
Collingwood and Adam Oxley, 91 (Def. $377,000, 50 be AF. $372,100, 73 be DT) were always going to 'beat up' the Suns. Oxley played his typical half back role and 20 of his 27 possessions were uncontested! You'd be silly to trade out Oxley before the byes.
With not many Suns on-ballers left, Touk Miller, 74 (Mid. $373,000, 51 be AF. $362,500, 50 be DT) is likely to be moved into the middle this week. I wouldn't be surprised if Adam Saad, 72 (Def/Mid. $334,000, 32 be AF. $326,100, 26 be DT) has a run through on ball at some stage also. These potential midfield moves will boost their averages so don't get rid of them just yet.
Angus Brayshaw, 83 (Mid. $344,000, 53 be AF. $324,300, 43 be DT), Jackson Thurlow, 74 (Def/Mid. $388,000, 40 be AF. $406,100, 58 be DT), Cory Gregson, 83 (Mid. $340,000, 38 be AF. $346,000, 49 be DT), Kamdyn McIntosh, 69 (Def/Mid. $322,000, 55 be AF. Def. $297,700, 42 be DT) and Callum Sinclair, 65 (Ruc/Fwd. $314,000, 25 be AF. $335,700, 38 be DT) just keep on keeping on. Hold them if you own them.
DON'T PANIC
I'm not prepared to pull the trigger on Patrick Cripps (Mid. $362,000, 61 be AF. $365,600, 86 be DT) just yet. 59 Fantasy points last week is a concern but no Gibbs or Judd on Friday night gives him a chance to flourish. Consider holding him if you have bigger problems to sort out.
Nathan Krakouer, 38 (Fwd/Mid. $272,000, 42 be AF. $253,400, 32 be DT) could be dropped after a poor showing but if he's not, I'd hold him for one more week. Krak was subbed out after a quiet three quarters against the Tigers and with Impey firing in defence, I fear there isn't a clear role for our dual position cashcow. Fingers crossed he holds his spot.
Mitch Clark, 63 (Ruc/Fwd. $297,000, 48 be AF. Fwd. $288,400, 62 DT), Ayce Cordy, 63 (Ruc/Fwd. $229,000, 10 be AF. Fwd. $258,700, 39 DT), Jake Lever, 58 (Def. $299,000, 42 be AF. $208,700, 9 be DT), Eli Templeton, 58 (Fwd. $231,000, 15 be AF. $245,700, 3 be DT), Alex Sexton, 57 (Fwd/Mid. $297,000, 33 be AF. $309,300, 62 be DT), Cameron Ellis-Yolmen, 56 (Mid. $358,000, 44 be AF. $352,200, 46 be DT), Jordan De Goey, 55 (Mid. $266,000, 45 be AF. $215,400, -7 be DT), Daniel McKenzie, 54 (Def/Mid. $259,000, 44 be AF. $189,200, 24 be DT), Jake Kelly, 50 (Def. $305,000, 23 be AF. $312,700, 32 be DT) and Henry Schade, 30 (Def. $195,000, 18 be AF. $191,000, 21 be DT) are down on output but all have breakevens lower then their averages so you shouldn't lose out if you hold them for one more week. I wouldn't go starting these blokes on the field though.
TRADE, TRADE, TRADE
If I haven't categorised a player from Round 8 under 'Keepers' or 'Don't Panic' then trade them out as soon as you can but when appropriate.
Two Gamers 
Almost all of Round 8's two gamers wore the green vest. It's frustrating that there hasn't been a cheap standout in recent weeks but there are a few positives to take from those currently getting a gig.
Blake Acres (Mid. $163,000, 28 be AF. $208,800, 56 be DT) is physically a lot stronger and powerful than last season and going by this year's VFL stats (av. 24 disposals & 93 Fantasy points), he can find plenty of the footy. When he came on against West Coast on Saturday, Acres played through the guts and scored 39 Fantasy points from 44% time on ground. Even though he's copped two green vests in his two games this season, plenty more opportunities should come his way amongst a young Saints team. From the slim pickings available, Acres is my number one trade down option for Fantasy but with a breakeven of 56 and a high price tag in Dreamteam, I'd wait to see what he does from a full game before bringing him in.
I jumped on Karl Amon (Mid. $142,000, 11 be AF. $124,600, -6 be DT) in both Fantasy and Dreamteam last week in the hope that he would be given a full game…it wasn't to be. Amon wore green again but did score 25 Fantasy points playing in just the fourth quarter. With Matty White, Sam Gray and even Krakouer playing average last weekend, the odds are in favour of Amon getting a full run at it but I'm not holding my breath.
Connor Menadue (Mid. $180,000, 40 be AF. $117,900, 14 be DT) was handy for Richmond. He came on for the injured Ty Vickery half way through the second, won 7 possessions and scored 40 Fantasy points playing as a high half forward. It was his goal in the last quarter however, that set up the win for the Tigers. With fellow junior and teammate, Corey Ellis playing poorly, I suspect there will be no vest for Menadue this week and it wouldn't be outrageous to trade him in this week.
Bailey Dale's (Fwd. $176,000, 21 be AF. $117,900, -18 be DT) vest on the weekend throws a spanner in the works. At his basement price, Dale is a prime target for Dreamteam coaches but the uncertainty in where he fits in the Bulldogs 22 is generating some concern. I thought he had little influence versus Melbourne when he did come on but 5 possessions, 4 tackles, 1 goal and 35 Fantasy points isn't a bad stat line from 42% game time. I'm not picking him.
Evidence suggests that Trent Dumont, 28 (Mid. $120,000, 19 be AF. $124,600, 23 be DT) is unlikely to get the game time and scores that we all need. North haven't played the kids much in the past couple of seasons and Dumont has been in and out of the team, copping vests all the same. Risky pick in my opinion, as is Jack Leslie, 31 (Def. $150,000, 19 be AF. $169,300, 29 be DT) who doesn't get his hands on it often enough to warrant selection.
The Gold Coast Suns have been kind enough to give us an update on cashcow Josh Glenn (Mid. $177,000, 0 be AF. $126,900, -52 be DT).
One Gamers
Jack Fitzpatrick, 54 (Fwd. $203,000, 25 be AF. $124,600 DT) and Liam Dawson, 25 (Mid. $160,000, 33 be AF. $117,900 DT) were the only one gamers that featured in Round 8 and I don't recommend either. Stay away!
With tumbleweeds for rookies, I'm not against bringing in Ciaran Byrne (Def/Fwd. $121,000, 21 be AF. $124,600 DT). He's currently listed as 1-2 weeks on Carlton's injury list but it's fair to assume that he'll get playing opportunities later in the season. He was in favour before his injury! Only if you're desperate.
Please note that if I haven't mentioned a rookie priced player above, it means I don't rate them. Remember rooks are classified as players under $250,000 in Fantasy and/or Dreamteam.
Keep Your Eye On
No Sam Fisher for three weeks might finally see the birth of Hugh Goddard (Def/Fwd. $236,000, 43 be AF. $122,900 DT). The tall defender has been biding his time in the VFL and playing pretty good football. Against Brisbane's young forwards this weekend, it will be a good initiation for him I would think. Goddard is currently Dreamteam relevant only due to price and should average around 60 Fantasy points.
I have a feeling that Brad Walsh (Mid. $120,000, 22 be AF. $102,900 DT) is a name we'll hear a bit more of this season. Carlton's tough insider midfielder has been in great VFL form averaging 19 possessions, 4 marks, 6 tackles and 81 Fantasy points over the past two weeks. Walsh is rookie listed but there is a spot for him on the senior list with fellow upgraded rookie Ciaran Sheehan suffering a long-term injury. He's cheap as chips!
An injury to Jackson Trengove could present Tom Clurey (Def. $120,000, 22 be AF. $158,000 DT) with an opportunity. Clurey has been in the system a couple of years now and deserves the chance to prove his worth to the Port Adelaide faithful. Don't expect big scores from this key defender though.
I've talked about Nick Graham (Fwd. $266,000, 70 be AF. $296,300 DT) before but with no Gibbs this week, Judd touch and Mick Malthouse sacked, odds are that he'll be named. Graham has been the Northern Blues BOG three weeks running and last week his stat line read 16 kicks, 6 handballs, 3 marks, 12 tackles and 109 Fantasy points. I know he's expensive and with his Fantasy breakeven at 70, I wouldn't trade him in but definitely put him on your watchlist.
Jack Steele (Fwd/Mid. $227,000, 43 be AF. $117,900 DT), Orazio Fantasia (Fwd. $142,000, 27 be AF. $156,200 DT), Zac Jones (Def. $142,000, 27 be AF. $156,600 DT), Sam Colquhoun (Def. $219,000, 40 be AF. $197,700 DT) and Harrison Wigg (Def. $192,000, 36 be AF. $117,900 DT) are other fringe players that I've mentioned in recent weeks that could get a game in Round 9.
Feel free to ask me a question below and don't forget to add me on Twitter @JeppaDT for all things Fantasy and more. Happy trading!