Roy's Trade Talk – Round 9
Many coaches are starting to trade with the byes in mind. Here are some round 13 options that could save the day.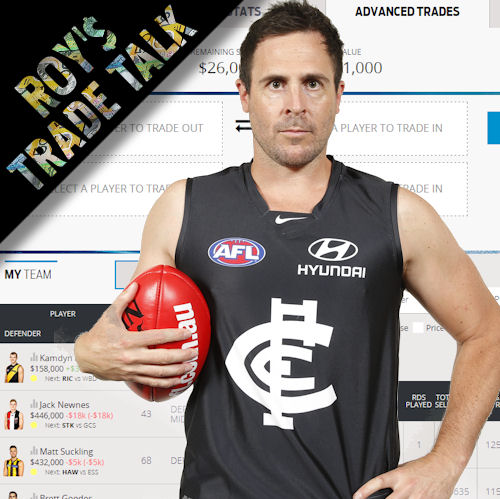 With the bye rounds fast approaching, many coaches are starting to look at the mess they have created in terms of bye structure. A common summary is 'MAN! I am screwed in round 12' which can be taken a couple of ways. On one hand, at least there are others in the same boat, and on the other hand, you probably have a little bit of work to do.
An answer to a few problems could be to get some round 13 players in, so I am going to look at a few viable option remembering we don't want to get 'headaches' into our team, just for the sake of a handy bye.
Round 13 Bye Options
Mark Blicavs (MID/RUC, $495,000) not only holds a unique DPP, but you never know when it
could come in handy over the byes. He is owned by less than 10% of the competition despite an amazing run of form where he has averaged 102 over the last 5 rounds, automatically making him a far better option than his more traditionally selected teammate Joel Selwood. He has a break-even of 69 and will continue to score well.
After a slow start to the season by his lofty standards, Matt Priddis (MID, $586,000) is on a streak of five straight 100's and a three round average 125 to make him an obvious round 13 bye target. Your team will lose nothing by bringing in this superstar who has gone 155 and 114 in the past two weeks to give him a break-even of just 78. Looking at his run ahead, he has a tough-ish game vs the Cats this week, but he is at home and will be fine, then it's all smooth sailing up until he has a rest.
If you are in the need of a round 13 forward, look no further than Giant Devon Smith (FWD, $530,000) who is having another great year on the back of last year's break-out. In the last six weeks he has dropped under 99 on just one occasion and has four scores over 110 in that time to give him a five round average of 107. He has a great run ahead with games against the Dogs, Lions, Pies and Roo's where his is expected to dominate leading into round 13.
Twitter Time
@RoyDT @DTTALK are guys like Vanders and Hogan worth keeping now? #RTT #AFLFantasy

— Izzy Reely (@IzzyReely) May 25, 2015
Yes, offload them round 13
@RoyDT Downgrade options for B Goodes?? I have no cash.. #RTT

— Michael Baxter (@mbaxter837) May 25, 2015
Slim picking mate, Hopefully Byrne is back soon
@RoyDT @DTTALK Do i get in Hodge, Sidey or Mundy first. I have thoughts but would love to know what you think. #RTT

— Guy 🌱🏳️‍🌈 (@greysfan) May 25, 2015
Your bye situation may decide for you, but I like Hodge for instant reward
Do I go with Deledio or get myself a Dahl Haus? @RoyDT #RTT

— Jaidyn Carter (@c_jaidyn) May 25, 2015
I would go Dahl, no lingering injury concerns
@RoyDT @DTTALK should we consider Scott Selwood in the coming weeks? #RTT

— Steven Marotti (@smarots08) May 25, 2015
Yes, could help navigate the byes
https://twitter.com/navinvis/status/602762423313960960
Dumont might get extended opportunity with Swallow out
@RoyDT M Boyd a good pick or risky of a rest? #RTT

— Ben Levin (@_benlevin_) May 25, 2015
A great selection if you have a decent emergency. Will miss games over the course
@RoyDT @DTTALK any round 13 bye defenders worth a look other then Yeo? #rtt

— jason towns (@townz36) May 25, 2015
Jacko Thurlow
@RoyDT trade or hold Elliot Yeo if he's out? #RTT

— ethan (@ethanpowell69) May 25, 2015
Hold is the smart answer… however I am undecided if I will or not
Cheers guys,
@RoyDT