Benjo's PODs – Round 9
Each week Benjo be having a look at PODs from each of the four positions.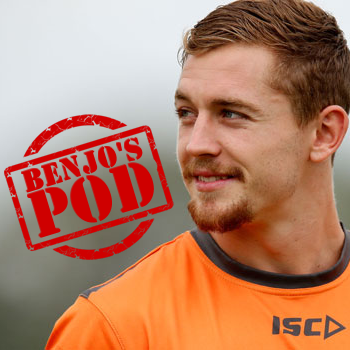 Hi guys and welcome to the Round 9 edition of Benjo's PODs. Each week I'll be having a look at PODs from each of the four positions. First, let's review last week's PODs.
DEFENCE
Elliot Yeo
Yeo had a good game, scoring 96 DT points against the Saints. Unfortunately, for many coaches who traded Yeo in, he is out for a week. My advice would be to hold him.
MIDFIELD
Josh Kennedy
JPK continued his run of good scores against the Hawks with a 102. Owners would have been proud with his output.
RUCK
Ivan Maric
Maric scored 98 DT points in a good win over the out of form Port Adelaide.
FORWARD
Brett Deledio
I was so close to getting him in last week. He scored 111.
On average, my four players scored 101.75. What an effort!
Now to this week's PODs.
DEFENCE
Kade Simpson
Doesn't Simmo have a high ownership? Simmo was only averaging 81.4 before pulling out of Carlton's round 6 clash with Brisbane. Loyal coaches like Jeppa held him for the two rounds he was out and got payed back with a big 114. One game doesn't mean anything. I don't want to chase points! Why should I bother getting him in?
1. Simpson has a good DT history. Over the past five years, Simpson has only averaged below 90 once, in 2013 where he averaged 85. Defenders often have their 'breakout' year in their later days, so this is better than getting a young defender such as Tom McDonald.
2. Kick to handball ratio. Simpson loves to kick the ball. He averages 13 kicks to 7.2 handballs a game since 2003, in his debut season with Carlton.
3. Now this is the reason why everybody should consider Kade. He averages 6 marks a game this year. When Simpson is fully fit, you know that he can be damaging and can may as well win you some all important league matches.
4. CEILING! Unlike most defenders, Simpson has a massive ceiling. Last week against Geelong he recorded 116 DT points, despite his woeful team losing by over 70 points. He reached the ton ten times last year, including two massive consecutive 140s. 140!
5. When Simpson is fully fit, you should be very confident having him in your team. Carlton love to chip the ball around down back, so Simpson would be the number one target to give the ball to.
6. Carlton are in last place at the moment, conceding 901 points. An average of 113 points a game! If the ball stays down in the backline for long periods of time, expect some big scores from Kade.
Q and A:
Would you take Simpson over Mundy, Boyd or Hodge?
I would take Simpson over these defender premiums. Simpson has shown what he can score, so I'd be willing to save the cash and go for Simpson. He has dropped almost 50k on his starting price, so he is at his cheapest price.
Verdict:
Simpson is the perfect rookie upgrade player. I'm trying to get him and Rocky into my side this week!
MIDFIELD
Matt Priddis
I really don't want to write this piece on him, but I think I have to giving his current form!
Matthew, Matthew, Matthew. My secret gem over the past few weeks. His ownership is still only 8.22% in Fantasy. Is he too pricey?
1. Priddis was set for a 200 point game against the Suns two weeks ago. Simpson moved him forward in the second half, limiting him to only 55 points.
2. Priddis goes hard at the footy! He averages 6 tackles a game and this year he's stepped it up to 7.5 tackles a game. This is already 30 points!
3. Priddis is averaging 30.5 disposals this year. Although, he does need to work on his kick to handball ratio. It is currently 1 : 2.4!
4. His consistency. Priddis went under 90 three times last year! He went under 100 six times, although three of these scores were high 90s. He is almost guaranteed a ton each game. Disposals + tackles = points!
Q and A:
1. Would you choose Priddis over Rocky?
No. In this case you have to choose Rocky. He is just too damaging if you don't have him and is set to average over 110 from now to the end.
2. If I wanted to go for a unique pick, would I go Steven or JPK?
If your after a little uniqueness in your midfield, I would go for JPK. Although Steven is on fire at the moment, he is just too expensive.
Verdict:
This week, go for Rocky, but if you want a little uniqueness in your midfield, Priddis is the guy who I'd trade in.
RUCK
Mark Blicavs
Mark Blicavs has completely gone under the radar. His last five scores have been: 107, 93, 111, 81 and 120! He is only owned by 9.47% of the competition, yet I think that 7% of those people are in it for the MID/RUC status! Now why haven't we heard more about Blicavs?
1. Blicavs averages 19.5 disposals this year. Stefan Martin only averages 16, Sam Jacobs averages 15 and Todd Goldstein only averages 15 disposals. These are some of the top ruckmen of DT this year and Blicavs is out scoring them disposal wise!
2. He averages 5 marks this year and he averages 4.5 tackles! You would like these stats for a midfield premo, yet we are talking about a ruck mid pricer!
3. Blicavs is one of the fittest rucks in today's game. When he doesn't play in the ruck, which is the most of the time, he spends roaming around the ground. Did you see the tackle he layed on Pendlebury about two weeks ago?
4. To prove that Blicavs is the real deal, he was receiving a tag for half of the game against Carlton and still managed a 120!
Verdict:
Blicavs' price tag might seem to be expensive, but is cheap for what the big man is capable of. His round 13 bye is also handy. What is not to like?
FORWARD
Devon Smith
Smith was a juicy POD on many people's radars heading into the season. He started the season off disappointing his owners, scoring 59 and 67. I know that many people on the DT Talk, 'My Team' section were trading him out that round. Wow, they were wrong. He has averaged 107 since then! I have a feeling that he is going to continue this awesome run of scores!
1. Since averaging 12 disposals in the first two rounds of the year, he has averaged 24 disposals. Smith has a kick to handball ratio of 2:1, which is very handy.
2. Smith is averaging 5 marks a game. This is very good for a small forward/midfielder like Smith.
3. Smith is averaging 7 tackles a game for the whole season! 7 tackles a game!
4. Let's look over his stats. 24 disposals, 5 marks and 7 tackles. From these stats, he basically achieves over 120 DT points a game!
5. Smith also averages one goal a game this year. Very important to note especially if the Giants are playing a weaker side, where Smith has the ability to kick up to 5 goals!
6. It's a pity that awesome goals don't count as extra DT points. Smith would be killing it!
Verdict:
Smith is arguably in career best form, so now is the time to get him.
Important:
1. Now is the time to play the Break Even game. There are absolutely no good rookies on offer right now, so we have to look for some midpricers who have decent BE's. I'm looking at McInnes from the Eagles. He has a BE of -6 and his job security looks to be good for the moment.
2. Rookies are expiring! Cripps will be gone for many this week.
3. Look at the fixtures! GWS have a relatively easy draw, facing the Bulldogs and Brisbane in their next two.
4. This may sound silly but read and listen to as many articles/podcasts as possible!
5. The bye rounds are approaching! Get ready.
Good luck this week! I hope you enjoyed the second edition of Benjo's PODs.
Comment your trade ideas down below and I'll try to answer as many as possible!