The Weekend Wash-Up – Round 8
Surely not… Could it be? This week seemed like a turning point, 2000 was finally an achievable target for all! Hell, even I made it.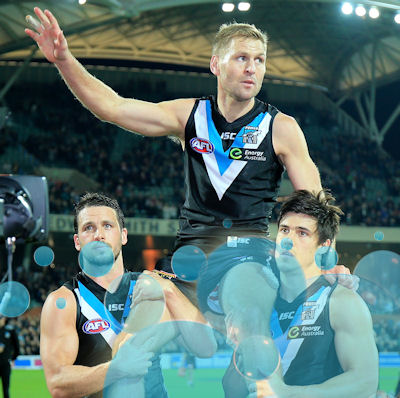 Surely not… Could it be? This week seemed like a turning point, 2000 was finally an achievable target for all! Hell, even I made it. That doesn't mean there wasn't misery and turmoil throughout the weekend, but it wouldn't be AFL Fantasy without a few 'bad luck stories'. It's time to wash-up all the events from Round 8!
Legends
Blicavs (120) – If anyone didn't believe he was the real deal before this week, you have to now! He's an incredible athlete and will be a premium ruckman for years to come. Incredibly even though he is averaging 95, he doesn't look like becoming a top 2 ruck this season! We're not short on ruck stocks that's for sure…
Steven (166) – Speechless. I (like most) considered Steven throughout pre-season, however the constant inability to shrug taggers made the call too tough. Suddenly, teams aren't bothering! They're still beating the Saints so I guess that says a lot, Steven loves it though! Even so… 166?! Jack Steven is currently the highest scoring player after 8 rounds, riddle me that one. One thing I am noticing is the modern day pig must learn to tackle. Swan was the exception, but hell he averaged 35 disposals a game for a whole season! Steven is not only averaging 28 touches a game, he is laying over 7 tackles each week! That suggests his form is sustainable, surely a top 8 mid. Incredible turnaround from his past couple of seasons, what a pick he was.
Smith (133) – Picking Devon Smith with such a plethora of forwards available was always risky, but it could be a genius move come the byes. Most are struggling for Round 13 premiums, and Smith's 5 round average of 107 suggests he is exactly that. It's hard for me to erase from memory what I saw 2 weeks ago live, but I guess GWS are the real deal. Smith is crucial to that, certainly consider him for bye structure, if not the fact he will average over 100!
Jacobs (130) – Sam Jacobs is without doubt the number 2 DT ruck in the comp, lock him in with Martin and don't blink an eye lid. He has been under-priced recently, at $544k he is still great value. Look to get him ASAP if you don't already.
Pendlebury (141) – Here is a true legend! Pendles is my favourite player to watch in the comp, I have never seen anyone with such incredible awareness in traffic. It is a beautiful sight to watch him glide around the field, even better when he's your captain! I hope owners weren't left with a sour taste in their mouth after last week, a true champion always fights back!
Swan (123) – Swanny is back in the middle and isn't he loving it! Soak it up, we won't get to enjoy his royal swineness forever… Legend. When in need of a captaincy option, never look past the original pig.
Parker (116) – He is officially back! Parker was in the guts all game and is back to his best form, culminating in a 3 round average of 134. Get the man in your side!
Lewis (116) – Is it bad that I was disappointed with his score of 116? Either way I'm glad to have held him, he is still the number one Fantasy player in the land (No, Rockliff isn't quite back yet). You don't want to be coming up against him as a unique captain…
Hannebery (119) – I always seem to gloss over Hanneberry's scores, perhaps it's the fact that a tight tag always seems imminent. Forget my paranoia, he has been a brilliant pick up this season. I stand by the fact that he's not a top 8 mid, but ride the wave while it lasts!
Neale (151) – MY SAVIOUR. He is a prime example of why the thrill of picking midpricers is the most dangerous Fantasy drug of all. Sadly, for every Neale you get 10 Griffin's. Regardless, Lachie has taken his game to an elite level. That is Neale's second 150+ score this season, his 4th ton in a row and his 4th score above 125!!! Just cop the occasional 50, he is a match winner. And no, I wouldn't trade him in now…
Barlow (124) – Part of me wants to say about time, but Mr Dream Team has earned my respect to buy him a few more weeks. There are great signs for Barlow owners. His problem was clear earlier this season, he didn't get as much midfield time and this resulted directly in lower Fantasy scores. The proof? He averaged just over 2 tackles a game for the first 6 Rounds, he usually averages well over 5! There goes 12 points before you've even started. He has almost equaled his season tally over the last 2 rounds, and seems to be getting back to top form. He's on the edge of the top 8 for me, but we all know what he's capable of…
Mundy (121) – The sign of a great premium is how they bounce back after disappointment. Mundy was supposedly in doubt after last weeks head clash, forget that. He called that bluff and raised it with a massive 121, keeping his BE solid. Disappointing for those like me who wanted to pick up a bargain, I can't see him dropping much below 570k. Get him in ASAP!
Rockliff (125) – Little pig, little pig let me come in. Um… Any other pig references? This little piggy went to market. Horrible tribute from me to one of the greatest Fantasy players you will have the joy of watching! His first quarter was a reminder of what Rocky does for a living, get him in this week or no longer consider yourself a passionate AFL Fantasy player.
Vandenberg (128) – Thankyou sir! Vandenberg rewarded those coaches sticking with the safe rookies with a monstrous 128! Complete fluke and can't see it happening again, but it did happen nevertheless. That just bought him time until his Round 13 bye… Perfect. Legend!
Boyd (115) – Boydy has been slightly forgotten after the Mundy hype, however he is a must have in defence! I can't wait to get the old school DT hero back where he belongs, this is what makes DPP awesome!
Ellis (117) – Sick of being let down? Want a reliable premium? Look no further. One day he will push on from his 50 point first quarter, however he will never let you down. He has a low score of 87, is owned by under 5% of teams and averages 106. As fun as Neale has been, in the future I'll take a guy like Ellis 10/10. Trust me from experience! Legend…
Losers
Motlop (49) – It was pretty obvious that Motlop hadn't had to deal with a tag before, and I'm sure his owners won't want to experience it again! On a night when Geelong dominated, Motlop was hardly sighted. Not sure if anyone still has him, but move him on if so… Not a premium player.
Ellis-Yolmen (56) – A touch harsh, but when you hold a bloke for 2 weeks you'd want a better reward than that! Now that we're closing in on halfway through the season, there can be no room for passengers. It's go hard or go home next week for YOLman!
Coniglio (58) – This is what happens when you get greedy! Having peaked at over 500k, the past few weeks Coniglio had showed signs of slowing. This week he hit the wall, even though he has been brilliant you simply must trade this week. No room for sentiment!
Grundy (48) – Ouch. It's such a tightly contested season in the ruck department that one slip up could be your last. Grundy is certainly a testament to that, I'd be looking to shift him on for Jacobs or Martin this week. Credit to Brodie and all those that own him, he has been an awesome pick.
Franklin (46) – Speaking of awesome picks, this guy certainly wasn't one of them. Yes I have Buddy, and no I'm not happy! Let's forget the fact that I was stupid enough to get him in for Gray, regardless he has been bloody useless to be kind. Hear me out. When I traded him in, he had scored over 110 in 50% of his fixtures since Round 3 last season (14 tons in 23 games). After scores of 117 and 121 and a huge finish to last season, all seemed set for Buddy to once again take over the forward line. Since I picked him up? One ton in 5 games, not one score over 110 and an average of 80. What's worse is when he inevitably hits form, everyone will get themselves a bargain!
Suckling (56) – Not to overuse old puns, but Suckling really did put the suck in his name this week. Not only was finding the sherrin a problem, kicking it was a struggle for someone so highly (over)rated. If you own him I guess you hold strong for now, this is pretty standard for defenders this season.
Tarrant (25) – Someone hold me back! I don't know who I want to hurt more, Tarrant or myself. Not only did he kill his cash making potential in 1 swift blow, he dented what could have been a great score for me. It was a last resort to play him, but I thought we were past scores like this. 25?! Sickening…
Dumont (28) – I guess in this situation Dumont isn't really the loser, Brad Scott can take that tag. Surely the kid has earned a full run after his VFL form!!! With Swallow soon to return he isn't a viable option with the byes on the horizon. Another to cross of your watchlists. Rookies are getting thin on the ground.
Amon (25) – Honestly, is it too much to ask for a decent cheap rookie! Amon also got the green vest, and it's almost impossible to tell when he can get out of it. On the back of another loss and Cornes' retirement you'd hope he can be the one to take the next step, however would you feel comfortable relying on him come the byes? Headaches everywhere.
Leuenberger (14) – I can proudly say I was firmly against picking Leuey all pre-season. Sadly, this score didn't happen before he got dropped the first time. I didn't see this game, but how is this even possible? 14… FOURTEEEEN (Huddo). Fun fact, he went backwards after half time. Now that's a difficult feat to achieve, congratulations. Unfortunately he'd make a better circus act, something to thing about post football I guess.
Watson (64) – Who knows if it's the drug saga kicking again, but Watson hasn't been anywhere near the player he was during that brownlow medal season. Set and forget on the never again list for me.
Bontempelli (45) – As if we haven't had enough issues to deal with lately, one of the blokes we were relying on until the byes is starting to collapse. This really is horrific timing, a 3 round average of 63 has slashed $41k off his peak price, and with a BE of 121 the pain isn't going to ease. I have no choice but to hold, however you should be looking to dump him ASAP with the calibre of forward premiums available this season.
Boyd (3) – One handball and one hitout for Tom Boyd this week. Don't worry though, I'm sure he attacked the contest hard………
Krakouer (38) – What kind of substitution was this? Is Krakouer injured? I can think of plenty of Power players who deserved the chop before he did, it's even more annoying because this was his first week on my field. Serves me right I suppose, that's how this game works right?
Cotchin (56) – Seriously, I don't even own him and this makes me angry. I watch him pump out these 120+ scores and think to myself how the hell is he not an uber premium. Then I watch him sit on 16 at HT. Don't even consider picking him. Ever. I'm going to try and erase my deck of dream team from the archives, I was completely wrong. Richmond won, why would he even consider it an issue. He can happily take the tags while we tear our hair out. Atrocious.
The Mark Stevens
It's amazing that it has taken this long for them to feature, but finally the Carlton board get their moment in the sun… Or rather the opposite. I have nothing against coming out and backing your coach in, but you have to be smart about it. I can guarantee that when they claimed "We won't be sacking Mick under any circumstances" before Round 23, they didn't think they would be heading for the wooden spoon and churning out 70 point losses like it's nobodies business. Here's the fact of the matter. Carlton had 35 tackles on the weekend in a shocking loss. To put that into perspective, St Kilda had 36 tackles in ONE QUARTER against the Eagles. It's fine to say their skills aren't up to standard, but I'm not sure I've ever seen a weaker effort from a bottom side. They have gone from a borderline top 8 team to the worst team in the competition under Malthouse's guidance. The players aren't playing for him and quite simply, he has to go. But wait… They've assured us he won't go. Do they go back on their word? One thing I can guarantee is he won't be there next season. How to waste 14 weeks of Football with Carlton FC. Horrible management.
Here are your nominations for this weeks stubby!
Pendlebury – He dominated his 200th game of AFL, well worthy of a vote for those who stuck the Big C on him. He is averaging 112.4, why do we ever doubt him!
Neale – If this year's overall golden stubby is awarded of number of nominations, Neale will take it out in a cakewalk. When he goes big he doesn't mess about… Locked for me.
Steven – The bloke is averaging 120, just pumped out 166 and started below $500k. No brainer.
Rockliff – The return of the pig brought smiles to Fantasy coaches across the land. Get around him!
Vandenberg – Lastly but certainly not least, Vandenberg would've decided a lot of match-ups as a unique rookie. Some serious nominations this week!
This Game Sh*ts Me
To be fair things seriously turned around for me this week, but that doesn't mean there wasn't pain. Can't a man catch a break?! My injury situation was dire at best after last weeks debacle, so how better to kick off my week than hearing Swallow had suffered a broken hand. I'll let you fill in the gaps, but I'm sure my reaction was pretty self explanatory. Yes he hasn't been a great pick, that doesn't make it any worse! Anyway… Seeing as I still had 6 other forced trades, he was forced onto the bench. This meant that Yeo was moved into my midfield. The flow on effect was a defensive rookie moving onto my ground, and no prizes for guessing who. Thanks Robbie. This game just generally sh*ts me.
The Other Bits and Pieces
On a positive note for once we get to my score. 2141, I'm stoked! The board had a serious discussion with me midweek, perhaps I can just avoid Mick's fate. Never give up kids! In reality it should have been so much better. Andrew Swallow's exclusion midweek only added to my injury pain and resulted in a glorious 25 on the ground. God knows how much that cost me. Trading Gray out for Franklin 3 weeks ago is comfortably my worst trade EVER. That's almost instantly sack able to be fair. I only have myself to blame for that one, as I do for playing Krakouer instead of Clark against Carlton. Nevertheless, it's a step in the right direction. When guys like Simpson, Higgins, Barlow and even Vandenberg belt out monster tons to back up blokes like Neale, you've had a decent week. Looking at those names it's hardly sustainable, but we're getting there! Hopefully everyone enjoyed more successful weeks, let's hope for some more huge scores before we hit the byes! Cheers guys, feel free to fill me in on your hard luck stories in the comments, I feel your pain…