Round 7 Lockout Chat
Discuss your round eight trades and the games as the weekend unfolds. Don't forget to join in the Moneball Saturday Slam.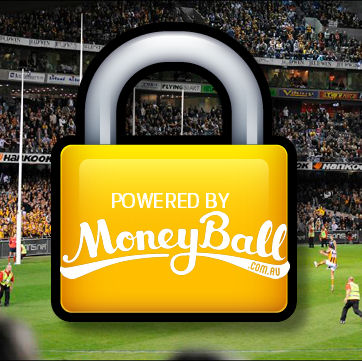 Discuss your teams for round 8.
Etihad Stadium , 7:50pm AEST Friday, May 22
Under cover
Late change: Andrew Carrazzo has been replaced by Robbie Warnock. Andrew Mackie and Dylan Buckley are the subs. #AFLCatsBlues

— AFL (@AFL) May 22, 2015
Etihad Stadium , 1:45pm AEST Saturday, May 23
Under Cover
Spotless Stadium , 2:10pm AEST Saturday, May 23

Partly Cloudly slight chance of showers. Rain in the morning so possible slippery conditions.
Metricon Stadium , 4:35pm AEST Saturday, May 23

Mostly clear. Windy
MCG , 7:20pm AEST Saturday, May 23

Mostly cloudy. Light winds
Domain Stadium , 5:40pm AWST Saturday, May 23

Partly cloudy. Slight chance of showers in afternoon.
Etihad Stadium , 1:10pm AEST Sunday, May 24
Under Cover
MCG , 3:20pm AEST Sunday, May 24

Mostly sunny.
Adelaide Oval , 4:10pm ACST Sunday, May 24

Cloudy. Light winds.
We have put our MEGA SATURDAY on the shelf this week and joined forces to offer up the biggest Moneyball contest; a chance to win $4.5K. 500 spots are available in the contest for this week and with a $10 entry, you should put your money where your mouth is and try to snag some cash. The top 15% scorers for the week in the league are paid out. Join the SATURDAY SLAM now.
.@WarnieDT has entered his team in DT Talk Friday Fever on @MoneyBallcomau. Pick yours now: http://t.co/rG4R6GshPl pic.twitter.com/wtASAvSiBZ

— DT Talk (@DTTALK) May 21, 2015
ALSO – Enter our Friday and Sunday comps. Search for them here.
The game is very easy to play as it is similar to other salary cap fantasy platforms. Sign up now.