THROWBACK THURSDAY – ROUND 8 – THE GF REMATCH EDITION
Muttley looks at the Grand Final rematch.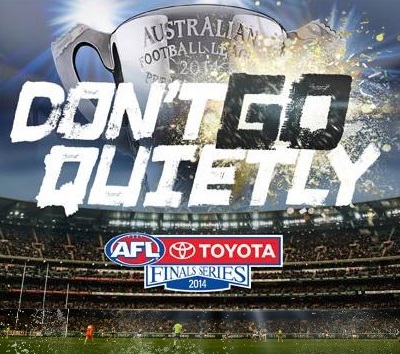 This week isn't Grand Final Week, but it is Grand Final rematch week. So in this Throwback we'll have a quick look back at last year's Grannie and find out why this weekend we can expect something completely different.
No Hodge:
The Hawks captain is still absent due to his third and final week of suspension and this will impact Hawthorn by at least a couple of goals. Last year's GF was Hodgey's 250th AFL game and he was one of their most dominant midfielders with 35 possessions, 12 marks and 2 goals to register what would've equated to 157 DT points. He also won the Norm Smith Medal and kissed former teammate Lance 'Buddy' Franklin on the cheek, which was err… cheeky. Rest assured there'd be no kisses this week, especially from the returning Jordan Lewis, unless you count the Kiss Of Death with a swift right hook… to the cheek.
It's a night game:
Okay, so that doesn't mean all that much considering Hawthorn have won the last four night games at The MCG versus Sydney by an average 34 points. But still, it's a night game.
It was a 63 point massacre:
Last year The Hawks won every quarter and virtually had the game wrapped up in the first half. Seriously can't see that happening again on either side of the ledger.
There will be no Tom Jones or Ed Sheeran pre-game performances:
Umm. That's probably not a bad thing.
Only one Sydney Swan scored 100 DT points:
That was Josh Kennedy, who scored exactly 100 DT points while none of their players topped 30 possessions. This time we could expect 30+ from any number of Swans, whether it's JK, or Parker, Hannebery, Mitchell, McVeigh, Jack, or ex-Hawk McGlynn, or someone completely left field like Goodes. Okay, maybe not Goodes.
Will Langford had 3 goals, 6 tackles and 103 DT points:
Will Langford's only kicked 2.7 this season at an average of 73 DT. He did register his highest score this year of 88 in last week's demolition of Melbourne, but I had Will Langford in my Dream Team in Round 1, traded him out in Round 3 and haven't looked back since.
Matt Spangher won't be playing:
So no one gets to say "Spaaanngggheeerrr" every five minutes. That's a shame.
Hawks coach Alistair Clarkson could break something:
No really, he could actually break something. Like his hand into a wall or some random idiot spectator's face, or mine for suggesting this… everyone better watch out. Lights, camera, traction! He might even pop a pooper valve. But considering his medical condition last year we genuinely hope nothing goes wrong for the Angry Ant.
Cyril Rioli only played a bit part:
It was a really good bit part, but everyone outside of Sydney hopes that's just a prelude to this week and Cyril does enough mercurial things to make Bruce McAvaney's voice go all raspy in the commentary box, using words like "special" and "delicious". Awww Dennis, I like his chances.
@muttleyjames
Next week: Indigenous Round – a Throwback to some Dreamtime Dream Team Legends.