Jeppa's Juniors – Round 7
It wasn't a great output from the rooks in Round 7 so which 'juniors' are amongst the next wave of must haves? Don't miss what Jeppa has to say about those that matter ahead of another all-important week of trading.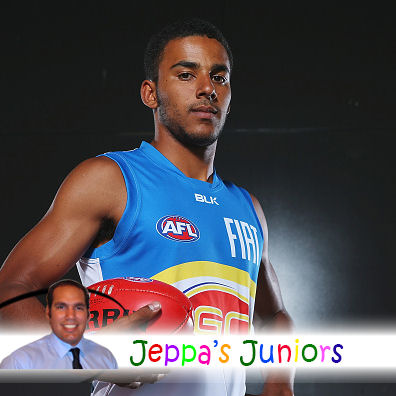 Let this week's suspension/injury woes remind you of the importance of team depth. Rookies that are traded in from this point need to be in form, decent ball winners and team players. Sometimes there is the odd imposter (Newton) and assessments of players can change quickly (Kelly) but if we look at the contribution certain youngsters make out on the field and the role they play in a side then these characteristics will go a long way towards making the right downgrades.
At this stage of the game, coaches need to trade aggressively and make those early upgrades. Many rookies have topped out (Lonie, Salem, McIntosh) and there are a heap of underpriced premiums available (Rocky, Barlow, Parker) so don't miss the opportunity to make an upgrade this week.
Thankfully, the dire rookie situation seems to be on the up…
Three Gamers
KEEPERS
Touk Miller (Mid. $359,000, 39 be AF. $341,000, 29 be DT) answered his coaches prayers in a time of need. Up against the Eagles, in wet conditions that really suited him, Miller racked up 21 possessions, 1 mark, 8 tackles and 83 Fantasy points. He wasn't the highest rookie scorer for the round but each week that passes, Miller is improving and that's why he's a keeper! An avergae of 83 from his past five games justifies starting him on your field.
Originally rookie priced, Tory Dickson, 102 (Fwd. $372,000, 29 be AF. $372,900, 22 be DT), Jackson Thurlow, 100 (Def/Mid. $364,000, 18 be AF. $373,800, 6 be DT) and Billy Hartung, 91 (Mid. $347,000, 29 be AF. $340,800, 18 be DT) gave their small percentage of owners plenty to smile about in Round 7. Unfortunately, all three have been inconsistent performers this season but on the back of last week, their breakevens are favourable.
Dom Sheed, 98 (Mid. $362,000, 27 be AF. $363,600, 17 be DT) and Jake Kelly, 96 (Def. $278,000, -13 be AF. $267,800, -46 be DT) are playing with plenty of confience. Kelly appeared to win all of his 50/50 contests and Sheed is benfiting greatly from the Eagles dominance all over the ground. Back Kelly in and start him on your field this week.
Other rooks to hold on to for value and scoring potential include Fraser McInnes, 90 (Fwd. $188,000, -6 be AF. $169,800, -18 be DT), Callum Sinclair, 89 (Ruc/Fwd. $290,000, 8 be AF. $311,000, 13 be DT), Cameron McCarthy, 88 (Fwd. $309,000, 41 be AF. $296,000, 42 be DT), Cory Gregson, 83 (Mid. $319,000, 16 be AF. $316,100, 2 be DT), Robbie Tarrant, 79 (Fwd/Def. $300,000, 28 be AF. Def. $285,600, 27 be DT) and Nathan Krakouer, 75 (Fwd/Mid. $263,000, 16 be AF. $299,900, -12 be DT). You could pick up McInnes this week as a short term cashcow but remember he is prone to some low scores.
It pains me to say it but Brett Goodes' (Def. $240,000, 11 be AF. $257,600, -6 be DT) recent form indicates that he's a keeper. Even with Boyd back, he still amassed 11 kicks, 6 handballs, 4 tackles and 82 Fantasy points playing more at half forward, wing and even a bit in the ruck! With the Dogs turning to youth, I wouldn't be surprised if Jack Macrae replaces him on the selection front this Thursday night. If you don't own him, play it safe and don't trade him in.
DON'T PANIC
Fletcher Roberts, 64 (Def. $178,000, 12 be AF. $195,900, 27 be DT), Henry Schade, 58 (Def. $179,000, -6 be AF. $165,300, -25 be DT), Alex Sexton, 57 (Fwd/Mid. $280,000, 16 be AF. $292,000, 21 be DT), Ayce Cordy, 46 (Ruc/Fwd. $202,000, 2 be AF. Fwd. $225,800, -7 DT), Liam Duggan, 42 (Mid. $244,000, 29 be AF. $245,000, 55 be DT), Mitch Clark, 40 (Ruc/Fwd. $290,000, 44 be AF. Fwd. $284,300, 55 DT) and Daniel McKenzie, 30 (Def/Mid. $255,000, 43 be AF. $159,100, -11 be DT) all weren't as prominent as their owners would have liked but their breakevens are lower or similar to their averages. You shouldn't lose any money holding these players this week just make sure you use them all as bench cover.
With plenty of other rookies in the firing line, you want to hold Adam Oxley, 48 (Def. $362,000, 54 be AF. $369,700, 87 be DT). The Ox is avergaing a healthy 73 Fantasy points per game. Back him in!
Patrick Cripps (Mid. $350,000, 30 be AF. $374,700, 80 be DT), Adam Saad (Def/Mid. $311,000, 18 be AF. $289,100, -7 be DT) and Jesse Hogan (Fwd. $332,000, 46 be AF. $300,000, 34 be DT) should all return from minor injuries this week so sleep easy.
TRADE, TRADE, TRADE
If I haven't categorised a player from Round 7 under 'Keepers' or 'Don't Panic' then trade them out as soon as you can but when appropriate.
A question I get asked a lot is who do I trade first? It's not bulletproof but here's my trade out list of popular rookies in order for this week:
    ♦ Jack Lonie, 4 (Fwd. $283,000, 68 be AF. $277,500, 101 be DT)
    ♦ Christian Salem, 12 (Fwd/Def. $305,000, 72 be AF. Fwd. $293,100, 64 be DT)
    ♦ Ben Newton, DNP (Mid. $300,000, 50 be AF. $292,800, 52 be DT)
    ♦ Mitch Honeychurch, 26 (Fwd. $279,000, 62 be AF. $280,300, 76 be DT)
    ♦ Kamdyn McIntosh, 59 (Def/Mid. $322,000, 65 be AF. Def. $297,000, 69 DT)
    ♦ Aaron Vandenberg, 43 (Fwd/Mid. $342,000, 65 be AF. Mid. $339,900, 94 be DT)
    ♦ Michael Talia, 70 (Def. $295,000, 55 be AF. $281,000, 47 be DT)
    ♦ Angus Brayshaw, 59 (Mid. $335,000, 61 be AF. $318,000, 71 be DT)
    ♦ Nathan Van Berlo, 67 (Mid. $345,000, 59 be AF. $323,300, 48 be DT)
Two Gamers
Of the two gamers, Jordan De Goey (Mid. $264,000, 49 be AF. $202,900, 29 be DT) impressed me the most. The young midfielder had been killing it in the VFL and he finally got his chance to shine on the big stage. Against the Tigers, the most notable stat for De Goey was his 9 tackles, the highest of any player on the ground. He also had 6 kicks, 8 handballs, 3 marks, 1 goal and 75 Fantasy points. De Goey's price is tricky for coaches to decipher. I'm fine with spending more money on rooks that will give you a healthy return but De Goey is a vest risk, which puts me off for Fantasy. A 3-bench midfield in Dreamteam does however, give you an added safety net and with not too many quality rooks putting their hand up at the minute, I'm seriously considering him for DT.
Eli Templeton (Fwd. $213,000, 15 be AF. $231,400, 28 be DT) was a very late inclusion against the Crows after Montagna got some hammy tightness in the warm up. No dreadlocks Templeton took his opportunity, played well and racked up 13 possessions, 5 marks, a notable 9 tackles and 79 Fantasy points. That sort of performance will see him hold his spot this week and playing as a high half forward, his game should be Fantasy friendly as long as he can stay away from the green vest (no guarantees). With Salem out injured, you will pocket a handy $92,000 trading him down to Eli. Consider but it's a case of high risk, high reward.
It was looking pretty bleak for Jake Lever (Def. $289,000, 33 be AF. $157,900, -51 be DT) owners. The tall defender was comprehensively beaten by Josh Bruce and had just 30 Fantasy points to three quarter time but some classic junk time pushed his score up to 52. I did warn you that his 90 Fantasy points in Round 6 was inflated and that you should expect scores between 60 and 70. Lever is Dreamteam relevant only as a D7/D8. Fellow tall defender Alex Pearce, 34 (Def. $144,000, 7 be AF. $124,600, -11 be DT) is doing a great stand-in job at full back but note that McPharlin is due to return this week and he'll likely be dropped as a result.
Billy Stretch (Mid. $181,000, 30 be AF. $117,900, -9 be DT) had a mere 3 possessions and 22 Fantasy points from just over a half of football. It was pretty tough going for Stretch who started in the green vest and when entering the game had to try and compete against a rampant Hawthorn outfit. I hope Paul Roos gives him another chance this week because he definitely has the talent. Matthew Dick (Def/Mid. $120,000, 25 be AF. $124,600, 26 be DT) avoided the green vest and was given the lockdown job on midfielder turned forward, Toby Greene. Unfortunately, Greene carved him up and Dick is in danger of losing his spot as a result. 34 Fantasy points from 97% game time isn't the ideal output but his dual position status gives coaches plenty of options. Only if you're desperate.
Fringe players Corey Ellis, 46 (Mid. $257,000, 50 be AF. $167,900, 5 be DT) and Tommy Sheridan, 51 (Mid. $234,000, 30 be AF. $229,300, 24 be DT) are just that and I wouldn't trade them in. Kyle Langford, 2 (Fwd. $231,000, 68 be AF. $142,900, 27 be DT) is another to stay away from. He copped a head high knock and was subsequently subbed off at half time. I doubt Langford will play this weekend.
One Gamers
Karl Amon (Mid. $133,000, 3 be AF. $124,600 DT) didn't let a green vest slow him down. The running machine scored 52 Fantasy points from just 29% time on ground…boom! Playing predominately on a wing, Amon worked incredibly hard and I get the impression that Hinkley has a couple in line to be dropped before the young fella. If Amon is named to play this week, pick him for Fantasy but start him on your bench to eliminate the vest risk.
Shaun McKernan, 54 (Ruc/Fwd. $197,000, 23 be AF. $248,400 DT) and Bailey Dale, 50 (Fwd. $168,000, 16 be AF. $117,900 DT) were both serviceable for their clubs in Round 7. McKernan was a late inclusion for Carlisle and played up forward and in the ruck. I can't see McKernan being a regular for Essendon right at the minute so stay away for now. Dale is in the same boat. The medium forward looks to have the X-Factor but he was serviceable in just two of the four quarters and I wouldn't be surprised if he's dropped this week. Be careful.
Jack Leslie, 37 (Def. $146,000, 20 be AF. $169,300 DT) proved to be a slow burn defender rookie similar to Schade. Personally, I'm not one to trade in players likely to average less than 50. A green vested Sam Blease (Fwd/Mid. $177,000, 39 be AF. $191,900 DT) didn't get much of a chance to impress, scoring 24 Fantasy points in a quarter and a half. He was used at half forward, tried hard but didn't stamp his authority when the Cats were desperate for a winner. I'm not sure if Blease will get another chance this week so avoid for now.
Richmond trio Liam McBean, 24 (Fwd. $120,000, 20 be AF. $124,600 DT), Todd Elton, 16 (Fwd. $120,000, 33 be AF. $124,600 DT) and Connor Menadue, 13 (Mid. $186,000, 51 be AF. $117,900 DT) failed to generate any excitement this week for Fantasy coaches. Menadue did cop the green vest though but looked lively when he came on at the start of the last quarter. He could be a sneaky pick up in a week or two pending form and scores.
For obvious reasons, stay well away from Matthew Watson (Def/Fwd. $247,000, 70 be AF. $233,100 DT) who scored 15 Fantasy points in just under three quarters and was subsequently subbed off for being poor.
Please note that if I haven't mentioned a rookie priced player above, it means I don't rate them. Remember rooks are classified as players under $250,000 in Fantasy and/or Dreamteam.
Keep Your Eye On
When the axe swings at Port this week, Sam Colquhoun (Def. $219,000, 40 be AF. $197,700 DT) is the first in line for a senior call up. Recent reports have also suggested that he is the likely successor to veteran Kane Cornes (source) who plays his last game this weekend. Colquhoun who now boasts long hair and a dirty mo is no stranger to AFL ranks, playing 10 games in 2013. Coming back from a knee reconstruction, he's found plenty of the footy in the SANFL averaging 25 possessions, 12 marks, 4.5 tackles and a massive 124 Fantasy points from his past two games. Ken Hinkley appears to be a fan and I will be to if he gives us some big Fantasy scores. Colquhoun is a sensible trade down option if named but he's not immune to the vest.
Up and coming defender Harrison Wigg (Def. $192,000, 36 be AF. $117,900 DT) could debut this week with Jaensch gone for the season and Brodie Smith having the week off with concussion. Wigg is a rebounding defender with arguably the best kick from last year's crop of draftees. He's been in consistent form in the SANFL and teammate Ricky Henderson talked him up on Monday (source). Looking at his SANFL stats, I suspect Wigg will average around 60 Fantasy points per game. 
Matthew Kruezer (Ruc. $244,000, 45 be AF. $333,000 DT) just makes the 'rookie' cut with his $244,000 price tag in AFL Fantasy. The big fella has two VFL games under his belt and is a likely inclusion for the struggling Blues this week. With Bellchambers playing like a potato, the timing of Kreuzer's return is handy. We all know what he's capable of but don't expect anything amazing in the first few weeks. At this stage, Kreuz is Fantasy relevant only due to price.
The previously mentioned Trent Dumont (Mid. $120,000, 27 be AF. $124,600 DT), Orazio Fantasia (Fwd. $142,000, 27 be AF. $156,200 DT), Zac Jones (Def. $142,000, 27 be AF. $156,600 DT) and Blake Acres (Mid. $161,000, 34 be AF. $208,800 DT) are all kicking butt in the reserves. With scoring potential and job security in mind, the pick of the bunch here is Acres even though he just missed selection last week.
Feel free to ask me a question below and don't forget to add me on Twitter @JeppaDT for all things Fantasy and more. Happy trading!