Roy's Trade Talk – Round 8
Whether it is injury or unfathomable bad form, it's fair to assume we all have forced trades this week after a tough round. It's time to bounce back!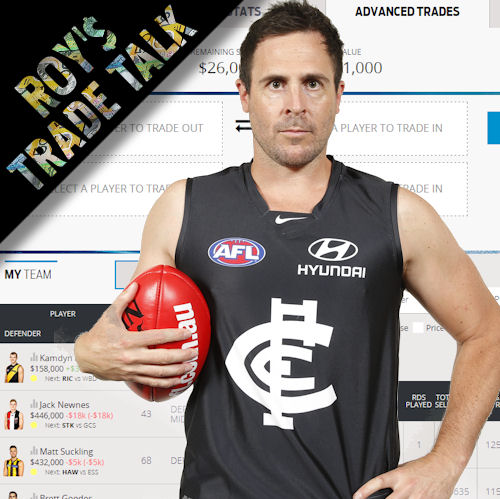 To be truly satisfied, we would need more than two trades this week, but that's not the case and after such poor results on the weekend, we need to use both of them well in order to get our boys back on the right track.
With injuries and poor form rearing it's ugly head I am going to look at a couple of under-priced players to bring in an save the day.
Under-Priced Premo

Technically speaking it could be argued we are going one week early on the Pig Tom Rockliff (MID, $482,000)who is carrying a break-even of 126 into this week's game against the Bombers. But given he is on the back of a huge second half where he scored almost 70 points despite being tagged, the time could be now. He is gradually recovering from his rib and lung injury and improving his running capacity each week despite another price fall that now as him available for just $482,000, a total of $281,000 down from his additional asking price. Over the last two weeks he has scored 90 from only around 20 possessions, so that is set to skyrocket at any minute. He is a must have over the next two weeks and don't rule him out from reaching his break-even after scoring 147 in their last meeting. He is tackling hard, the possessions will come.
After an outstanding opening game where Luke Parker (MID, $530,000) scored 111 over the first three quarters, he didn't looked himself until round six where he scored 120 in the lead up his beast mode 166 against the Cats where he collected 31 touches and kicked five goals. Although he doesn't have a great recent history against the Hawks, his break-even of 41 will be easily attainable in the lead up to back to back feasts against the Blues and Suns.
With the in form Matty Jaensch going down with a season ending knee injury, not everybody has the money to grab David Mundy or wait on Luke Hodge. Here are a few players that we either missed in the pre-season or just need to bite our pride and consider despite the negative voices in the back of our head.
Under-Priced Defenders 
Last week I suggested we grab Elliot Yeo (DEF/MID, $442,000) unfortunately it was only in my
article for the Eagles website. We have missed the boat to some extent, but if we take a step back he is still under-priced on what he has done since his move mid/fwd. He has a three game average of 118 including his massive 150 on the weekend. His break-even is nine leading into this week's game against the Saints which should provide another good return.
Clancee Pearce (DEF/MID, $448,000) was in everybody's team during the pre-season, yet only remains in a smart 14% of coaches who have enjoyed his $168,000 price rise and three game average of 112. He has been on fire with three 100+ scores in a row and is getting himself open for uncontested marks everywhere, in fact he has taken 10 or more on three occasions this year. He is over 100K less than his teammate Mundy, and has a break-even of just 35 leading into his game against the Roos in the West.
Liam Picken (DEF, $513,000) had a significant role change in round four and he hasn't looked back. Scores of 120, 143, 112 and 104 over the past four weeks would suggest he is the best defender over that period so it is time we ignore that nagging voice in our head that says 'tagger, stay away' an just grab him. At the end of the day, it's low risk with him almost guaranteed to be a top six defender in my opinion. He has a three round average of 119 and a BE of 54 which are numbers that make my midfield look like Heritier Lumumba in comparison. This is the second week in a row I have mentioned Picken as last week I was slightly worried about what the return of Mitch Wallis would do to his output. It appears nothing!
Twitter Time
@RoyDT with Montagna coming back in (maybe) do you think Armitage can keep pumping out big scores? #RTT

— Justin K Rosenow (@jmanvsgod) May 18, 2015
I was concerned about this, however I think he will be fine alongside Montagna. Having said that, I doubt he can average this high for the remainder of the year with or without him. Still a great pick though.
@RoyDT @DTTALK Cripps is out alot. Is it time to trade him out? #RTT

— Simon James (@Cmossvdk) May 18, 2015
Technically he still has some growth, but if you can get him to a gun like Rockliff, why not?
@RoyDT @DTTALK #RTT should i trade B. Smith or Hibberd for (my boi) Yeo?

— Matt Lloyd (@snoydlburger) May 18, 2015
Smith having a horrible run and it may take time to get back to his best. High BE as well.
@RoyDT @DTTALK #RTT who do I sacrifice to get in Lewis this week? Pendles, Heppell, Fyfe, Parker?

— Phil (@philwasshere) May 18, 2015
Unless one of those guys is out, Pendle was limping pretty bad last game, I wouldn't trade out any of those guys. I would wait on Lewis… as hard as that will be to watch.
@RoyDT @DTTALK is it time for Rocky? #RTT

— Damon (@DamonDpquick) May 18, 2015
Lock and load.
https://twitter.com/chrisbobbyjones/status/600195614689726465
Yep, we need them both ASAP.
https://twitter.com/MiglioreChris/status/600194850760237056
Hopefully 133K gets it done. Grab Amon.
@RoyDT Who should go first, Bellchambers or Lumumba ? Both will be upgraded #AFLFantasy #RTT

— Michael Baxter (@mbaxter837) May 18, 2015
Get Belly to someone like Stef
@RoyDT @DTTALK Tom Mitchell or Rockliff? #RTT

— Craig (@Subdubb) May 18, 2015
Play the break-evens here and grab Mitchell, then Rocky
@RoyDT @DTTALK #RTT Is it worth taking the risk on Tom Mitchell knowing that he is one bad game away from getting dropped?

— Nick Paratore (@Peaaaky7) May 18, 2015
Yep, I jumped on last week.
https://twitter.com/chrisbobbyjones/status/600236421090160641
Haha, legend
Cheers guys,
@RoyDT