The Weekend Wash-Up – Round 7
It was a challenging weekend for Fantasy coaches and spud farmers alike. Matt reviews round 7 in his wash-up.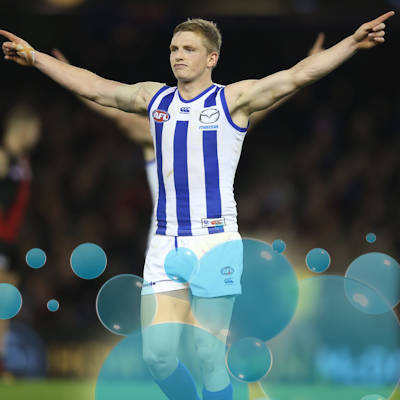 I knew it was always going to be an uphill battle going into this week, but their was one event to cap off my season. Hang on… It's only Round 7! Injuries, beltings, injuries, upsets, spuds and injuries really highlighted this weekend's footy, are we ever going to get through a Round unscathed? I feel it's like that game you used to play in Primary school. Not only would you trip a bloke up, it would then be the funniest thing ever to keep pushing them over as they hopelessly attempt to stand back on their feet. Trust me, it was tiring! Let's wash-up the weekend shall we…
*It was a busy weekend on the farm*
Legends
Heppell (125) – We need more Heppell's going around. After a couple of 80's, it was almost guaranteed that he would go big this week. Safely a top 8 mid, gun.
Ziebell (118) – Ziebell looked awesome on the weekend, and it wasn't for the first time this season. He has averaged 100 in the 6 games he made it through, concussing himself on 7 in Round 3. He is severely underpriced and looks set for a 95+ average this season. The problem? It's a guessing game as to which body part will he manage to injure next week. For those who like to gamble, he is due a suspension…
Dangerfield (122) – It would be a weird selection, but credit to those who have risked bringing in Dangerfield. I'm still not convinced, but he is a game change when he hits form. This marked his third 110+ score in his last 4 games. Who knows how long it will last…
Roughead (139) – All I can say is I hope you didn't run into 'that guy' with Roughead this week…
Treloar (133) – Treloar has been under par this season, yet he still remains a serious contender to become a top 8 mid. This score could be his turning point. He is priced nicely thanks to one shocker against West Coast, definitely give him a look!
Mitchell (121) – I love this kid. Tom Mitchell was probably born with a footy in his hands he finds it that easily. Forget Longmire's personal vendetta, he is in the guts and looks like staying there. Sydney won't want him to go and this is his time. Let's pray he remains fit, he's a gem up forward!
Parker (166) – Bare with me as I try to stop myself from being sick. What a beast! Everyone knew Parker would be back, but 166?!?! That's out of this world, and awesome reward for those who held the faith. His price is straight on the way back up, get on board.
Thurlow (100) – Amongst the carnage there are some saviours, and Jackson Thurlow is just that down in the backline. While our pre-season picks spud it up, Thurlow notched up his second consecutive ton. Priced at 364k with a BE of 18, he's definitely worth a look!
Priddis (155) – You don't win a brownlow medal by fluke, Priddis is an absolute superstar. By his lofty standards he had a slowish start to the season, but after 3 consecutive tons he took things one step further with a monstrous 155. Having worked his way into the season he is now prime for the picking! He averages 102 against upcoming opponents St Kilda.
Yeo (150) – Get. Him. In. It was obvious to every Eagles fan 2 weeks ago that he was a steal down back, now the whole world has cottoned on. Yeo is not only playing in the guts, he is playing like Nat Fyfe. Don't take that the wrong way but he is big bodied, great above his head, tough to beat in a one on one and finds plenty of the footy. He will be a dominant figure of the AFL over the next 10 years.
Masten (144) – I wouldn't be seen dead with him in my team, but Masten deserves a shout out after his 20 disposal final term. He has the potential to be a serious DT slut if he can add consistency to his game.
Deledio (137) – Even though Lids is clearly not 100%, he is still a bargain for what he can potentially produce. Priced at $481k and carrying an average of 115 over the past 2 seasons against upcoming opponents Port Adelaide, he has to be on our radars. Great value.
Cotchin (131)  – Cotchin was a legend for many in this weeks league match-ups, but don't buy the candy. I'm sick of Cotch showing such fantasy potential before continually disappointing. He posts below standard scores way too regularly to become a top 8 mid, count this as a one off. I'd need to see a lot more before even considering selecting him.
Ellis (127) – Brandon Ellis has been just about my only good pick this season! The best part about his game is I can guarantee a 90+ score from him. His consistency is unreal. Not quite a top 8 mid but he'll get there soon enough.
Swan (117) – Oink. The Great Dane has gone about his business this season in the manner we all expected. He is averaging 103.4 and looks like he can average around 105. Not bad for a forward! Also, thankyou captain! Perhaps for one of the final times, thanks for everything Swanny!
Losers
Bellchambers (47) – I guess this is what you're really here for. What a liability. I have to be honest I didn't see much of the game, but seriously… There is no reason he shouldn't be an 80 average ruckman, what he has dished up has been pathetic. Unfortunately getting rid of him is a luxury I can't afford, not even close!
Stretch (22) – It looks like asking the kid to play over a half of football was a bit of a stretch… Don't expect me to show myself out.
Riewoldt (26) – It looks as if Nick Riewoldt is ok, thank god. Incidents like those make you feel sick, Brent Reilly proves how fragile this sport and life in general can be. He will be a bargain pick up around the byes!
Jaensch (65) – Sport isn't fair sometimes! Same goes for Fantasy. Considering how poorly our defenders have been performing, picking Jaensch would have been a brilliant move. So unlucky…
Birchall (58) – After a few promising signs, we got the same old Birch. Sure he will average 85, but where's the fun in that?! He will never be anything more than that guy.
Salem (12) – Cruel banter, this was. Talk about kicking a man when he's down, and I'm not just talking about Salem and the Dees! It's unfortunate as he was finally finding his feet in the AFL. More importantly he was a vital cog for me linking my forwards and backs until the byes! He sits on my pine this week, Taylor Hunt's time is well overstayed.
Vandenberg (43) – Many (like me) are relying on Vandenberg to hold our rookie structure together at least until the byes. His round 13 bye is perfect, but we need more than this! He is still averaging 70, which is well worth a spot on your ground at F6.
Lumumba (44) – If anyone was still getting away with riding this wave, this was a huge wake up call. He goes before any injuries are fixed! Hunt goes in the same bracket. Seriously, these two must be my worst picks EVER. I traded Lumumba (Just before his one and only ton) to Hunt, losing 61k between the pair and getting an average of 57. Yes you read that correctly! In the weeks I didn't own them, they have a combined average of 79. In fact this week was the only time I had it the right way around, and that's only thanks to Lumumba's severe lack of ability to do anything. *facepalm*
Griffen (45) – Nobody actually owns the attack dog, right? Right guys? I didn't expect anyone to own up anyway…
Clark (40) – Not really sure why but I played Clark over Krakouer this week, and that will be the final time I make that mistake! Place him on the ruck bench and let that be that. He will be handy during the byes, then cull him.
Smith (21) – Just when you think pre-season couldn't get more irrelevant, remember that we were considering Zac Smith as a cheap ruck option… *shakes head*
Mundy (67) – Unfortunately our new shiny DPP Mundy took a heavy knock during the third quarter and struggled to halt the bleeding. As a genius non-owner, I can say this is the danger of buying someone at their max price. Unlucky guys. That is of course complete ass, if it was the other way around I'd be digging my own grave by now. At least his knock won't be long term!
Honeychurch (26) – He should have been gone weeks ago. It's been fun but sorry Mitch, it's time to wave goodbye. Thanks for your service!
Hunt (60) – I actually got excited when I saw him on 53 at half time. I may have more injuries than I can count on one hand, but I can't wait to get Hunt out of my life. I might be able to catch up on some sleep!
Ebert (64) – Will the real Brad Ebert please stand up, please stand up, please stand up. Finally! What did I say about Ebert's first 6 rounds? With an average of 71 against Richmond over the past 2 years, Brad's run at the top may be coming to an end. At the end of the day what do I know, he has been awesome so far and still has time to turn it around after this weeks disappointment.
Duncan (63) – … I'm just going to save this for later. Trust me I'm not happy about it!
Bloody injuries are the real losers this week. Not only were players going down on the field, they were crumbling off the park as well! Isaac Smith and Patrick Cripps were both huge late withdrawals for vastly different reasons. Smith due to his new found DT supremacy, I reckon he could've pushed 150 against that Dees outfit. Cripps just because he screwed half the competition over by tweaking his ankle on Friday! Yes it happened before lockout, but what do we deserve to know. Seeing as I'm probably the only player to actually own Kade Simpson, can I just say ANY DANGER OF SOME CLARITY? I can't find any solid news on how bad his injury is, if he's not back this week I'm going to need therapy. I probably need it already to be fair…
The Mark Stevens
You'll go a long way to find a more ignorant and arrogant manager than John Carver. You won't find one worse! I've gone away from AFL this week, but the Newcastle manager labelled himself "The best manager in the EPL (English Premier League)" a couple of weeks ago. This was during a period of 8 losses in a row, a club record. This weekend apparently the "hot climate" (18 degrees) played a factor in their defeat against the second bottom side. Spare me!
The nominations were flying in this week, however I think we have a clear winner…
Yeo – There were some huge scores this week, however Yeo stands out. It was obvious that he was a bargain down back last week, even so nobody could've seen that score coming. Huge!
Priddis – He raised the bat at half time, and would have scored even more if it wasn't for a stint up forward late. I guess the lazy 39 disposals was enough.
Mitchell – It looks like this could be Tom Mitchell's time. He gets my vote by default, but well worth it for those who risked bringing him in!
Thurlow – One that has snuck under the radar, I'm sure any Thurlow owners will be happy to give him their vote! One of the few midpricers who can hold their head high.
Parker – Let's be honest, Parker was clearly the player of the round! Those who gave him a second chance to prove himself have been rewarded in spades. Get voting!
This Game Sh*ts Me
So… As I said, it was always going to be a tough week. I didn't need any help, but the Fantasy Gods gave it to me anyway. Where to begin. Cripps! When your team is struggling, luxuries are hard to find. This includes luxury trades, none of which I could afford to give myself bench cover this week. Having not used any of my emergencies over the first 6 Rounds, it was pretty clear what was about to happen. Sure enough the Cripps rumours spread, and he became a late out. Big… Fat… ZERO. I wasn't the only one though, others felt that pain. It's about how your team scraps to save their pride. Salem was next to go down. Not ideal of course, but once again a lot were in the same boat. No use complaining there.
That would have been enough, but sure enough there was one last blow. Lining up my trades last week, I had to pick between 2 players. Mitch Duncan and Luke Parker (Do not scratch your eyes). It honestly wasn't as crazy as it sounded. Even though I pumped up Parker last week, Duncan is a vital cog in Geelong's midfield and probably their second best player at the moment. On the back of consecutive 130's and a BE of 25, he seemed the perfect POD to carry me up the rankings. At half time all was going well, Duncan was even in the running for BOG. The rest was a blur. Honestly you could've asked for a worst case scenario and what occurred wouldn't have been in my wildest nightmares. Not only does Duncan fracture his foot and possibly miss most of the season, he does it at the start of the third quarter whilst flying towards another ton! Painful, yes. Not as bad as having to watch Luke Parker go and rack up 166!!!!!!! Unbelievable. 103 point difference AND ANOTHER TRADE gone. I'm probably the only person in Australia with that problem, and that's why this game sh*ts me.
The Other Bits and Pieces
Sigh. Scored 1788, thanks to all of the above. I'm starring at an injury list of Kade Simpson (wtf), Glenn, Saad, Salem, Duncan and there's no way Taylor Hunt is getting another reprieve. Unfortunately, I'd need a month to fix these problems and there's bound to be new issues that arise before then! Forget upgrading my squad, fixing it is priority number 1 and I'll need everyone of those 44 trades. Easy game, eh?
Luckily, we're only 7 weeks into the season. As much as things suck, there's a long way to go.  Don't worry, if you're having a sh*t weekend then I'm probably having a worse one (if that's comforting in the slightest). Roll on next weeks carnage!