The Friday Scramble: Round 7
Another week, more problems! I thought I said last week that I have had enough of this rubbish Fantasy Gods!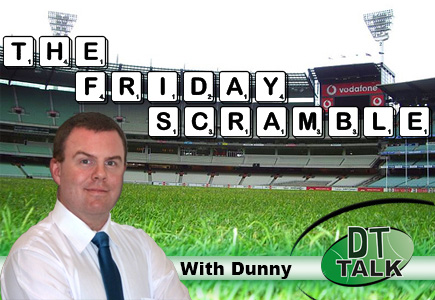 Another week, more problems! I thought I said last week that I have had enough of this rubbish Fantasy Gods! How is your team going? Mine has been going about as well as Capt Carlton's Hovercraft!  I am sure that I am not the only one, on top of this we are supposed to be upgrading our teams as our rookies are dropping off the radar. Poor old Jeppa found his cupboard fairly bare this week too. How about we just stop the competition and start all over again? No? Oh well, sounds like a Scramble is in order then!
Injury Corner
Or is it really a corner?  I reckon it is more like a warehouse with all the injuries we have had to deal with lately! Clearly Rory Sloane is a big issue for most. Obviously you need to trade him out as 4 to 6, so options that you could look at would be Lachie Neale $1k less, Rocky is actually $2k less than Sloane!  Michael Barlow, Kieren Jack and Jack Redden are all cheaper options you could trade to. Obviously if you have the cash you could trade up.  My best bets for you would be Pendles, Fyfe, Ebert or if you wanted to go a bit unique you could go Armitage or Steven. I realise that both of these are considered risky but they are averaging 121 and 115 respectively.  One thing to note is that with the way the draw is they haven't played any finalists from last year as yet apart from Essendon.
On the rookie front Adam Saad is now out for at least one week if not two with a hamstring injury. His BE is still 17 so if you can afford to keep him in your squad I would do so.  However, with Isaac Heeney being out for the 4-6 weeks and his BE being higher, I would be trading him out this week if you haven't already.
The Selection Table!
Wow, more issues for us with selection, but some problems solved too.  Here are some of the highlights as I see them.
 If you were considering Will Hams from Essendon as a downgrade, don't he has been omitted.
Ricky Henderson has come back in for Adelaide, he is a $353k defender but this season has only averaged 67 unlike last season where he did well…. pass.
Both Jed Anderson and Brendan Whitecross have been omitted. This is not a good sign at all.  However, I don't think we should be surprised since Whitecross has had the green vest in the last two games, one of which he was a late inclusion for. I was going to advise not starting him anyway this week.
Ben Newton has finally been dropped, not surprised here.  Upgrade him or trade him down.  I can't see him scoring better, so he was a trade for me this week anyway.
Mick Malthouse has really swung the axe.  Only one of any note for us was Boekhorst really.  If you had Walker he is out with a knee.
Josh Glenn for the Suns is out with an ankle (and probably some poor form from last week).  Matera and Bennell both come back in after their "lay off".
Cockatoo for the cats has also been omitted. I can't say I have seen a lot of teams with him in it, but if you have him, you may want to re-evaluate.
Great to see Matty Boyd come back in, he could line up in your backline now in AFL Fantasy of course.
Tom Mitchell has held his spot.  It is widely thought that the absence of Heeney makes it easier for them to keep Mitchell.  He is cheap and we know he can score, he would be well worth picking up in my opinion.
Karl Amon is in the squad for the Power, watch out for him, if he can get a regular game he could be a nice downgrade target for you.
I know I don't normally go through so many ins and outs, but there were a lot of fantasy relevant ones this week. This is where the real skill of shuffling your team around and having enough coverage starts to come into play.
If you are looking to do some downgrade/upgrade action, make sure you have had a very good read of Jeppa's Juniors this week as there is plenty to know in the world of rookies.  Things aren't as abundant as they have been in the past and you may need to make some tough calls at your selection table… just like Mick!
One of the upgrades many are looking at is Stevie J who is $442k/68BE in RDT and $451k/82BE in AFLFantasy.  My concern with Stevie is his scoring hasn't been the best with last week's 117 and his first round 92 being his only scores over 75. Also in the next 7 weeks he faces Sydney, West Coast, Adelaide and Port Adelaide all away from home. So for me I will be staying clear of Stevie for now.
ROCKY!!!
Well Rocky came in with a nice score, not 100, but certainly better than he has been.  I think if we can see one more week of him and perhaps a 100 then he may just be ripe for the picking and his price will be ridiculously low.  Don't pick him up this week though, I would be giving him at least one more week as his BE in all forms of the game is quite high and as a result he will drop in price again.
Things to Remember
The teams have been playing in their 'bands' from last year so form could go all over the place in the next few weeks.
Everyone else is having trouble knowing which rookies to play on field too.
Bye's aren't far away, so if you are going for overall or your league plays bye rounds, make sure you are all over your bye structures starting now.
You can't trade out all rookies at once, so you need to prioritise.  Check Jeppa's article for his thoughts on the order he would dump them in.
After this round we are almost 1/3rd of the way through the season!
Best of luck to you all this week, it has been the most trying season of them all so far I think and things just won't get any easier.  Hang in there and don't go putting your hovercraft in the Yarra, things aren't that bad just yet!  Stay close to twitter tomorrow, this year we seem to have had a lot of team selection changes on the Friday, the most I have seen in a season for a while.  Speaking of twitter, catch you all on there over the weekend @pkd73.