THROWBACK THURSDAY – Round 7 – Richoman
Today Muttley looks at Richo in the Thursday Throwback.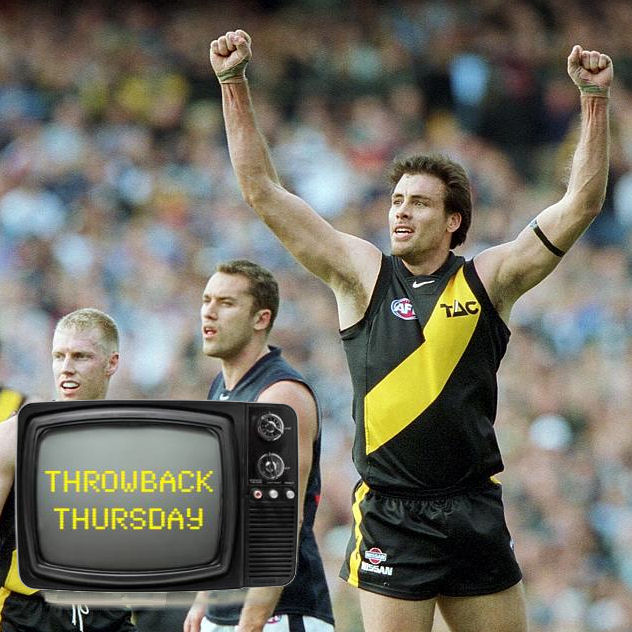 Ahead of this week's titanic crunch match between Richmond and Collingwood, one of the biggest questions facing The Tigers is also one of their most often asked – will they finish 9th?
But this week we'll throwback to a time when a once mighty Tiger had the power to not only shape the outcome of a game or even a season, but also entertain thousands with his wild mood swings. The man who roamed free around half-forward before later roaming up centre wing to become a virtual Dream Team legend; who still proudly holds the title of Most Career Goals at the MCG and became not only a popular commentator but a household name. That man is "Richooooooooo!"… a.k.a. Matthew Richardson to his mum.
I once met Richo at a live music gig in Melbourne's Hi-Fi Bar for Aussie bands Tumbleweed, The Meanies and Kram from Spiderbait, which means Richo either a) has interesting taste in music; or b) got lost on the way to Punt Road; or c) was merely convinced by friends, free drinks and tickets… or all of the above. We spoke briefly and awkwardly about nothing as I contemplated what it would be like to be constantly under the spotlight – even while standing in the dark – and still be a downright nice guy. He seemed to revel in it. So just how did he get to be so mucho Richo? And how good a player was he? Let's take a look.
One thing Richo had in common with a current big-name Collingwood forward (whose father played for both clubs) was his accuracy in front of goals – some times were good, while other times sucked arse. His DT average was pretty decent – often around 90 – and with a tad more goals instead of tantrums he might've almost cracked the ton. Fortunately his legacy surrounds the goals he kicked rather than missed, something T.Cloke can take heart in for the future.
Richo's record against The Pies was mostly positive. In Round 1 of 2004 he kicked 5 goals straight (111 DT) in a 40-point win and in Round 18 hacked out 2 goals 6 behinds for 110 DT. He also totalled 24 marks for those two games, but his inaccuracy in the latter saw The Tigers lose by 5 points. Prior to that he slotted 6 goals in Round 1 2002 (106 DT), 5 majors in 1997 (119 DT), another 5 in 1996 (95 DT) and 3 in 1995 (101), all games Richmond won over Collingwood. Richo winning = Richmond winning.
Then there was the dark side of Richo – or the black in the "yellow and black". His games against The Pies included 4 free kicks given away in Round 4 2001 (part of a sketchy Rounds 3-5 with 1 free 'for' and 12 'against'), a shaky 1 goal 6 behinds started his 2003 with a wobble, he kicked 1.4 in Round 8 2005 and gave another 4 frees against in Round 3 2008, but in these games the victories were evenly split.
Richo's greatest DT performances overall were against Fitzroy in 1996 (21 marks, 7 goals, 190 DT) and Essendon in 2006 (19M, 9G, 189DT). During his time, a couple of other standout Richmond and Collingwood Fantasy scorers featured prominently. They were Tiger defender and uncontested marks mop Joel Bowden (remember him?) and err… someone called Nathan Buckley.
Bowden's scores against Collingwood included 116, 100, 146, 125, 114, 100 and 114 between 1999 and 2007, but he also racked up ridiculous scores like 180 with 23 marks against Port in 2008, something which he did quite a bit.
Buckley won a Brownlow Medal in 2003, a season he started against Richmond with 139 DT points and followed up with 127 in round 16. He also nabbed 132 in the season opener versus the Tiges in 2002 and another 133, again in a season opening round versus Richmond, in 2004.