Footy Prodigy
Some of the Fremantle boys have been busy creating a new addictive FREE app…. check it out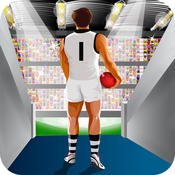 Check out this FREE app from Tendai Mzungu and DT Talk's very own Matt De Boer.
So if you're looking for your mid week footy fix? You've done your research, locked away your fantasy team for another week and now time is on your side. Now it's time to put your footy ability to the test and see if you can become the next Big Thing!
Get drafted, work on your skills, buy property and win premierships! 
WARNING… this game is very addictive game is available now on the App Store .
Calvin's Review:
I went in and picked up this app thinking I'd have nothing to lose considering it was a freebee. I lost a lot of time and hours of sleep as this becomes very addictive. I signed up under the banner of the mighty Northern Bombers in the TSL and finally worked my way into the best 22 and went from there. Bloody good game to kick around with during the week while you wait for Thursday teams and games to start on Friday. Get involved!