Jeppa's Juniors – Round 6
It's been a challenging start to the Fantasy season and with downgrade options not as obvious as they seem, make sure you read Jeppa's analysis on all rookies options available. Strategy and risk taking now comes into play!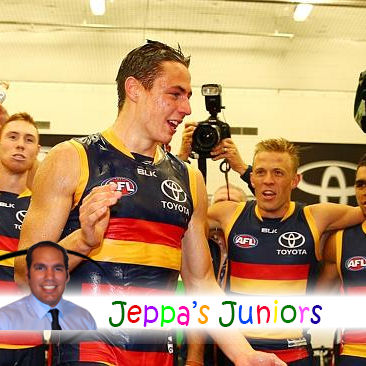 Is it me or is it the hardest season of Fantasy and Dreamteam on record? Picking premium defenders has become a lottery, midfield stalwarts in Stevie J, Rocky, Sloane and Barlow have underperformed, there's been plenty of injuries and suspensions and by god where are all the cheap rookies!?!?
For those that think Fantasy is easier than Dreamteam…I call bullsh*t. Having cheap rookies at our disposal in Dreamteam frees up a mountain of money and allows coaches to make premium upgrades as a result. In Fantasy new rookies like Lever and McKenzie cost a fortune and making a downgrade/upgrade isn't so simple.
Only two rookie priced players scored three figures in Round 6 and plenty were below par. Many of us will start offloading our cashcows that have maxed out in earnings.
Three Gamers
KEEPERS
One breakout performance has seen Jake Kelly (Def. $230,000, -15 be AF. $212,500, -25 be DT) become a very handy cashcow. Going against the stereotype of a low scoring, lockdown defender, Kelly scored 104 Fantasy points from 15 kicks, 4 handballs, 12 marks and 4 tackles. He reads the play exceptionally well for a young fella, works very hard and rarely wastes a possession but keep in mind that he was up against an undermanned Suns outfit. Kelly's job security is good for the short term and I give the green light to those coaches that want to spend the extra this week and trade him in.
Jackson Thurlow (Def/Mid. $327,000, 13 be AF. $332,900, 10 be DT) was expensive to start with but a few, including Mrs. Jeppa jumped on board and are reaping the rewards. Thurlow hasn't been a consistent scorer this season but his 109 Fantasy points last week leaves a bitter taste in my mouth for not trading him in. Watching him against the Pies, he looks comfortable as a running halfback and he's cemented his spot in Geelong's 22.
Cory Gregson (Mid. $286,000, 5 be AF. $280,800, 5 be DT) was another to please his owners. The zippy half forward was deadly when kicking for goal and his repeated second efforts would see him as one of Chris Scott's favourites. Gregson's stat line read 10 kicks, 8 handballs, 7 marks, 4 tackles, 3 goals and 97 Fantasy points. If you don't own him, apologies but it's too late to bring him in. My boy Dom Sheed (Mid. $331,000, 25 be AF. $332,800, 30 be DT) played the best game in his short career. Playing solely in the midfield, Sheed was sublime against the Power, delivering the ball lace out to the Eagles forwards. In a first this season, Sheed had a handful of marks and tackles in the same game which boosted his score to 94 Fantasy points.
After averaging just 60 from his last three games, Christian Salem (Fwd/Def. $317,000, 33 be AF. Fwd. $307,300, 41 be DT) snapped into gear versus the Swans. The ball was in Sydney's forward 50 for most of the match and Salem got plenty of the footy as a result. The halfback finished with 24 possessions, 6 marks, 4 tackles and 92 Fantasy points. His respectable breakevens means Salem is a keeper this week. Another defender, Adam Saad (Def/Mid. $311,000, 17 be AF. $289,100, -8 be DT) continued his great season scoring 88 Fantasy points but he'll miss a couple of games due to a hamstring injury. Looking at his breakevens, I'd hold Saad if you can.
Billy Hartung, 87 (Mid. $320,000, 25 be AF. $313,700, 31 be DT), Touk Miller 84, (Mid. $334,000, 23 be AF. $316,500, 28 be DT), Adam Oxley, 77 (Def. $351,000, 17 be AF. $339,200, -20 be DT), Jesse Hogan, 74 (Fwd. $332,000, 45 be AF. $300,000, 33 be DT), Blaine Boekhorst, 70 (Mid. $241,000, 35 be AF. $164,500, 8 be DT) and Nathan Krakouer, 69 (Fwd/Mid. $235,000, 10 be AF. $200,500, -10 be DT) are other notable performers from Round 6 with healthy breakevens.
DON'T PANIC
The Dees couldn't get any flow in their game against the Swans and Aaron Vandenberg's (Fwd/Mid. $339,000, 32 be AF. Mid. $344,500, 51 be DT) score suffered as a result. The tough half forward still is a handy option in Fantasy and Dreamteam and I recommend holding him this week.
Others scoring steadily and still going up in value include Nathan Van Berlo, 71 (Mid. $345,000, 61 be AF. $315,000, 47 be DT), Jed Anderson, 69 (Mid. $219,000, 23 be AF. $192,700, 27 be DT), Mitch Clark 68, (Ruc/Fwd. $284,000, 22 be AF. Fwd. $270,100, 8 DT), Patrick Cripps, 64 (Mid. $350,000, 29 be AF. $374,700, 78 be DT), Patrick Karnezis, 64 (Fwd. $210,000, 15 be AF. $169,400, -23 be DT), Mitch Honeychurch, 59 (Fwd. $288,000, 41 be AF. $277,800, 19 be DT), Robbie Tarrant, 58 (Fwd/Def. $274,000, 17 be AF. Def. $265,600, 34 be DT), Jack Lonie, 54 (Fwd. $295,000, 26 be AF. $282,700, 14 be DT) and Angus Brayshaw, 53 (Mid. $333,000, 51 be AF. $311,000, 42 be DT).
Liam Duggan, 44 (Mid. $236,000, 20 be AF. $218,000, -18 be DT) and Lukas Webb, 36 (Fwd. $254,000, 35 be AF. $201,700, 10 be DT) weren't great scorers on the weekend but played well enough to hold their senior spot and have low enough breakevens to still earn the dollars for their owners.
SURPRISE PACKET
Brett Goodes (Def. $215,000, 24 be AF. $237,500, 37 be DT) came in for the injured Matthew Boyd and somehow avoided the green vest. Scoring 72 Fantasy points was a surprise but I suspect that he'll be dropped this week if Boyd returns. Stay away!
Alex Sexton (Fwd/Mid. $256,000, 0 be AF. $252,300, -30 be DT) has been given a bigger role with a host of Suns players injured/suspended. Playing at half forward, he attacked the contest and finished with 19 possessions, 4 marks, 5 tackles, 1 goal and 90 Fantasy points. It was arguably the best game of his career and confidence is a beautiful thing for football and Fantasy. Sexton is a reasonable downgrade option but he is pricey. Your call.
Clem Smith (Mid. $152,000, 20 be AF. $131,300, 17 be DT) avoided the green vest for the first time this season and scored 40 Fantasy points as a result. Assuming Carlton play more kids in the coming weeks, Smith could be a sneaky Fantasy trade down option. He's not for me though.
TRADE, TRADE, TRADE
If I haven't categorised a player from Round 6 under 'Keepers' or 'Don't Panic' then trade them out as soon as you can but when appropriate.
If your not sure which rookie to offload first, here's my trade list of popular rookies, in order:
1. Michael Talia, 44 (Def. $291,000, 57 be AF. $300,700, 111 be DT)
2. Ben Newton, 57 (Mid. $300,000, 48 be AF. $292,800, 51 be DT)
3. Cameron McCarthy, 40 (Fwd. $296,000, 54 be AF. $296,000, 87 be DT)
4. Kamdyn McIntosh, 43 (Def/Mid. $327,000, 65 be AF. Def. $291,100, 45 DT)
Two Gamers
Daniel McKenzie (Def/Mid. $252,000, 20 be AF. $117,900, -60 be DT) was prominent again for the Saints in their come from behind victory over the Bulldogs. Watching McKenzie closely, his best trait is definitely his decision making and I'm impressed at how well he's fitted in at the halfback/wing position for the Saints. 19 possessions, 4 marks, 4 tackles and 72 Fantasy points is great output for any rookie especially at $117,900 in Dreamteam for those looking to downgrade.
Safe to say Josh Glenn (Mid. $177,000, -1 be AF. $126,900, -52 be DT) and I aren't friends at the minute. After a stellar debut and 96 Fantasy points in Round 5, Glenn was the complete opposite last week. He appeared to work hard but he just couldn't win the football. He finished with just 7 possessions, 1 mark, 3 tackles and 28 Fantasy points from a healthy 80% time on ground. Let's hope he can regain some topline form on the vast space of Domain Stadium against West Coast on Saturday night but he may miss with an ankle complaint. Watch this space.
As an Eagles supporter, I've always been a fan of Callum Sinclair (Ruc/Fwd. $258,000, 14 be AF. $279,400, 19 be DT) and I'm glad the big fella is getting a run and enjoying success on the field. Playing forward and ruck against excellent opposition in Port Adelaide, Sinclair finished with 77 Fantasy points in a good all round game. If no cheap options are named on Thursday night, I give you my blessing to trade him in (if he suits) but keep in mind that he's got Lycett breathing down his neck for his spot in the Eagles 22. Sinclair should 'beat up' an injured riddled Suns team this week.
Desperate times call for desperate measures and a relatively cheap Henry Schade, 62 (Def. $150,000, -8 be AF. $124,600, -31 be DT) comes into Fantasy calculations . Schade was far from convincing against the Crows but stumbled to a respectable 62 Fantasy points. Don't forget he scored just 40 Fantasy points in Round 5 and as a tall defender that's the sort of score I'd expect each week. You could be forgiven for bringing in Schade at the throw away D8 position.
To reiterate from last week, don't go near Fletcher Roberts, 22 (Def. $163,000, 29 be AF. $186,300, 42 be DT) and Shane Kersten, 30 (Fwd. $217,000, 47 be AF. $231,400, 61 be DT). Both score poorly for what they cost.
One Gamers
The Crows have landed themselves a beauty in Jake Lever (Def. $276,000, 19 be AF. $157,900 DT). The 194cm defender played as a third tall last weekend, reading the play very well and even directing traffic. Lever did sit behind the play a lot though and picked up plenty of 'easy' plus 6's as a result. His stat line read 12 kicks, 5 handballs, 10 marks, 3 tackles and 90 Fantasy points. Coach Phil Walsh was full of praise for Lever and I get the impression that he'll be holding his spot in the short term (source). All in all, he's too expensive for Fantasy in my opinion but a very nice cashcow in Dreamteam.
Billy Stretch (Mid. $179,000, 15 be AF. $117,900 DT) got his hands dirty and had a good crack in his first AFL game. The young midfielder started like a house on fire with 51 Fantasy points to half time but faded badly and finished with just 55! Being a first year player you can forgive a second half fadeout but I'm a little worried about his 29% disposal efficiency. I wouldn't be surprised if he cops the green vest this week so be careful if you're thinking about trading him in for Fantasy.
Alex Pearce (Def. $132,000, 5 be AF. $124,600 DT) should be proud of his debut. The fullback played on Joey Daniher and kept him quiet while picking up 10 possessions, 6 marks, 2 tackles and 49 Fantasy points. Ross Lyon doesn't play the kids so as soon as one of Dawson, Silvagni or McPharlin are fit to play, he'll be dropped. Avoid.
Spare a thought for Josh Cowan (Mid. $135,000, 35 be AF. $124,600 DT). Four years since his last senior game, 'sideshow' Josh finally got an opportunity on the big stage and looked decent until he did a hammy at the 20 minute mark of the first quarter. Rotten luck for the young fella and anyone that traded him in last week, including myself. Trade Cowan out if you can. Stay clear of Clay Cameron (Mid. $187,000, 45 be AF. $201,300 DT). He scored 20 Fantasy points in just under 1.5 quarters but his job security is a big problem. Cameron has a calf complaint too and he's expensive as far as rookies go.
Please note that if I haven't mentioned a rookie priced player above, it means I don't rate them. Remember rooks are classified as players under $250,000 in either Fantasy or Dreamteam.
Keep Your Eye On
Nic Holman (Def. $165,000, 30 be AF. $180,600 DT) – After losing to Brisbane, Carlton will make plenty of changes and Holman is a likely inclusion. The young midfielder had a quad issue during the preseason but has since built fitness and form and is coming off a BOG performance in the VFL last weekend. Holman should be used as an outside midfielder at Carlton and not in the backline. If he can avoid the vest (no guarantees) then I reckon he'll average in the high 50's, low 60's.
Reilly O'Brien (Ruc/Fwd. $120,000, 21 be AF. $122,900 DT) – An injury to Josh Jenkins potentially opens the door for young O'Brien to make his debut. The 19 year old was upgraded from the rookie list last Thursday and named as an emergency for the game against the Suns. Adelaide's coaching staff decided Jacobs would ruck alone in Round 6 however versus Longer and Hickey this week I feel that O'Brien will get a go. He's cheap as chips and a dual position ruck, forward but he'll only average between 40-50 Fantasy points. A cheap option but he won't play many games.
Karl Amon (Mid. $120,000, 21 be AF. $124,600 DT) – Reward for form and effort needs to come Amon's way this week. The running midfielder has been named in the bests in the SANFL three weeks running and after the Power's shock loss to the Eagles, a spot may have opened. With his speed, run and carry, Amon suits the way Port play but his traits mean that he's a likely green vest candidate. Put him on your watchlist.
Blake Acres (Mid. $161,000, 34 be AF. $208,800 DT), Jordan De Goey (Mid. $267,000, 77 be AF. $202,900 DT), Jono O'Rourke (Mid. $225,000, 32 be AF. $232,800 DT), Trent Dumont (Mid. $120,000, 26 be AF. $124,600 DT) and Jason Ashby (Def. $201,000, 48 be AF. $249,500 DT) are all in the mix to return to the seniors on the weekend. If Acres is named to play on Thursday night, he'd be my first downgrade option for Fantasy this week. Acres had 20 possessions, 3 marks, 6 tackles, 2 goals and 98 Fantasy points in the VFL on Saturday and amongst a young Saints list he's more likely to get games ahead of guys like Ashby, Dumont, etc.
Feel free to ask me a question below and don't forget to add me on Twitter @JeppaDT for all things Fantasy and more. Happy trading!