Roy's Trade Talk – Round 7
You couldn't buy the materials for that! We have some potential bargains as some of the greatest Fantasy names have fallen fast this season… Are they ripe?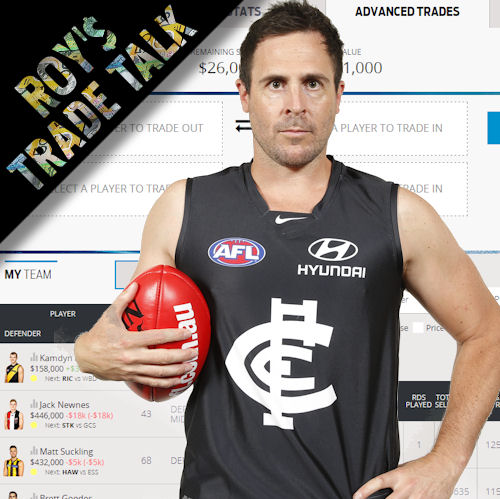 Finding the right time to bring in a fallen premium can be much harder than playing the break-even game. Questions like why have they dropped this low in the first place? And how much do I need to see from them to convince me they are back? Are key thought processes in the end decision of whether to pull the trigger?
Today I am going to have a look at three future Fantasy Hall of Famers who are so cheap, it's almost ridiculous
Fallen Premo's
Tom Rockliff (MID, $521,000): Coming off the back of a world record Fantasy average, Rocky has had a horrible run of luck that has seen him average 60 points per game. Due to this, he has dropped an astonishing $242,000, which must be hard to read for the 9000 coaches who have held onto the GOAT. He played his best game of the year vs the Blues on the weekend, where he managed 19 touches and laid 9 tackles for a score of 95. His break-even is still 170, and despite that fact an in form Rocky could run that down, we are best to wait a couple of weeks for the big guy, despite being so tempting at that price. He is expected to drop another 30K this week, taking him under 500K. He is expected to bottom out next week which will leave him three games leading up to his bye.
Michael Barlow (MID, $515,000): Barlow has averaged 100 points in the 2 games following the mystery 2 game lapse which saw Barlow score 55 and 44 on consecutive weeks. He was on fire in the first quarter on the weekend with 35 points, but slowed to finish on a respectable 92. This week he has a break-even of 116 leading into his game against the Dogs who he scored 134 on in their last encounter, meaning this could be the lowest we see him. Barlow elevated his game to the elite premium status last year by averaging over 110 and he is ripe for the picking this week.
Steve Johnson (MID, $451,000): Stevie has had a horrible start to the season by his standards, highlighted by the fact he started round 4 doing his best Kermit impersonation. His ordinary form over the first 5 weeks has led to him dropping 162K. Last week, he showed signs of his best in the second half, going on to score a season high 117 from 28 touches, 6 marks and 6 tackles, and leaving himself with a break-even of 82. Given his recent history against the Swans with scores of 99, 107, 132 and 94 in his last 4 match-ups, he should have that covered. He has averaged 118 and 108 in the last two year… but has he passed it? Surely not. Very tough call here, but one thing is for sure, he does provide good value and is heavily under-priced.
Players of Interest:
Liam Picken (DEF, $485,000) is embracing a significant role change and his scoring has reflected that. His numbers over the last 3 week rival any premium midfielder, which only adds vale when you consider that Picken is available as a defender, despite the fact he is playing as a pure mid. He has a 3 game average of 125 and a break-even of just 33. He has a tough game this week against the Dockers, but I thought that when he played the Swans in Sydney for 143. The Demons and Giants at Etihad should both provide good returns either way.
Mitch Duncan (MID, $469,000) By his coaches admission, Duncan started the season playing out of position. Since moving back into the midfield, he has been on fire with scores of 133 and 137. The bonus of his slow start, and recent profitable role change is that he has dropped 68K from his asking price and is now a bargain, given he has a break-even of just 25 leading into hi game against the Swans.
Twitter Time
@RoyDT when looking to trade out the likes of Sloane & Pops Kelly is it wiser to look for value – ie Rocky/Barlow or chase Armitage&co? #RTT

— Punchy (@MpPunchy) May 11, 2015
As tempting as it is to get Armitage, I am a fan of chasing value. I do make exceptions if it is someone I plan on making a captain.
@RoyDT @DTTALK #RTT Bringing a fwd/mid, who would you recommend out of motlop, mitchell or dahlhaus. Have some unpleasant history with dahl.

— Ben Farley (@omgfridge) May 11, 2015
Dahl is my choice, he won't get tagged like that every week. If you are chasing value, I would give Mitchell a run. The job security of these two is poles apart though… Dahl safer.
@RoyDT @DTTALK would you do anything possible to bring in stef martin? #RTT

— Ben Henderson (@benhendo94) May 11, 2015
Within reason, yes. He is the pick of the rucks, without doubt.
@AFLFantasy Downgrade Tosh,Honey,Cripps or Saad to WHO? (Have Glenn Glenn) And then make Newnes into Mundy? What's your thoughts ? #RTT

— Michael Baxter (@mbaxter837) May 11, 2015
I am a fan of Newnes to Mundy, it is a huge upgrade… bigger than it should be after Newnes has been so disappointing. Unfortunately, good downgrade targets are as rare as Newnes 100's
Armitage or Pendles who is better in Long run? #RTT @DTTALK

— Simon James (@Cmossvdk) May 11, 2015
Tough call, but I'll go with the guy who has years of runs on the board and plays for the better team. Also a proven scorer vs a tag: Pendles
Is mcintosh's time over @RoyDT #RTT

— Ben Levin (@_benlevin_) May 11, 2015
Two sub 50 scores in three weeks? Toodaloo
https://twitter.com/josh_a7/status/597681405196271617
Yep, do it!
@DTTALK Affordable upgrade for Hunt? Thinking Suckling or Pittard. #RTT

— Matt Lissett (@MJLissett) May 11, 2015
Both solid options, not overly exciting for you, but a good move.
Cheers guys,
@RoyDT