Daniel's Dilemma: A POD in need is a POD indeed
With many stars hitting the treatment table, Daniel takes a look at some options that have slipped under the radar this year.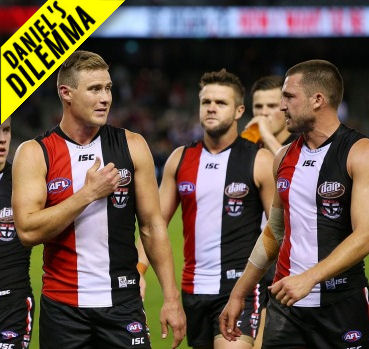 Welcome back to Daniel's Dilemma! Another week, another Dilemma and this week we witnessed a mixed bag full of differing results. If you managed to crack 2000 this week, you would have risen considerably in the rankings as well as pick up a 'W' in your head to head leagues. If you fell short of the mark, you most likely had to confront the vast majority of poor rookie scores and premiums succumbing to injury. However, despite the result we still have much to discuss ahead of Round 7, which could turn sour quickly if we don't make the correct trades.
There is no doubt that we will have to make at least one forced trade with popular picks Rory Sloane ($523,000), Kade Simpson ($470,000), Scott Pendlebury ($610,000) and Joel Selwood ($563,000) going under the microscope this week in regards to the injuries they picked up over the weekend. Even if you still have one spare 'luxury' trade, our cash makers are starting to produce sub standard scores which signals the approaching decline for players like McIntosh ($327,000) and Vandenberg ($339,000). So to make sure you don't put a step in the wrong direction, it could be worth investing into a player that currently has under 10% ownership (a POD if you will).
A POD is notoriously perceived as a risky option, considering that you could select a simple 'set and forget' option like Jelwood or Rockliff etc. but how far has going safe got us this year? Its about time we put our faith into some POD's and below is a list of the best players by position.
Defenders
The current performances of Matthew Jaensch ($492,000) have certainly raised a few eyebrows this season with an average of 93.2 and only 2.3% ownership! It's about time to ditch Jack Newnes ($423,000) and jump on players that are actually pulling their weight in regards to fantasy numbers. After his 150 on the weekend, Corey Enright ($486,000) still only has 1.9% ownership, which is surprising considering that he is currently averaging 95! At only $468k and a BE of 42 this week, feel free to ride the Enright wave without any commotion.
Notable mention go to Heath Shaw ($458,000) and his 9.4% of owners who I am sure are content with his reasonable output. The back line has been an utter catastrophe this year, so don't hesitate in bringing a player that may on paper be 'stupid' but in reality produce the goods week in, week out.
Midfielders
David Armitage ($614,000) and Jack Steven ($583,000) are two Saints players that have been going about their business nicely, averaging 121.5 and 115.8 respectively. However, they only have a combined ownership percentage of 8.1%, which im assuming will change very quickly this week. With Pendles, Jelwood and Sloane under injury clouds and Daniel Rich ($377,000) severely underperforming, it would make sense to jump ship to a player that is currently performing head and shoulders above the rest.
Isaac Smith ($591,000) has also produced some eye catching performances for the Hawks, and he has showed over the past month that he can go big! He isn't as consistent as the above two, put if he keeps chipping away at this pace then there is no reason why you shouldn't trade him in before its too late!
Rucks
Stefan Martin ($588,000) surprisingly has only 5.4% ownership with coaches opting to go for Bellchambers, Goldstein and Jacobs over the highly priced Martin. However, you pay for quality and Martin has shown that his 588k price tag is by no means inflated. He has averaged 105.7 and been deservedly mentioned in Calvin's Captain's as a sneaky option for the 'C'.
Mark Blicavs ($465,000) has shown his obvious quality early on by averaging 94 points per game this season! Priced at 465k and a BE of only 48, he is definitely one to consider if you have run out of patience with the disappointing Bellchambers and you have some spare coin in the bank.
Click here for Roy's Trade Talk.
Forwards
Luke Dahlhaus ($536,000) is the only player that has under 10% ownership (6.3%) and is averaging over 100 in the first six rounds of the AFL season. He was tagged heavily last week, hence his poor score of 64, however he did not drop under the triple figure mark at any stage before that. He has a BE of 115, which may be out of his reach but I would back him in to score ton up against Fremantle at the Etihad Stadium. At 536k, he may be expensive but won't increase much more this week.
Devon Smith ($521,000) and Jack Gunston ($495,000) have combined some terrible scores in the 50's with some 130's which proves that they are inconsistent, but they have a huge ceiling in terms of Fantasy numbers. Averaging 94.3 and 92.8 respectively, neither would be considered a bad choice if you wanted to upgrade Clark, Salem, Honeychurch etc.
With more injury news coming to the fore at the time of writing, it is important that your trades are spot on this week. Don't look for the obvious move every round, as you can't win Fantasy by selecting players that half the competition already owns. The above players not only offer reasonable value, but are averaging higher than most of the players we put our faith in at the start of the season.
Make sure to leave a comment below and discuss what trades you are doing this week, with so many rumored exclusions it will be interesting to see the teams on Thursday night.