Jeppa's Juniors – Round 5
There aren't a whole lot of rookie options at the minute but that doesn't mean Jeppa takes a backseat. Check out what he has to say on all the Round 5 action as well as the slim pickings available this weekend.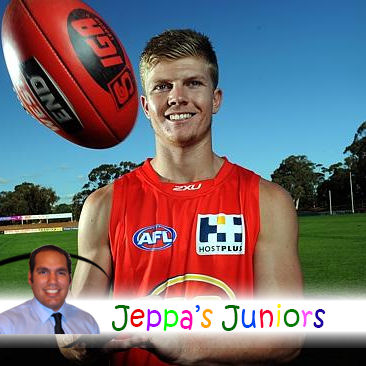 It was a decent week for many in Round 5 but our attention quickly turns to a couple of injuries and suspensions that have raised their ugly heads. Luke Hodge will have three weeks on the sidelines and has to be traded as far as Fantasy goes but the two week suspension handed down to Lewis will see a few, including myself, hold him on the bench. Our midfield rookies are as strong as they've ever been and I'm happy to back the youngsters in a time of need. In the limited trades game I'd hold both Hodge and Lewis. Popular picks in Rory Sloane and Christian Salem are also in doubt for this week, which will be an issue for plenty if they miss.
Looking ahead our rookie stocks are pretty thin which is not uncommon at this stage of the year. I remain hopeful that cheap players like Dumont, Colledge, Barrass, Steele and others playing well in the reserves get a gig soon.
Hot off the press! Rookie positional changes in Fantasy are confirmed and are as follows:
Christian Salem, Fwd/

DEF

Kamdyn McIntosh, Def/

MID

Aaron Vandenberg, Mid/

FWD

Isaac Heeney, Mid/

FWD

Robbie Tarrant, Fwd/

DEF

Mitch Clark, Fwd/

RUC
Gaining ruck status means Mitch Clark goes from trade bait to keeper and Vandenberg will look very nice at the F6 position for many teams. Naturally, the other 'juniors' that have gained DPP status will prove handy for their owners. Warnie's review of all DPP gains can be read here.
Three Gamers
KEEPERS
There's always one rookie that keeps us guessing. After just 36 Fantasy points in Round 4, Adam Oxley (Def. $311,000, -17 be AF. $304,300, 1 be DT) must have copped some heat from Bucks during the week because he was unstoppable last Friday night racking up 21 kicks, 5 handballs, 11 marks, 5 tackles, 1 goal and a massive 136 Fantasy points. Granted Carlton isn't the tightest defensive team going around but credit where credit is due. Confidence is everything and you need to start Oxley on your field this week. How good are those breakevens/earnings looking!

Cameron Ellis-Yolmen (Mid. $334,000, -2 be AF. $329,600, 7 be DT) continued his great form against healthy opposition in the Power. On the big stage CEY had 18 possessions, 4 marks, 10 tackles (highest on the ground) and 99 Fantasy points. He'll smash an undermanned Suns side this week. Jack Lonie (Fwd. $272,000, -1 be AF. $242,000, -34 be DT) was another to score in the 90's after playing the best game of his short career and his timing couldn't be better. The small forward pushed hard up the ground and was regularly involved in the Saints attacking movements. He finished with 20 touches, 4 marks, 3 tackles, 2 goals and 93 Fantasy points. Coach Alan Richardson had plenty of praise for the youngster…
Mason Wood (Fwd. $313,000, 13 be AF. $315,100, 13 be DT) is proving to be the surprise packet of the season. Brad Scott hasn't warmed to a lot of young Roos in the past but Wood is obviously making an impression. His gut running sees him get plenty of cheap marks and possessions and he finished with 22 possessions, 8 marks and 91 Fantasy points against the Hawks. Wood owners rejoice…there's not many of you. Popular pick Aaron Vandenberg (Fwd/Mid. $313,000, -4 be AF. Mid. $310,200, -16 be DT) keeps on keeping on. The newly crowned Fantasy forward is starring for the Dees and he backed up his 106 Fantasy points in Round 4 with 87 last weekend. Hold, hold, hold.
This week's NAB Rising Star, Adam Saad (Def/Mid. $279,000, 13 be AF. $252,500, 9 be DT) was a deserving winner. Saad was one of the Suns better players continuing his powerful run off half back and racking up 26 possessions and 85 Fantasy points in the process. Saad's Suns teammate Touk Miller (Mid. $306,000, 16 be AF. $281,600, 8 be DT) was also prominent amassing 21 possessions, 4 tackles and 68 Fantasy points. With a host of Suns players injured/suspended, I'm tipping Saad and Miller to play a bigger role and both should score above 70 Fantasy points this week as a result.
Other prominent rooks from Round 5 include Angus Brayshaw, 82 (Mid. $328,000, 37 be AF. $292,300, 12 be DT), Mitch Honeychurch, 80 (Fwd. $280,000, 36 be AF. $274,800, 52 be DT), Kamdyn McIntosh, 78 (Def/Mid. $326,000, 36 be AF. Def. $289,700, 40 DT), Patrick Cripps, 71 (Mid. $320,000, -7 be AF. $337,900, -16 be DT), Jackson Thurlow, 71 (Def/Mid. $290,000, 24 be AF. $306,400, 51 be DT) and Lukas Webb, 69 (Fwd. $247,000, 16 be AF. $167,700, -38 be DT).
DON'T PANIC
Dom Sheed, 66 (Mid. $305,000, 30 be AF. $308,600, 42 be DT), Jesse Hogan, 64 (Fwd. $318,000, 38 be AF. $272,400, 14 be DT), Billy Hartung, 61 (Mid. $295,000, 26 be AF. $289,600, 35 be DT), Robbie Tarrant, 59 (Fwd/Def. $247,000, -6 be AF. Def. $231,800, -15 be DT), Cory Gregson, 58 (Mid. $248,000, 10 be AF. $242,400, 14 be DT), Dennis Armfield, 50 (Fwd/Mid. $235,000, 10 be AF. $221,200, -5 DT), Jake Kelly, 42 (Def. $187,000, 6 be AF. $164,900, 1 be DT), Cameron McCarthy, 42 (Fwd. $294,000, 31 be AF. $288,900, 24 be DT) Nathan Krakouer, 35 (Fwd/Mid. $210,000, 9 be AF. $159,300, -20 be DT) and Brendan Whitecross, 34 (Def. $269,000, 43 be AF. $236,900, 17 be DT) all weren't as prominent as their owners would have liked but their breakevens are lower than their averages. You're very likely not going to lose any coin holding these players this week just make sure you use them all as bench cover.
Reports are that Mitch Clark (Ruc/Fwd. $260,000, 10 be AF. Fwd. $234,800, -8 DT) is likely to return from injury versus the Pies on Friday night. We'll know before lockout so sleep easy.
SURPRISE PACKET
It was a breakout game for Liam Duggan (Mid. $224,000, 14 be AF. $184,900, -28 be DT) against the Giants. The young midfielder was scintillating from start to finish and his pinpoint left foot is a joy to watch. He scored a whopping 98 Fantasy points from 15 kicks, 10 handballs, 7 marks and 3 tackles which is enough to consider trading him in this week. With his confidence sky high, Duggan is a viable trade down option in Fantasy and Dreamteam with limited cheap options available. Consider!
TRADE, TRADE, TRADE
If I haven't categorised a player from Round 5 under 'Keepers' or 'Don't Panic' then trade them out as soon as you can but when appropriate.
It's time to go Nathan Van Berlo, 61 (Mid. $342,000, 59 be AF. $308,300, 57 be DT) and Ben Newton, 59 (Mid. $297,000, 45 be AF. $287,000, 44 be DT). Both have averaged just 61 and 60 Fantasy points respectively from their last three games and they appear to have maxed out in value. Their job is done.
Michael Talia (Def. $293,000, 43 be AF. $307,100, 58 be DT) was more worried about Buddy Franklin than the ball and he scored a mere 16 Fantasy points as a result. After such a poor score, it's touch and go whether Talia will reach his breakevens on the weekend so trade him if you can. Christian Salem, 42 (Fwd/Def. $297,000, 42 be AF. Fwd. $285,300, 44 be DT) is also on a knife's edge especially with Vandenberg gaining forward status in Fantasy. He has almost maxed out in value and I give you my blessing if you want to trade him this week…I am!
Two Gamers
Our two game options are deplorable this week!!! How's this for a list of scores:
Tom Cutler, 61 (Def. $286,000, 12 be AF. $254,000, -23 be DT)
Patrick Karnezis, green vested 55 (Fwd. $194,000, 27 be AF. $140,200, 1 be DT)
Clay Smith, 49 (Mid. $206,000, 24 be AF. $212,200, 26 be DT)
James Stewart, 47 (Fwd. $221,000, 27 be AF. $261,500, 48 be DT)
Kristian Jaksch, 33 (Def. $180,000, 36 be AF. $209,700, 63 be DT)
Fraser McInnes, 22 (Fwd. $152,000, 9 be AF. $124,600, -17 be DT)
Will Hams, green vested 23 (Mid. $138,000, 28 be AF. $124,600, 23 be DT)
Blaine Boekhorst, green vested 16 (Mid. $237,000, 56 be AF. $132,900, 2 be DT)
Brent Staker, injured 14 (Fwd. $215,000, 68 be AF. $209,700, 78 be DT)
Ok, Karnezis scored 55 from just 32% time on ground but his job security is no good at Collingwood and his Fantasy history speaks for itself.
If you want to be successful in the game of Fantasy and Dreamteam, I highly recommend that you stay away from all the players listed above. No exceptions!
One Gamers
If it wasn't for Josh Glenn (Mid. $153,000, -27 be AF. $126,900 DT) my job would be under threat! He was the only one gamer to shine on the weekend and with our rookie stocks very thin at the minute, EVERYONE must trade him in. Glenn is built tough and has a workmanlike attitude, which Rodney Eade will welcome. In his first AFL game, he had 14 kicks, 7 handballs, 5 marks, 4 tackles, 1 goal and 96 Fantasy points playing on the wing, on ball and up forward. Gold Coast's Round 6 opponent Adelaide will play a lot tighter than Brisbane so be careful if you're thinking about starting Glenn on your field. A perfect cashcow regardless of what he produces this weekend.
He didn't dominate but Daniel McKenzie (Def/Mid. $237,000, 34 be AF. $117,900 DT) has the tools to become a serviceable player in his rookie season. The youngster avoided the green vest, played on a wing and a bit at half back. He showed a ton of grit and had 13 possessions, 4 marks, 4 tackles and 55 Fantasy points at the final siren. Boasting power, speed and endurance, I'm pretty confident that McKenzie will hold his spot in the Saints 22 but there will be some green vests along the way. His DPP and bargain basement price will aid you in Dreamteam but wait and see what he produces this weekend before trading him. As far as Fantasy goes, he's a little too expensive at this stage.
Highly rated youngsters Kyle Langford (Fwd. $250,000, 39 be AF. $142,900 DT) and Corey Ellis (Mid. $261,000, 41 be AF. $167,900 DT) don't appear to be Fantasy relevant this season. Both played a limited role for their respective clubs on the weekend and they are still very raw for AFL footy in my opinion. Corey Ellis could prove me wrong if he gets a gee up from his coaches and plays more aggressively this week if he gets the opportunity.
He's expensive but Callum Sinclair (Ruc/Fwd. $238,000, 29 be AF. $279,400 DT) did his job for the Eagles playing forward and in the ruck. The big fella finished with 9 possessions, 7 marks, 14 hitouts, 1 tackle and 63 Fantasy points. With Mitch Clark gaining DPP in Fantasy, there is no reason to pick up Sinclair. Pass.
Fletcher Roberts, 42 (Def. $163,000, 19 be AF. $186,300 DT), Shane Kersten, 41 (Fwd. $223,000, 40 be AF. $231,400 DT) and Henry Schade, 40 (Def. $128,000, 11 be AF. $124,600 DT) didn't excite me. When a player scores in the low 40's from a full game, it's usually a bad sign. I'd stay away from these three.
Blake Acres, 24 (Mid. $161,000, 33 be AF. $208,800 DT) and Jordie McKenzie, 22 (Mid. $227,000, 57 be AF. $245,200 DT) copped the green vest in their first games for 2015. Acres has the talent to feature regularly for St Kilda but he doesn't get enough of the pill to average more than 70 Fantasy points so be careful. Ben Lennon (Fwd. $178,000, 47 be AF. $207,200 DT) scored 14 Fantasy points from three and a half quarters before being subbed off. He'll be dropped this week.
Please note that if I haven't mentioned a rookie priced player above, it means I don't rate them. Remember rooks are classified as players under $250,000 in either Fantasy or Dreamteam.
Keep Your Eye On
With a lack of rooks coming through, this segment is as important as it's ever been!
Jake Lever (Def. $259,000, 48 be AF. $157,900 DT) – The Crows have got a future champion here. Lever is a tall, competitive defender who is great in the air and has rebounding abilities similar to Josh Gibson. He was best on ground in the SANFL last weekend (not the first time this year) after racking up 26 disposals, 5 marks and 2 tackles. Lever is Dreamteam relevant only given his steep Fantasy price tag. Expect an average of around 63.
Orazio Fantasia (Fwd. $142,000, 27 be AF. $156,200 DT) – The small forward turned half back is in hot form and plenty of the Bombers were far from convincing against the Saints last Sunday. Fantasia is coming off 19 touches, 3 marks, 3 tackles, 1 goal and 75 Fantasy points in the VFL. His job security is a concern but he's relatively cheap and I've always been a fan.
Zak Jones (Def. $142,000, 27 be AF. $156,600 DT) – The Swans need a notable half back and Jones is more than capable of filing the void. Brother of Melbourne Captain Nathan, Zak is equally as tough and also loves the contested ball. He has been named in the bests for the Swans Reserves in three of the past four games so watch him closely. I really like him as a D8 in Fantasy straight up if he's named to play on Thursday night.
Feel free to ask me a question below and don't forget to add me on Twitter @JeppaDT for all things Fantasy and more. Happy trading!