Roy's Trade Talk – Round 6
We have a couple of winged Hawks and the anticipation of new DPPs as we hit up another Tuesday of Roy's Trade Talk.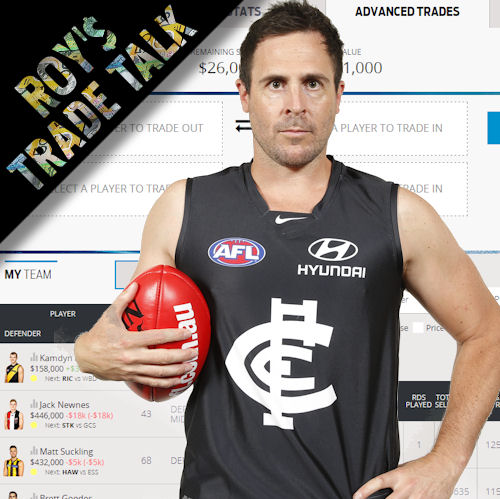 It is a slightly frustrating RTT this week because I am playing a guessing game in regard to who will gain the all exciting DPP status's on Wednesday. Once they are announced, it could put a whole new spin on our trade plans, but having said that, there is one bloke that I am confident with, and will be backing in and he could be the answer to our Luke Hodge and Jordan Lewis issues.
My DPP tip:
If my feelings are confirmed, Matthew Boyd (MID/DEF???, $560,000) will gain defender status after playing the season to date off back flank and picking up the majority of his possessions in the defensive half. This would be like a dream come true for old school Fantasy coaches like myself who used to select Boydy religiously, but have been unable to justify picking him at the expense of a younger midfielders the last few years. If he is available among that backline rabble however, welcome back in the game! Boyd is a future Fantasy Hall of Famer who has shown some vulnerability to 'old man' injuries the last couple of years after a durable career to that point. That is probably the only negative I can think of, He is flourishing in the back half with a season average of 105, with only one game under 100 and that was against Sydney in unfavourable conditions for his role. He is the sergeant/ quarter back in the Dog back-line where he recorded 8, 10 and 12 marks in his first three games.  He has a break-even of 105 and should have no trouble reaching that vs the Saints.
Under-Priced Premo
Is he back? After two shocking games and a slow start vs the Demons, he certainly looks back! Michael Barlow elevated his game to the elite premium status last year, but in round three and four where he recorded uncharacteristically low scores of 55 and 44, coaches were left scratching their heads. The positive thing about this for young owners is he has dropped 92K and has a break-even of 128, which suggests he is probably one week from bottoming out in price, but sometimes we just go early, despite all intentions of holding off for a little longer.
Elephant in the room
Ok, none of us are surprised that this guy dominated in his first game of the season, but the decision to trade him in is still comes with an element of uncertainty and risk. Tom Mitchell (FWD/MID $446,000) played predominately in the midfield and dominated with 30 touches and nine tackles for a score of 117. You would like to think an effort like that cements his spot in the side, and playing that role for a while, but hey, I also thought he should have been playing in the GF last year, so only time will tell. I have slight concerns that he was selected an playing that role due to the weather conditions… but maybe that is because I have been force to over-think things with Mitchell that last couple of years. He has a break-even of 53 and is certainly under-priced based on potential… if he is consistently given the chance to reach his potential.
The downgrade
Mature age rookies that know how to get their hands on the pill are priceless. Sun, Josh Glenn (MID, $153,000) ticked all boxes prior to his debut and backed it up with a sensational effort in which he collected 21 possessions, took five marks and laid four tackles for a score of 96. He has a Break-even of -27 and looms as a great selection.
Twitter questions via @RoyDT
https://twitter.com/BILLZ_17/status/595087519680630784
YES: Job security looks as good as any other rooks
https://twitter.com/AlViGi/status/595087362280988672
YES: However, if you have good cover like Yolman, I would consider holding
@RoyDT @DTTALK Trade Hunt? #RTT

— jason towns (@townz36) May 4, 2015
YES: If you can get him to Boyd, or another mid gun who may get DEF status
@RoyDT @DTTALK hold or trade salem ?

— Shae Armstrong (@shaearmstrong3) May 4, 2015
Hold: Could be a handy bench option in the backs if he gets DPP
@RoyDT @DTTALK McVeigh… Will he keep consistency and is he a top 8 mid?

— Phil Beckwith (@pbexxx) May 4, 2015
NO: Should average around 100, not a top 8 contender
@RoyDT @DTTALK is Newton ready to cull?

— Damon (@DamonDpquick) May 4, 2015
NO: Is the answer because his BE is lower than his average, however if you need the cash, trade him to Glenn
@RoyDT @DTTALK keep Parker or not?

— Sinni (@Sinni14) May 4, 2015
NO: If you have luxury trades, do it. I'm holding but I get some satisfaction by telling others to trade.
— Bertie (@shadzinator) May 4, 2015
YES: Best mode, Low BE, Unique, reasonable draw
https://twitter.com/CohenShane/status/595093858318307328
NO: Unless you have no cover etc.
@RoyDT @DTTALK Is Jed Anderson worth keeping for a few more rounds considering possible Hawk suspensions?

— D K (@Thee_doug) May 4, 2015
Yes: Maybe a couple of weeks if he gets a run this week. Pop should be back though…
Cheers for the questions, discuss your trades in the comments!
Have a good one