On the Line with Stu
Welcome Stuey! This man knows his stuff and we're very lucky to have his insights. Make sure you check them out as he covers all his best bets for the weekend.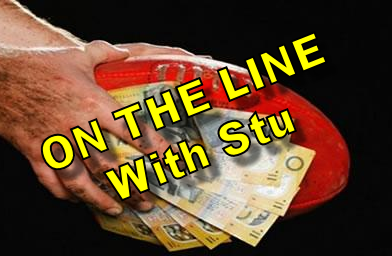 Hi guys! Stuey here to give some gambling insights on the upcoming round of footy, trying to find some winners to put some extra cash in your pocket. Each week I will pick the line bet, find some value and chuck out a roughie if you like to take a risk. All markets are bought to you by our good friends at William Hill.
Lines and money as of Friday morning.
Collingwood (-8.5) over Carlton
Are you kidding me? What an easy way to start off my career as a part time gambling expert with no formal training and helping people make some easy cash on my mate's website. Collingwood may not have set the world on fire to start 2015 but they still have blown out and covered the line against the Saints and upset a favoured Essendon in the last two weeks. Meanwhile Carlton lost their first 3 including 2 at the MCG before smashing the Saints by 40+ over the ditch despite dropping a deuce for much of the first half. Even with Mick breaking a record for coaching the most games and still holding the record for "Best Porn Moe in Football" I think the trip back from NZ may hurt them and don't see them being able to cover the 8.5 points.
The Value
Both teams to score 70 Points – No – $2.41
Collingwood have channelled their inner Kawhi Leonard this year and have locked down opponents including strangling Essendon last week allowing them only 49 points while only having 69 themselves. Another big game, another big stage and another big crowd. The atmosphere will be electric on Friday night putting pressure on all. Plus put Clokey down for a couple missed sitters already.
The Roughie
Qrt by Qrt – Carl/Coll/Coll/Coll – $8.00
Collingwood's starts haven't been the best this year; add in the initial emotion for Mick's record and I like the Blues to lead at quarter time before the better team comes over the top.
Geelong (+4.5) over Richmond
For full disclosure I'm a Geelong supporter and I know the empire is crumbling, it has been for the last few years in fact, but surely the Cats can squeak out a win against a team that got whooped by Melbourne last week. Geelong has been beaten by better teams recently or but has been just getting over the line against poorer teams dating back to last year. Expect that to happen again, Geelong by about 10.
The Value
Geelong by 1 to 24 – $3.50
Like I said above, this isn't the Geelong team of their premiership heyday, blowing out teams by 10+ goals. Their only win this year over the Gold Coast was by 9 and towards the back end of last year they snuck over Carlton by 6 and Freo by 2.
The Roughie
Most Tackles – James Kelly $7.00
Always good for 5+ tackles a game, worth a shot.
Western Bulldogs (+32.5) over Sydney
I'm on the bandwagon!! I love watching the Bulldogs at the moment. The Bont, Stringer, Macrae and the young kids are playing exciting football and old man Bob Murphy has been great setting things up down back. I know this is the Swans, in Sydney at the SCG but they're coming back from a hard game in Perth and the weather in Sydney is meant to be crap which will lead to a close game. Not confident but taking the points and hoping for the best.
The Value – Most Disposals – Group A – Josh Kennedy $3.50
Not an amazing last 2 weeks for JPK (I know this because I have him in Fantasy Elite) but this is his kind of game. Going to be wet, plenty of in close handballs.
The Roughie – First Goal – Kieren Jack – $26.00
First off not a massive fan of first goal bets if you are trying to make money, but they are good fun if you have a few spare bucks. Not going to be a day for big marking forwards, Jack is going to be around the ball and had a few shots on goal so far this year.
Brisbane (+2.5) over Gold Coast
Yuk. The only thing that could make this interesting is to have a pineapple on something, which I really don't recommend. Not even Roy will be watching this, steer clear.
(Just kidding, of cause Roy will be watching)
The Value – Most Disposals Group A – Tom Rockliff – $3.00
Because Roy threatened me.
The Roughie – Stefan Martin – Marcus Ashgrove Medal Winner – $12.00
Does there have to be a medal for everything these days? I know Ashgrove played 300 games for Brisbane and is on the Gold Coast coaching panel but come on! Bloke didn't even win a B&F. I can't wait till Tassie gets a team so I can watch the Andrew Dunkley Medal get presented after a TAS v SYD game. Anywho Martin has been great this year, 36 hit outs and 20 possies last week has him on peoples radar and Zac Smith is out. Also I just checked and Calvin has in 3rd in Calvin's Captains, Load up! (And by load I mean like $10, $20 max)
North Melbourne (+20.5) over Hawthorn
North play really well under the dome, they hung all the way with Port before getting pipped there a few weeks ago. Clarko will no doubt be punching his players in the face prior to the game to try and pump them up after getting done last week, but that's too many points for a North team that has been good this year other than a slip up in round 1.
The Value – HT/FT Double – North Melbourne/Hawthorn – $6.75
Kinda really like this. Hawthorn hasn't started games well in 2015 and that price is really tasty. Worth a sneaky bet.
The Roughie – Most Disposals Group A – Grant Birchall – $11.00
Isaac Smith has had a few big weeks and he may cop a tag that usually goes to Birch allowing him to rack up some easy touches. With Lewis, Mitchell, Hodge and Swallow in the group it isn't likely but worth a shot.
West Coast (-8.5) over GWS
I think if this game was played at whatever GWS want to call their home ground this line would be GWS -8.5 but it's not so I'm sticking to my rule and taking the Perth team by 2+ Goals.
What's that? Spotless Stadium? Are you serious? A cleaning company? What are the odds of it being called William Hill Stadium in 3 years?
The Value – Most Goals – Josh Kennedy – $2.00
This may seem short but who loves a bag more than this guy? Kicked 10 a few weeks ago in Perth and last time these teams met he kicked 11. Wow.
The Roughie – Scores level at end of any Qrt – $8.00
Because I love that William Hill offer it and it makes the end of quartes in games that you don't really care about super exciting.
SIGN UP HERE TO WILLIAM HILL IF YOU ARE OVER 18
Freo (-30.5) over Melbourne
Melbourne were great against a pathetic, abysmal Tigers last week (which I'm stoked about, had Melb +11.5 at HT) but Freo is a different story. I feel a crash back to earth blow out coming up for the Dees.
The Value – Game Score – Over 158.5 – $1.88
Master vs the Apprentice at defensive tight football which I kinda, really hate so I won't be watching much of this game. So why not take the unders? Because that's a low total game score when I think Freo will light up the score board.
The Roughie – If Freo win by 60 Points or more – $5.00
Like I said, blow out.
Essendon (-37.5) over St Kilda
This line was 33.5 earlier in the week and I liked that a lot more but If someone gave me free money and told me all I could bet on was St Kilda I would put that money in a slow building investment account.
The Value – Essendon -37.5 over St Kilda – $1.91
That line bet is the value. Take your $1.91 and be happy.
The Roughie – St Kilda to lead at end of each Qrt – $13.50
Ha No not really.
Port Adelaide (-8.5) over Adelaide
Love Port -8.5, love it. The first Showdown last year Port blew out the Crows by 55, sure Adelaide won the 2nd but do you really think Power are only a goal and a bit better team than Crows? Despite a few injury concerns to some key players and a hard game last week I'm confident the boys in teal to cover this line.
The Value – Qrt Time Line – Port -1.5 – $1.90
Did you see Ports first quarter last week??????
The Roughie – Showdown Medal Winner – Hamish Hartlett – $9.00
Another medal? At least these bets are good fun, you get a whole game cheering on your player every possession he gets. I like Hartlett for a couple of reasons. He's won the medal before back in Showdown XXXVII, he had a great game last week so the media will be aware of him and I'm starting him in my Fantasy Elite team after losing my patience with Mitch Duncan. Go Hamish!
Best Bets – Coll -8.5, Port -8.5 and Freo -30.5
Bonus Bet – Mayweather over Pacquiao. I'm chucking the $1.48 in a multi with the 3 best bets.
Good luck to you all this week, I'll be tracking how I go vs the line each week and overall for the year. Please gamble responsibly and follow me on Twitter @stueycam9 and sign up to William Hill if you haven't already.