Jeppa's Juniors – Round 4
These are the weeks that rookies hold our teams together. In this article, Jeppa takes a look at all the important players as well as those 'juniors' in line for dual position gains in AFL Fantasy. Don't make any trades without reading this first!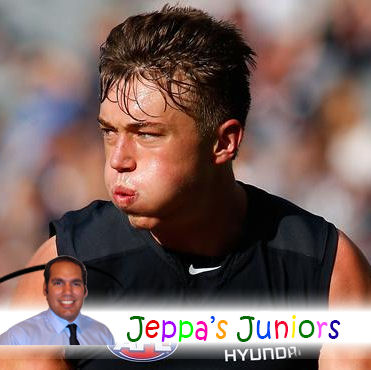 Round 4 was definitely a memorable one for our rookies. In a tough week for most coaches, many 'juniors' scored over and above our so-called reliable premiums. Four rooks reached the ton in Round 4 with another seven scoring above 80. Deciding whom to field each week is becoming quite a challenge but recent form is always our biggest indicator and selecting players based on their averages is a logical approach.
Positional changes will occur in Fantasy ahead of Round 6 and plenty of rookies will find themselves gaining DPP status. Here's my list of likely changes:
Christian Salem, Fwd/

DEF

Kamdyn McIntosh, Def/

MID

Aaron Vandenberg, Mid/

FWD

Ben Newton, Mid/

FWD

Isaac Heeney, Mid/

FWD

Touk Miller, Mid/

FWD

Mitch Clark, Fwd/RUC

…this one would be ideal!
It's not a train smash if you don't have these players but it does make trading a whole lot easier going forward. Plan ahead!
Three Gamers
KEEPERS
Holy hat, we have got ourselves a cashcow! If Patrick Cripps (Mid. $270,000, -44 be AF. $277,300, -61 be DT) continues his purple patch, he will join the likes Jaeger O'Meara, Tom Mitchell and Dyson Heppell in Fantasy rookie folklore. To score 137 Fantasy points in a game (3rd highest score overall) is no easy task for a player in just his second year. How's this for a stat line…12 kicks, 18 handballs, 5 marks, 9 tackles and 1 goal. If you don't have him, it's not too late to trade him in!
Tough. That sums up Aaron Vandenberg (Mid. $266,000, -22 be AF. $252,900, -38 be DT) in one word. The lad from Canberra laid an unprecedented 12 tackles against Richmond last Friday night to go with his 11 kicks, 9 handballs, 2 marks, 1 goal and 106 Fantasy points. Vandenberg was a big reason why the Dees got the 4 points in Round 4 and in my eyes was best on ground. His hunger for the contest and will to succeed at AFL level should see him score 75+ for the next couple of weeks at least.
Fantasy aside, it is hard not to get excited about Jesse Hogan (Fwd. $301,000, 21 be AF. $249,200, 13 be DT). In just his fourth AFL game, Hogan made All-Australian Alex Rance look like a second rate defender. The young forward finished with 13 possessions, 6 marks, 3 tackles, 2 goals, 77 Fantasy points and was one of Melbourne's best on the day. Hogan currently leads the league in contested marks with 13! Here's hoping he can maintain that effort against Freo this weekend. Fellow Demon, Christian Salem, 76 (Fwd. $287,000, 14 be AF. $275,600, 20 be DT) is growing in his new role at half back. He's by no means flawless but his teammates look to give him the ball out of defence and his lethal left foot kick usually finds a target. Salem is a certainty to gain defender status in Fantasy next week giving his owners plenty of options.
The Bulldogs are up and about and Michael Talia (Def. $283,000, -11 be AF. $287,000, -28 be DT) is benefiting greatly. The much-improved defender had 23 disposals (19 uncontested), 13 marks and 101 Fantasy points against the Crows and is an unsung hero. I took a punt on Talia prior to Round 1 but never did I think he'd hit three figure scores. Cameron McCarthy (Fwd. $273,000, -9 be AF. $265,300, -10 be DT) is another tall exceeding expectations. McCarthy annihilated the Suns kicking a bag of 5 goals and scoring 98 Fantasy points. He faces the Eagles this Saturday night and given their tall defenders issues, McCarthy may get off the leash again.
Low breakevens and good scores from Touk Miller, 84 (Mid. $278,000, 1 be AF. $227,800, -49 be DT), Cameron Ellis-Yolmen, 82 (Mid. $284,000, -16 be AF. $274,900, -20 be DT), Jack Lonie, 79 (Fwd. $235,000, 7 be AF. $199,800, 1 be DT), Mitch Clark, 78 (Fwd. $260,000, 9 be AF. $234,800, -9 DT), Mason Wood, 75 (Fwd. $284,000, 21 be AF. $272,000, -3 be DT), Angus Brayshaw, 72 (Mid. $312,000, 42 be AF. $259,300, 10 be DT), Dom Sheed, 68 (Mid. $287,000, 21 be AF. $288,300, 21 be DT) and Cory Gregson, 66 (Mid. $222,000, -3 be AF. $206,600, -20 be DT) means you should hold these players.
DON'T PANIC
Popular defenders Kamdyn McIntosh, 47 (Def. $303,000, 21 be AF. $265,300, 24 DT) and Adam Oxley, 36 (Def. $256,000, 10 be AF. $248,600, 15 be DT) were well below their best last week but don't rite them off just yet. I'm not expecting miracles but both still have a little more cash to gain.
Ben Newton, 60 (Mid. $287,000, 31 be AF. $277,800, 38 be DT), Nathan Van Berlo, 58 (Mid. $339,000, 47 be AF. $304,200, 51 be DT), Adam Saad, 50 (Def/Mid. $247,000, 10 be AF. $217,200, 8 be DT) and even Mitch Honeychurch, 24 (Fwd. $265,000, 43 be AF. $270,700, 70 be DT) are in the same boat as McIntosh and Oxley. I wouldn't trade out a cashcow based on one poor performance.
TRADE, TRADE, TRADE
If I haven't categorised a player from Round 4 under 'Keepers' or 'Don't Panic' then trade them out as soon as you can but when appropriate.
Special mention for Isaac Heeney, 17 (Mid. $307,000, 68 be AF. $222,500, 44 DT) who had a shocker against the Dockers and has high break-evens this week as a result. I wouldn't be surprised if Heeney is given the green vest against the Bulldogs on Saturday. Cut your loses!
Two Gamers
It's rare that a tall defender has 20 plus possessions but Robbie Tarrant (Fwd. $210,000, -27 be AF. $172,200, -70 be DT) has done it two weeks running. Fit and injury free, he is working hard and the rewards are coming his way. Tarrant finished with 88 Fantasy points against Geelong and his breakevens are very appealing as a result. History suggests that key position defenders do not score well however guys like Josh Gibson and Cale Hooker are slowly changing that trend. He's not in my trade plans but I give you my blessing to bring him in. Start him on your bench though.
In his second game back from a second knee reconstruction, Brendan Whitecross (Def. $267,000, 23 be AF. $221,800, 1 be DT) showed his potential. Playing predominantly at half forward against good opposition in the Power, he had 19 touches, 8 marks, 3 tackles and 84 Fantasy points. Hawthorn's 'possession' game plan sees an outside player like Whitecross get plenty of it and I'm hopeful that he can score above 70 Fantasy points most weeks. He's Dreamteam relevant only due to price in my opinion.
Power pair Aaron Young, 82 (Fwd/Mid. $282,000, 8 be AF. $236,300, -30 be DT) and Nathan Krakouer, 76 (Fwd/Mid. $189,000, -15 be AF. $108,900, -74 be DT) have gone from bench warmers to on field contributors. Young is in the tough stuff as an in and under midfielder and Krakouer is controlling things down back. I'm not prepared to cough up the cash for Young but I am bringing in a cheap Krakouer in both Fantasy and Dreamteam. Get on the Krak bandwagon but use him as bench cover!
I liked Dennis Armfield's (Fwd/Mid. $211,000, -6 be AF. $184,100, -31 DT) game. He's not blessed with an abundance of skill but you can never question his effort. My old mate from Kalamunda had 7 tackles to go with 15 possessions, 2 marks, 1 goal and 81 Fantasy points. If Krakouer wasn't available, I'd consider him. Unfortunately, Jackson Thurlow 52 (Def/Mid. $270,000, 21 be AF. $282,200, 18 be DT) couldn't back up his Round 3 effort last weekend. The utility was used as a third tall in defence against the Kangas and got his hands on it just 11 times. Thurlow is too pricey now.
Young Lukas Webb, 64 (Fwd. $228,000, 23 be AF. $117,900, -39 be DT) and Jake Kelly, 51 (Def. $165,000, -8 be AF. $124,600, -45 be DT) don't play Fantasy friendly roles. Both are used as lock down defenders, which limits their ball wining ability. Pass.
Key forward Patrick McCartin, 27 (Fwd. $272,000, 75 be AF. $222,900, 63 be DT) had little impact again this week as did Harris Andrews, 26 (Def. $160,000, 18 be AF. $117,900, -11 be DT), Corey Gault, 22 (Fwd. $231,000, 62 be AF. $241,000, 78 be DT) and Josh Walker, 22 (Fwd. $241,000, 49 be AF. $278,800, 72 be DT). Do not trade in these blokes.
Billy Hartung, 69 (Mid. $277,000, 15 be AF. $258,800, -6 be DT) and Brendon Ah Chee, 20 (Mid. $120,000, 41 be AF. $124,600, 38 be DT) copped the green vest in their games. Hartung came on at the end of the first quarter after Brian Lake suffered a knee injury and the speedster managed to score a respectable 69. Both Hartung and Ah Chee are prone to the green so avoid them at all costs.
One Gamers
Tom Cutler (Def. $260,000, -1 be AF. $254,000 DT) had a heap of the footy against West Coast and scored a whopping 107 Fantasy points but geez he had a lot of turnovers. Watching the match first hand at the GABBA, his poor disposal efficiency cost the Lions dearly. To have 32 possessions playing at half back / back pocket is a big plus however and given that the Lions play Gold Coast this weekend, he could be worth a punt in Fantasy. In the same match, Fraser McInnes (Fwd. $140,000, -7 be AF. $124,600 DT) showed a bit playing as a key forward. The big fella had 15 possessions, 8 marks, 1 goal and 66 Fantasy points on debut and Adam Simpson was very happy with his output. McInnes will line up again this week but Callum Sinclair is knocking on the door for his spot. I would stay clear of McInnes.
Blaine Boekhorst, 58 (Mid. $247,000, 33 be AF. $132,900 DT) and Clay Smith, 46 (Mid. $198,000, 28 be AF. $212,200 DT) were serviceable for their clubs. I have little doubt that both will improve this weekend but they're a little too expensive for Fantasy. Boekhorst could be a Dreamteam option next week if he can handle the pressure on the big stage this Friday night. Notable mention to James Stewart, 54 (Fwd. $213,000, 26 be AF. $261,500 DT) who should be avoided due to job security concerns.
Matt McDonough, 33 (Def. $223,000, 46 be AF. $250,800 DT), Will Hams, 25 (Mid. $140,000, 25 be AF. $124,600 DT), Trent Dumont, 20 (Mid. $120,000, 26 be AF. $124,600 DT) and Matthew Dick, 12 (Def/Mid. $120,000, 39 be AF. $124,600 DT) wore green in their first games of the season. Dumont is one to watch! The classy midfielder arguably won North the game with a goal assist and a goal when it was in the balance. Dumont will definitely play in Round 5 but I can't guarantee that he'll avoid the vest.
Unfortunately, Nathan Drummond, 25 (Mid. $140,000, 25 be AF. $117,900 DT) suffered a season ending knee injury in his debut. A shame for Tiger and Fantasy fans because Drummond is a talent.
Please note that if I haven't mentioned a rookie priced player above, it means I don't rate them. Remember rooks are classified as players under $250,000 in either Fantasy or Dreamteam.
Keep Your Eye On
Jack Steele (Fwd/Mid. $227,000, 41 be AF. $117,900 DT) – An injury to Rhys Palmer will likely see the athletic midfielder debut against West Coast on Saturday night. Steele has been building form in the NEAFL and he was best on ground last weekend after amassing a whopping 32 possessions, 11 marks, 7 tackles, 1 goal and 142 Fantasy points. With a list boasting plenty of stars, a green vest is likely for this NSW Academy product so be careful.
Blake Acres (Mid. $166,000, 31 be AF. $208,800 DT) – Acres is more than ready for a return to AFL ranks. The second year midfielder is coming off 31 touches and 94 Fantasy points in the VFL and the Saints could definitely use another classy ball user on the outside. I suspect that Acres will likely average just 60 Fantasy points this season but his job security will be decent amongst a young Saints playing list.
Henry Schade (Def. $120,000, 21 be AF. $124,600 DT) – the axe will swing hard again at Gold Coast and Schade is in line to make his debut. The tall defender won't be a big Fantasy scorer but he's cheap as chips and could sit at D8 for many. Scores in the high 50's / low 60's is what I expect from Schade.
Feel free to ask me a question below and don't forget to add me on Twitter @JeppaDT for all things Fantasy and more. Happy trading!