Daniel's Dilemma: Double Trouble (DPP's)
The new DPP's are just around the corner and Daniel is here to show us our best options ahead of the announcement next week!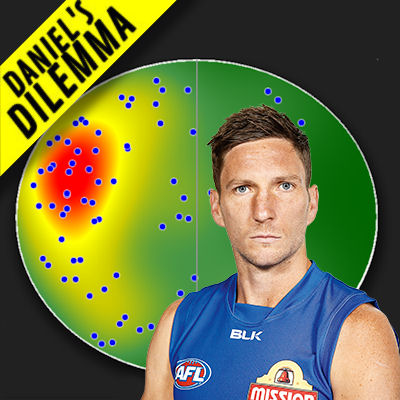 Welcome back to Daniel's Dilemma! Another week, another dilemma and the constant arm wrestle with the Fantasy gods continued throughout Round 4. Coaches who scored around the 1850+ range would have taken the carnage on the chin and ran, considering that the majority of us are still struggling to come to grips with the amount of poor scores that our Defenders and 'Set and Forget' premiums dished up.
With last week's shocking scores now behind us, I don't want to rabble on too much with the details of the carnage as we have some much brighter news that will be sure to pique your Fantasy interests!
Finally, today we will focus on the new Dual Positioned Players that will be presented to us soon. There is still some speculation surrounding who will be selected as a DPP, however, with heat-maps being displayed to the public regularly over the last few weeks we can start planning in anticipation for the final decision from Champion Data.
Below are the most Fantasy relevant players that I believe have the greatest chance of obtaining a new position in Round 6.
1. Matthew Boyd –

ADD DEFENDER?
Without a doubt, Matthew Boyd will find his AFL Fantasy ownership rise greatly next week as the Western Bulldog's midfielder adds another string to his bow in terms of Defender status. He has played a major role for the Doggies in Defence so far and once he is considered a DEF/MID he will be the 2nd highest averaging defender in the competition!
However, Matthew Boyd isn't getting any younger, having ticked over 32 years of age this year. He has already showed signs of his old legs having an impact on his playing time by being sidelined in Round 3 for calf soreness.
Age aside, Boyd is a must in AFL Fantasy. You can't ignore his scoring potential, with Boyd only dropping under the triple figure average once in the last 6 years!
The Fantasy gods have gifted us DT Royalty here, so make sure you fiddle and re-structure your side to get him in!
2. Christian Salem –

ADD DEFENDER?
Christian Salem is another player that is in the box seat for a positional change in the next couple of weeks. Fortunately for most of us, we won't need to adjust our sides to trade him in as he is currently situated either on the pine or on the field in our Forward lines.
However, this specific positional change adds even further flexibility across your ground especially if you have Ciaran Byrne ($121,000) in your backline. Having the luxury of both players' means you can shift and swap as you please throughout the season, decreasing the headache of picking rookies to play on your field from week to week. With Oxley and McIntosh proving they aren't invincible with scores of 36 and 47 respectively, having Salem as an option means you don't have to ever rely on Brett Goodes to dig your team out of trouble in the future.
Salem has also been in reasonable form as of late as well and showed his Fantasy potential against Richmond last weekend playing off half-back, scoring 76.
3. Mitch Clark –

ADD RUCK?
At this stage it is all just mere speculation; however, Mitch Clark has been seen rotating in the Ruck position early on this year, which could indicate miracles for us Fantasy coaches struggling for a third Ruckmen.
Champion Data haven't released any certain information but for coaches with one premium (Jacobs, Goldstein and Nic Nat) and Tom Bellchambers ($336,000) in their Ruck, this is encouraging signs as we could finally have some flexibility in the Ruck department.
However, if you don't own Bellchambers, having Mitch Clark floating across both lines adds instant stability, in case of injuries or players being dropped (Leuenberger!)
Unfortunately, Ruckmen have been a very black and white subject this season for AFL Fantasy with no real signs of Rookies coming through and staking a claim. With Mitch Clark now being rumoured to obtain a DPP status, this makes our decision making much easier if one of our ruckmen are ineligible to play in the future.
 4. Luke Dahlhaus –

ADD MIDFIELDER?
Luke Dahlhaus has been in stellar form lately and having the option of placing him in your Midfield enables you to be flexible with your selections from week to week.
If you traded him into your forward line last week to replace the injured Jimmy Bartel, then your trade just becoming that little bit more valuable as the Doggies star could possibly feature in your midfield if players like Beams ($523,000) and Barlow ($526,000) continue to struggle.
For the coaches who don't currently have Dahlhaus in their sides, I wouldn't be looking to bring him in ahead of your already planned moves this week. He isn't a necessity as such, but if he does obtain MID status and continues his current run of form then placing him in your Forward line would be very handy; considering picking consistent premiums this year has been a near impossible task.
5. Aaron Vandenberg –

ADD FORWARD?
Aaron vandenBerg had me eating my own words on Friday night after his very impressive 112 against Richmond. I wasn't sold on vandenBerg throughout the pre-season and he showed no signs of Fantasy potential during the opening rounds but he stepped up and was pivotal in the Demons' destruction of the Tigers.
He has played further up the ground recently and bagged a few goals because of this positional change. This could lead Champion Data to naming him as one of the initial DPP's this year, which means that we can pick and choose where to put him from week to week.
A popular choice could be sending him forward in the place of a under-performing premium and then upgrading your midfield to someone like Dyson Heppell ($621,000), who has been on fire lately!
Nobody says no to added flexibility in Fantasy, so the possible addition of vandenBerg in our forwards lines could only strengthen our sides on a weekly basis.
Luckily, there are more names that are in the mix to get DPP Status. Below are some of the other names that YOU have mentioned on Facebook and Twitter over the last couple of days.
Other Rumoured Additions
Daniel Rich –

ADD DEFENDER?

 – Don't ditch Rich yet! With a slight possibility of DEF status up his sleeve he could be a very useful pick if our current defenders keep producing the same scores!
Luke Parker –

ADD FORWARD?

 – Luke Parker has been spending some additional time in the forward line which has lead coaches to believe that he may be adding the FWD position to his name. It is unlikely at this stage, but could be very useful if Robbie Gray continues to perform poorly in the front line.
Kamdyn McIntosh –

ADD MIDFIELD?

 – Started the season on absolute fire, to then come down like a ton of bricks against Melbourne on Friday night. Would be a welcome addition to the midfield as he has played on the wing with the Tigers so far. Added flexibility is a bonus to all owners.
Taylor Hunt –

ADD MIDFIELD?

– Likely to gain MID status next week with his additional time in the centre for the Tigers. Same Boat as McIntosh, however, you don't need as much cash to upgrade to a premium defender (or midfielder if you decide to switch him there) if his scores start to drop rapidly. Watch out for his niggle he picked up on the weekend!
At this stage we aren't sure how many players will gain DPP next week however these are a few names that will be floating around to possibly gain a new position.
Feel free to drop a comment and state your opinion on the new DPP's as they are released! Also if you have any other possible additions or questions hit me up on Twitter or mention it below in the comments section!