The Weekend Wash-Up – Round 4
This weekend the fantasy gods finally got me, and they made it count… It's time for the weekend wash-up!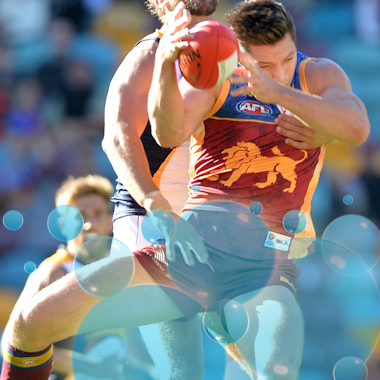 There were more important things than football on Saturday, as we commemorated the 100th anniversary of the landing at Gallipoli, and all those who have served at War. For a day, AFL and fantasy took a backseat. Unfortunately when we woke up on Sunday morning, the day's results really sunk in and boy it wasn't pretty.  This weekend the fantasy gods finally got me, and they made it count… It's time for the weekend wash-up!
Legends
In the words (almost) of Scribe, how many dudes you know score like this? Not many, if any.
CRIPPS! (137) – This is BOOM worthy!  The kid is going to be a star, and he's playing like one already. With Judd out of the team he had a field day against the Saints, just what we needed when most of our premiums couldn't muster a whimper. Huge, definitely becomes a must have.
Heppell (138) – Hindsight is a wonderful thing. Realistically we shouldn't have been able to go wrong with Barlow, but Heppell was the differential at the time when replacing Ablett/Rocky. Not any more, he is going to push his average up to 110 this season and there's no reason he can't take it further. He's getting better and better! Let's hope the tight tags are few and far between, I think that's false hope though…
Stanton (130) – He loves playing against the Pies! Unless I own him, in which case he'd probably dump a 60 on me. Great for those who backed him in their Match day squads. Even better for those who took him late in their draft leagues, he would have been a steal! Well, some weeks he can be a steal…
Seedsman (128) – The seed man! I still haven't figured out why Footy Rhino's "The man of seed" has taken off so quickly, but regardless his last name is brilliant. Tick. He can rack up uncontested footy, massive tick! I may trade Taylor Hunt to him, let's hope this bandwagon doesn't lose it's wheels after 2 weeks. At least I had him on the pre-season watchlist!
Adams (127) – Now this just annoys me. I had him in my team all pre-season, and backed him over Bont. After 2 'solid' scores, his injury made him an easy trade to Bont. Since then Bont missed that week anyway, before Adams pumps out this monster. Happens every time…
Vandenberg (106) – Get him in your team, and get him on your ground. Simple. Performances like these are the real legends of the week! Just what we needed.
Lewis (130) – I've run out of superlatives and it's only round 4! Consistent as always, only now he is consistently pumping out massive tons. If you don't have him, wave goodbye to your season. Perma captain (for now).
Goldstein (130) – Forget the odd shocker he used to throw into the mix, Goldy is finally reaching his potential this season. He has a massive tank and gets the lone ruck role to himself week in week out (Just realised I have no idea how that saying actually makes sense… Moving on). He is pushing Jacobs for the number one fantasy ruckman throne. According to the people I've heard, Stefan Martin doesn't even exist. (Honourable mentions in the legends column to Martin and Jacobs, the rucks are on fire!)
Shiel (135) – We can't just have people going from loser to legend every week! From now on there will be a weeks immunity from being a loser if someone knocks up a big ton, and a weeks suspension from the legends if they have a shocker. Well done Dylan, you've just created your own rule! Seriously though, awesome pick.
Rischitelli (120) – Fair play! I didn't think he could go any bigger than he had been but I was proven wrong. His role has changed drastically since Ablett has gone down, and I don't think it's sustainable. That's irrelevant in this case, he will score well in the short term and make you money! Great pick.
Smith (151) – Draft owners rejoice! I remember picking Smith 2 years in a row waiting for his breakout, and it still hasn't come. These games make it all worth it.
Dahlhaus (119) – Who's house?! I'm kidding, that's not a thing anymore and it never should've been. Thank god, because Luke Dahlhaus is definitely a player we will hear about in Fantasy circles for years to come! As an owner of Dahl last year I somewhat doubted his ability to keep his form up, I was wrong. I don't have the stats, but he is definitely getting more midfield time under Beverage and he loves it! A top 6 forward, no shadow of a doubt. Great pick!
Boyd (113) – Get your trigger fingers ready, Boydy will be back in our teams come Round 6 DPP changes! What a hero. Pencil him down for a calf injury Round 7.
Losers
It wasn't just the amount of spuds we had this weekend, it was the magnitude of their woefulness that made this round such a shocker (for some).
Neale (36) – I'd like to take this moment to remember that he scored 162 points last week. That is honestly the only thing preventing me from starting a man hunt. 36?!?! YOU'VE GOT TO BE KIDDING. I knew we couldn't expect those whopping scores on a weekly basis, but he was still on the ball for the majority of the game. To play as poorly as he did you have to seriously try and avoid the ball, even then most players can get to 50. Thirty six… Devastating. To whoever I suggested to get Neale in, I whole heartedly apologise… Just take it out on Lachie, not me!
Oxley (36) – After his huge couple of weeks, we can forgive the Ox for this one. It wasn't pretty, but he could've made it past 50 if it wasn't for Bucks keeping Gault on the ground for reasons unknown. This just goes to show how important it is to get the rookies of our grounds ASAP, only problem is our premiums lack of ability is making that near on impossible.
Hunt (48) – Let's note that he went down the race in Q1 with a knee problem, and it clearly hurt his score. That's my excuse anyway, perhaps reality has set in. I'd love to take the 70 grand he has made me and run, but there's bigger fish to fry. He at least made it to 48, better than some… The fact I'm accepting a 48 pretty much summarises 2015 in a nutshell.
Simpson (67) – I backed him in this season, but his role is less than pleasing from a Fantasy perspective. He doesn't even want the ball when Carlton get it, where are the cheap marks Simmo?! I'm hoping he can pump out one of his special 140's, but that looks less likely by the week. Unfortunately, 67 points is the least of my worries in defence.
Newnes (58) – By god he is frustrating. There's no way he will make the step to premium status. Yes he can crack the ton, but he can also dish up scores like this. Not to mention the amount of times he butchers it. If he looks like an 85 average player, he probably is an 85 average player.
Barlow (44) – I said it last week, and I will say it again. WTF! He has always been one of the most reliable premiums, so when we needed a Rocky replacement who better! His 145 against Geelong was a thing of beauty, but it did come with warning signs. Fremantle's midfield has become so good that Barlow is no longer required at centre bounces. While he continues to rack up the +6's, his disposal and tackle count is well down. There's nothing more I can say, Mr Dream Team isn't a viable option at the moment. I am looking at trading him this week. Having just said that, you should probably hold now.
Honeychurch (24) – When it's not going your way, bad things happen. He's looked brilliant all season, but Honeychurch was always a chance of getting the green vest. That doesn't mean it hurts any less, now there's doubt in our minds come next week. Do we continue to back him in? Even then, 24 as the fresh man in a winning side during the final 40 minutes Headaches everywhere…
Sloane (59) – Can we just all be allowed to pick a safe premium?! This was his lowest score since Round 3 2012 (Rory has played 44 games since then) after starting the season with three tons. It's hard to know where to look when making your trades these days, this just rubs salt into the gaping wounds.
Lumumba (51) – Welcome back Heritier, we didn't miss you. Surely this is the last week I have to consider him relevant! Moving on…
Whitfield (50) – When you rely on uncontested ball, this can happen. He won't pick up his consistency for a year or two, I'd avoid him for now. Future fantasy superstar…
Malceski (44) – So, who picked Malceski? Didn't think anyone would answer yes, even if you did the embarrassment would be too much to make public. Not really sure what to say, move him on and don't look back.
Martin (31) – Sometimes, life sucks. This is one of those times. Put the lighters away Martin owners, there are other reasons to live (Like Game of Thrones). I must admit, there's not much else that could give you faith after trading Jack in. Just know it wasn't your fault. Remember the drill guys, not too much love (but just enough). Most importantly DO NOT enter their personal space, just look what Clarko did after a tough league loss. Don't let yourself be that Port fan…
Roughead (41) – Hopefully you played that bloke with Roughead this week, you've got away with it!
Heeney (17) – My RDT was the shining light for me leading into Saturday night, but Heeney made sure the joy wouldn't last long. I'm guessing not many had him in Fantasy, if you did just remember that Cersei's reign is almost up. What a time to be alive!
Rockliff (66) – I didn't actually see this game, can someone fill me in. Did Rocky play forward? Either way, I'm drooling everywhere… He is going to be a bloody bargain!
Johnson (49) – Speaking of bargains, if Johnson can recover from whatever is bothering him then he could be the best of all time. He remains one of the most powerful scoring Fantasy midfielders, and is now under $500k and plummeting. Winter is coming. That was irrelevant and just begging GOT, I apologise. It's all I can think about on Sunday night!
Walker (43) – Westhoff V 2.0. If your name isn't Buddy Franklin and you're a key forward, you're not fantasy relevant in my view. That's the end of that argument.
The Mark Stevens
It was only a matter of time before the video review system came under scrutiny. Again. I hope I haven't seen this one wrong (forgive me if I have) but at a crucial stage of Saturday night's game between Freo and Sydney, there was a review to see if the ball had hit the post or not. In my opinion, the ball came of Michael Johnson's leg and back into play for Tippet to score a goal. After just one look at the vision, the 'reviewer' (what do we call them in AFL?) confirmed the behind. I'd like another look at the vision in slow motion, but I guess that won't be possible now. There was a few other calls this weekend labelled 'inconclusive'. That should not be a thing! We will never know if the right calls have been made or not, but if it was incorrect it's a howler of the highest order and that is exactly what we're trying to wipe out with this half arsed system. Spend the money on it or toss it!
Even though it was another horror week for most, there are some blokes out there actually putting in some effort. Here are this weeks nominations…
Goldstein – If you were gutsy enough to back in Goldy in Round 1, massive kudos. Get him the stubby! Well deserving of your votes.
Lewis – OINK. When our teams were a rabble and needed a hero, Lewis stepped up yet again. His rise to piggery has been enormous, worthy of a vote for saving my  (and many others) bacon.
Cripps – Wowzer. I backed Cripps on the ground last week, if only he pumped this out against Essendon! He was the third highest scorer this round, I need to say no more. Must win the stubby.
Heppell – One player who showed true ANZAC spirit is Hepp. He was everywhere on Saturday in a losing cause, what a pick!
Smith – One for the draft purists. Isaac Smith had a field day, his 150 would have decided a huge amount of match-ups. The only 150 of the round!
This Game Sh*ts me
I just… I can't… I won't… *breaks down*
I can't really remember such popular players dishing up such woeful scores. We try to convince ourselves as much as possible that everyone is suffering the same fate, but that doesn't make things any easier. The fact is when players like Barlow and Neale dish up 80 between them, your Round is over before it's even started. Forget the good work of your other 20 players (or in my case, I could scrape 10) scores like that are completely devastating. Injuries are one thing, but when the players you backed in let you down it's almost personal! Those who suffered will now spend weeks trying to patch up the mess created by so few, and that's why this game sh*ts me.
The Other Bits and Pieces
*Know your walls*
So… Didn't score many this week. My defence was lucky to average 50. I had more players score 48 or under than I did score a ton, yeah that happened. I'd happily leave it at that to be honest. Fine, 1833. Not much happened in 1833. All I know is that not only was there wars, the year started on a Tuesday. Need I say anymore? I think this week is one where we just have to grit it out and back our players to come good. If role is the issue, then make those players a priority to dump! I'd say let's hope for a better week in Round 5, but if it's worse whatever I say here would be irrelevant anyway. I'd be boarding a flight to Mexico.
If you enjoy seeing me rage and want a punching bag when sh*t goes tits up, follow me on twitter@MattCraigDT. My views are honest, possibly helpful and occasionally entertaining! Hit me up with your weekly Golden Stubby nominations, and mainly what gave you the sh*ts! I value everyone's opinion.