The Friday Scramble: Round 4
After only three weeks we have had a heap of injuries that we have had to trade around and on top of that we have the regular revolving door of rookies at the selection table! Before you head along to Dawn Service tomorrow, you need to be scrambling for your teams tonight!!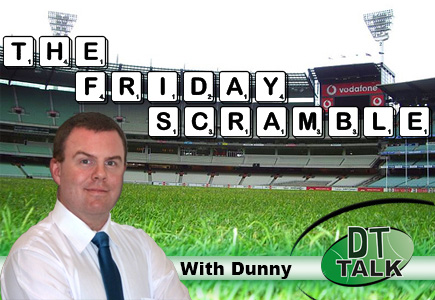 Umm.. ok, so who upset the Fantasy Gods this week?  This game is supposed to be simple at this time of year, get the right rookies, watch them appreciate and then cash them in and upgrade your other players.  We aren't supposed to be using trades on this many injuries at this time of the year!  Well, there is no use us whinging about it, we just need to get in, get dirty and fix up our teams.  Hopefully I can give you a few hints on what to do with your sides this week.  So let's jump in and start looking at the big issues.
Bartel Me What To Do 
Wow, that wasn't good seeing Jimmy Bartel go down in the first quarter on Sunday.  The bigger issue for AFL Fantasy coaches is the fact that he scored only 8 points which caused him to drop nearly $50k.  Thankfully for those that have him in RDT and SC he hasn't changed in price due to missing round 2.
Obviously the player you go to will be highly impacted the players you have already.  In RDT you can get pretty much anyone you want as he is currently the highest priced forward, my recommendations would be Swan (but you already have him right?), Gray, Martin. After that I would certainly look at Buddy, he hasn't had a massive start to the season on the field but is averaging 99.  Zorko would be a bit of a unique in your side, he has Mid eligibility and is averaging 90 currently, but that will be interesting to see how he goes when Rocky comes back.  The other option you have to make a bit of cash is to go down to The Bont and this would make you about $170k to use elsewhere.
In AFL Fantasy his price dropped to $511k.  Options around that price would include Goddard (+8k) Dusty (+11k), Buddy (+16k), Zorko (-18k). Or once again you could go all the way down to The Bont which woule see you gain 64k in cash.
So there are a few options there.  With Buddy just beware that he plays Freo in Perth this week and may not go huge for you.  And also consider the impact that Zorko gets from the return of Rocky.  Obviously I am assuming you all have Swan and if you were one of the ones that traded out Dusty after round one, perhaps this is the chance to get him back in.
I'm out of Wines!
After playing every game since his debut Ollie Wines now misses his first ever game. He will be out for at least 4 weeks so he must be traded.  The difference with Ollie over Bartel is that he went down in the last quarter so he had scored 80 DT points already and only dropped by $1k in AFL Fantasy.  As for players to trade him for, once again with unlimited cash, go for whoever, but those around his price that interest me would be …
In RDT Goddard (+200), Boak (-12,400), Dangerfield (-12,900), Gray (+8,800), Stanton (+11,500) and Hannebery (+13,200).
In AFL Fantasy Swan (-2k), Beams (-4k), Gray (-1k), Parker (+1k) or Fyfe (+24k)
With both of these guys there are plenty of options. These are just a few of the popular ones.
Rookie Watch
I won't go into too much detail here as I am sure that you are all religiously reading Jeppa's Juniors.
The updates from team news is that of course Ciaran Byrne  is out for 2-3 with a Hammy injury now. Hopefully you didn't pull the trigger and get him in last week.  Blaine Boekhorst has been named for his first game for the blues.  He isn't quite a rookie, but Patrick Karnezis has also been dropped.  Andrew Phillips has also been dropped from the Giants.
From Saturday night's game, both Jed Anderson and Brendon Ah Chee  have been omitted.  On Sunday we see Matt Crouch  come in for Adelaide (he absolutely smashed it in the SANFL last week with 28 touches, 4 marks and 3 tackles) and we also see Brett Goodes hold his spot for now in the squad.  Check tomorrow afternoon to see if he makes the cut.
Selection News
Possibly the biggest news at the selection table is the return of ROCKY!  Just two weeks after we were told he would be out for at least a month.  If you traded him out or don't have him I wouldn't be too stressed at the moment.  His BE in all forms of the game is massive.  Now whilst we know he can go massive I am not expecting this to happen in his first week back.  What we should see over the coming weeks is that he will drop in price to the point that he should be fairly affordable.  His low Round 1 score will be in his pricing in SC and RDT for at least another two weeks.
Other selection news saw Leuenberger recalled.  So if you held him you are ok, but this will also have a small impact on Stefan Martin but he has scored very well with Berger in the team before so don't be too worried.  The other main change was that Cornes comes back in and will surely go to one of either Lewis or Hodge.
New Functionality in RDT and SC
You may have noticed little coloured notes popping up next to your players in RDT and SC.  If you click on them you will not only go straight to the profile stats for the player you will also see the latest player notes for that player.  As news breaks about them that is where it will be reported, there will also be any other pertinent information about them.
Things To Remember
Rookies will be in and out. In the limited trade games don't go jumping on and off each week.
Don't expect a 150 from Rocky first week back….  130 is more realistic!  But seriously, don't expect too much.
Friday Social Media is critical.  Last week it was a hot topic on the Friday that The Bont would be a late out.  Low and behold he was a late out.  However, having said that, check the sources of the rumours.  Of course DT Talk and all the writers will tweet whatever we hear if we believe it is credible.
So far we have had to do so many trades due to injuries, I don't recall a start of a season like it.  But don't worry, you aren't the only one.  There are a heap of other fantasy coaches that are in exactly the same boat that you have been in, so just grab a bucket and start bailing out the water like the rest of us!  There has been talk also of culling rookies early as they have gone up a fair bit after just a couple of weeks.  I will advise against this strongly! Firstly, Jeppa will tell us when we should look to trade them out, but really just keep an eye on the BE's and when they are within about 15-20 points of the players average, it is time for them to go.
Lastly I just want to jump away from DT for a second and recommend to all of you that if you are able to, get yourself along to Dawn Service in your local area tomorrow morning for the 100th anniversary of Anzac Day.  It may be cold and in some places wet, but it will be something that you will look back on and be glad you went.
Lest We Forget