Round 4 Lockout Chat
Discuss your round four teams. Proudly brought to you by moneyball.com.au.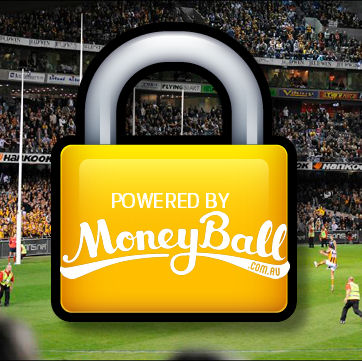 Discuss round four here.
Did you have a crack at Moneyball last weekend? The all-new daily fantasy wagering game went great guns with plenty of members of the DT Talk community getting involved.
It's very simple and easy to play.
Join one of the many leagues/groups on offer with varying entry fees – we have a few DT Talk ones including our 200 person MEGA SATURDAY comp for $5 and 100 person SUNDAY FUNDAY for $10 – and then pick your team of nine players (2 FWD, 1 RUC, 4 MID, 2 BAC). Real cash prizes will be distributed to the highest ranking teams using Moneyball's unique points scoring system.
Keep it pretty simple. Look for value. Prices will change after round four so think about some of the cheaper guys who did well last week. Sort by last week's scores when selecting your team to get a feel for who scored well below their asking price last round.
We have set up a Moneyball Facebook group that we hope to build over the next few weeks. Join it by clicking here.
Click here to sign up and see what all of the fuss is about. 18+ only and please gamble responsibly.
ROUND 4 CONTESTS: Massive news. We have a 200 person contest for MEGA SATURDAY. $5 entry, top 30 get paid out. On SUNDAY FUNDAY there is a $10 comp with 100 places. Get involved by clicking here.