Jeppa's Juniors – Round 3
Another week of footy action sees many 'juniors' worthy of a mention. In this article, Jeppa takes a look at all the keepers at this stage of the season as well as a few newcomers bursting onto the scene. There's plenty to talk about.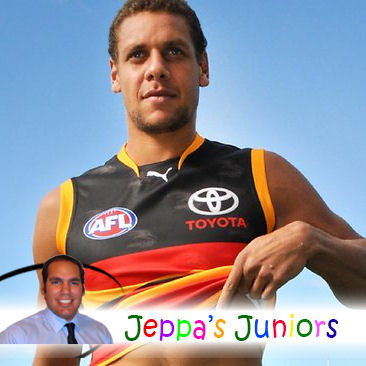 With popular premo options dropping like flies, we can all be thankful for the output that most rookies have provided us early on. At this stage of the game, it is important to hang on to those that are making an impression on the footy field. Playing rookies averaging over a mere 50 Fantasy points will still provide healthy dividends over the next couple of weeks so be patient even if you think you can make an early upgrade.
For those coaches still looking to downgrade, a few juicy options have become available this week.
Three Gamers
Cameron Ellis-Yolmen (Mid. $232,000, -36 be AF. $202,600, -75 be DT) take a bow! With Scott Thompson back in for the Crows it was fair to assume that the young midfielder's output would drop this week but he seemed to enjoy the veteran's presence. Against the Dees, Ellis-Yolmen's inside midfield role did not change and he finished with 20 possessions (including 8 clearances), 7 tackles, 2 fantastic goals and 94 Fantasy points. With his confidence sky high and back to back scores in the 90's, 'CEY' is a must have so if you don't own him, trade him in immediately. He faces an injury depleted Bulldogs side this week.
The surprise of the round came from Touk Miller (Mid. $244,000, 5 be AF. $170,700, -40 be DT). After underwhelming scores of 44 and 42 in the first two weeks, Miller rewarded his loyal owners with 94 Fantasy points in Round 3. In slippery conditions at Skilled Stadium the pocket dynamo racked up 12 kicks, 6 handballs, 6 marks, 5 tackles and 1 goal. Please note that Miller's role for Gold Coast isn't Fantasy friendly and I suspect that this performance will be a once off. Fingers crossed he proves me wrong.
Tall defender Michael Talia (Def. $235,000, -7 be AF. $244,000, 7 be DT) got plenty of the ball against the Hawks, which makes sense given how often it was coming into the Bulldogs defensive 50. Credit where credit is due, Talia did it tough for his 27 possessions and 90 Fantasy points and he was one of the best players for the Dogs on the day. His job security is now as high as it's ever been with Morris out injured for 8 weeks. Aaron Vandenberg (Mid. $212,000, -15 be AF. $194,000, -22 be DT) also battled hard for his 75 Fantasy points. He's such an old school footballer. Vandenberg aint blessed with speed or an abundance of skill but he makes up for it with determination and vigor. He had 10 possessions to quarter time but only finished with 19 for the game. I reckon it is only a matter of time before he cracks the Fantasy ton.
Isaac Heeney (Mid. $315,000, 28 be AF. $206,800, -18 DT) is quickly becoming my favourite 'junior'. He was a class above in tough conditions against the Giants, kicking 4 goals and scoring 65 Fantasy points from 73% time on ground. Heeney is this week's NAB Rising Star and a favourite to take out the accolade at season end. Adam Oxley (Def. $228,000, -29 be AF. $193,300, -85 be DT) and Kamdyn McIntosh (Def. $272,000, -25 be AF. $220,200, -51 DT) keep on keeping on with scores of 90 and 79 respectively. Both defenders should be starting on your field this week, no question.
Dom Sheed (Mid. $266,000, 17 be AF. $258,900, 3 be DT) was a positive for the Eagles on a dark day. The up and coming midfielder was one of the Eagles best after amassing 20 possessions (85% efficiency), 6 marks, 4 tackles and 74 Fantasy points. Unless Sheed takes his game to a new level by kicking goals and winning the contested ball consistently, I reckon this is as good as it's gona get from him. Young Cory Gregson (Mid. $191,000, -5 be AF. $157,700, -41 be DT) was also named in the bests for his side. Even though he's small in stature, Gregson doesn't shy away from the contest and he looks to have made a name for himself in the forward pocket/half forward at Geelong. He had 13 kicks, 8 handballs, 2 marks, 2 goals and 71 Fantasy points versus the Suns on the weekend and his job security moves up a couple of ladder rungs with Bartel and Stokes out injured.
Quieter games from Adam Saad, 65 (Def/Mid. $219,000, -15 be AF. $172,100, -48 be DT), Mitch Clark, 64 (Fwd. $229,000, 7 be AF. $206,500, 16 DT), Jackson Ramsay, 64 (Def. $231,000, 16 be AF. $232,000, 11 be DT), Darcy Lang, 64 (Mid. $243,000, 34 be AF. $257,400, 44 be DT), Nathan Van Berlo, 63 (Mid. $329,000, 29 be AF. $276,800, -3 be DT), Cameron McCarthy, 62 (Fwd. $228,000, -4 be AF. $217,700, -6 be DT), Tory Dickson, 61 (Fwd. $292,000, 11 be AF. $291,900, 3 be DT), Christian Salem, 60 (Fwd. $258,000, 8 be AF. $234,900, -13 be DT), Mitch Honeychurch, 59 (Fwd. $259,000, 6 be AF. $264,000, 8 be DT), Ben Newton, 59 (Mid. $270,000, 18 be AF. $268,700, 39 be DT), Jack Sinclair, 56 (Mid. $177,000, -8 be AF. $173,700, -23 be DT), Jarrod Garlett, 55 (Mid. $238,000, 35 be AF. $172,000, -15 be DT), Jesse Hogan, 51 (Fwd. $274,000, 13 be AF. $201,600, -27 be DT), Ahmed Saad, 50 (Fwd. $186,000, 15 be AF. $168,500, -10 be DT) and Jackson Nelson, 44 (Mid. $201,000, 8 be AF. $161,000, -18 be DT) shouldn't have their owners worried. They are all playing an important role on the field and are still earning decent coin.
It was more green vests for Angus Brayshaw, 65 (Mid. $303,000, 46 be AF. $239,200, 27 be DT), Nakia Cockatoo, 45 (Mid. $232,000, 57 be AF. $176,600, 40 be DT), Brett Goodes, 26 (Def. $205,000, 44 be AF. $250,100, 97 be DT) and Jed Anderson, 14 (Mid. $205,000, 34 be AF. $171,100, 21 be DT). Fortunately, Brayshaw came on early in the piece for the injured Sam Frost and managed 65 Fantasy points from just 48% time on ground. That's enough to keep him. Get rid of Goodes and Cockatoo if you can but I have a soft spot for Anderson and I'd back him in for one more week.
Unfortunately, Jaden McGrath, 51 (Fwd. $182,000, 12 be AF. $149,800, 8 be DT) has suffered a serious foot injury and will be out for 3 months. If you own McGrath, trade him out immediately. Jack Lonie, 33 (Fwd. $210,000, 21 be AF. $154,100, -21 be DT) had a knee strain on Friday night against the Pies but there is no structural damage and he could line up this week.
Two Gamers
Patrick Cripps (Mid. $205,000, -8 be AF. $205,100, -20 be DT) improved out of sight last weekend. Fantasy aside, he looked confident, made excellent decisions and most importantly was able to keep up with the pace of the game for the full four quarters. He was named in the bests for the Blues after collecting 22 possessions (15 contested), 2 marks, 4 tackles and 81 Fantasy points. Against a young St Kilda line up this week, I'm going to start him on my field. Get around him!
Mason Wood (Fwd. $264,000, 27 be AF. $248,900, 24 be DT) has done a mountain of work over the summer and looks to be a big improver this season as a result. He was a key tall as a junior but he's been used as a flanker similar to Jack Gunston at North Melbourne. With a license to get up the ground, Wood racked up 19 possessions, 5 marks, 4 tackles, 1 goal and 82 Fantasy points against a very good team in Port Adelaide. At his price though, I'm not prepared to bring him in.
Seb Tape, 45 (Def. $163,000, 9 be AF. $163,700, 4 be DT), Jay Kennedy-Harris, 36 (Fwd. $244,000, 45 be AF. $243,100, 49 be DT) and Daniel Gorringe, 21 (Ruc. $269,000, 58 be AF. $234,400, 41 be DT) don't score high enough to warrant selection. Stay away from these blokes.
Jason Ashby, 25 (Def. $201,000, 46 be AF. $249,500, 81 be DT), Nathan Wilson, 21 (Def. $219,000, 51 be AF. $255,900, 77 be DT) and Liam Duggan, 12 (Mid. $229,000, 75 be AF. $153,800, 62 be DT) copped the green vest in consecutive weeks for their clubs. Nathan Wright, 20 (Def. $238,000, 50 be AF. $262,100, 68 be DT) also saw green in Round 3. I still like Ashby as a Fantasy option but not this week with a break even of 46. He should impress when he gets a full game.
One Gamers
After missing selection in Rounds 1 and 2, Robbie Tarrant (Fwd. $166,000, -10 be AF. $172,200 DT) didn't take his chance for granted. The forward turned defender played aggressively on Westhoff, held him goalless while gathering the ball 21 times and scoring 80 Fantasy points himself. Playing a key defender role usually indicates slim Fantasy returns and I'm reluctant to pick him a as result.
A forward I am a fan of is Nathan Krakouer (Fwd/Mid. $157,000, 4 be AF. $108,900 DT). The born again AFL footballer can thank his leadership group at Port who swayed coach Ken Hinkley to play him. Krakouer was used in the backline and he looked very composed with the ball in hand. He finished with 17 possessions (83% efficiency), 2 marks, 3 tackles and 60 Fantasy points. With Impey out for another 3 weeks, this dual positions forward/mid is very likely to serve you well.
Jake Kelly (Def. $140,000, -6 be AF. $124,600 DT) is another player that captured plenty of attention in Round 3. The hard working defender came in for the injured Kyle Cheney and he played a tough brand of footy that coach Phil Walsh would have loved. Kelly set a record for tackles by any AFL debutant, laying 10! He also had 7 possessions, 3 marks and 65 Fantasy points. As good as Kelly was, I'd pick Krakouer and Ciaran Byrne ahead of him.
Brendan Whitecross (Def. $253,000, 48 be AF. $221,800 DT) is going to need a few weeks before he hits top form. Round 3 was his first game in 19 months and it definitely showed. The Hawks dominated the Dogs all over the ground but Whitecross could still only manage 41 Fantasy points. Another game this week will do him wonders so lets wait and see what happens.
Barely a rookie priced player, Jackson Thurlow (Mid. $253,000, 10 be AF. $282,200 DT) was sublime against the Suns. He was in absolutely everything playing between the midfield and forward 50 and he finished with 90 Fantasy points. As good as Thurlow was, I still wouldn't pick him up. He's too expense for a player that is likely to average between 60 and 70. Billy Hartung, 84 (Mid. $254,000, 15 be AF. $258,800 DT) and Aaron Young, 82 (Fwd/Mid. $253,000, 15 be AF. $258,800 DT) also fall into this category. Both had great games last weekend but their green vest history is a big deterrent.
Notable mentions to Josh Walker, 64 (Fwd. $246,000, 29 be AF. $278,800 DT), Dennis Armfield 54 (Fwd/Mid. $183,000, 16 be AF. $184,100 DT), Harris Andrews, 52 (Def. $153,000, 8 be AF. $117,900 DT), Lukas Webb 42 (Fwd. $217,000, 37 be AF. $117,900 DT) and ruckman Andrew Phillips 35 (Ruc. $151,000, 20 be AF. $182,900 DT). After an average first outing as far as Fantasy output goes, we'll need to see what these blokes do in their second game before making a determination. For now, I'd hold fire. It would also be sensible to avoid Patrick McCartin, 36 (Fwd. $292,000, 65 be AF. $222,900 DT), Corey Gault, 36 (Fwd. $246,000, 51 be AF. $241,000 DT) and Brent Staker, 27 (Fwd. $235,000, 53 be AF. $209,700 DT). They're just too pricey to justify selection at this stage of the game. Staker should improve however with time.
Ciaran Byrne, 25 (Def/Fwd. $121,000, 19 be AF. $124,600 DT), Patrick Karnezis, 24 (Fwd. $190,000, 42 be AF. $140,200 DT) and Brendon Ah Chee, 20 (Mid. $120,000, 25 be AF. $124,600 DT) were our green vested one gamers in Round 3. Byrne was dynamic when he came on just before three quarter time and I suspect he'll get plenty more opportunities in the short term with Yarran suspended and Malthouse full of praise (source). The Irishman's dual position status as a defender/forward will be very, very handy and he'll score at a decent click. Byrne is my number one recommended downgrade option this week!
Please note that if I haven't mentioned a rookie priced player above, it means I don't rate them. Remember rooks are classified as players under $250,000 in either Fantasy or Dreamteam.
Keep Your Eye On
Brant Colledge (Mid. $179,000, 33 be AF. $187,400 DT) – After last weekend's poor display, coach Adam Simpson will ring the changes at West Coast and Colledge is a certainty to come in. The big-bodied midfielder has averaged a mammoth 35 possessions and 150 AFL Fantasy points in his past three WAFL matches! I can't guarantee that Colledge will avoid the green vest but those who don't mind a punt should consider bringing him in.
Trent Dumont (Mid. $120,000, 26 be AF. $124,600 DT) – Injuries at North will open the door for Dumont to make his debut this weekend. The onballer is physically ready for the AFL and the Roos have groomed him to be a combo inside, outside midfielder. Dumont had 25 possessions, 11 tackles and 99 Fantasy points in the VFL last weekend so consider him if he's named to play this Thursday night. He's a likely green vest recipient in his week though.
Tom Barrass (Def. $120,000, 21 be AF. $124,600 DT) – Injuries create opportunity and the Eagles appear set to bring in young Tom Barrass to play at full back this weekend. After an injury-interrupted preseason, Barrass played his first league game in the WAFL on the weekend and he was named in the bests for the Royals in that match. He's still very raw and I suspect he'll only average around 50 Fantasy points but is a cheap option nonetheless.
After good performances in the VFL last weekend, the previously mentioned Blaine Boekhorst (Mid. $243,000, 42 be AF. $132,900 DT) and Darcy Moore (Def/Fwd. $274,000, 48 be AF. $182,900 DT) are in the mix to make their debuts this weekend also.
Feel free to ask me a question below and don't forget to add me on Twitter @JeppaDT for all things Fantasy and more. Happy trading!