Roy's Trade Talk – Round 4
Roy suggest his best options for Bartel and answers your tweets in round four's Trade Talk.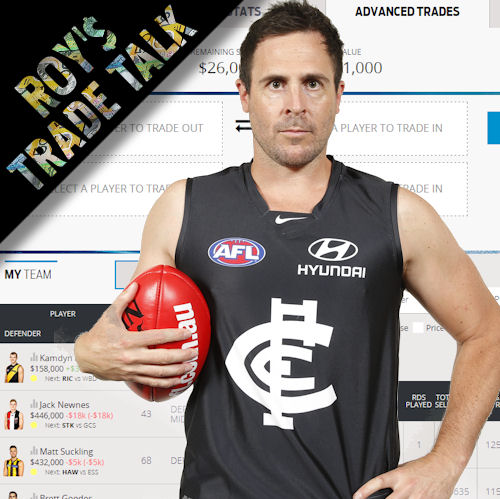 Injuries continue to force the hands of many coaches, with the biggest headache so far this week caused by Jimmy Bartel going down with a knee injury. The fact he was only on 8, cause a $49K price drop is just salt in the wound. The form , or lack thereof of some players continues to be an issue, but giving these guys the chop has been difficult with so many popular big names succumbing to forced trade injuries.
INJURY NEWS | Jimmy Bartel will miss two months, requiring surgery on a torn medial ligament in his knee @SENfooty

— SEN 1116 (@1116sen) April 21, 2015
The best Bartel replacements (assuming you have Swanny #Oink):
Premo: Luke Dahlhaus (FWD, $527,000) is only owned by 3% of the competition and provides the perfect straight swap for Jimmy. He has had a great start to the season, and seems to be embracing the new game plan/role with an average of 105. He currently has a break even of 77 which should be easily attainable given he hasn't dropped under 100 yet this season.
Mid Pricer: Assuming he plays this week, The Bont, Marcus Bontempelli (FWD/MID, $447,000) is the perfect trade if you need to make a little bit of cash for a patch up trade somewhere else on the ground. Although he misses last week, he was apparently close to playing so he will need to be tracked closely, but he is not a player you want to miss out on. He is averaging 119 over his first two games and tackles like a beast. He has a break even of 24 and will likely rise over 30K after he next game.
I have picked out a few Twitter question from my @RoyDT account. They will hopefully cover a lot of the questions I am receiving:
@DannyAFL informed me that Daniel Rich said Rocky (MID,$737,000) might return this week…
Even if he does, it is not worth getting him in this week. Not only will he still very sore, but an injury of his extent will mean that flying could still be an issue for some weeks. He has a break even of 175, and although that is an easy feat for 'fit Rocky', we need to give him a few weeks before regaining the C mantle in our team. Can't wait to have him back though, my team is rabble without him.
@Matty_pham wants to know if it is time to say goodbye to Goodes
Despite a break even of just 44 for Brett Goodes (DEF, $205,000) the writing is on the wall for him to be dropped. He has worn the vest two weeks in a row, and last week the Dogs were under-manned and he still donned the green. In that game, he played quite significant game time and still only managed a disappointing 26 points, so the chances of him making much money is unlikely anyway. If a downgrade to someone like Ciaran Byrne (DEF/FWD, $121,000) gets you enough money to make a good upgrade, then do it.
@DarthNoctis wants to know my thoughts on Jack Martin
Athough he is an awkward price, I like the idea of filling F6 with Martin (FWD, $349,000) until he maxes out in price and provides the opportunity for an easy upgrade. Has a break even of just nine and he is starting to live up to his much hyped potential. With many coaches running the gauntlet with inconsistent scores from cheap forward line options, Martins scores of 68, 81 and 113 are looking good and certainly moving in the right direction. If a trade from Bartel to Martin can allow you to upgrade to a miss firing mid pricer to a high scoring premo, it might be worth the risk. Having said this, his price will stop me making the move, despite the temptation.
@ChopperDT Said sucked in for missing the boat with Hodgey
Unfortunately Chop is correct, the boat has certainly left the port as Luke Hodge (DEF/MID, $597,000) has increased 47K while averaging a massive 128. Despite this though, he has a BE of just 59 and is a walk-up to be the highest scoring defender at the end of the year. He looks really fit and you can't help but feel all the worry about him missing games was over thinking things… as we have seen, a lot of premiums have missed games already while he has been pumping out 159s. No doubt he will cop a lot of attention this week vs the Power, and of course miss a game or two, but don't hesitate to grab him, dead set champion!

Click here to subscribe on iTunes.
My one word yes/no answers to popular questions were a hit last week, so I'll have another go!
Will Rockliff play this week? No
Will Hodgey run around without an opponent again this year? No
Is Jobe Watson a good selection? Yes
Should we trade Kolo? Yes
Should the sub rule go? Hell YES (sorry, but it deserves more than one word)
Should Hibberd be traded? No
Bring Whitecross straight in? No
Thurlow worth a look? Yes
Will Bont play this week? Yes
Is Lewis good enough to earn Pig status? Yes
Cheers guys, hit me up on Twitter @RoyDT for all things Fantasy.
ROUND 4 CONTESTS: Massive news. We have a 200 person contest for MEGA SATURDAY. $5 entry, top 30 get paid out. On SUNDAY FUNDAY there is a $10 comp with 100 places. Get involved by clicking here.