Daniel's Dilemma: Raging Rookies
For some coaches this week, the ever elusive 2000 point barrier became a reality! However, we are thrown in the pressure cooker as Round 4 looms… read on.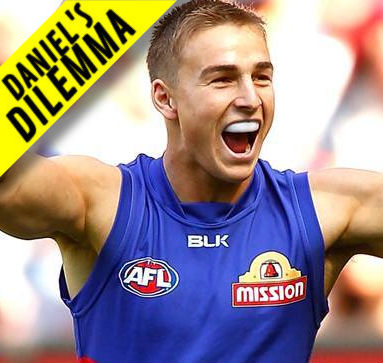 Welcome back to Daniel's Dilemma! Another week, another dilemma and this week we hit Fantasy gold! Any score with a two in the front of it would have been appreciated by coaches worldwide, considering the carnage we faced throughout Round 3 prevented us from achieving much higher results!
Unfortunately, key Fantasy players succumbed to injury which means that the two trades gifted to us each week need to be utilised as efficiently as possible.
Jimmy Bartel ($511,000) would have provoked the majority of Fantasy headaches this week, as he crawled his way to a depressing 8 before a cringe worthy collision with Michael Rischitelli put him in the Red vest and out on the sidelines for at least 6-8 weeks.
Mitch Wallis ($352,000) and Ollie Wines ($550,000) followed suit, with the pair out for at least month before returning to field. This is extremely unfortunate for the coaches that owned them, as both were unique picks that scored impressively in the first two rounds. (Wallis, Wines)
These incidents obviously mean forced trades, due to the severity of the actual injury. This may make decisions easier this week, but it halts progress in developing your team into a team of stars come the end of the year. Patching up those dodgy mid-prices (cough*KK*cough) or underperforming premiums (cough*Parker*cough) becomes even more vital as the year goes on, so make sure you trade carefully in all forms of the game.
Click here for Roy's Trade Talk.
Even though we are faced with injuries aplenty, this is not the only dilemma that we tend to face on a weekly basis. Many coaches still find selecting rookies extremely difficult, with some even taking to Twitter, stating that picking rookies is ''like playing blackjack''.
So without further explanation, this week's article will hopefully help coaches worldwide to determine which rookies to play on the field. With some dodgy headlines and confusing stats that will make you re-read this article like the first question of an exam, it's time to begin the almost impossible task of selecting these young guns!
Defenders:
Without a Doubt
101, 96 and 79 is all I should have to say when discussing Kamdyn McIntosh ($272,000) who has started the year on absolute fire. Without a doubt, he should be starting on your field this week ahead of any other option! Richmond faces Melbourne this week as well….
The Surprise Package
Adam Oxley ($228,000) is a clear candidate for this category. He started the year horrifically, cramping up in front of thousands on a disappointing 25. However, in the last two weeks, Oxley's fortunes has changed with scores of 103 and 90 proving that he is definitely a surprise package ahead of Round 4. Collingwood come up against Essendon in the ANZAC Day match this week, so sit back and watch how he handles the occasion. It wouldn't surprise me if he pumped out 80+…..
Steer Clear
In Round 1, Brett Goodes ($205,000) justified to his owners why we put faith in the matured aged Defender scoring a solidifying 70. However, two vest affected scores in the past two weeks had me thinking otherwise. Steer clear of him this week, because this starting sub business could become a weekly 'Luke Beveridge tactic' very soon.
Midfielders:
Without a Doubt
Cam Ellis-Yolmen ($232,000) has produced some stellar performances in the past two weeks and has really looked at home in a Crows Guernsey. He has played a Fantasy friendly role and this has been proven with scores of 95 and 94. We should be all aware by now that Adelaide has a very handy draw coming up and I can't see his scores drying up anytime soon.
The Surprise Package
He may have had a week off AFL football in Round 2, but Patrick Cripps ($205,000) has made his intentions known to Mick Malthouse after an impressive performance last week in which he scored 81. He had an eye-catching pre-season and his efforts seem to be no flash in the pan. With St.Kilda this week, it wouldn't surprise me if Cripps puts in another master class and racked up 85+ points.
Steer Clear
Aaron Vandenberg ($212,000) has shown considerable talent in the opening stages of his AFL career, however, his efforts haven't transferred into outright positive Fantasy numbers. The Demons do come up against the Tigers on Friday night and his technical prowess might be advantageous to the young midfielder. I would steer clear this week as Ellis-Yolmen and Patrick Cripps are destined to tear it up. No doubt he will rack up his first ton of the year though..
Rucks:
Unfortunately, there are no suitable Fantasy players that are in the Ruck department that even warrant mentioning. However, Andrew Phillips ($151,000) did make his debut this round which is encouraging but not enough for anyone to hastily trade him in as soon as possible.
Forwards:
Without a Doubt
This is where the decision making becomes vital. Most coaches have three relatively decent Fantasy forwards priced under 300k. Mitch Clark ($229,000) Christian Salem ($258,000) and Mitch Honeychurch ($259,000) all seem to be fighting for positions on our ground each week. All of the above players play teams that will give them a run for their money, meaning that you can't expect an easy 80+ score from either of them. However, based on capability and history I believe that Mitch Clark is a certainty for a field position this week. Against the Hawks it was obvious the Clark could match it with the best in the business and when the Cats come up against North Melbourne this week it should be no different. Yes, he had 36 against Freo and a disappointing 64 v Gold Coast but there is light at the end of the tunnel. All of the above players have had one solid week and two below par rounds and the way North played against Port on Saturday night, Clark should be a direct option to goals. He loved playing the Kangaroos back in '09 (Scoring back to back 126's) but 5 year old stats aren't the best for discussing potential scores. It is a risky move but the game may open up late in 4th term meaning that some cheap junk time stats are on the card for the mature aged forward.
The Surprise Package
Next in line for a position on your ground is surely Christian Salem. He comes up against Richmond this week and should roam free considering the tag has been directed at Lumumba recently. If he continues to play the role of half back then Salem should score at least 75+ and this score can be pushed even higher if he goes further up the ground for a sausage roll or two.
Steer Clear
Harshly categorized is Mitch Honeychurch, who comes up against a rampaging Adelaide side this week which inevitably gave Salem the advantage. Honeychurch has scored 69, 81 and a poor 59 against the Hawks last week but the Bulldogs were dominated across the ground and with Dahlhaus the only one reaching 100, you can't expect Honeychurch to follow suit and pump out an impressive score. The Crows seem to strong early on but if I was to try an accurately predict the score of Honeychurch this week, I would say between 68 and 74! Not bad 'aye?
Thank you for returning to Daniel's Dilemma ahead of Round 4. Make sure you follow me on Twitter to keep updated on any #dilemmanews.
Also Jeppa's Juniors should also give you some handy insight on who to select, so make sure you give that a read this week!