The Weekend Wash-Up – Round 3
You'll be hard pressed to find a week with bigger score differentials than the past few days.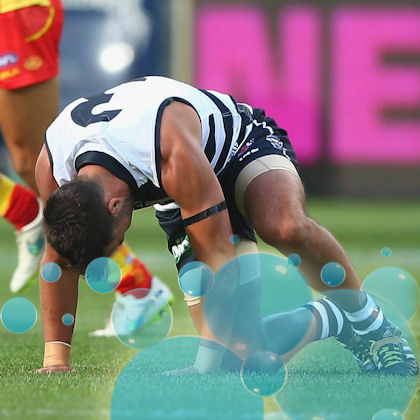 You'll be hard pressed to find a week with bigger score differentials than the past few days. Some will be sitting in their thrones with a comfortable 2200+ after some monster scores from a few of our most popular players. Then there's the rest of us whingers, hard done by due to injuries, vests and generally sh*t picks. Here in this article we group together and look with spite at those 'lucky' pricks. One day we'll have to admit perhaps they've made some smarter calls, BUT TODAY IS NOT THAT DAY! Anyway, it's time for the weekend wash-up…
Legends
Swan (144) – Oink! Most of us enjoyed the original swine's return to the pen, admittedly I wasn't one of them. Role was always the question with regards to Swanny. With Sidebottom, Adams and Greenwood on the sidelines the stars have aligned. It's ANZAC Day next week, I will say no more.
Armitage (143) – Who? The writing was on the wall for a breakout season last year. Armitage is becoming a key midfielder for the Saints, he actually notched a massive 153 last season. He proved again that he has a massive ceiling, and isn't the worst option if you're after a differential. Doesn't go below 80.
Steven (138) – There is always the fear of a tag on Steven, but when he's allowed to roam free he is as damaging as most of the best. I'd suggest the ship has sailed, but if he keeps this scoring up he will become seriously relevant! Great pick by those that backed him in.
Watson (140) – The question here is, was Watson's 2012 season a flash in the pan, or has he been held back over the past 2 seasons with the drug saga? The early evidence suggests the latter may be true, he's well in the mix to be a top 8 mid considering Heppell is now attracting the tags. Great differential.
Sloane (130) – Previously, every time I heard Rory Sloane's name all I could think of was Entourage. Emmanuelle Chriqui may be decent, but Rory is taking things to another level. His consistency, now matched by his ceiling makes him perfect couple material. Get on board.
Ebert (111) – He couldn't, could he? Chew on these stats. Ebert's average in the first 6 games last season. 118, including a massive 152. Sound familiar? His average for the final 16 games on the season, 91.8… You have been warned. Perhaps this is the year he will push on with it, but he has done this before.
Beams (126) – Legend is a big call, in fact I got a huge amount of Golden Stubby nominations for Beamer. Don't get me wrong it's brilliant to see him bouncing back, but he is still averaging 87! This is what we expect from him, more please Dayne!
Roughead (140) – Not really relevant but any bloke who gets 28 possiessions, 21 score involvements and 7 snags deserves a mention. There's always that one guy in your league who owns big Roughie, I just hope you didn't face him this week.
Lewis (152!) – The rise of Lewis has been incredible. He used to be Mr Consistent, notching a solid 90-95 average year in year out. Suddenly last year he started pumping out these 150+ scores out of nowhere, averaging 130 in his last 6. A fluke was the general consensus early this pre-season, but the NAB Challenge set to dispel that theory. I liken it to the Michael Clarke syndrome. Pup had made 18 centuries up until 2011, but had a high score of 168. Once he discovered ground beyond the 150 landmark against India, he proceeded to pump out 4 double hundreds in the same year. Lewis has discovered there is land beyond the 120 mark, and he's enjoying himself to a feast. Fantasy beast, perhaps even pig?
Hodge (159!!) – I didn't get to watch this this match, but I'm guessing we have a new pig sty. I got in the car to hear Hodge had another great game, standard I thought. Had him in my team all pre-season, but got Prince Lumumba instead. Then I heard he got 44 touches, I'll leave the rest to your imagination. I don't think anyone saw this level of beast mode coming, now we're all scrambling to get him in. Do it ASAP!
Neale (162!!!) – SPEAKING OF BEAST MODE. I'd prefer not to talk about my Eagles, but I was more than happy for Neale to slut it up. He was another midpricer I'd stuck with, and this game goes to show why it's always best to back in your pre-season picks. Even so… 162?!?! I'm going to be riding his wave for weeks to come, I'll be interested to see if he can back it up. There's no denying he's a pure ball winner, but you have to credit his 95% disposal efficiency. Gun.
Hill (149) – You won't ever see Hill get an acre to stretch his legs in again. Don't even think about it.
Selwood (137) – Selwood is a safe pick every season and he is getting the business done yet again. Surely it's only a matter of time before he rubs out these shockers and pushes his average past 110. The lack of quality around him makes things hard, beware the constant barrage of tags he will receive. Step up SJ!
Losers
Geary (54) – I don't want to say that I saw this coming… So I'll just say that everyone in their right minds saw this coming. At the end of the day, it's Jarryn Geary. Why do we expect better!
Hibberd (66) – The only reason you'd be picking him is for his supreme consistency. He won't up his average but at least you can rely on him. I should say, you used to be able to rely on him. He didn't enjoy his tag at all, in fact he notched up 38 of his points within 15 minutes. His graph for rest of the game looked like something produced by Nathan Brown.
Walker (49) – The fact that he kicked 3 goals in this game makes for even uglier reading. Key forwards, wet conditions. This is why some fantasy coaches can't have good things. That is unless you started with him, in which case you have every right to call yourself a genius. Just quit while you're ahead.
Shiel (47) – You know what they say, whatever goes up must come down. F**king hard. Shiel is a gun, however he has been too hot for his own good. The fact that he is now right up there on the tag list makes me extremely nervous, I'd be getting an itchy trigger finger if you don't already have Hodge.
Griffen (68) – I hope nobody is still putting up with Griffen's complete ineptitude, it must be a painful experience. I am proud to say I have never owned the attack dog, it's time to put him down.
Parker (61) – What the hell happened here? It sounds like he was played forward, why I'm not completely sure. Did Longmire face him as a unique this week, or is this to become something more regular. Parker is an absolute jet, surely he will smash it against Fremantle next week. It's tough with unlimited trades, but I'd be holding. I still have him in my top 10 mids. Just don't serve this up next week Luke or it's curtains.
Ziebell (7) – We all have our what was I thinking moments. The irony that Ziebell owners even got 7 days of rejoicing before he kamikazed himself is even more painful. What could have been… The fact is when you're taking yourself out hitting an opponents back trying to spoil the ball, questions have to be asked. Fool me once, shame on me. Fool me twice…
Bartel (8) – Now this just gives me the sh*ts. I drafted him in ahead of Swan based on form and role, and Round 1 looked like a sign of things to come for Jimmy. The concussion was unfortunate, but I decided to hold him. What reward did I get for my patience? Glad you asked. A 136 point loss, $70k down the sh*tter and a headache for the next week. Cruel. Let's hope he makes a swift recovery, everyone loves Bartel and he will become a bargain pick up around the Bye rounds.
Goodes (26) – Yes he was the sub again, and no I still haven't figured out what the Doggies are cooking up in the coaches box. To make matters worse he was subbed on during the second quarter. See you later Goodsey, be sure to let the door hit you on the way out.
Anderson (14) – Andersub (Yes that's the best I could come up with) was at it again, only this time he didn't pull a decent score from the wreckage. Many would've had him as an emergency for the Bont… The Bont… Read on.
Stokes (22) – And this is why drafts suck. They are a great concept, but if one of your top picks goes down, pack up your bags and tank it for next season. Ok so Stokes isn't a top pick, but if your draft goes deep into the selection pool then you will currently be considering Guthrie as a replacement. There's always a sense of injustice.
Sheppard (49) – Remember when Brad Sheppard was a thing? Yeah, I can't believe it either.
Kolodjashnij (45) – Remember that time when Kolo was still a thing after lockout… We literally selected him based on the loose word he was moving up onto a wing this season. He has been so woeful that I've learnt to spell his name. That says it all really…
Barlow (55) – This is just one of those moments where you sit back and think… WTF?! Fremantle's midfield had a field day. Neale, Mundy and Fyfe brought their own football's to the game. Barlow however decided to have the weekend off, not what you expect from Mr Dream Team himself. Take a step back for a moment. He was a hero last week belting out 145, and he will be back at it against Sydney this week. Back him in.
The Mark Stevens
How footy has changed over the past few years. 5 years ago we could all enjoy the LIVE free to air coverage from the brilliant commentary crew at Channel 10.  These days we have to put up with Basil and Hamish on a Saturday afternoon, 2 hours delayed for those here in WA. Fantastic. Some of this weekends quotes included; "That is the angriest I have seen Brandan Goddard."  That was as he pointed to his face, before proceeding to jog back to his position. Has Basil not seen his other 249 games? Not to mention the riveting coverage about the commentators favourite movies, not that I give a flying ****. If I wanted to know the cast of Dances with Wolves I'd find out myself. Then there's BT. Travis Cloke has taken a big pack mark. Do you say a) "Huge mark by Travis Cloke!!!!" Or b) "And he stands up and says, MY NAME IS TRAVIS CLOKE!" Obviously B, how else would you wake everyone up after they've been listening to Tim Watson?
There are plenty of deserved winners this week, get voting! Here are your nominees…
Neale – Sure the Hawkers were awesome and are certainties to pick up the stubby this week, but Neale gets my vote. 162 from a risky midpricer? That's unheard of.
Lewis – When Rocky and Ablett went down early, Gotham needed a hero. JL has put his hand up and said "My name is Jordan Lewis, come with me!!!" Sorry, BTisms. Worthy winner if he gets it.
Hodge – If he doesn't surely Hodgey will get it. 200 looked on the cards for a brief moment, but I guess we can settle with 159…
Swan – The original swine (Can OS become a thing?) was back to his pigging ways. 1 vote = 1 slice of bacon at the G next week.
Sloane – Perhaps not just for this week, but those who picked him Round 1 will surely snag him a few votes. What a pick!
This Game Sh*ts me
I have a few bones to pick this week. Firstly, H.Lumumba. I (unlike many) had the luxury trade available to dump him this week. Of course, happens every time. 99% of people that owned him didn't really want him, and nor should they. Take the points and run for the hills, he did it in 1 quarter! Not only do I have to deal with my former spuds picking up their game, injuries are always going to be a nut buster. The simple swap from Swan to Bartel should have been an even contest. The differential this week was enough to change a season. Not only did he get injured he has lost another 50k, making it impossible for me to get Hodge in this week. Top banter all round.
Luxury trades, injuries and their general sh*tness… What else can I think of. Of course, it wouldn't be a week of AFL Fantasy without a club treating us Fantasy coaches with complete ignorance. Marcus Bontempelli. How bloody hard is it to name him out on Friday? There is nothing worse than trading in somebody for a 0. Or is there? Perhaps talking down the rumours, announcing that he is on the plane and going to play the day before takes the cake. "Bontempelli fit to face the Hawks" was the article I recall. Not only does Luke Beveridge vest Goodes, at the airport he came up with "Yes he'll play." Never trust a bloke with dodgy hair kids. And that's why this game sh*ts me.
The Other Bits and Pieces
It was another decent round for me, but far too much could've should've would've. 2032 in AFL Fantasy, while another solid 2024 in RDT has me positioned nicely after 3 rounds. There's not much that summarises this season so far, I guess Luke Beveridge's haircut comes pretty close. I'm guessing this was a much better week for most, hopefully things continue onwards and upwards! Those in pain, I can only hope this has eased things somewhat… If I can be your morphine, then I'm doing my job!
If you enjoy seeing me rage and want a punching bag when sh*t goes tits up, follow me on twitter@MattCraigDT. My views are honest, possibly helpful and occasionally entertaining! Hit me up with your weekly Golden Stubby nominations, and mainly what gave you the sh*ts! I value everyone's opinion.