Jeppa's Juniors – Round 2
This is the week to get your rookie players right! With plenty of data to go by, Jeppa has analysed all of his 'juniors' and makes the big calls on the keepers and the pretenders. A must read!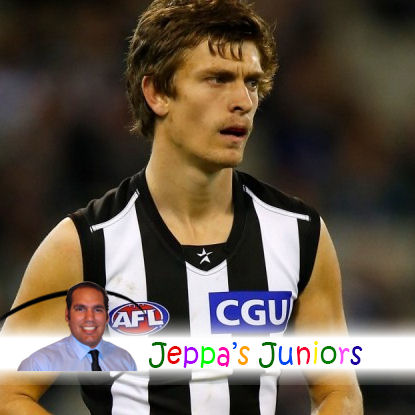 Another week, another bunch of Fantasy problems!
Gary's shoulder is rubbish, Beams is only in second gear, Luey doesn't know what a footy looks like, Pendles has ankle problems and Brodie Smith is a little dazed. Plenty of challenges have raised their ugly heads but thankfully it's pretty good news on the rookie front.
History suggests that this is the round to lock in your rookie selections. After lockout on Friday night the cashcows you don't have will likely become out of reach. It's a case of short-term pain for long-term gain. In my opinion, you're better using at least one trade to bring in a dominant rookie that you may not have in lieu of a sideways trade to chase points! Remember this game is a marathon not a sprint.
Two Gamers
The most unexpected rookie score this week came from Adam Oxley (Def. $177,000, -23 be AF. $124,600, -59 be DT). After just 25 Fantasy points in Round 1, the Pies defender was in everything against the Crows and he finished with a game high 33 possessions, 2 marks, 2 tackles and 103 Fantasy points. His efforts saw him named in the bests for Collingwood and with Ben Sinclair out with injury, Oxley becomes that little bit more important in the Pies back six. Against the Saints this Friday night, I expect a 70+ score so make sure you start him on your field.
A new coach and new game plan has done wonders for Tory Dickson (Fwd. $260,000, -12 be AF. $249,800, -32 be DT). The forward had a day out against a loose checking Tiger outfit amassing 12 kicks, 5 handballs, 5 marks, 3 tackles, 4 sausage rolls and 100 Fantasy points. With the Dogs up and about, plenty of footy will reach Dickson in the Dogs forward 50 but I still wouldn't trade him in, he's just too expensive and I doubt that he can maintain his current form.
Backing up his sensational performance in Round 1, Kamdyn McIntosh (Def. $217,000, -44 be AF. $124,600, -128 DT) was again amongst the best players for Richmond. His gut running on the wing saw him rack up 18 kicks, 6 handballs, 7 marks, 2 tackles, 96 Fantasy points. Fantasy aside, McIntosh had 5 rebounds from defensive 50 and 5 possessions inside 50 against the Dogs, which shows how hard he is working. This cashcow is going to go big so make sure you own him!
Yo, Yo Yolmen! It took him a few years but Cameron Ellis-Yolmen (Mid. $176,000, -30 be AF. $124,600, -75 be DT) arrived last weekend with 95 Fantasy points. Against an undermanned Collingwood, he got his hands on it 24 times but it was his 6 tackles that pleased me more. When a rookie like Ellis-Yolmen has a quiet day but can still tackle, he should still register a minimum of 60. Unfortunately, Crows veteran Scott Thompson was BOG in the SANFL so Ellis-Yolmen may play a lesser role against the Dees this week. Fingers crossed nothing changes so we can enjoy the influx of cash. Nathan Van Berlo (Mid. $309,000, 13 be AF. $231,200, -37 be DT) is another Crow pleasing his owners. The super fit midfielder gets plenty of it and he was crazy good against the Pies with 11 kicks, 4 handballs, 6 marks, 8 tackles, 1 goal and 95 Fantasy points. Note that in his 10 seasons, Van Berlo has averaged over 90 Fantasy points just once. In saying that his job security is excellent and he should consistently score over 70 each week. A low risk pick in my opinion.
Usually I am against picking young key talls but Jesse Hogan (Fwd. $249,000, -8 be AF. $138,900, -85 be DT) is an exception to the rule. The man child was a force in a poor side and he finished with 13 possessions, 8 marks, 3 tackles, 2 goals and 89 Fantasy points on the weekend. Playing alongside Dawesy allows him to push well up the ground and he's taking plenty of marks as a result. To score 89 even when his team got flogged sits well with me! Hogan's teammate, Christian Salem (Fwd. $232,000, -1 be AF. $192,800, -33 be DT) also performed well. His kicking skills from half back are a huge asset to Melbourne and he racked up 22 possessions and 85 Fantasy points in a losing side. I wouldn't put any money on Salem being a consistent performer this season but he'll still earn decent money.
Mitch Honeychurch (Fwd. $230,000, -8 be AF. $225,800, -25 be DT) is another Fantasy forward rising up to the occasion. Honey's work rate is exceptional and his pressure acts all over the ground would please new coach Luke Beveridge. He had 6 tackles against the Tigers to go with 18 possessions, 4 marks, 1 goal and 81 Fantasy points. His efforts saw him win this week's NAB Rising star award and rightly so. Seeing Honeychurch play up the ground and getting amongst it at a few centre bounces should result in scores above 70 most weeks. It's not too late to bring him in! Adam Saad (Def/Mid. $179,000, -25 be AF. $102,900, -85 be DT) is another working hard on the field. The mature age defender was again one of the Suns best after gathering 21 touches, 4 marks, 4 tackles and 80 Fantasy points. As good as he's been, I'm still starting him on my defender bench in fear of a sub 60 score.
Isaac Heeney 69 (Mid. $294,000, 15 be AF. $137,900, -85 DT) and Dom Sheed 68 (Mid. $246,000, 26 be AF. $235,900, 22 be DT) weren't awesome but weren't terrible either. Scores in the high 60's are reasonable for any rook but note that Heeney and Sheed are capable hitting the ton. Heeney is a must for Dreamteam!
Ahmed Saad (Fwd. $175,000, 22 be AF. $153,700, 17 be DT) was well on his way to a big Fantasy score until a heavy head knock saw him subbed out just after half time. The pocket dynamo had 55 Fantasy points from just 48% time on ground and he's well enough to take his place in the Saints 22 this weekend. Saad is still relatively cheap and should do ok against the Pies but he's not for me. The Saints other small forward, Jack Lonie (Fwd. $197,000, 2 be AF. $117,900, -46 be DT) found some confidence against the Suns racking up 15 possessions, 6 marks, 2 tackles, 1 goal and 74 Fantasy points. I'm not sure how long Saad, Lonie and Billings can all play in the same side and I'm worried that Lonie will be one for the green vest very soon. Tread carefully.
Hold fast on Mitch Clark (Fwd. $204,000, 6 be AF. $162,600, -32 DT). The big fella was hardly sighted against the Dockers and he managed just 36 Fantasy points as a result. In Clark's defence, Ross Lyon played his number one key defender in McPharlin on him instead of Hawkins and he had limited minutes on the ball with Rhys Stanley's acquisition into the Cats 22. Clark will destroy this Suns this weekend so don't panic, it's just a bump in the road. Cameron McCarthy (Fwd. $194,000, -14 be AF. $167,600, -48 be DT) continued his reasonable form with 66 Fantasy points against the Dees in Round 2. McCarthy has worked very well beside Jezza Cameron and that will continue in the coming weeks. He's perfect bench cover.
A vestless Jed Anderson (Mid. $203,000, 5 be AF. $151,000, -31 be DT) enjoyed free reign on the big stage against the Bombers but he could only manage 61 Fantasy points, which included 6 tackles. I suspect Clarko will back him in for the short term but it might result in a couple more green vests. Melbourne pair Ben Newton 53 (Mid. $248,000, 6 be AF. $232,800, -21 be DT) and Aaron Vandenberg 56 (Mid. $173,000, -12 be AF. $136,900, -49 be DT) were well down on what is expected from their owners but don't hit the trade button yet. Both have low enough breakevens to justify holding them for a couple more weeks yet.
Touk Miller (Mid. $217,000, 32 be AF. $117,900, -21 be DT) and Jaden McGrath (Fwd. $167,000, 16 be AF. $117,900, -19 be DT) are in danger of being dropped this week. Both youngsters failed to make an impact on field and they scored just 42 and 25 Fantasy points respectively. If they're dropped, trade them.
Notable Round 2 mentions to Jackson Nelson 64 (Mid. $179,000, -6 be AF. $117,900, -50 be DT), Jack Sinclair 64 (Mid. $149,000, -7 be AF. $138,900, -20 be DT), Dean Towers 64 (Fwd. $230,000, 16 be AF. $236,100, 16 be DT), Cory Gregson 58 (Mid. $164,000, 10 be AF. $117,900, -16 be DT), the suspended Billie Smedts 58 (Def. $196,000, 13 be AF. $200,400, 12 be DT), Jackson Ramsay 55 (Def. $214,000, 23 be AF. $214,500, 24 be DT), Darcy Lang 50 (Mid. $243,000, 34 be AF. $257,400, 44 be DT) and Michael Talia 40 (Def. $199,000, 9 be AF. $203,200, 0 be DT) who all played well without racking up a huge Fantasy scores. These players should hold their spot this week.
Clem Smith 18 (Mid. $148,000, 27 be AF. $117,900, 9 be DT) and Jarrod Garlett 56 (Mid. $237,000, 47 be AF. $152,900, 12 be DT) received the green vest for the second week running, which doesn't help their earnings. I suspect Garlett will be spared the vest this weekend given how dangerous he is in front of goals and how poor some of his teammates have performed. Unfortunately, 'my boy' Angus Brayshaw 56 (Mid. $301,000, 54 be AF. $212,900, 6 be DT) also copped the green vest for Melbourne as did the excitement machine Nakia Cockatoo 14 (Mid. $246,000, 70 be AF. $177,900, 46 be DT). Stick with Brayshaw if you own him!
I'm not happy with Brett Goodes' (Def. $211,000, 35 be AF. $267,300, 60 be DT) Kermit and subsequent score of 17. Goodes is not your typical green vest candidate however, either the Bulldogs see it differently or he's on the cusp of being dropped. For those that know me, I'm incredibly stubborn and unless he's omitted, I wont trade him…yet J
One Gamers
Not much to get excited about from the one gamers this week!
Nathan Wright (Def. $246,000, 32 be AF. $262,100 DT) and Jono O'Rourke (Mid. $225,000, 29 be AF. $232,800 DT) were the highest scoring one gamers with 58 and 53 Fantasy points respectively but they hardly deserve a mention given how expensive they are versus their likely returns. O'Rourke could come good at Hawthorn but he'll be a big green vest risk each week. Seb Tape (Def. $149,000, 13 be AF. $163,700 DT) is much cheaper but he scored just 43 against the Saints. I'd avoid these blokes if I were you.
Unfortunately, Simon Tunbridge 34 (Fwd. $145,000, 19 be AF. $153,800 DT), Michael Close 10 (Fwd. $201,000, 56 be AF. $214,500 DT) and popular pick Kane Lambert 23 (Fwd/Mid. $121,000, 21 be AF. $102,900 DT) all sustained injuries in Round 2. Close is out for the season, Tunbridge 3 months and Lambert will miss at least 8 weeks which is a big blow.
Liam Duggan 23 (Mid. $255,000, 63 be AF. $153,800 DT), Nathan Wilson 46 (Def. $228,000, 37 be AF. $153,800 DT), Jason Ashby 34 (Def. $210,000, 40 be AF. $262,100 DT), James Sicily 39 (Fwd. $128,000, 10 be AF. $262,100 DT) and Mason Wood 34 (Def. $253,000, 53 be AF. $262,100 DT) all wore the green vest in their first games for 2015. Ashby looks a player and he's on my radar maybe for Round 4.
Please note that if I haven't mentioned a rookie priced player above, it means I don't rate them. Remember rooks are classified as players under $250,000 in either Fantasy or Dreamteam.
Keep Your Eye On
Ciaran Byrne (Def/Fwd. $120,000, 21 be AF. $124,600 DT) – The axe should swing at Carlton and Byrne deserves a go. The speedy Irishman has had a great preseason and he should average around 60 if he can avoid the green vest. Being a dual position, defender / forward is incredibly handy and he's cheap as chips. Consider Byrne this week if he's named and you're looking to make some cash.
Lachlan Dalgleish (Def. $219,000, 26 be AF. $156,200 DT) – This speedster could find himself into Essendon's 22 this week pending the fitness of Zac Merrett who has a knee complaint. Dalgleish was named as an emergency in Round 2 so he's there abouts but if he gets a go, he's got green vest written all over him. Watchlist worthy for now.
Darcy Moore (Def/Fwd. $274,000, 48 be AF. $182,900 DT) – This son of a gun was best a field for the Pies in a VFL practice match on the weekend. The Pies could use a third tall down in defence and against a young Saints side this Friday night, it seems to be a good initiation for this budding star. Note that Moore is also a dual position defender / forward.
Feel free to ask me a question below and don't forget to add me on Twitter @JeppaDT for all things Fantasy and more. Happy trading!