Roy's Trade Talk – Round 3
Roy had a look through his Twitter feed to answer some of the pressing trade questions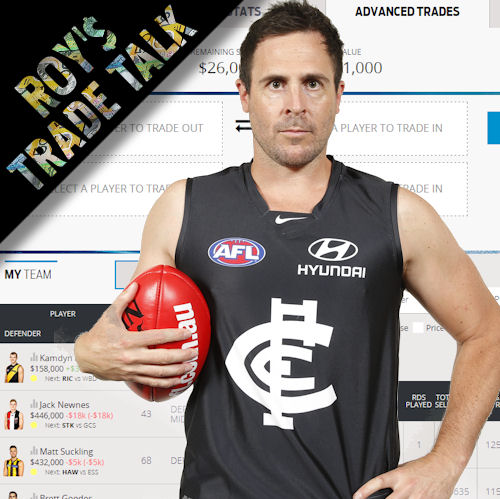 With two trades per week, the first couple of rounds usually provide us the chance to shuffle players to fix up mistakes. Unfortunately, it already feels like round 22 patch ups are dominating our thoughts.
Players like Beams and Ablett should be the last names on our mind, but their ever rising break-evens and no sight of a decent score in the near future demand trade consideration. Also, Ablett has now been ruled out for this week and there are rumours it could be for a little while.
Former premium, and popular mid-priced ruck, Leuenberger is beyond words after the weekends game.
Brodie Smith would have to be in doubt and Pendles is a chance to miss. All this without mentioning the effort of Mitch Clark etc.
Once again, I will use my Twitter feed @RoyDT to drive my focus areas this week.
---
@PepPangallo is sick of Leuenberger and wants to know the best replacement.
After an appalling effort on the weekend which resulted in a score of 33, 65,755 coaches are left scratching their head in regard to what to do with him. I have to remind myself that he is a former premium who has twice averaged over 85, including a personal best 93. He is only 26 and should be in his prime! I understand he is spending time forward and sharing ruck duties, but that is why I was going to be happy with 65/70's. The hard this is, he is still so cheap, it is a big jump to a decent replacement, especially considering our cash cows have barely started beefing up. My best replacement however, requires cash.
Despite an awesome 155 from Todd Goldstein on the weekend, if you can find the cash to upgrade to a premium, the best option is Sam Jacobs (RUC, $550,000). I think he will have the highest average from all the big men at the end of the year and he is currently only owned by just 12% of coaches, so it is a good chance to get a step up on your opposition. He has a two game average of 104 and a BE of 86 leading into his match-up with the Demons who he has scored 110 and 104 against in his last two.
---
@jeddzetzer is having back line issues like most of us and desperate times are calling for desperate measure as cash flow is a big issue so early in the season. He wants to know if Rory Laird is a viable option.
Rory Laird (DEF, $383,000) is coming into his third year at the top level, so a traditional break-out if always on the cards. In his first two years at the Crows he played 18 and 16 games respectively which is impressive in itself for a young player. Over those two years he averaged impressive numbers of 71 on debut and 61 in his second year. In 2014, his averaged took a hit with two green vests including a score of three in round 22 last year. He is quite versatile and plays a variety of roles including the odd tagging job. He has had an amazing start to the year with scores of 91 and 96. The games ahead look good to continue his form with games against the Dees and Dogs with quite a soft draw over the next 7. He has a break-even of 32 and if he can continue to take marks like he has in the first two rounds with 7 and 9, he will well and truly have that covered. Keep in mind the Crows have been winning easily, but that shouldn't change this week.
---
@Jarvis_Blake wants to know who to pick up out of Dahlaus and Tex
I love both of them blake! I really regret not starting with Dahl, and I am happy that Tex has proved me wrong that a key forward like him is not worth looking at with so many DPP's. Let's crunch some numbers and make a call!
Firstly, a common trend here is that the in-form Crows are popping up everywhere in my feed, and it always pays to tread carefully and remember it's a long year. Having said that, Tex Walker (FWD, $486,000) is in beast mode and it's hard to see how he is going to be stopped. In two weeks he has taken 26 marks and had 16 shots on goal while scoring 146 and 110. The most impressive thing has been his willingness to work up the ground to get a +6 just to keep the score ticking over. He has a break-even of just 31 and should take full advantage of playing the Dees, Dogs (despite playing great footy), Suns, Saints and Giants within the next six weeks.
Luke Dahlhaus (FWD, $518,000) has had a great start to the year and he looks to be thriving under the influence of Beverage (Unlike Calvin) and is a great pick as a forward. Once again the Dogs are a team that has started very well but Dahls numbers can't be ignored. He is averaging 108 over the first two games and has a BE of 71. His statistics across the board have been impressive, but I like his improved tackling the most, with 9 and 8. Even in a loss, you have the opportunity to lay tackles. Having said that, the games ahead vs Hawks, Crows and Swans are quite daunting.
With all this considered, I have swapped from my first thought of Dahl, and am now considering getting big Tex in myself!
---
In a word:
Should I trade out Ablett? Yes
Should I trade out Beams? Yes
Is Nic Nat a good option for Leuenberger? Yes
Are you missing Rocky? Yes
Is it too late to get McIntosh? No
Heppell an elite premium? Yes
Do you think Matty Boyd will get DPP? Yes
Can we expect Oxley to average 80+? No