Daniel's Dilemma: Hold or Fold
Luckily, there is a bright fantasy light at the end of the tunnel and Daniel is here to guide you through the highs and lows of Round 2!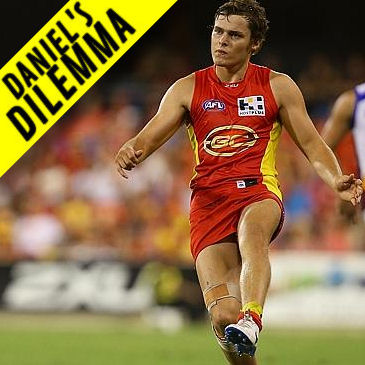 Welcome back to Daniel's Dilemma! Another week, another Dilemma and this week we have witnessed some slight improvement in our Fantasy teams. This can be proved by the evaluation of the par score between coaches. Last week many would have been happy with a score around 1700-1800, where as this week, coaches pushing 1900-2000 would have risen considerably in the overall ranking.
With the introduction of your head-to-head leagues, more fuel was added to the fire as you looked to knock off your mates in the first week of a league type format. Hopefully, you came out with a win!
However, looking at our final scores on Sunday night, many of us wouldn't have been too pleased to see the final outcome. Again, our backs are against the wall and the 2015 Fantasy season isn't becoming as easy as we first thought. Not that it was suppose to be easy, but back to back scores of fewer than 2000 points from the majority of coaches should make us question if our players are actually pulling their weight in terms of Fantasy numbers?
Fortunately, there were no serious injuries from premiums like wast week, meaning that the term 'luxury trade' could be thrown around DT Talk community. However, the choice almost seems too luxurious as there are still many players that need to be cleared out before 2000 becomes more of a reality rather then a dream.
So in saying that, this week I will highlight the five most interesting or dilemma worthy events that occurred throughout the second week of Fantasy football.
1. Lumumba and KK
It was these two again that caused us havoc in our backlines for the second week in a row! Some coaches may have both others may have one, but whatever the case you must look to get rid of them.
Neither had to tag nor was tagged hence the slight improvement of scores. This slight improvement though is not enough for me to even consider keeping them any longer. Both seemed to just go missing throughout their respective games. Lumumba didn't really have the hardest tasks against the GWS, but struggled to get going when the going got tough and
KK was effective when he had the pill, but didn't see anywhere near enough of it to make a healthy contribution in Fantasy.
Verdict: Taylor Hunt ($383,000), Brad Sheppard ($376,000), Kamdyn McIntosh ($217,000) and even Shaun Higgins ($473,000) are the first names to spring to mind regarding replacements. Ditch sooner rather then later, especially KK as he is just destroying your team value. If you have the cash, Kade Simpson ($522,000) or Brodie Smith ($485,000) will be good options.
2. Dayne Beams, the tame Lion
If you don't mark the ball or tackle an opponent as often as you previously did, then chances are your fantasy scores are going to take a hit. A big hit, one that makes you average 68 after two games!
Maybe adjusting clubs for Beams wasn't as smooth sailing as we initially thought. He may need some more time to settle in and actually start playing his natural game, rather then handballing the bloody thing to death!
You can't blame it on the weather either, with the roof closed at the Etihad and no intense humidity evident, Beams should have been happy to stroll around the ground and prove to us that he still had it.
Unfortunately this wasn't the case as he succumbed to a poor score of 53.
Verdict: 1 mark and 2 tackles! That stat explains Beams' current predicament. You could opt to downgrade Beams to players such as Marcus Bontempelli ($477,000) and Mitch Wallis ($364,000) who have displayed fantastic fantasy scores so far and are rising in value quickly; or reliable premiums like Rory Sloane ($601,000) and Michael Barlow ($632,000) who are also in top form.
3. Goodes the impact sub
No, I am not talking about Adam Goodes I'm talking about Brett Goodes, who many of us fielded instead of Adam Oxley ($177,000) or Adam Saad ($179,000) who conveniently notched up 103 and 80 respectively while sitting on the pine.
Unfortuantely for us, Goodes was also sitting on the pine wearing a green vest for the Dogs?!
In what world would you put Brett Goodes in the vest? It just doesn't make sense. Goodes does not possess the game changing abilities other players do, making the decision absolutely bemusing?!
Goodes still could have given us something to cheer about, maybe a score like Jed Anderson produced when coming off the bench against Geelong last week (53). Instead, a putrid score of 17 was produced when the final siren went at the MCG.
Verdict:  Look past it and chuck him in D8 if you have lost all faith. Showed us he can score well by notching up 70 last week. Consider carefully who you will place on your field next week though, Collingwood come up against St.Kilda so Oxley looks like a sure fire bet at this stage.
4. Luey
What more do I have to say. 33 points from 4 quarters of football is simply not good enough. Yes, Martin did have more time in the ruck compared to last week and yes Todd Goldstein was just impeccable but we need to expect more if we are to ever break the 2000 mark.
Maybe this was our first mistake. Choosing an extremely risky ruck combo (Belly and Luey) instead of a set and forget option like Sam Jacobs.
Well, we certainly have learnt from it now and while Jacobs is getting 120's, Leuenberger is still sitting on our field notching up 30's.
Verdict: He may have had a bad game, but downgrading Ablett to a cheaper option (Bont) and then Luey to Naituani ($425,000)/Jacobs ($550,000) if you have the cash seems like two popular trades this week. Stick with him if you have higher priorities as he may bounce back and produce a 70 odd performance. Martin and Leuy come up against Maric and Griffith from Richmond this week, so don't throw in the towel yet.
5. One shoulder, one bald head and 72k down the drain
After a sticky two weeks of discomfort and poor fantasy scores, Ablett has been ruled out for this week and will be monitored closely over the next month in terms of his fitness and strength around this shoulder area.
This makes our job as Fantasy coaches easier, because we can confirm that he is a definite trade and look to obtain a suitable replacement.
Luckily there is a wealth of options available…
For more information check out what Doc Larkins has to say: http://www.3aw.com.au/news/dr-peter-larkins-says-he-cant-see-gary-abletts-shoulder-getting-better-20150413-1mkc1v.html and the official word from the AFL: http://www.afl.com.au/news/2015-04-14/ablett-ruled-out
Verdict: Rory Sloane, Michael Barlow, Dyson Heppell ($616,000), Marcus Bontempelli, Ollie Wines ($551,000)…
The list goes on and with the news now that he is going to miss, we can look to bring in one of the above players that are currently in scintillating form, without having to worry about sub 70 scores.
Make sure to digest all the information coming from all angles in the DT Talk community as this is the first time this year we have so many players who are legitimately on the chopping block!
However, these dilemma's that we have every week are just little steps that create the stairway to Fantasy heaven!
Feel free to leave a comment below and discuss your trades with myself and the other countless contributors on the DT Talk website.