The Weekend Wash-Up – Round 2
It was by no means smooth sailing, but at least we saw improvements.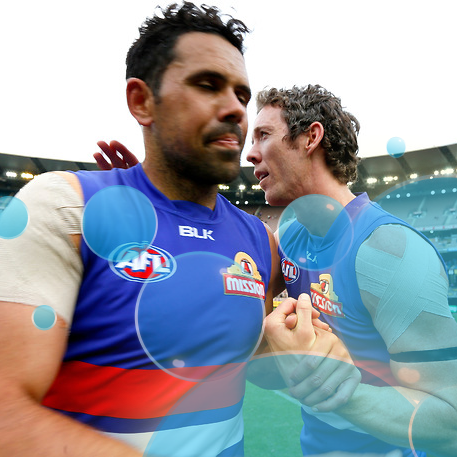 It was by no means smooth sailing, but at least we saw improvements. Now let's remember, when I say improvements I mean the kind of improvements Carlton have made. They used to be a bottom 4 club with uneducated dreams of reaching the finals. Now they're a bottom 4 club who can admit they're cooked. So in reality, not much improvement at all… Hey, at least we were spared injuries. It's time for the weekend wash-up!
Legends
Docherty (100) – Docherty got a mention or two pre-season, and had a decent stay in my squad for a while. The hype was certainly on the money, he was awesome on Friday and I was lucky enough to have had a birds eye view of his game. He reads the play brilliantly and Carlton want the ball in his hands. Hibberd 2.0. The only problem is he has become Carlton's only player, thus he started getting a tag in the third quarter. This could be a concern, but it shouldn't happen too often. He is the real deal.
Kennedy (141) – If one person asks who got the better deal out of the Judd/Kennedy trade, I'll have them escorted out of the country. Deals can be a win-win you know… That doesn't make Kennedy kicking 10 against the Blues any less satisfying. He now has 3 hauls of 10 and I've had the pleasure of seeing 2 in person. Legend!
Bontempelli (133) – First of all, he gets in my team just because nothing makes me happier than saying "The Bont." Secondly, he is the best 19 year old I've ever seen. Honestly he is so close to Nat Fyfe it's scary. The aerial prowess, the composure on the ball and his ability to think his way through traffic is incredible. From a DT perspective, he tackles like a maniac. He has had 10 tackles in both games so far, good luck tagging that. He wins his own ball, and the way I see it even with the close attention he will start to receive (And already has received), I can't see him averaging under 90. He is just so dominant. Don't miss out, his ship is leaving the port with a BE of 23. Gun.
McIntosh (96) – I don't have to say much more about this lad, lock him in at D6 for the foreseeable future. We have been given a gift, don't ask questions… Just accept it.
Boyd (109) – Our defences have been the source of much pain so far this year. If you're playing Fantasy, Boydy could be your saviour come Round 6. A DT Legend just became relevant again.
Shiel (136) – It's one thing successfully backing in a bloke to have a breakout season, it's another for them to deliver a score like this! I keep getting the feeling he will slow down, but I'm the one missing out here. Gun.
Hogan (89) – This kid… This man is a beast. We all thought he was too expensive in Fantasy, how stupid. He's making coin like crazy and that won't stop anytime soon, a future superstar of the AFL. Great pick by those who own him!
Oxley (103) – Let's just clear this up. If you were brave enough to play him after last weeks debacle, I have so much respect for your courage to back yourself in. 98% of us had him on the pine, in which case DON'T play what if. He is making us cash, that's a good thing. I hope you all have him!
Jacobs (119) – Jacobs keeps on doing what he does best, raking in marks and toning up. He looks like he will join Martin as the two best ruckmen in DT, look to get him in as soon as your R2 peaks. In Leuey's case, that may not be long at all…
Sloane (117) – I love consistency in DT, and Sloane personifies it in every sense. He had 14 tons last year, and has started things with a 112 and 117. Whatever niggle he is carrying, it isn't affecting his output. A top 8 mid in my eyes, should play all 22 games and is as safe as they come.
Ellis-Yolman (95) – YOL-MANNN. Not only does he have one of the best names in the AFL, the kid can play some great footy. Seriously though guys, "He was always going to smash it this week" why would you bench him? Don't go there… Great pick though.
Van Berlo (95) – Rich and Van Berlo were locked into most sides before the NAB Challenge, I guess this proves that hardened bodies stand up to the pressures of AFL. He is an extremely handy player to own, but his ship has sailed. Congratulations if you made it aboard.
Smith (111) – If you actually had the balls to pick Brodie Smith, I tip my hat to you. Things will most certainly go horribly wrong within the next month as teams start to clamp down on him, but enjoy the ride while it lasts. My advice is to resist temptation. She may look a 9/10, but that doesn't mean she can't have chlamydia… Moving on.
Newnes (105) – NEWNSEYYYYYYY!!! He got us all, good one Jack. You were joking Round 1, right? Right? *silence*
Mundy (151) – Perhaps one for the draft league fanatics, Munday was awesome yesterday. Don't get overly excited fantasy wise, but that was a legendary display if I've ever seen one. Underrated.
Barlow (145) – Mr Dream Team is back! Not that he ever left. I feel bad for those who picked him to start the season. Why we thought the niggle he picked up pre-season would bother him is beyond me, but I got lucky in bringing him in this week due to unforeseen circumstances. 15 kicks, 16 handballs, and 13 marks. +6's across the board. Fantasy royalty.
Fyfe (116) – We all got on him for the brownlow I assume. If not, start making alternative plans for that Monday night. It's pretty hard to miss what he does on the field, 25 contested possessions and 3 goals was special even by his standards. I think he's more of a supercoach player, I wouldn't be rushing to get him in fantasy. Nevertheless, legend!
Hodge (111) – We got a little carried away with defensive mid-pricers, when set and forget was probably the way to go. Hodge may be rested once or twice, but seriously… The bloke is pumping out tons for fun, you have to get him ASAP!
Heppell (129) – The threat of a tag is always there, but you get the feeling he isn't as damaging as he could be when he gets the ball. Heck, we're here for Fantasy and the kid is a star! I'll be shocked if he doesn't end up averaging 110-115. Huge ceiling.
Lewis (119) – Captain fantastic was exactly that, he had us good at the final break though. Don't worry, I knew what he was doing the whole time. Definitely didn't curse, punch the couch or throw loose objects at the TV as he plodded along early. Must have.
Goldstein (153) – 23 disposals, 7 marks, 37 hitouts and 8 tackles. "No, Dean Cox is retired." "Yes it was really Todd Goldstein." "Yes he scored 20 during the finals, move on!" I don't blame the grudges people hold with him, but it's time to stand up and take note. What a beast!
Ziebell (131) – Surely this is his year… He has moved into the midfield and looks awesome. There will be good times and bad, but when you have a bloke who can pump out scores like these up forward you have to consider him! He is bound to get concussed within the next few weeks so tread carefully.
Waite (146) – *tumbleweeds*
Losers
Goodes (17) – This seriously gave me the sh*ts. Of all the players you would think could be an effective sub, surely Goodes is rock bottom. Is he athletic? No. Is he an impact player? No. Are the bulldogs full of kids with lots of pace? Yes. You can't have a go at the coach when the Doggies are playing so well, but this call doesn't seem logical in any way shape or form. You would think if they're not going to start him, why play him at all? I could have used Saad's emergency score! The second bake is for Goodes. You come on with 40 minutes to play, fresh legs and your team is up. Is 17 really the best you can manage? In fact, he didn't score from the first minute of the last quarter. Abysmal.
Jones (32) – When you're being outscored by Neville Jetta, you know you're having a bad day at the office. Bad day at the office doesn't cut it to be honest, I've seen Colin Sylvia dish up better performances pre-season. If you're a Jones owner I expect you're reading this during some premature Mad Monday celebrations. Just don't trade him for Stanton.
Ablett (70) – I didn't see this game, in reality if you did actually see this game you should probably ask yourself some serious questions. The fact is that for Ablett owners, it ain't good. He is almost under 600k and bleeding cash, dump him now!!! We can all treat ourselves to a discounted Jesus after his resurrection.
Kolodjashnij (66) – It just doesn't look like it's going to happen for him. We were asking a lot, but we haven't got much in return. If you have no extra funds available you may actually have to replace him with Taylor Hunt. God bless your soul.
Lumumba (70) – No injuries this weekend, thus comes to an end my relationship with Harry. Sorry, Heritier. The fact that I was glad he scored 70 says it all, kill it before it lays eggs.
Clark (36) – You actually have to try pretty hard to score negatively for 3 quarters, but Clark managed it. Impressive stuff. I didn't actually see this game, but I expect headbutting a knife would be a pretty similar experience. I was a complete smart ass after starting him last Monday, karma is a bitch.
Johnson (68) – I hope none of us started SJ, but your nipples should be getting perky. He looks like nose diving below 500k at this rate, get your triggers ready for when he plays a bottom 4 side. Still a top 8 mid!
Ibbotson (64) – This was only ending one way. There are times when the cold hard truth needs to be told. Dump him for a rookie, you'll get the same results out of a bloke like Saad. Taylor Hunt is your other option, either way you'll feel a whole lot better going into next weekend.
Frawley (-3) – Round of applause for Frawley, who has become this seasons first negative scorer. I threw up a little when I saw he was in 3403 teams. RIP.
Wells (31) – Ouch. I'm really not sure what else to say, other than the obvious for all who know a Wells owner. Hide all sharp objects, soft pats of encouragement can be helpful, just be wary of their personal space. They will feel violated, treat them with care.
Beams (53) – I'm sorry, but what happened here? In my opinion, there is only one truly logical explanation for this. It's the work of the devil. Beams has only EVER scored lower than this 3 times in the H&A season during his whole career. Twice against Brisbane (one as sub) and once against North Melbourne. Creepy. He was my number 1 draft selection so I have to stick with him, but I'd trade in Fantasy. Plenty of others in top form, if you really want him back make him an upgrade target once his price lowers.
Leuenberger (33) – I really need somebody else to be doing this cook. All that's going through my mind is the words of Nelson… HA HA! Rough. Extremely rough and uncalled for, and I apologise wholeheartedly. I did however doubt him all pre-season, and even forked out the remainder of my superannuation to get Martin just so I didn't feel this pain. I didn't see the game, but I imagine it was something like watching a a young kid playing forward pocket who was more interested in pretending to be a dinosaur. Leuey could even be in doubt for next week as he remains MIA, his whereabouts suspected to be Goldstein's back pocket.
The Mark Stevens
Mark had a relatively quiet weekend by his standards. Never fear, the pre-game rumour mill is here. JJK is in doubt they said. A possible late out, they said. I think we can safely agree that this debacle can put an end to the argument on how legitimate these comments are, how better to shut it down by kicking a lazy 10.Perhaps Carlton thought he wasn't out there? Seemed like it anyway… Jordan Lewis in doubt after pulling up sore against Essendon. Watch this space. That's how it works, right?
Thanks for all your suggestions on twitter, here are this weeks nominations…
Bontempelli – Half man, half beast. I don't even own the bloke, but he gets my vote. What a pick!
Barlow – He was the safe option for many this week, and he didn't let us down. What a way to announce yourself for 2015!
Goldstein – If you own Goldy, don't even think twice. The big man has carried you to glory!
Mundy – One for the draft fanatics. I'm sure a few snagged Mundy later in the draft, and he would've been a match winner this week.
JJK – He kicked 10 sausage rolls, I can't really go past that. If you own him, pipe up while you can!
This Game Sh*ts me
The start of a Dream Team season is the best time of the year, but everything has its downfalls. Step up, rookies. There is no harder gig than trying to select which rookies to start, and which to bench. No matter HOW MUCH TIME you put into it, you're doomed. That crab who somehow scrawled past 20 last week? Cracks the ton.  The seasoned veteran bound to net you a solid score, gets a vest. The odds should be 50/50 between right and wrong, but anyone who has played the game knows otherwise. You're basically going to the Casino, and you know that means there will always be one prick who nails every call they make. "Genius" they call it. Don't get me wrong, there is some skill to it in certain situations… I'm just saying that it's mostly blind luck. My personal favourite is "He was always going to smash it this week." Really? If you're capable of knowing which players will smash it every week then why aren't you planning how to spend the $25,000 already… It's mostly ass and whoever gets it right will come out with a massive advantage. Plus I have to look at scores of under 40 on my ground. And that's why this game sh*ts me!
The Other Bits and Pieces
* What have you done now James? *
Not to alarm everybody, but I could be turning a corner. After 23 weeks of shame, I'm climbing the rankings! 2011 was my score, baby steps people. I even monstered 2106 in RDT (That's what you get for not trying)! I know, how boring is that. This will inevitably end up in me sitting here next week, typing in a pool of my own blood after Taylor Hunt scores 20, Saad gets a vest on debut for me and Clark scores 120 on my pine. As I said last week, it's a long season! Things should start to take shape over the next few weeks, make your trades carefully! If you joined me in the 2k gang, congratulations… Nobody wants to hear from you. Let me know your FMDT  FMFT stories in the comments! Nothing better than a solid vent… See you next week.
If you enjoy seeing me rage and want a punching bag when sh*t goes tits up, follow me on twitter@MattCraigDT. My views are honest, possibly helpful and occasionally entertaining! Hit me up with your weekly Golden Stubby nominations, and mainly what gave you the sh*ts! I value everyone's opinion.