The Friday Scramble: Round 2
Week one was horrific for a lot of teams and for some of our star players, we have to put that all behind us and move forward with round 2! There is plenty of upside in all of our teams so let's have a look and Scramble!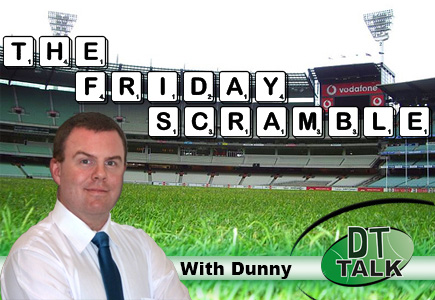 What the hell happened last weekend.  We put in all this research and work only for these guys to go out there and stuff things right up!  Well, no more sulking about it, just get in there, do what you can to salvage your team and see if the planets align for us this week.  First things first though. Don't go and stuff everything that you worked for up by being emotional!  Just think things through logically and then you should be fine.  And if all else fails…. well scramble!
Hold Your Nerve!
I am sure you have read advice like this all week long, however, I am here to tell you that it is the key to this game!  This is particularly important when it comes to your premiums!  Let's first look at Dusty Martin yes he had a shocker last week, but should we be surprised?  No, we know that on occasion he can have a quiet game.  Last season he started out with 100, 89, 76, 107, 94 and then a 71.  Granted these aren't as bad as what he dished up on Thursday night with his 53, but after those less than ideal numbers last year he went on to have 94, 115, 111, 105, 123, 111 and 128.  So what I am trying to say is that they are premiums for a reason.  They will pull through for you eventually.  Now if he goes and has another 50-70 score this week, well you may just consider that trade, but also remember that, in AFL Fantasy, he would have lost money, so this means that you won't get another super premium as a straight swap unless you have cash in the bank.
Similarly I would recommend the same when it comes to your non premium guys in the backline.  Jack Newnes in particular was a disappointment as was KK, who after a great first quarter was sent as a tagger to Lumumba. Now if KK is sent as a tagger again this week by Rocket Eade I will be suggesting that you get him the hell out of your team as you can't afford to have someone at his price sitting there giving you sub 50's every week because the backline is bad enough this year as it is!  All three of those guys would be on notice in my team this week (two of them definitely are since I have them).
Rookie Redemption
I am sure like me that you had most of the good rookies in your squad like Ben Newton, Kamdyn McIntosh, Adam Saad, Jesse Hogan, Mitch Clark and Aaron Vandenberg. However, I am sure that also like me you had a reasonable number of these guys on the bench (or in my case nearly all of them).  Whilst this didn't help your score that you started CEY over Newton, you are still on the right track.  One of the hardest things in this game is predicting which rookies will score well from week to week.  Just ask Jeppa who trawls through the rookies week after week how hard it is.  There is no magic formula.  All you need to do is make sure you try your best to pick out which guys are the ones that will score well.  Will it be the same ones as last week?  Probably not.  Certainly look at their matchups and see what their opponents are like.
I am sure that you have noticed that in AFL Fantasy the guys are already changing prices, so if you don't have to do an injury trade then you should be trying to get in guys like McIntosh and Saad that you may have missed before their prices rise too far.  However, in RDT and SC, like always their prices won't change until after this week, so you still have another week to watch and see what happens.  Also given that trades are limited in those games I would highly recommend waiting.  For all we know McIntosh's 101 might be a one off or, and I sincerely hope this doesn't happen, one of these guys could get injured this week and if you jumped too early you could be wasting a trade in those limited trade formats.
A Pig, A GAJ and A Pie.
The big three talking points have been what to do with our pig, Tom Rockliff, our GAJ, Gary Ablett and our pie, Steele Sidebottom.  Clearly with Rockliff and Sidebottom the news is simple.  Trade.  The key is who you go to.  A few options would be the following guys that I like the look of.
Scott Pendlebury. Scored himself a 104 and is pretty dependable to get you that 100 each week.  However, with Beamer gone and Sidey out he should get more possessions, but will also draw more attention.
Dyson Heppell. 111 in those conditions was great, with the threat of the ASADA suspension gone for now, he would be a great selection and I would suggest he could be fairly unique.
Brad Ebert. Score a massive 163 and if you went from Rocky to him in AF you would also pocket a handy $147k in AF on the trade.  Ebert will get his possessions and doesn't usually get much attention as all that goes to Boak and Gray with Wines now also coming in for more attention.  Ebert should be a fairly unique pick and given he has averaged 99 in his past three seasons I think he should be a solid pick for your team.
Jordan Lewis is the other hot player at the moment.  156 and it was a pure accumulators game.  At $643K in AF though, he will certainly cost a bit more if you are upgrading from Sidebottom.
Daniel Rich would be a real left field option.  He scored 111 but I think he will definitely come in for more attention from other clubs now, particularly with Rocky out.  However, if you did take the risk that he can back up his 111 you would net yourself a cool $439k in AF.
As for Gary Ablett?  Well I am an owner, and like Warnie I too had the Captaincy on him (just don't tell Calvin).  To be honest, I am going to keep him.  I think that he will "be better for the run" and will hopefully come put as the same old Gary next week.  In AF he has already lost $28k, but in the other forms he hasn't moved yet, so you can wait one more week to see what you want to do.
Whilst the guys I listed aren't the only options, they are just a few different ways you might like to think.  Obviously if you have Rocky then you can go to anyone you like.  With Steele you are a little limited, but still just about anyone.
Selection Issues
With team selections we got the following news about some of our players which may be worrying or positive, depending on which ones you have!
Big Outs.
We already knew that Rocky, Daisy, Steele and Lids would all be out, but here are a few more that we may not have seen coming.
Scooter Selwood is out with an Ankle Injury.
Tom Lamb is also out of the Eagles line up.  I know a lot of people selected him, hopefully he can break back in soon.
Big Ins.
Grant Birchall returns for the Hawks.
Andrew Mackie comes in for the Cats, I know he would help a lot of draft teams!
Jarrad McVeigh is back for the Swans.  Once again a popular pick in draft leagues.
Kane Lambert comes in to make his debut and is named on the field.  If you picked him last week in hope, well done.
Things to Remember
It is only Round 1.  Things can only get better as my old mate D:Ream used to say.  So don't give up, I am sure that you can climb your way back to the top.  If you have a well thought out plan you should be fine.
Don't Panic.  Panic trading is the worst thing you can do.  As well as rage trading.  Thanks to Heath Shaw though, we at least can reverse our trades now.
RDT is NOT a Rolling Lockout this week.  I can't stress this enough!  It will be the regular Friday night full lockout.
AFL Fantasy Leagues start this week. So check your matchups and see who you are playing.  Not all start this week, but most of them do.
So all in all it isn't Doom and Gloom, simply opportunity, so re-set your teams and then simply work through the issues you had and back in your players.  If we start to see continued poor performance then we can make some harsh list management decisions then!  As usual keep an ear out today for any late changes as well as the culling of the Sunday teams.  Twitter is usually the best place and you can find me at @pkd73.  Best of luck this weekend and I will see you all next Friday.