Roy's Trade Talk – Round 2
We have a few forced trades this week and some will be keen to swing the axe with a luxury trade.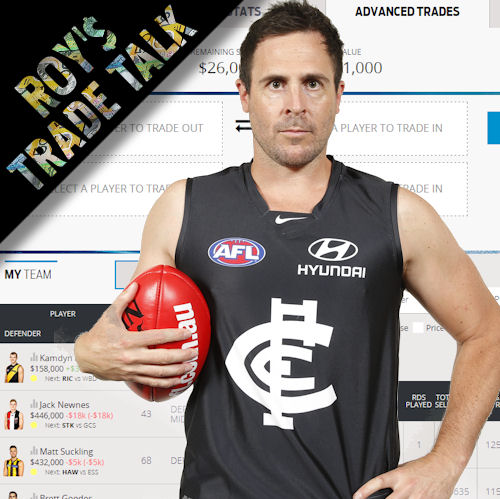 Roy's Trade Talk has returned home to dreamteamtalk.com with many people comparing it to LeBron James heading back to Cleveland. I have used my Twitter feed @RoyDT to determine this weeks focus areas, with the majority of my feed filled with midfield questions.
Things just kept going from bad to worse through round 1 of the Fantasy season, highlighted by injury forcing trades to some of our gun midfielders who were proving to be great selections up until the point of injury. Most notably:
Steele Sidebottom with a 6-8 week broken thumb.
His Royal Swineness Tom Rockliff with a 6 week rib/lung injury.
There were also some mid performances that leave us questioning their current worth:
As hard as it is to say, Gary Ablett was not worth the big bucks coming off such a long lay off, he looked sore and underdone.
Dayne Beams found plenty of the ball, but couldn't get it on the boot with the extra attention received without having Scott Pendlebury by his side.
Ryan Griffen could not break his tag, leaving owners questioning whether it's just better to part ways.
The are many players that I haven't mentioned here that could arguably fall into either category. Either way, there are plenty of us with forced trades, or considering luxury 'fix up' trades in the mids, so that will be today's main focus.
Top 5 Premo MID replacements:
Jordan Lewis ($643,000) is as close to a walk-up captain as we have left, given last year's two best performers can't be considered. He continued the 'off the chart' form that he finished off 2014 after scoring 156 vs the Cats, despite not having a historically good record against them. He is currently owned by 19% of teams but I expect that to rise this week as he is the best going around. He has a BE of 80 and I expect his high scoring ways to continue against the Bombers this week.
Luke Parker ($588,000) is a superstar. After talking him up all pre-season, he certainly looked after me in his first game amassing 111 from 35 touches in just three quarters before Buddy knocked him out. If you didn't start with him, it's time to admit it was the wrong call and you are very lucky that he is still available for under 600K due to the K.O. He is owned by 16% of coaches and I would make sure you are one of them.
Dyson Heppell ($607,000) has become a star of the competition and his Fantasy stocks are continuing to rise in the same vein. Despite an interrupted pre-season, Hepp looked really fit and scored well in the trying conditions vs Sydney for a score of 111. He is only owned by 7% so he is still quite unique for such a gun. There is a slight concern that heavy tags will soon permanently shift from the likes of Watson and especially Stanton to try and limit his output, but having said that, he is still a great pick and sits high on my consideration list as Rocky' replacement.
Michael Barlow ($622,000) is a reliable Fantasy star that will rarely let you down. Last year he elevated his game to the elite premium status by averaging over the magical 110 mark for the season which is no easy feat. Although he slowed down towards the end of game one, it was understandable given his injury concerns leading into the opening round, yet he still managed to knock up the ton with 101 including an impressive 9 marks. This week he plays the Cats at Skilled which sounds a daunting task, but in round 20 last year Barlow dominated down there with 33 touches and 137 points which should ease the concern.
Brad Ebert ($590,000) might sound reactionary after a massive opening round where he scored 163 from 34 touches and 14 marks. Is it reactionary? Yes, to some extent but those kind of numbers can't be ignored, especially given it was against good competition in a close game. I am not sure I have the guts to do it, but it could be a potentially rewarding selection.
In short, some mid-pricers that could provide you the cash to patch up horrible mistakes somewhere else on the field.
Top 5 mid-priced MID replacements:
Daniel Rich ($298,000) makes a heap of cash, enough in fact to change the whole structure of you team if required. This would be a very bold and drastic trade because despite his impressive 111, it is not a score owners should get used to. Having said that, he is still great value with a BE of just 5.
Marcus Bontempelli ($408,000) I don't know a coach that didn't have the Bont in their team during the pre-season but only 34% of coaches went through with it and were rewarded with 104 points this week. His DPP as a forward could be very handy this week with the likely resting of Jimmy Bartel with concussion.
Scott Selwood ($468,000) did enough to reassure the doubters that he is still capable of averaging a ton, which leaves him heavily under-priced. He scored 101 and has a BE of 68.
Lachlan Whitfield ($465,000) looks set for a huge break-out and currently only 1% of the competition are going to enjoy the ride. The kid is a ball magnet and receives no attention from opposition defenders as he sits on a long line of midfield jets. He took full advantage of that this week with 31 touches, 11 marks and 114.
Steven Motlop ($428,000) Like the Bont, holds the handy DPP status and started the year on fire. He had 27 kicks in his 32 touches for a score of 122 and he is currently owned by only 3% of the competition.
As I mentioned earlier, making some cash out of an injured premium in order to patch up a bad pick could be an option for many of us, especially in the back line where popular selections such as the much hyped Jack Newnes, Heritier Lumumba and Kade Kolo fell well short of expectations. In Kolo's defence, after scoring 30 in the first quarter I blame Rocket Eade for his eventual 37 after making him tag.
The two names that have sprung to mind as replacements were also pre-season hyped, but often considered too risky and left out… unlike the guys above (Irony: a state of affairs or an event that seems deliberately contrary to what one expects and is often wryly amusing as a result).
Talyor Hunt ($356,000) looked right at home in a Tigers uniform and enjoyed the significant role change from what he was used to. He scored 115 from 27 touches and 8 marks and now has a BE of just 21. There is still an element of risk, but the Tigers like the ball in his hands, and this is a good thing.
Josh Gibson ($457,000) The writing was on the wall that Gibson would keep racking up big numbers as loose man in defense. He collected 26 touches and 11 marks on his way to 110 and unless opposition teams start tagging him or they lose a key defender to injury, I can't see the scoring dry up.
Good luck with your trades this week, discuss your moves in the comments
Price change table courtesy of www.dtlive.com.au.