Jeppa's Juniors – Round 1
With the Fantasy gods not doing much for us early, it's time to look ahead. Amongst the carnage of Round 1, numerous rookie priced players managed to impress and thankfully there were a handful of surprises. Getting our rookies right early in the season is important so don't miss Jeppa's analysis here.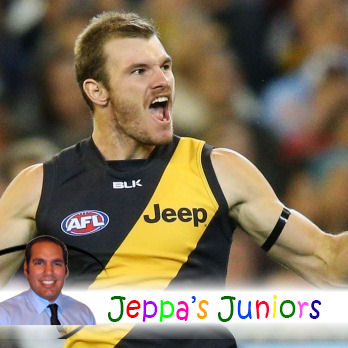 Finally, Fantasy preseason is over. Our lineups are set but it was a tough lesson in Round 1. Most of us are already fighting an uphill battle after the carnage that came from our so-called reliable premiums. Ablett (61), Beams (83), Jelwood (76), Harvey (47), Dusty (53), Deledio (53), Hibberd (62) and Newnes (43) were all substandard and what's worse is that Rockliff (79) and Sidebottom (88) are both out for at least 6 weeks with injury. Bartel is likely to miss a week also with concussion. Two trades in a week are never enough!
Only 47 rookie price priced players ($250,000 and under) suited up in Round 1, down from 73 this time last season…luckily we're about quality not quantity. So which rooks are the must haves and who are the ones to avoid?
Here is my take on the rookie performances from Round 1…
One Gamers
Let's start with the best. Kamdyn McIntosh (Def. $158,000, -30 be AF. $124,600 DT) was the only rookie priced player to hit the ton in Round 1. In an amazing debut, he racked up 14 kicks, 9 handballs, 9 marks, 2 tackles, 1 goal and 101 Fantasy points. Playing on a wing, McIntosh was arguably the best player on the ground beating the likes of Dusty, Cotchin and Deledio in most facets of the game. They breed them tough in Pinjarra and even though I doubt he'll be as prolific in the short term, If you don't have him then you need to trade him in immediately.
Ben Newton (Mid. $221,000, -6 be AF. $232,800 DT) was another to make a big impression. His second half against the Suns was outstanding and he was a key factor as to why the Dees got the 4 points. Newton finished the game with 16 possessions, 6 marks, 6 tackles, 2 goals and 96 Fantasy points playing between the midfield and half forward. He was named in the best for the Dees and he'll be a big part of their team going forward. In the same match, new Demon Aaron Vandenberg (Mid. $143,000, -9 be AF. $127,800 DT) also played an important role. The strong bodied on baller played at half forward and scored a healthy 69 Fantasy points. Vandenberg took some great marks, did the one percenters and his high work rate will see him as a regular in the Dees 22 this season. I'm a big fan.
Isaac Heeney (Mid. $269,000, 12 be AF. $137,900 DT) lived up to his hype against the Bombers in tough, wet conditions at ANZ stadium on Saturday night. The teenager was a solid contributor with 17 possessions, 3 marks, 7 tackles, 1 goal and 92 Fantasy points. As good as he was, I'm nervous about how the Swans will use him. McVeigh is expected to return this week, McGlynn isn't far away and Tom Mitchell is around the mark. Don't be surprised if he cops a green vest or is dropped in the coming weeks. Here's hoping he can have another big game against Port this weekend to cement his spot.
Even though the Cats got pumped on Monday, Mitch Clark (Fwd. $184,000, -9 be AF. $162,600 DT) could hold his head high. The big fella very worked really hard and finished with 10 kicks, 2 handballs, 8 marks, 2 tackles, 2 goals and 86 Fantasy points at the final siren. Clark is still working his way back to top fitness so there's plenty of improvement to come. Make sure you have him in both Fantasy and Dreamteam.
Young key forwards Jesse Hogan (Fwd. $212,000, 8 be AF. $138,900 DT) and Cameron McCarthy (Fwd. $160,000, -8 be AF. $167,600 DT) were focal points for their teams in Round 1. Hogan was a beast, taking plenty of contested marks and kicking 2 goals on his way to 73 Fantasy points. McCarthy worked really hard, marked plenty and kicked a mini bag of 3 goals to finish with 74 Fantasy points. I really like the look of these two but as young key forwards expect some inconsistent scores along the way. Due to price, McCarthy is an ideal F8 in Fantasy and Hogan an excellent F8 in Dreamteam. Tom Boyd (Fwd. $201,000, 23 be AF. $197,600 DT) 52 and Jack Redpath (Fwd. $154,000, 32 be AF. $197,600 DT) 22 are two young talls you want to avoid!
Adam Saad (Def/Mid. $140,000, -4 be AF. $102,900 DT) and Mitch Honeychurch (Fwd. $197,000, 8 be AF. $225,800 DT) were impressive in their games but it didn't translate on the Fantasy scoreboard after reaching just 62 and 69 respectively. Saad showed off his power and pace from defensive 50 and he was named as one of the Suns best players on the day. Honeychurch gave the Eagles plenty of headaches at half forward and finished with 13 possessions, 7 tackles and a goal. The Dogs new run and gun and possession game plan suits Honeychurch immensely. Both Saad and Honeychurch are bench keepers.
Nathan Van Berlo (Mid. $282,000, 34 be AF. $231,200 DT) and Brett Goodes (Def. $209,000, 11 be AF. $267,300 DT) are a couple of expensive rookie options that showed a bit in Round 1. Van Berlo was on 49 at half time and looked the goods but faded badly to finish with just 70 Fantasy points. Goodes was important for the Dogs in their impressive win over the Eagles. His ball use was first class but he only had 14 possessions however, 7 tackles boosted him up to 70 Fantasy points. Expect both veterans to improve, as we get deeper into the season.
Although listed as a forward, young Jaden McGrath (Fwd. $158,000, 4 be AF. $117,900 DT) scored 59 Fantasy points playing in the back pocket against the likes of Jamie Elliott and Jarryd Blair. He had 8 possessions and a whopping 34 Fantasy points at quarter time but like most young players faded as the game went on. There's a lot to like about McGrath and he's still a cheap option, not for me though.
Both Cameron Ellis-Yolmen (Mid. $133,000, 2 be AF. $124,600 DT) and Touk Miller (Mid. $214,000, 33 be AF. $117,900 DT) were quieter this week than I had anticipated. Ellis-Yolmen was on just 4 Fantasy points at quarter time but showed his potential in the second half to finish with 49. Hopefully he's not dropped this week for Scott Thompson because I reckon he'll do some damage against the Pies on Saturday. Touk Miller wasn't gona to rack up the possessions playing deep forward. The pocket rocket finished with just 6 touches, 4 tackles, 1 goal and 44 Fantasy points. Worrying signs.
Carlton pair Patrick Cripps (Mid. $174,000, 11 be AF. $205,100 DT) and Kristian Jaksch (Def. $183,000, 35 be AF. $217,900 DT) were very disappointing. Cripps struggled with the pace of the game and Jaksch was beaten in most of his 50/50 contests. They scored just 54 and 28 Fantasy points respectively! I'm still confident in Cripps but if you own Jaksch then I'd trade him out. Christian Salem (Fwd. $203,000, 22 be AF. $192,800 DT) is another I expected a lot more from. He played as a halfback, which should have boosted his scoring potential, but against the Suns he could only manage 54 Fantasy points. I'm keeping the faith with Salem for now.
Other rooks from Round 1 worth mentioning include Michael Talia (Def. $182,000, 1 be AF. $203,200 DT) 72, Tory Dickson (Fwd. $221,000, 14 be AF. $249,800 DT) 70, Tom Sheridan (Mid. $225,000, 1 be AF. $229,300 DT) 57, Tim Membrey (Fwd. $177,000, 15 be AF. $180,600 DT) 53, Jackson Nelson (Mid. $154,000, 9 be AF. $117,900 DT) 51, Dean Towers (Fwd. $215,000, 29 be AF. $236,100 DT) 50, Darcy Lang (Mid. $239,000, 38 be AF. $257,400 DT) 48 and Jackson Ramsay (Def. $206,000, 35 be AF. $214,500 DT) 39. At this stage, all of these players aside from Towers and Nelson have pretty decent job security.
Round 1's green vest club was no big surprise. Jed Anderson (Mid. $183,000, 16 be AF. $151,000 DT) 53, Tom Lamb (Fwd. $209,000, 25 be AF. $117,900 DT) 52, Clem Smith (Mid. $148,000, 17 be AF. $117,900 DT) 38, Jack Sinclair (Mid. $126,000, 14 be AF. $138,900 DT) 33, Cory Gregson (Mid. $152,000, 31 be AF. $117,900 DT) 23, Jarrod Garlett (Mid. $242,000, 65 be AF. $152,900 DT) 16, and Jordan De Goey (Mid. $267,000, 74 be AF. $202,900 DT) 13 all got limited opportunities for their respective teams. Anderson was the green vested youngster that impressed me most. The Jedstar was at his attacking best between the midfield and half forward scoring 53 Fantasy points from just 42% time on ground! Anderson's speed and skills are a pleasure to watch and with teammate Liam Shiels out for a month, longer on field opportunities should come his way this week. Tom Lamb deserves a quick mention. Lamb wasn't convincing by any means and he has to work hard on his defensive game but with West Coast's injury woes he should get more playing opportunities in the short term.
Angus Brayshaw (Mid. $302,000, 41 be AF. $212,900 DT) 69, Adam Oxley (Def. $142,000, 26 be AF. $124,600 DT) 25, Jack Redpath (Fwd. $154,000, 32 be AF. $197,600 DT) 22 and Joel Tippett (Def. $134,000, 38 be AF. $173,600 DT) 6 all received the red vest in their games. Brayshaw is a player to get excited about. The powerful midfielder looked like he well and truly belonged at AFL level and his red vest was about managing his game time early after an injury-interrupted preseason. Brayshaw is tough with a great game sense and I was that impressed by him that I'll be trying to work out a way to trade him into my Dreamteam this week!
Poor form and scores from Billie Smedts (Def. $181,000, 23 be AF. $200,400 DT) 41, Jed Bews (Def. $219,000, 37 be AF. $238,700 DT) 41, Dom Sheed (Mid. $236,000, 43 be AF. $235,900 DT) 40, Nakia Cockatoo (Mid. $267,000, 55 be AF. $177,900 DT) 38, Jack Lonie (Fwd. $176,000, 27 be AF. $117,900 DT) 37, Eli Templeton (Fwd. $200,000, 44 be AF. $231,400 DT) 26 and Ahmed Saad (Fwd. $171,000, 44 be AF. $153,700 DT) 13 have them all facing the chopping block this week. If you have any of these blokes then look to trade them out as soon as possible.
Please note that if I haven't mentioned a rookie priced player above, it means I don't rate them.
Keep Your Eye On
Ben Kennedy (Fwd/Mid. $237,000, 42 be AF. $251,200 DT) – Kennedy is a front runner to replace the injured Steele Sidebottom at the Pies. He's had an excellent preseason and adds plenty of pace around the packs and up forward. He could cop the green vest though.
Liam Duggan (Mid. $268,000, 47 be AF. $172,900 DT) – Duggan had a late start to the preseason and missed the NAB Challenge as a result. Fortunately, the star midfielder has been tearing it up in the WAFL averaging 21 possessions, 4 marks, 4 tackles, 1 goal and 89 Fantasy points so far this season. Look out for him to make an impact early.
Blaine Boekhorst (Mid. $243,000, 42 be AF. $132,900 DT) – The Blues should make a couple of changes after their loss last Thursday night and Boekhorst has to be one of the first inclusions. He'll add some much needed outside run to the Carlton midfield and should impact the scoreboard. Another green vest risk however.
There you have it. Feel free to ask me a question below and don't forget to add me on Twitter @JeppaDT for all things Fantasy and more. Happy trading!