Daniel's Dilemma: Midfield Carnage and Pre-Season Pretenders
Daniel's Dilemma is back, bigger and better then ever to make sure that you diminish the carnage from this horrible week of AFL Fantasy.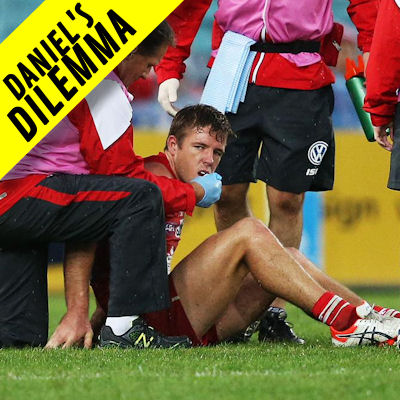 Welcome back to Daniel's Dilemma for 2015! Another week, another Dilemma and 2015 has already thrown us some Fantasy migraine's that two Panadol's and an afternoon nap couldn't fix in a hundred years.
It's a new type of headache, one that starts off slowly and then gradually picks up speed till you find yourself sprawled over the toilet with your head in the bowl, not knowing what to do with your damn Fantasy side.
Funnily enough though, it all started on a Thursday evening. An anxious but exciting evening in which we had months of planning and studying behind us. Finally the season had begun, with a beer in one hand and a chocolate Easter bunny in the other. It was time to let the real games begin and to finally see an end to this ridiculous sport they call Cricket?!
However, that's where the fun stopped and the headaches began. Now we sit here in front of our electronic devices wondering how we can eradicate this horrid predicament.
So, let's start with the Midfield Carnage.
Tom Rockliff ($737,000), Gary Ablett ($647,000), Steele Sidebottom ($602,000), Luke Parker ($588,000), Ryan Griffen ($467,000) and Andrew Swallow ($491,000) all feature heavily in our Fantasy sides. However, we only have two trades per week in Fantasy (unfortunately) so we need get our priorities straight before knee-jerking our way to another 1800.
As we all may know by now, Tom Rockliff endured an extremely painful injury in which a Varcoe inspired knee cap, ripped into the ribs and lungs of Rocky leaving him endlessly sucking air out of the famous green whistle. He now faces up to 6 weeks on the sidelines before we can see him back out on the field, which means for the coaches that decided to play it cheaply this year; you will be rewarded with a much cheaper Rockliff.
Steele Sidebottom also faces sometime on the sideline with a suspected broken thumb. I'm no Doc Larkins, but it doesn't take a medical degree to find out how long Sidebottom may be out for and judging by the recent news articles, it doesn't look too good. 6+ weeks and therefore a trade.
The others mentioned above, therefore are safe. Gary isn't actually injured though it seems you can't touch his shoulder without him wincing in pain and requiring the physio's assistance. He just isn't ready for the AFL and will take some time to ease back to the demands of the game, so if you do have a spare trade then it may be worth looking at other options I will present to you in just a minute.
From my experience, I do not believe there is a certain rule regarding concussed players having to take a mandatory week off due to safety of the player(s) health. Though, I could be proved wrong and Sydney may play it safe but it looks as if Parker will line-up next week against Port Adelaide in Adelaide. Count your blessings!
Griffen and Swallow just had off weeks so do not go wasting your trades! Griffen may not be able to shrug off a tag but that's an issue for another time and Swallow just needs to get back to what he does best, tackling!
So now we know the unfortunate causes of our headaches its time to assess the damage and apply the solution.
The Bandaid Method
If you need to replace the likes of Ablett, Rocky or Sidebottom and desire a player that can just get the job done and earn you solid points while the above players find their feet, look no further then Michael Barlow ($622,000), Jordan Lewis ($643,000) or Joel Selwood ($589,000).
These players enable you to cover up the scores you may be missing out on with Rocky, Sidey and Ablett completely! Barlow is a proven premium, who comes up against a rough looking Cats midfield.
Jordan Lewis scored a monster 156 yesterday, something that Barlow has the capability of doing himself if he manages to find the pill out and around packs like Lewis did.
The Hawthorn star himself was just on fire yesterday, delivering a monster 2nd quarter, without having to lay over 4 tackles!
Lewis plays Essendon this week, a team he may not be very fond of scoring against, however, it will be your choice if you wish to take history into consideration or go after his impressive scoring abilities.
The only reason I decided to mention Joel Selwood was because Geelong come up against Freemantle this week. It is almost like a tradition now, that when these two teams play each other, Crowley tags Stevie J and Selwood runs free. In the past two times they have played, Selwood has averaged 125 against Freemantle when Johnson has been tagged!
However, with Crowley 'suspended' and Stevie J facing an early suspension from the MRP, it will be unknown who gets tagged and who runs free.
The POD
''With all our guns going down surely there will be a unique player that I can downgrade too?''
Those are the cries that I expect to hear when full lockout concludes and luckily there is a player that can answer those cries and hopefully not actually make you cry in Round 2.
Brandon Ellis ($556,000) seems like a decent candidate for this category. Ellis scored 121 last week against the Blues and faces Western Bulldogs this week. As discussed in the past, Deledio, Cotchin and Martin seemingly come before Ellis in regards to a player being tagged. This inevitably allows Ellis to roam free and pick up uncontested possessions boosting his Fantasy score.
If you're downgrading someone like Ablett or Rocky to him, you're making a heap of cash to be able to upgrade someone like KK or Lumumba in your backline.
However, Ellis is still young and is prone to the slightly off game but the scoring potential is still very high and this is a risk that I am happy to take.
Hopefully, you now have a suitable replacement for your Midfielders that decided to drop the bundle before we could really even kick off the Fantasy season. However, our ever reliable premiums aren't the only ones that kicked us in the balls. Oh no, there is more disappoint coming right your way!
After months of studying and researching I find myself relatively confident when plant my backside on the couch ready for the Tigers and the Blues to battle it out, but as I start scrolling through my Fantasy team on a Sunday morning sudden angers creeps through my body as I start to realise that the players I put so much faith in (Yes, KK and Lumumba I'm talking about you) decided to play like muppets and give me scores 37 and 43 respectively?!
After such a good pre-season how does one step onto the big stage and then crumble like a dodgy friggin' Easter bunny chocolate your annoying colleague at work decided to give to you because it was the festive season and they were just being considerate.
Screw consideration, what excuse do players like Jack Newnes and Christian Salem have for scoring below 60 Fantasy points?!
Anyhow, if you have the spare trade and you strongly believe that one of these pre-season pretenders should get the sack then I suggest browsing through the selection of candidates I have below.
The Round One Ton
Before I begin I think it would be just plain reasonable and safe to assume a 'Buyer Beware' tag on each of these players because as we know, chasing big scores can end up in more anger and heart-break but it seems if we don't take the risk, we can expect more scores of 40 to come.
Taylor Hunt ($356,000) had some big question marks surrounding his name during the pre-season but after his fantastic game on Thursday night I honestly believe he can easily average 75+, if not 85+. If those numbers sound good to you then downgrading Lumumba to Hunt may be a solid move.
Even cheaper though is young starlet Kamdyn McIntosh ($158,000) who set the world alight with an impressive 101 in his first game. If you don't have him, then you purposely decided to ignore Jeppa's articles throughout the early months of the year because it seemed that a score like this was inevitable. Mark my words, he wont average anywhere near 100 but he will be a huge asset in the backline for many teams and will be a stepping stone to players like Simpson, Hibberd and Malceski later in the year when you obtain the cash.
Slow Starters
Every year we will always encounter a player that generally starts slow and then really gets going as the year heats up. This is what we may be experiencing with KK, Lumumba and Newnes. Considering that other backline options are pretty much non-existent it may be best to just suck it up and hope for more next week. However, if you started the year with Newnes as your number one Defender, his 43 may not look so pretty compared to Kade Simpson's () 97 so doing the classic downgrade, upgrade trade manoeuvre may put you in better stead come Round 2.
As predicted earlier by the Traders, Nick Malceski, Michael Hibberd, Kade Simpson and Jack Newnes will be without a doubt within the top 6 defenders when the year concludes. Plan around this carefully and avoid hesitation when ditching players like KK and Lumumba if they are just not making the required cash to make the step up.
Josh Gibson ($457,000) has made his name known with an impressive performance against Geelong yesterday. With Frawley now obtaining the lock down role, Gibson has a license to push further up the ground and pick up cheap Fantasy points. This was evident against the Cats, especially at the end of the 1st quarter.
Unfortunately though, most coaches are in the position that Ablett or Rockliff require the most attention this week so unless you have to, forget this weeks poor scores and hop on the Fantasy rollercoaster which will send you into happiness one week and disappoint the next.
As you may know, I like to end my weekly articles in annoying clichés that may or may not be even relevant to the article itself but I believe it's important to note that the AFL Fantasy season is a marathon, not a sprint.