The Weekend Wash-Up – Round 1
Matt is back for 2015 with his Monday morning piece, the Weekend Wash-Up!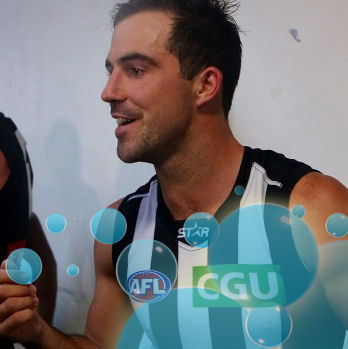 Aaaaand we're back for another season. Miss me? I hope not, but I need this today as much as you do. 6 months of planning. 4 months of build up. 3 months of study. 1 week of panic. It all came down to Saturday morning. I think we can all agree this is the best week of the year, screw the festive season. Our teams were settled, backup plans and all. What could wrong wrong? *Buzzer* First mistake. Everything could go wrong. That's a broad term though, because nothing could prepare us for the utter carnage that was to follow. We're all hurting, and it's time to vent. It's time for the weekend wash-up.
Legends
Let's kick it off with rainbows and unicorns, and believe me they are few and far between.
Ellis (121) – Fair play to those who picked Ellis. We all believe he is a future superstar and will be a lock in a few years time, but he seemed pricey for a 21 year old. He may face inconsistencies throughout the season, however he is a pure ball winner. Ellis knows how to find the pill and that alone places him ahead of 90% of my squad, let's hope he can maintain that level. Underpriced for sure.
Hunt (115) – This really is typical. Of all the risky defensive options we had to pick from, Taylor Hunt had the most question marks. He has been an effective tagger, but a ball winner? His pre-season was solid, but nothing to suggest he could rack up a score like this. His price will hike this week and continue to do so, watching him play I can definitely see him averaging 80+. Get him knowing you are probably about to walk into a buzzsaw, but at least he can make a few bucks if it all goes wrong. If he does end up becoming Shane Tuck 2.0, lock him in!
McIntosh (101) – Here ladies and gentlemen, we have a LEGEND! He remains the only ton in my whole squad, and more importantly he gave 100%. All we can ask from these rookies is effort, but he went above and beyond the call of duty. Lock. Him. In.
Newton (96) – Fair play to Newton. As always I saw the doubters poke their heads out during the second quarter. "He's only a rookie, was never going to score well. Not worth the extra dollars." They were soon back underground as Newton showed us why we all picked him. At least the rookies stood up, he remains my best midfielder. Throw away the key until the bye rounds.
Parker (111) – Things were actually going fairly well for most coaches as we reached the final quarter of Sydney v Essendon. Sure we had let ourselves down with a few picks, but the guns would fire. Parker was doing exactly that, storming to 111 at the start of the final term. 140+ looked a certainty, before Buddy had his say. Thankfully Parker looks like he'll be right for next week, which is a massive boost for us. He will be a gun this season, get him ASAP.
Heeney (92) – He was a no brainer in RDT, however the risks were high in Fantasy thanks to his price tag. He showed why he was priced that highly with a brilliant performance, capped off by the winning goal. Jet.
Rich (111) – Oh the irony. One of our first picked players pre-season bangs out a monster 111, what a legend!!! Shame a lot of us decided to save the 100k and be cheap, and it's punished us fair and square. He won't be given this kind of freedom every week. Scratch that, he won't be given that kind of freedom ever. However he should average a solid 80, that's gold going on what we've seen so far. Great pick.
Bontempelli (104) – When the Bont was on 12 at quarter time and enduring a run with tag from Scott Selwood, further disaster loomed. Then he did what all superstars do. He tackled his way through it, finishing with 10 tackles, 22 touches (15 contested) and cracking the ton. Let's just take a moment to remember this guy is just 19… He will average 85-90 this season and is well worth the 400k price tag. Plus his name is 'The Bont'. That is awesome.
Walker (146) – Don't go and bring him in to make your squad look pretty, however I've gotta be honest I was one of his doubters. I wasn't sure he was captain material but I take it all back. The big Texan was incredible, and from a DT point of view at least he kicked the bloody ball. More on that later.
Ebert (163) – I swear to god Ebert does this to us every year… Racks up some ridiculous score early on, sucks us in, then spits us out like we're leftovers. Don't be fooled, unless you want to be Brad's next victims. p.s This paragraph may contain traces of slight… major bias due to past experiences and/or relationships.
Wines (131) – GUN! Wines is an absolute jet, and well done to those who backed him in. Bear in mind that he started off last season with a 136, before gradually fading away to average 91. He will push that up towards 100, but he won't put up these numbers often enough to be worth the price tag. Yet.
Gray (122) – Thankyou. Praise the lord for giving us a premium who lived up to the hype, and more. If you don't have Gray in your team, go buy a mirror. Smash it. You will then immediately regret this decision, before driving to your local  shopping quarter and locating a photo booth. Here you will take a selfie and look at it. What do you see? That was over complicated wasn't it… Bingo.
Special mention to McGovern (116) who is an absolute superstar of the comp, but I wouldn't consider him in fantasy. He has gone from swingman to number 1 key backman within a month.
Losers
*Cracks knuckles*
Rockliff (79) – Let's start this on a softer note. Firstly, can we put Fantasy aside to wish Rocky a speedy and healthy recovery. You won't find a better bloke in football. Now can we all book counselling sessions? Let's go back to the beginning. 2 minutes into the game Rocky busted a gut to get on the end of a 20 metre chip pass. My eyes welled up. By half time he was on 74, and didn't look like slowing down. Remember he averages about 100 in second halves. Finally the week was taking a turn for the positive, who else but Rocky to drag us from certain disaster. From there, it all went Pete Tong. What happened was a cruel and unfortunate event. Seeing Rocky blowing on that whistle was distressing to watch. To be honest, looking at my bleak fantasy squad I needed one too. To any of the geniuses who didn't start with Rocky and decided to pipe up, be thankful you're not 150 points further behind. At least we can trade him to anyone, not that there are many candidates keen for the role as DT kingpin.
Ablett (61) – The fantasy throne is now lays bare for the first time since the original pig rose to fame back when Walter White had hair. It will only last a month or 2 until Rocky and Gaz are back at full fitness, but there's no question Ablett needs time. With his third touch of the footy Viney slammed him into the turf, and that was that. From there on Gaz looked fearful of any contact at all, it was hard to watch. He still showed his class, however that handball he grassed when running into an open goal summarised everything. He was waiting for contact, and he's nowhere near ready for AFL football. I'd be trading him immediately, he will leak dollars. Expect him to play forward for a few rounds, then we'll re-assess.
So our 2 most dependable superstars were down and out, we needed the fringe players to step up. How laughable. What was to follow is carnage I have not seen the likes of before. Were players just taking the piss pre-season? Read on…
Thomas (4) – If you happen to know a friend who owns Dale Thomas, I'm guessing you haven't heard from them since Thursday night. Whatever you do, DO NOT mention anything that happened this weekend, aside from how good the footy was. If they had internet access in their sheds, call suicide watch and monitor their behaviour closely. Lot's of hugs also help, but don't go overboard.
Martin (53) – I was all aboard the Martin breakout year bandwagon, and I still am. But Christ, he tested my will. I'm not convinced he will get the tag every week, but judging by this performance we should look away when he does. He also took the term second half fade out to the next level, scoring just 15 points after half time. If you consider that his lowest score last season was 70, it's a long way back for him to regain our faith. Funnily enough, I'm not even that mad at him anymore. We all had Dusty, roll on next week.
Deledio (53) – If you went the 'safe' option over Martin, I pray the fantasy devil returns your soul untouched. When considering the worst case scenario, I doubt it included 53 points before being subbed. Could have been worse. If I've learnt anything over the years it's hold onto your premos! They will bounce back. Wait, he was reported after 20 seconds and will probably be on the sidelines for the next 2 weeks? Who writes this sick script?
Cotchin (54) – Coaches with a huge amount of Richmond players, look away now. They won comfortably and will be happy with their performance. This included not one of their best 3 players giving a whimper. What next, they're playing their roles well for the team? What a naive statement that is coaches, we need them hunting the pill! At the time I meant what I said in my Deck of Dream Team on Cotch. I now take it back, he's not getting back to that level. He's not an accumulator, you just can't teach that innate pigging ability.
Lumumba (42) – Lumumba wears number 8. He scored 42. 42 x 8 = 336. He gave away 2 free kicks. 336 x 2 = 672. I ate 6 chocolates today. 672-6 = 666. All I'm saying.
Kolodjashnij (37) – It's time to fire up. KK was all the hype pre-season. I told myself consistently that he scored well without half of Gold Coast's midfield in the team. I knew he wouldn't push onto a wing. So did I pass on him? Absolutely not. That would be logical, and we can't have any of that can we? 37 though, seriously… He scored 9 points from the 20 minute mark of the first term. I don't care if he tagged the devil, those numbers aren't acceptable from a full back. Nathan Brown will get the call up the way things are going. LIFT.
Newnes (43) – Realistically, selecting all these defensive midprices was only ending one way. Even so, the magnitude of our f**k ups has been magnified by the level of inability these spuds have to do basically anything. What happened to the days of scraping your way to 60 with a few cheap +6's and some tough tackling. It's like they're running away from the ball at times, we're just buying rookies valued at $400,000. So yeah… Who was this again? Oh right, Newnesy! Up yours 'Newnsey'.
Hibberd (62) – I am willing to forgive Hibbo for this score, based on the average it's actually not too bad! That being said, I'm lenient because I didn't fork out 500k for the bloke. One could say he hasn't had a pre-season warm-up, I say how are you not raring to go after 6 months of running and 18 months of turmoil of your back?! Needs a big one next week, but you have to stick with him. There are bigger issues that need patching.
Stanton (57) – *Giggles* How many times do people need to be burnt by Brent Stanton before they never pick him again? I guess there's always the hope that he can score 194 again… Wake up people! To be fair he does have a history of gunning it out the blocks, but there's no excuses here. You made your bed, now sleep in it.
Bewick (49) – Bewick was actually a thing for a few weeks during pre-season. I know right, what a bunch of nutters. (I was one of them). There's not much more to add here, he did however outscore all our brilliant pre-season tips. Go us, wooo.
Oxley (25) – I know he's a key defender, but he could almost drop in price at that rate.To score this low you have to actually concentrate on avoiding the footy, perhaps Nathan Brown was the way to go. Never thought I'd say that…
Sidebottom (88) – This was just top banter. Owned by just 7% of coaches (why?) he came flying out of the blocks, rocketing to 45 by the first break. Sitting pretty on 85 at 3 qtr time, he was set for a solid 110-120. I had stopped following the carnage following Rocky's shattered rib cage, but I honestly didn't notice the massive red cross next to Sidey's name until after the game. I can't really explain that moment, but this is damn close. Where's Sidey Skyler?
Sheppard (52) – I'll be honest I saw this one coming. Just because a player is playing at half back doesn't make them a good scorer. With the Eagles injuries adding up Sheppard is needed in a lock down role, plus Hurn will always be the man we (Eagles fan get used to it) want the ball with in defence.
Saad (13) – You'd think having just spent 18 months on the sidelines after being done for a banned substance, you would serve up something better than 13 on return. Seriously, I could go out there and score 13 points presuming I don't get KO'd in the first contest. He will lose significant money and is priced as a rookie. Enough said.
Griffen (48) – Ah, the attack dog. "Griffen has averaged 106 in the past." The key word there is the past. Brian Lake has averaged 100 in the past. Griff struggled to break the tag last season, and he proved he will struggle to do so again this season. Don't buy into the cliches. "He's fallen back in love with football." If that was the case I'd expect more of an effort to find said football!
Mumford (66) – Considering the average this week, you could probably pass 66. Not when you're paying $500k+. Mummy actually played alright, but as is the consistent theme this week, do you mind… LAYING A TACKLE? You're 67 foot tall, weigh 600 pounds and attend almost every contest. Get aggressive. Yes I just told the most aggressive player in the competition to get aggressive, deal with it.
Harvey (47) – I'm sure a few Elite match-ups were decided by this effort from Brent. After his huge season last year teams are clamping down on him, his outside run is just too damaging. This was in fact his lowest score since Round 10, 2010. Such was this round of DT, not only did things go to s**t, they went there in a bad way.
Swallow (55) – I've saved a couple of bakes until last, my so called POD's. Firstly, Andrew. Andrew Andrew Andrew. You realise you have feet, right? I've been backing him in to push his average up towards 100, but how could I have seen that coming. He has just 2 scores worse than that in his past 100 games, with none under 50. As I say, such was Round 1 2015. 2 men down and heading for 1700 coming into today, there was still hope for redemption. Swallow dished me up a serving of f**k you, including 4 kicks, 3 tackles and ZERO marks. Didn't taste great, would not recommend. Quietly hoping he can back me up next week, but deep down I know it's all going up sh*t creek.
Neale (59) – Finally, 'Lockie' Neale. HAHA. Ha ha. Ha. *Gun shot*. In the past I've found it to be a usual occurrence for midfielders in and around the stoppages to be capable of laying a tackle. It doesn't have to be 10, but 3 or 4 is respectable. How does somebody NOT EVEN LAY ONE?! Let's put the 5 kicks, infinite handballs and 2 marks aside, at least show some desire. In fact let's not put that aside. I might have to start up a clinic, how to kick a football. What do I need to do, pay for pedicures for my whole team? Get the ball on the boot first, then think. It's ok though guys… He scored a late goal which was probably worth 138 supercoach points.
Talking Point
Even though our fantasy squads fell to pieces, there was one massive positive out of the weekend. AFL is an ever changing Sport, and this year it looks to be changing for the better. Gone are the days of the flood, chipping the ball around and trying to pick a way through it. If you don't move the footy quickly, you're dead in the water. Some of the transitions through the middle of the ground were brilliant to watch, and the tackling pressure is excitement galore.
Remember when people were calling the game boring a few years ago, even suggesting we should implement zones to force a certain amount of players in each area of the ground? It's high tempo action from the first minute until the last, or at least until the players are out on their feet. Sit back and relax, we're in for a great season of footy. Perhaps not fantasy…
The Mark Stevens
Essendon were up by 40 points late in the third quarter, leading at the final break 60-26. What better time for the pre-season haters to crawl out from under their rocks again. There's no need they said. Essendon have just proved we don't need practice games they said. Enter one of the most one sided quarters ever played, as Sydney completely steamrolled over the top of the Bombers, finally winning 72-60. Three goals up until three quarter time, then 7 in the last. Why was this? Because players need to be match hardened!
Don't buy into the pre-season injury business, there isn't a more irrelevant argument in my view. If we didn't play the NAB challenge, sending players out into the heat of Round 1 from the safety of an intra-club match will result in only one thing, more injuries. Sure it seems like a waste when a player gets injured during the NAB, but that's just tough luck. Answer this, does it make it any more satisfying if Liberatore or Mckenzie do their ACL's in Round 1? They're still out for the season either way… Injuries happen, it's all about minimising them. Playing no practice matches is just utter stupidity.
Congratulations to Mark Stevens for having this paragraph dedicated to his lack of football knowledge, what an achievement.
Bombers run this out and win, the NAB Challenge is dead … Why risk your stars when you can come out this fresh?

— Mark Stevens (@Stevo7AFL) April 4, 2015
This Game Sh*ts me
I think a more appropriate question this week is what doesn't sh*t me with this game? Injuries, of course injuries give us all the sh*ts. However this week was like your first day in Bali. I can't see us leaving the bathroom any time soon either. I guess at the end of the day injuries do happen, it's a part of the sport and we have to pick ourselves up and move on. What I can't forgive is sh*thouse efforts from the players we have spent ALL PRE-SEASON studying. They come out and have a belter of a NAB challenge, just to put the cherry on top of what looks like a delecious cake with no chance of food poisoning. Wrong. It's these pre-season heroes that make me hate this game. Your Heritier Lumumba's for example. Why did we pick him again? I am honestly sitting here and not able to answer that question. Perhaps we are just as much to blame. Do you know what the saddest part is? I can't trade any of these spuds, because the only people that could hold their heads high in my team are down for the count.
I think a possible mis-communication explains all this. I gathered the troops together and wished them well for the season, but I didn't want to sound soft. I left them with the quote, "be sh*t get hit." That'll rev em up I thought. I'm guessing it was translated into "Be sh*t or get hit". Rocky, Sidey and Parker weren't sh*t, and you know the rest…
I'm scraping the barrel… But here is 5 nominations for the Golden Stubby. If you own 1, you're doing alright. (Yes, Hawthorn and Geelong is still to come today, but the executive decision has been made!)
Ebert (163) –  I'm sure there are some Ebert owners out there, and we will know exactly how many follow DTTALK! 20 kicks and 14 marks, now that's what I call a Dream Teamer. Let's hope he can add some consistency to his game, he could be a ripper.
Gray (122) – In Rounds like this, there is nothing better than banking points. Gray will be a steal this year in the forward line, and he stood up when we needed him most. Get around him!
Bontempelli (104) – The Bont is already one of the stars of the competition, I still can't believe he's only 19. If you own him, I expect you will give the man your vote without even thinking!
McIntosh (101) – Surely a front runner for the award this week. How's this for an embarrassing stat. When I wrote this (now edited), he was the only ton in my whole squad. Gray may have past him, but K Mac has a special place in my heart. Let's hope he has a prosperous season, what a legend! He gets my vote.
Rich (111) – If you stuck with your gut and paid the extra cash for Rich, I would expect nothing other than a week of extreme gloating. Certainly worthy this week, 31 disposals on his return is an incredible effort.
So who will get your vote?
The Other Bits and Pieces
Above in lies AFL Fantasy, Round 1, 2015. Somewhere amongst that wreckage is my score. 1466 with Lewis, Bartel and Clark to come. I'll take 1700 and run for the hills. If I was to research what happened in the 1700's, I'm guessing it would be along the lines of numerous diseases and outbreaks which occurred in the mass death of millions of people. Quite appropriate really. All carnage aside, we must remember it's only been 1 round. Sure, a few coaches will have dodged the bullets and gotten off to flyers. Do I believe they will be the ones who win it? I doubt it. This weeks spuds could be next weeks heroes, things can turn around quickly in this game. I can only hope this has eased your pain, remember you're not alone. Unless you've scored below 1500. In that case I want pictures, the full story, and I might even turn it into a documentary. However it's time to suck it up and move onto next week. Our trades will be crucial! I hope you all fared better than me, let's hope today's game can bring some joy!
If you enjoy seeing me rage and want a punching bag when sh*t goes tits up, follow me on twitter@MattCraigDT. My views are honest, possibly helpful and occasionally entertaining! Hit me up with your weekly Golden Stubby nominations, and mainly what gave you the sh*ts! I value everyone's opinion.